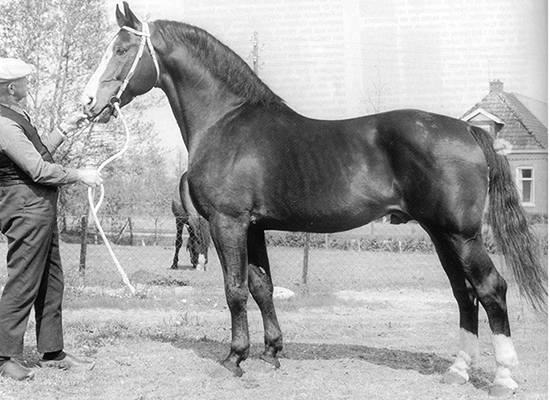 1959 – 1984 169 cm Brown
Breeder: M. Thormählen
Farn was born in Holstein and descends from the Achill or 'F' line that began in 1877. Next to the Ethelbert line, it is the oldest Holsteiner stallion line. Farn himself left only a few offspring in Holstein, and his description in the official Holstein stallion book is less than glowing: 'Somewhat unharmonious stallion with a lovely head carriage. Built slightly 'down hill', good shoulder, flat back, heavily padded loin. Heavy bone, weak pasterns. Good mover.'
However he impressed the visitors from Holland, the NWP committee members who purchased him, hoping his daughters would upgrade Dutch breeding – and he eventually became one of the great stallions of the Dutch Warmbloods.
At the time Farn was brought to Holland, the old agricultural horse was being transformed into the modern sporting model, but the farmers were still wary of the lighter types of Trakehner and Thoroughbred horses that were to play such a vital role – Farn with his Holsteiner heritage and substance was more their sort of horse. However the lighter stallions gained popularity and the breeders in the north lost interest in Farn. Jacob Melissen takes up the story in his1994/95 edition of The Leading Stallions of the Netherlands:
"In the South however, the heavy stallion was received enthusiastically. Southern breeders had been almost overshooting their mark, when trying to generate a fine riding-horse with intensive use of Thoroughbred blood, which had resulted in loss of size, and funny necks. They wanted to restore volume and bone. Farn broke the service records. In 1979 he was offered 236 mares. In 1978 he had been awarded the 'keur' predicate, in 1991, he was declared 'preferent', seven years after his death. He left eleven approved sons, 123 'ster', 31 'keur', 14 'preferent' and 6 'prestatie' mares."
Farn was the sire of a number of notable international showjumpers, including Odin N, Black and White, Design and Olympus. Aside from Nimmerdor, Farn sired a number of stallion sons, including: Fanfare, Felix, Garant (ex Flipper), Safari, Telstar and Uddel. By the end of his breeding career, Farn was the sire of 13 approved sons.