1965 -1986 16.1 ½ Chestnut
Breeder: Alfons Lefevre Height
The story of the making of the modern Warmblood, is also a story of the breaking down of geographical barriers. It came first when visionaries – like the legendary Oldenburg breeder, Georg Vorwerk – were prepared to look outside their own district, their own stud book, and find the stallion that would change the shape of Warmblood breeding – a stallion like Furioso II. But apparently, breeding any type of animal was Herr Vorwerk's passion, if he heard of an unusual breed of dog, or pig for that matter, he had to travel to see it. Certainly for a foreigner in France, he managed to come away with a brilliantly bred individual.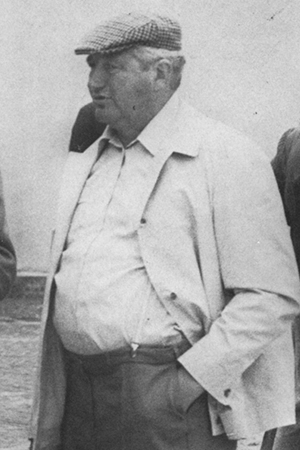 Furioso II was out of the great mare, Dame de Renville, who produced a series of wonderful horses when mated with Furioso. The first of these was Mexico, who standing at the French National Stud of Le Pin, sired 20 approved sons, 20 dams of stallions, and famous international showjumping horses, including Laeken, Jexico de Parc and Heur de Bratand. His son, Le Mexico, has been a hugely influential sire of jumping horses in Holland.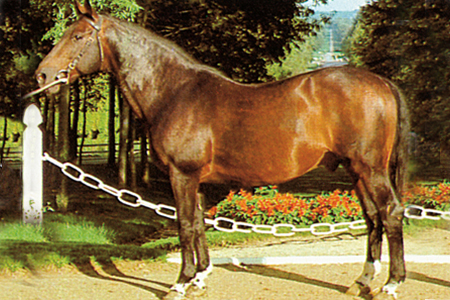 He stayed in France, Mexico – Furioso II's full brother 
Furioso II's sire, the Thoroughbred, Furioso was born in England in 1939 and went on to be one of the most influential sires in modern performance horse breeding, even though he never won a single race in his 21 starts!
Furioso was described as 'well balanced but with slightly knock kneed forelegs and tight hocks'. He was also rich in Thoroughbred jumping blood – being by Precipitation out of a mare by Son-In-Law by Dark Ronald.
The authoritative De L'etalon Sport Français of 1992, remarked: 'he had good bone, and walked liked a lord, with a magnificent pace, very energetic and showing a great deal of amplitude, his tail swinging at each step. His trot and gallop were good but not exceptional. Though full of life he was docile and had a good temperament.'
Furioso xx, was the leading sire of jumping horses in France from 1954-1961. His son, Lutteur B, who went on to win the 1964 Olympic individual gold for showjumping, amazed the German breeders when he appeared at the Hamburg Derby. Maas Hell, in Die Grossen Hengste Holsteins records the reaction: 'The Germans were again amazed at how nonchalantly Lutteur B performed on the jumping course, how he played with the distances, and how, with a long neck, he left the course as though nothing had happened.'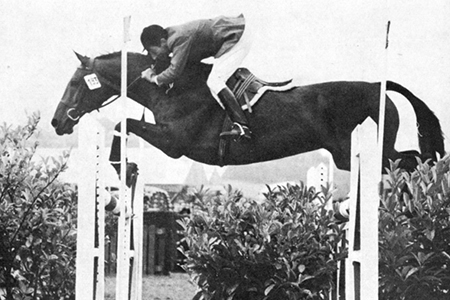 Lutteur B
Furioso II was attractive to the Oldenburg breeders as they wanted a half-blood stallion to help make the transformation of their mares to more modern lines, without too much direct Thoroughbred blood.
Since the experience breeders gained with the French stallion, Condor was encouraging, Oldenburg stallion owners once again turned to French stallions towards the end of the 60's – enter Furioso II. He was to stand at Georg Vorwerk's stud in Cappeln from 1968 to 1985. He was leased to Zangersheide in 1986, and died in Belgium, that year.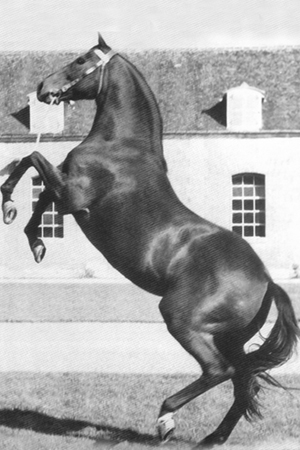 Furioso – the sire 
Furioso II was approved for the Oldenburg studbook in 1967, and then went on to easily win his 100-day test. Later he was approved for Hanover, Rhineland, Hessen and Westfalia. For many years, Furioso II was ranked in the top three sires of leading money winners in Germany. Furioso II had winners in all disciplines. His showjumping stars included: FBI (with Thomas Frühmann), Heissman (ridden by Eric Van Der Vleuten, then Michael Matz) and For Pleasure.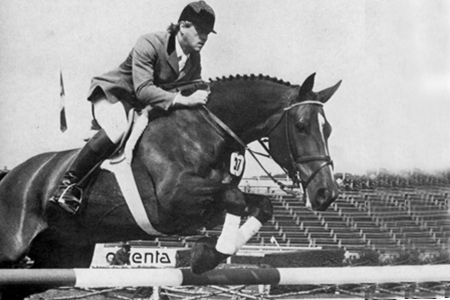 A showjumping star by Furioso II – FBI with Thomas Frühmann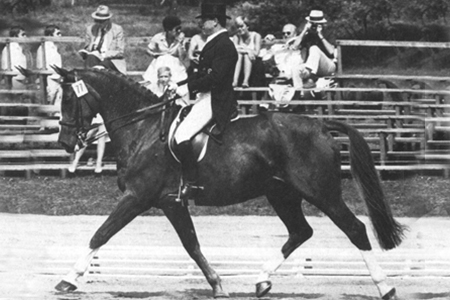 Furioso 15 was trained by Fritz Tempelmann, won the German Championship in 1978 with Udo Lange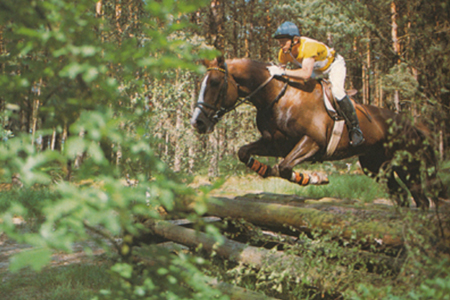 German Eventing star, Horst Karston with Fernandes, by Furioso II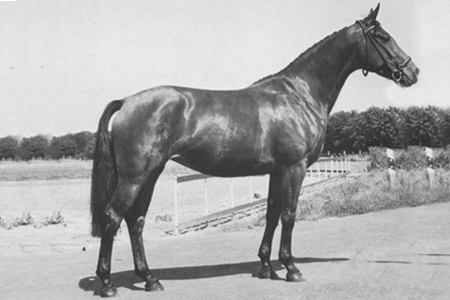 The Champion Oldenburg mare of 1973 – Fumira by Furioso II
Heissman under his original name, Friesengeist was sold to the stables of Henk Nooren, who later sold him to the United States, where, ridden by Michael Matz, he was Horse of the Year, and 4th at the Barcelona Olympics.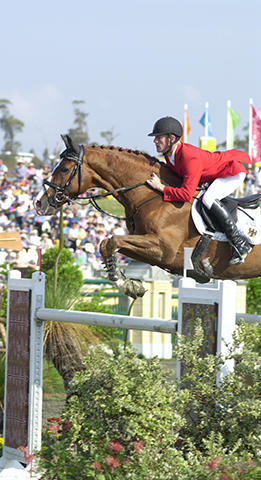 For Pleasure, part of the gold medal winning team at the 2000 Olympics
For Pleasure was originally ridden by Lars Nieberg, and under his guidance won team gold at Atlanta, before the ride was transferred to Marcus Ehning. For Pleasure is already the sire of eight licensed Hanoverian stallions, and was a member of the gold medal winning German team at the Sydney Olympic Games.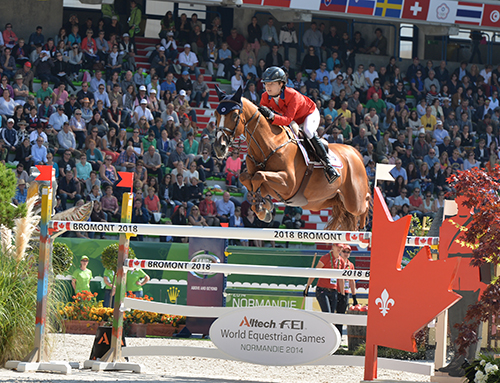 Barron, by For Pleasure, competing at the WEG with Lucy Davis for the USA
Perhaps Furioso II's most influential son is Voltaire – out of a mare by another classic sire of jumping horses, Gotthard.
In dressage, Furioso II's son, Purioso is the sire of numerous stars including Anky van Grunsven's Grand Prix horse Cocktail (who is the sire of Jazz); Le Mexico is the sire of Ulft, who in turn is the sire of Ferro. The Oldenburg stallion Welt As is out of a Furioso II daughter, and is the sire of Anky's gold medallist Bonfire and Christine Stückelberger's Grand Prix horse, STC Diamond.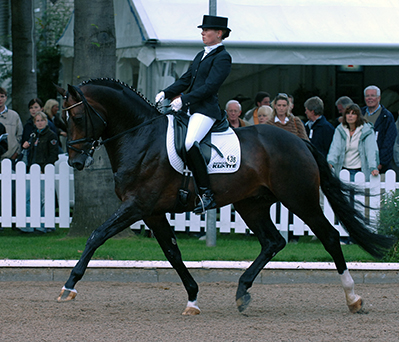 Farewell III, Bundeschampion for Klatte Stud
Furioso 11 died in 1986 having sired progeny with earnings of nearly DM9,000,000. He sired 54 licensed stallions, including the Oldenburg licensing champions: Furidant (1971), Furore (1978) and Fatianus (1979). Mareile Oellrich-Overesch in her excellent profile of Florestan in the 2008/9 edition of Selected Sires of Germany makes the point: "It was a tradition in Oldenburg to prevent a stallion's offspring from competing with their sire, so they were often sold to other breeding regions. That is why most of Furioso II's sons were at stud in other regions of Germany or abroad. It also explains why the Furioso II bloodline didn't originally survive in Oldenburg. Now, however it has made a comeback with Florestan's sons Fürst Heinrich and Flavio (Sprehe Stud), Florencio (Ludwig Kathmann Stud), Faustinus (Vorwerk Stud) and Florianus (Grönwohldhof/Pape Stud). His grandsons Farewell I and Fidertanz (Böckmann/Wahler Stud), Farewell III (Klatte Stud) and Fürstentraum (Sprehe Stud) are also stationed in Oldenburg.
As late as 2007, Furioso II continued to shape the sport of showjumping. In the 2007/2008 Monneron ranking of the world's top 75 stallions, Furioso II's son Voltaire is ranked 11th in the world with 19 CSI winners, while For Pleasure, despite largely concentrating on a competition rather than a breeding career until recently, ranked 13th with 11 representatives.