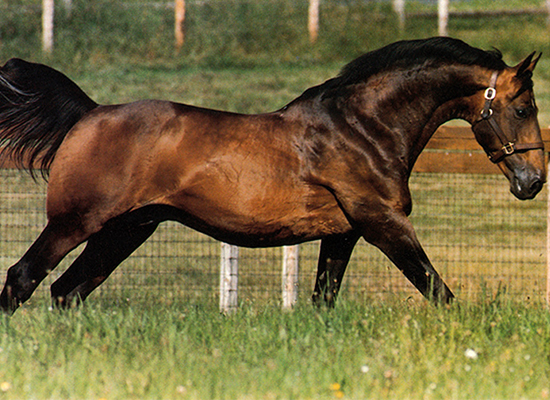 1972 –2005 173 cms Bay
Breeder: Collette Lefraut
Galoubet is shaping as the most important stallion in the line from Ibrahim through Almé and is probably the most influential jumping sire in the second decade of the 21st Century.
Although Baloubet de Rouet is his most illustrious son, Galoubet has a string of top horses to his credit.
In the USA, there were three stars, all progeny of Thoroughbred mares: The Developer (with Hap Hansen), U'Grand Jete (ridden by Donald Cheska) and Galouway (with Debbie Stephens).
Then there is Quatoubet du Rouet who was second at Aachen with Roger-Yves Bost, beaten by the mighty combination of Thomas Frühmann and Grandeur. There is also Quatoubet's full brother, Caloubet du Rouet ridden by Jean-Marc Nicolas and Robert Smith.
Galoubet's son Quick Star was a real star with Meredith Michaels (now Michaels-Beerbaum), and then the sire of another superstar, Stella – also ridden by Meredith and more recently has produced super horses like Big Star. In Switzerland, there was Quivient de Boisy and Hildon Sorain, and in Ireland, Touchdown – who was a good performer but who achieved lasting fame as the sire of World Champion Liscalgot.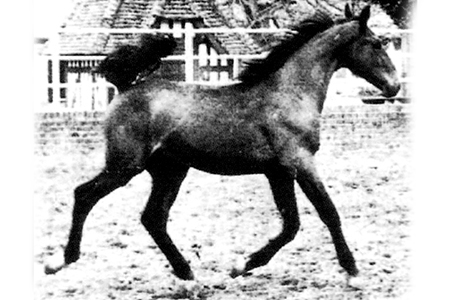 Galoubet at 6 months old
Yet, like so many of the great stallions, Galoubet almost didn't make it. He was unfashionably bred, being out of a trotter mare, Viti. Apparently Viti was not fast enough to race and she was sold to Mrs Collette Lefraut who decided to take her showjumping. The chestnut was tall enough at 170 cms and despite her heritage, she had a good canter and wonderful form over a jump, but her rather inelegant head was proof of her parentage.
Her sire was Nystag, an honest trotter, but no super-star; he was later to stand at the St-Lô Stud. Nystag was by Abner, who was also the sire of Jamin, who was a star and twice the World Champion.
Perhaps more interestingly, Viti's dam, Ida de Bourgoin was by Boum III by Obok, and Obok was the dam sire of individual showjumping gold medallist at the 1964 Games, Lutteur B. Other exceptional jumpers out of trotter mares include Halla in Germany and later Jappeloup in France.
Viti was a difficult horse to ride, and retired to the life of a brood mare, producing 13 foals including Galoubet.
Viti visited Almé in his first season at stud, and although the resulting colt foal was good-looking, Galoubet was still obviously out of a trotter mare, and was rejected as a three year old at the stallion selection.
Luckily he was not gelded, but started in the Classic Cycle classes for five-year-olds.
In May 1977 he was competing with Benoit Mauriac in the saddle when he caught the eye of top showjumping rider, Gilles Bertran de Balanda, who had been asked by Jean François Pellegrin to find him a top class young stallion. De Balanda decided to seek a second opinion, and asked Nelson Pessoa what he thought of the young Galoubet – and the great Brazilian rider advised him not to buy! Still Pellegrin bought the horse, and de Balanda took over his training, and a few months later the pair won the five-year-old final at Fontainebleau.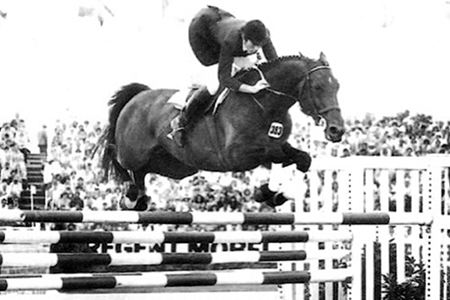 Galoubet with Gilles-Bertran de Ballanda
As a seven-year-old Galoubet started to compete internationally where his spectacular jump (and notorious bucks after the jump) won him a legion of fans. Galoubet won the Grand Prix at Wiesbaden, and placed 15th at the European Championships. The pair also took out the French national title that year.
In 1980, Galoubet continued to win in the Nations Cups – in Aachen, Chaudefontaine, Longchamp and Toronto (second in New York). He was eighth at the World Cup final in Baltimore, and eighth at the Alternative Olympic Games in Rotterdam. The following season Galoubet won three World Cup qualifiers in a row at Antwerp, s'Hertogenbosch and Dortmund, only to lose the final in Birmingham where it seems his reputation for not being so good with triple bars preceded him. He duly lost the final at a triple! In truth the stallion's performance had also suffered when he commenced stud duties in the lead up to the Final, but breeding was more important to the owner than competition success.
Following a brilliant performance at the World Championships in Dublin in 1982 – where he was part of the gold medal winning team and just missed the four horse jump-off – Galoubet's owner, Jean-François Pellegrin retired the stallion to stud at the age of ten.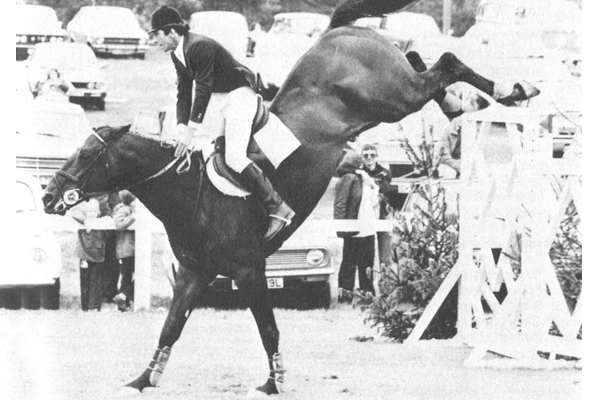 Galoubet was one of the first horses in France – and the world – to make use of the new technique of AI. The French National Stud did a deal with Pellegrin at the end of 1980, when AI became legal, and he was allowed a total of 160 mares – 100 in France, 60 abroad, at a fee of 5,000 French Francs. In those days the top fee for a stallion at the national stud was 400 Francs and the critics had a field day – both the price and the use of the AI technology doomed the venture to failure.
As a result of that first season, 60 foals (out of 120 mares) were born – the 'Q' generation, since they were all given names beginning with that letter. In 1982 he bred no mares, concentrating on competition, and in 1983, after retiring, covered 110 mares for 48 'S' foals. Many of the top breeders shunned the horse and the new method of insemination, but the results were extraordinary. Twelve of the Q's became licensed stallions, and nearly all of them jumped internationally.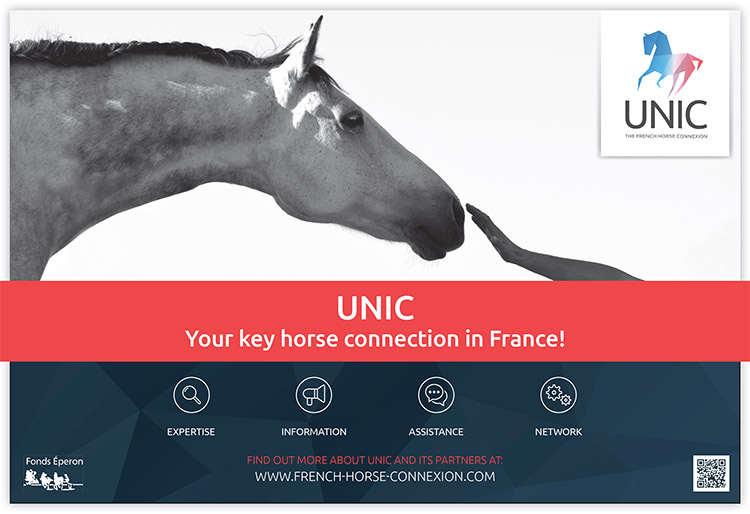 Still there were doubters, the famed breeder Fernand Leredde, founder of the Haras des Rouges, told Xavier Libbrecht in an interview in Breeding News (February 1997): "I have presented a dozen mares to Galoubet yet nothing has become famous. Too many blemishes, flabby behind, remoulded tyres, a trotter's quarters. Against that, I believe that Galoubet will make a good father of the mother; better than I Love You who made, however, some beautiful first generation horses."
For whatever reason, the French breeders were reluctant to pay the high service fee, and 1983 was a disappointing year for Pellegrin with only 65 mares in Galoubet's book. Meg Douglas-Hamilton of Hamilton Farm in the United States, was a Galoubet fan, and asked Jack Le Goff to make an offer for the horse. Pellegrin thought the offer too low, but eventually agreed to sell a 40% share in the stallion, and Galoubet moved to the USA. The rest of the shares were spread among breeders in France.
Hamilton Farm was a specialist in the field of chilled semen, and arranged to fly semen to France. The semen was collected in the evening, and arrived the following morning in France. Out of 20 mares bred this way, ten successfully produced foals. There is a wonderful story of the Dutch breeder, Wiepke van der Lageweg, who wished to breed two of his mares to Galoubet, and so drove them from the north of Holland to the Paris airport and inseminated them on the spot with semen just off the transatlantic airliner!
At the age of 33 Galoubet was put down in America, at the stud of Meg Douglas-Hamilton, who cared him in the last 20 years of his life.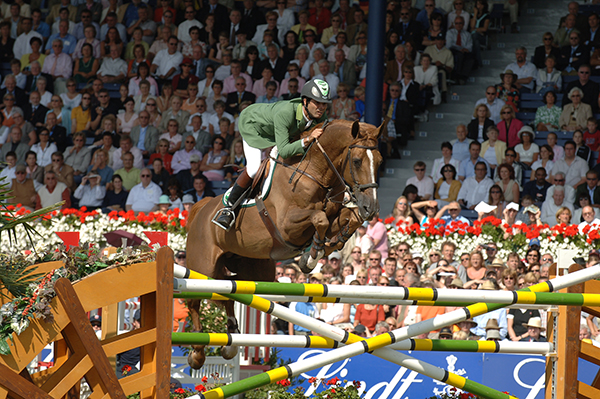 Galoubet's son, Baloubet – perhaps the leading sire in the world right now
Galoubet has not only been a very good sire in his own right, but also appears to be a sire of sires, aside from Baloubet and Quick Star, there are Qredo de Paulstra (sire of Quattro B who stands at the Böckmann stud in Oldenburg), Quiniou (sire of French team horse at the Sydney Games, Barbarian) and the Belgian stallion, Skippy II whose progeny are making their mark on the international stage. He has also proven a good sire of broodmares.
Galoubet ranks =34th on le Courtois' ranking of the top 75 jumping stallions of 2006.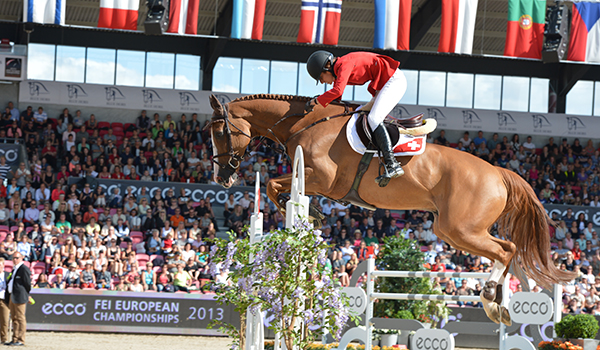 Galoubet's blood flows through his son Baloubet du Rouet, the sire of Palloubet d'Halong – a jumping star with Janika Sprunger… 
Seven years after his death, Galoubet continues to shape the face of jumping breeding, ranking =38th on the Stallion Directory Sire of Sires list, with 29 sons approved in 2012, down on the 42 in 2011 but still a significant number. Interestingly, despite the German dislike for Trotter blood, Galoubet, particularly through his son Baloubet, and his son, Balou, is increasingly a factor in German jumping bloodlines.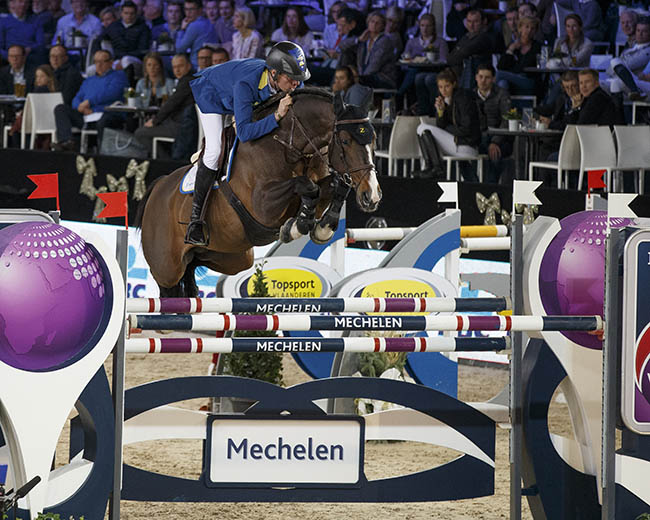 Taloubet Z and Christian Ahlmann
View Galoubet on YouTube:
http://www.youtube.com/watch?v=vjebeQCm8VM