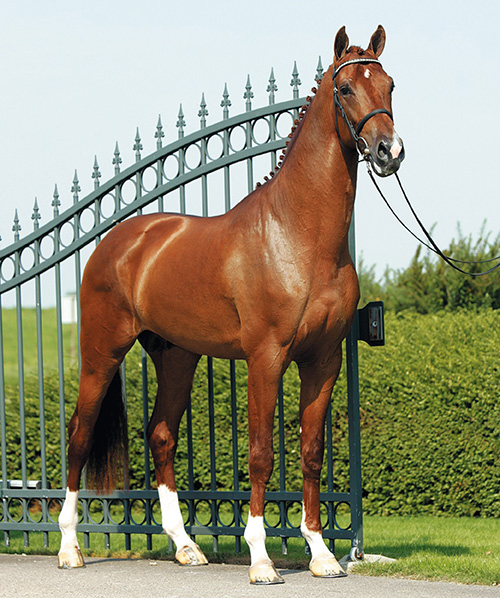 2002 1.70 cm Chestnut                             Breeder: Antoon Versantvoort
Vivaldi is out of one of Holland's most famous mare lines – the Utopia line. Caroline Ironside interviewed the breeder, Antoon Versantvoort, on the website, HorseBreedersMagazine.
Apparently, Mr Versantvoort describes himself as a "hobby breeder", but a hobby breeder with a history.
"Horse breeding has already been in the family several generations," he told Ms Ironside, "At the time, my grandfather had already bred an Approved stallion. With this stallion they took him out for one year through the country to cover mares. Later came the transition from work horses to sport horses, and at an early stage my father bought a luxurious and modern mare which he has bred some foals with. I acquired one of those foals from him to start my own breeding."
"At that time, we went through all the inspections to see how we would do, and we actively participated with the horses we had. After several years, it became clear to me that the mare line is very important in breeding. When my mare died unexpectedly, I then decided to find a mare from a known strain."
"At the time, I knew someone who successfully bred with the Utopia dynasty, who had a filly for sale out of the Jazz mare Darla-Utopia (Ulft). This filly was Renate-Utopia and I bought her in 1998 to be my future breeding mare. Renate-Utopia comes from the famous Nomana dynasty, mare line 2, breeding family 8."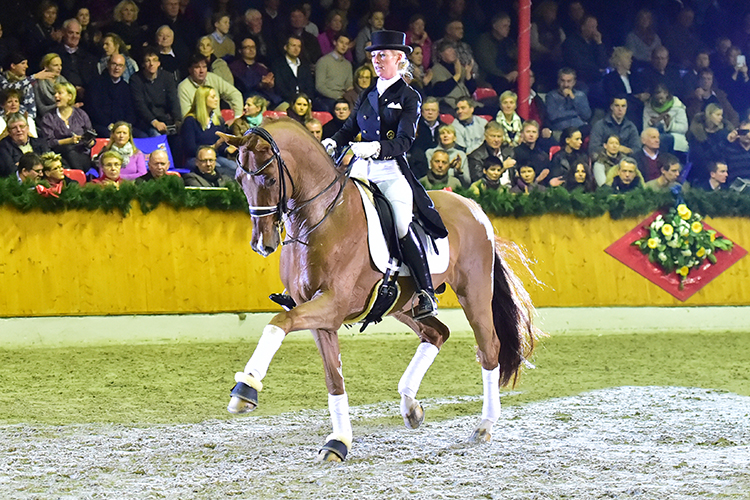 Vivaldi
The Utopia-line has produced both dressage and jumping horses, including Nick Skelton's Arko III, the KWPN stallions, Premier and Radar, and international jumpers, Loretta, It's the Business, Now or Never, Darco and Opium. The original 'Utopia' mare is Ellen-Utopia, by the Trotter stallion Kan Pom B, out of the Gelderlander mare, Gerda. Her daughter, Hellen-Utopia was by the L'Invasion son, Boris.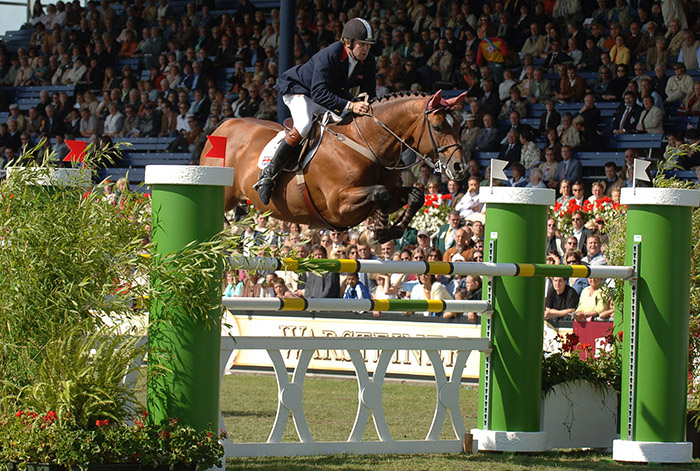 Nick Skelton and Arko at Aachen
Mr Versantvoort was well pleased with his choice:
"Renate-Utopia herself easily became Ster as a 3-year-old. Unfortunately there was no Central Examination (Keuring) to go to that year because the Foot & Mouth Epidemic prevailed. We had her under saddle for a few months, but because of a busy private life, we decide to have her only as a breeding mare. This has certainly paid off and she was already awarded Preferent on just her first three offspring, and as an 11-year-old she received the title Prestatie."
Bred to Krack C, Renate-Utopoia produced Vivaldi who was reserve champion of his stallion performance test. In 2007 he won the PAVO Cup for five-year-old dressage horses with Hans Peter Minderhoud. In 2008 and 2009 Vivaldi won the KNHS / KWPN stallion competition with scores up to a perfect 10.0 for trot. Alas the hopes of a top competition career were never realized. In 2013 his owner put an end to his competition career, and he was moved from Hans-Peter Minderhoud's training stables to the Van Uytert stallion station, after he failed to make the transition from Small tour to Grand Prix.
Hans Peter thinks the failure to go on was related to trying to combine a competition and breeding career:
"It's a problem with stallions that were successful as young horses, they have been breeding like crazy every year, frozen semen in the winter, fresh semen in the summer, and with some you just have to make a decision, if the value is higher as a breeding stallion, then keep just him as a stallion because I cannot do both with him."
In 2009 Vivaldi was the second most popular breeding stallion in The Netherlands with 285 mares. In 2011 Vivaldi only covered 33 mares, which I guess shows just how important success in the sport can be for a Dutch stallion.
Vivaldi was the best represented sire amongst the dressage candidates registered for the pre-selection days for the 2013 KWPN Stallion Licensing in 'sHertogenbosch, with 17 sons entered to appear.
So far he has produced five KWPN approved stallions: Desperado (Havidoff), Dream Boy (Ferro), Expression (Vincent), Eye Catcher (TCN Partout) and Ferdinand (Havidoff).
Vivaldi has been popular in Germany as well as Holland, with 15 sons licensed in Germany, including numerous premium stallions. In 2012 Vivaldi produced the Westphalian reserve champion Van Vivaldi, the second main premium winner Cennin, the reserve champion of the young stallions, Veneziano and the premium stallion Livaldon who was sold for 260.000€ in Hannover. In 2009 he produced the Westphalian reserve champion Vitalis (who caused something of a furore when the KWPN licensing commission declined to license him!)
In 2013 Versace was proclaimed the Reserve Champion of the Oldenburg Spring licensing in Vechta. Versace now stands in Australia at Bloomfield Farm.
Vivaldi was one of the shooting stars of Dutch dressage, even though his own dressage career stalled at Prix St Georges, and on the 2012/13 KWPN breeding values was 2nd on the 80/89 rankings with a breeding value of 158 (82%)
Vivaldi appeared in 6th place on the 2014 KWPN dressage stallion breeding values for stallions with a reliability of 80% to 89%, with a value of 147 (87%).
By 2014, he had produced 612 KWPN progeny over the age of four, of whom 115 had been registered for competition – that's 19.28%
On the 2015/16 values, his reliability has increased to 92% so he has moved onto the over 90 table, but his breeding value has dropped to 146 putting  him into 12th place. His participation has however improved – now he has 889 progeny over the age of 4, with 247 competitors, that is 27.784%.
Vivaldi's dressage value has increased to 159 on the 2016/17 KWPN standings, which puts him in 4th place on the ranking of stallions with a reliability of over 90%. He has a conformation score of 114, and 116 for free movement. He has produced 930 progeny over 4, with 281 competitors (30.21%).
He currently stands in 91st place on the WBFSH 2016 leader board of Dressage Sires.
Vivaldi's son, Cennin (out of a Donnerhall mare), has been successful with Madeleine Witte-Vrees since he commenced his Grand Prix career in March 2016. The pair were 6th in the Grand Prix at the World Cup final in Omaha, and 5th in the Freestyle.
In a surprise move in January 2017, the KWPN licensed two sons of Vivaldi, Vitalis and Cennin, after previously rejecting them.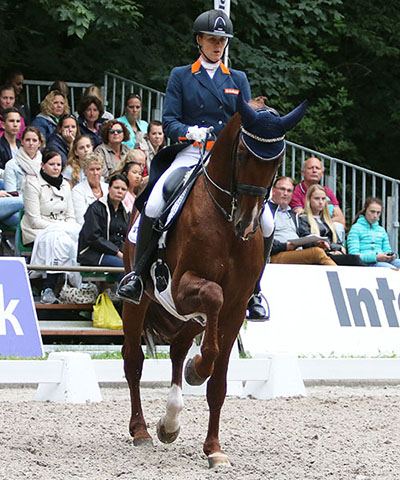 Cennin and Madeleine Witte-Vrees (photo Kenneth Braddick)
The buzz around Vivaldi right now is very positive. Former long time head of the KWPN stallion committee, Arie Hamoen remarked to me at the 2017 Young Horse champs when I asked him who was the heir to Jazz:
"Vivaldi is coming up. The rideability is good and the first sons are knocking on the door of Grand Prix. The only problem for Vivaldi is the quality of his semen. Vivaldi's sons are also knocking, Dream Boy for example. Vivaldi is putting the next step in the line of Jazz."
Eurodressage carried a report on a number of Vivaldi offspring on just one weekend, January 19/21. Hans Peter took out ten year old Dream Boy (Ferro) in his first GP at Nieuw en St Joosland, for a win with 78.8%, while at another Dutch show, Bunschoten, Diederik van Silfort brought back small tour star, Expression (Vincent) to win the Inter II with a score of 75.29.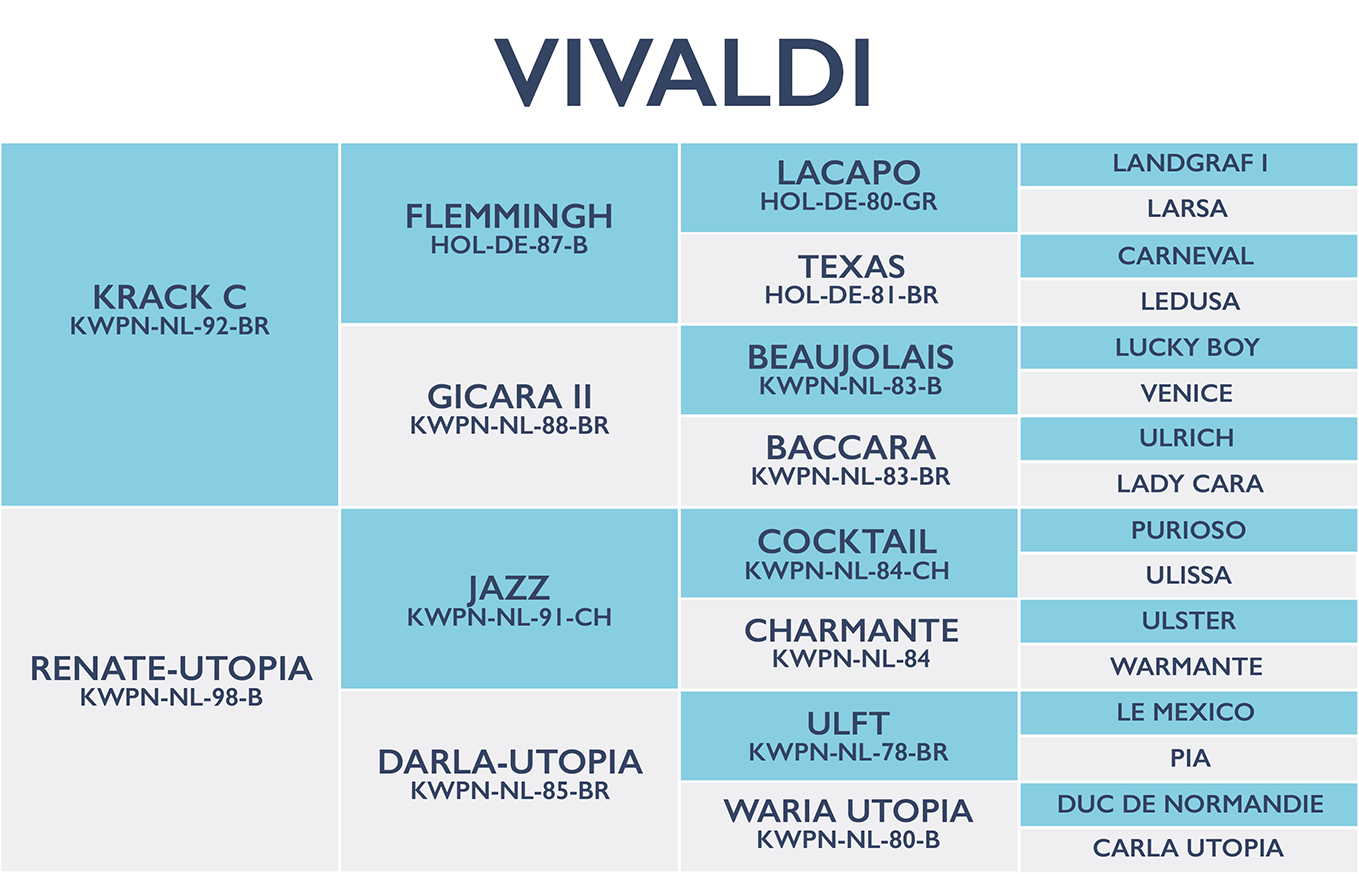 ---
Vivaldi, and his son Vitalis are available in Australia from International Horse Breeders:  www.ihb.com.au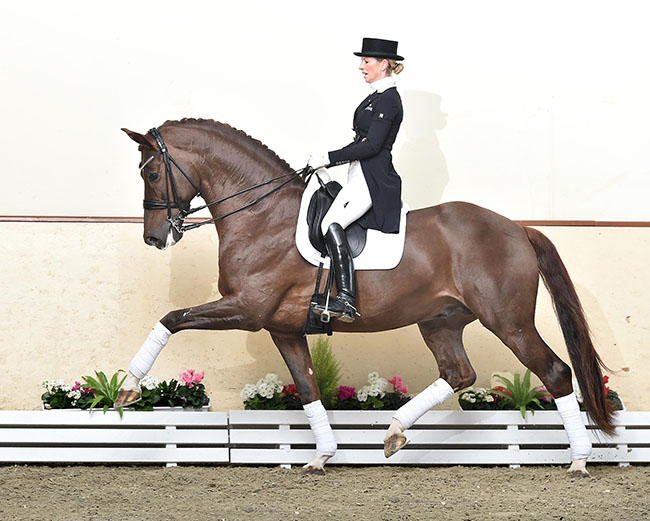 Vitalis