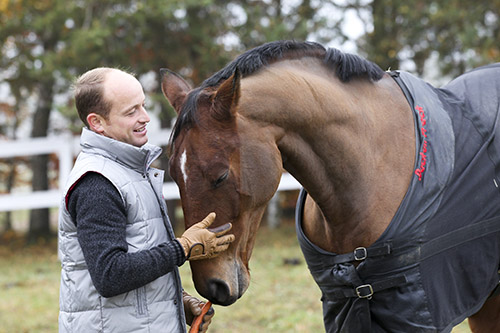 Story by Ute Raabe, Photos by Julia Rau
Based on the book by Thomas Borgmann on Michael Jung
It's the year of the WEG, time for a quick word with the reigning World Champion to see how his preparation for Normandy is coming along.
"Sam is still my number one horse for WEG. After winning the Two Star in Fontainebleau he will only compete in three more events, all at Three Star level. Our home event in Marbach in May will be one of them. He is just so reliable and excels in all three disciplines, that's what makes him special."
"Rocana will be my mount for Luhmühlen in June. If she goes well there, she will be my reserve horse for Normandy. My European Champs partner, Halunke will be entered for Pau Four Star in autumn."
"My youngsters, Star Connection and Lennox both show great potential. They went super around Fontainebleau and I hope that they will develop well in the future."
And as we head into our winter, things are getting brighter for the Europeans as they gear up for Caen and the world champs…
"This morning I went for a canter with the horses, the weather is improving so we can do lots of outdoor training now. I will do some flatwork and dressage training in the afternoon. There's no competition this weekend, but then it goes non-stop until autumn!"
Michael has produced several Championship horses, from young horse classes to Four-Star level. But how exactly does the WEG, European and Olympic Gold medallist train his horses? There's no 'magic formula' on how to become a Champion. Michael grew up in the riding school of his parents and his father Joachim Jung is an accomplished dressage and showjumping rider who taught his son the classical German training system.
Back in 2008, a fresh-faced Michael had to write a thesis as part of his riding instructor exam. It gives valuable insights into the training routine at the Jung stables, particularly on training eventing horses at one-star level.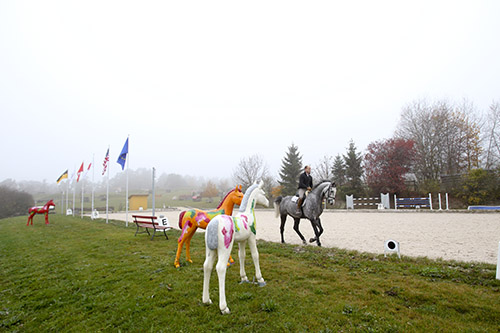 Part 1: Dressage
The German legacy is obvious; Michael puts the emphasis on dressage and flatwork. After fitness work, dressage is the second most important part of his training. Most of his wins have been secured in the dressage arena; he usually delivers a dressage score around or below 30 points.
He trains according to the classical scale: establishing rhythm, throughness and contact before progressing to impulsion, straightness and collection. But dressage work doesn't need to be boring. Michael recommends getting out of a dull indoor arena as often as possible: "Why not ride your dressage movements out in the open, in the field or the back paddock? Chances are your horse will be brighter, more forward and focused."
Eventing horses need exercise and plenty of it. Walkers and treadmills are great as you can work your horse without the added burden of a rider weight, but if you don't have these at your disposal, long walks on a loose rein or paddock time are equally beneficial.
Daily work begins and ends with the walk. "Make sure you have a rhythmical, free walk – irregularities caused by a short rein can prove difficult to get rid of later," Michael says.
His working session starts with rising trot and includes plenty of bending. Riding one and two-loop serpentines, circles, leg-yield and lots of transitions all encourage rhythm and suppleness. "On a straight line you should establish an even contact on both reins, on a curved line such as a circle, you can increase your inside leg to outside rein aid, but keep your outside leg on. Half halts are the nuts-and-bolts of riding. They serve to lengthen or shorten the stride, improve collection and self-carriage, draw attention to a new movement or correct contact and acceptance of the bit."
After 20-30 minutes of warming up, your horse should be supple and relaxed, displaying the same ease and bend on both reins. You can test this by giving the reins, the horse will stretch its neck without running away.
Eventing dressage does not require as much collection, nonetheless you need to be able to perform a rhythmic and lengthened medium trot. To makes his horse more active from behind Michael rides plenty of transitions and throws in some simple changes, half circles and voltes: "I do some trot-canter transitions and then try a medium trot. If there is no loss of rhythm, no leaning on the bit, but instead a lovely lengthening of the frame, then these exercises have fulfilled their purpose."
These frequent transitions between trot and canter are an essential part of dressage work at the Jung's place. Michael also points out that half halts, full halts, rein-back, turns on the haunches and half circles back to the track are all effective exercises for eventing horses. "With my more advanced horses, I do a lot of shoulder-in. This really shifts the centre of gravity to the back-end and my horse becomes more collected. The shoulder is freed up and the forward-lateral movement helps fine-tune the leg aids and therefore the overall throughness. I need to make my horse loose in the poll, the preparatory exercise is the shoulder-fore."
And travers? It is a more demanding movement, asking for more bend and collection, Michael's advice: "You should always ride travers after the shoulder-in and not as often and long."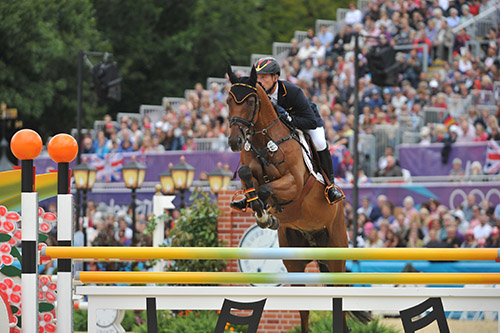 Part 2: Showjumping
Showjumping training does not mean jumping enormously high obstacles; it is about improving technique. An eventing horse has to be able go around the course in a fluent and easy style, jumping powerfully and with bascule. Just like fellow teammate Ingrid Klimke, Michael loves cavaletti work. Cavalettis and small jumping grids can also be practised in the off-season and up to twice a week. Michael usually sets up four to six fences, they don't need to be higher than 60-100 cm. Change your course regularly, he says, there's nothing more boring that jumping the same thing week after week.
"I jump these grids pre-dominantly from the trot. You see so many riders trying to control the take-off by giving strong halts – that is wrong. Your horse needs to learn to find the take-off spot himself, the rider should support him, not disturb him."
These exercises relax the back and neck muscles as well as improve the reaction and technique of the front legs. Your horse's conformation and ability dictate the volume of work. But if you have problems, lower your demands. Just a few well-placed fences can achieve better training results.
"Every rider should try to view the fence with his horse's eyes. To find the take-off point the horse focuses on the base of the fence and the highest point."
His weekly showjumping training includes practising single fences, parts of a course and eventually a complete course. Fences should be between 1.0 and 1.20 metres high. Michael works over related distances as these feature in today's courses and many eventing riders find it difficult to count strides in combinations.
Michael's advice: "Keep a natural rhythm in the canter, don't force a horse to go slower than his natural tempo. A restraining hand will lead to errors and irregularities. Even with naturally hot horses, you have to be able to apply a driving leg. If your horse becomes too hot, ride on a large circle and use your voice to calm it down. Only when harmony and ease are re-established, should jumping be resumed. Sometimes a bit of free jumping can nicely complement the training regime for many horses."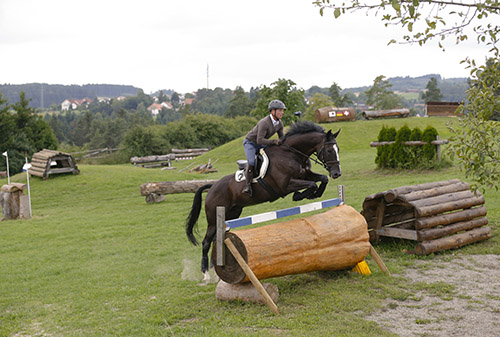 Part 3: Cross country training
Now we get to the fun part. Cross country is the most difficult phase, but also the best part of eventing Michael Jung says. And this multi-talented eventer also builds his own cross-country fences.
Young horses need plenty of opportunities to get used to the various cross country fences. Cross-country training should be included at least once a week. "Why not put your horse on the float and take him to another venue so he can see new things?" Michael suggests.
"Make sure you're not alone, in case you have an accident, however, it is also better to pair a green youngster with an experienced horse. Cross-country jumps have to be selected to give the horse confidence and trust.
"From the easy to the more difficult," says Michael, "Always ride your horse forward, not only in competition but also at home. Don't give him time to hesitate or refuse. Be assertive when jumping uphill, take your weight off the horse's back, so it can bring its hindlegs under on landing and develop a powerful canter stride."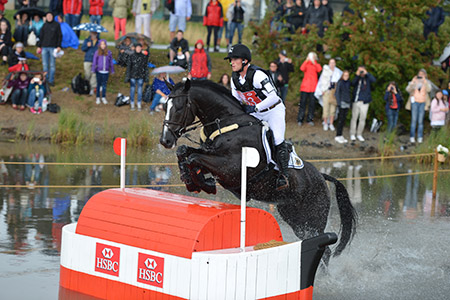 Water can often cause difficulties, yet all too often it is only a psychological problem. Reflections on the surface and the fact that the horse doesn't know how deep the water is are the main issues.
"Make your horse familiar with water as often as possible – ride through small puddles and follow an experienced lead-horse through shallow water. Stay in the water until your horse starts splashing about or even has a drink. Once this level of trust is established you can jump over small logs and banks into water. Most importantly, never forget to check the base and depth of water first!"
When your horse doesn't like ditches…
"Lead your riderless horse to the ditch. Have two helpers attach a lunge rein on each ring of the bit and make them stand on either side behind the ditch. A third person may stand with a long whip behind the horse to prevent any sideways or backwards escape. Don't force your horse, let it have a good look at the ditch and work it out in its head. Give him all the time he needs. His first jumps will be quite tense, but soon you will see the horse relax more with each attempt. Repeat the exercise under saddle, at first with the helpers on the ground, then by yourself, from trot and canter. Always remain calm and don't forget the reward."
These days cross country courses are littered with skinnies and technical fences, sometimes on a slope or with a diagonal approach. They require a horse that's really in front of your leg and light-footed. Shorten your stride as late as possible before the fence, then pick up speed quickly after the jump. The more easy and effortless this shortening and lengthening of strides is happening, the more energy your horse will have left in the tank to finish the course.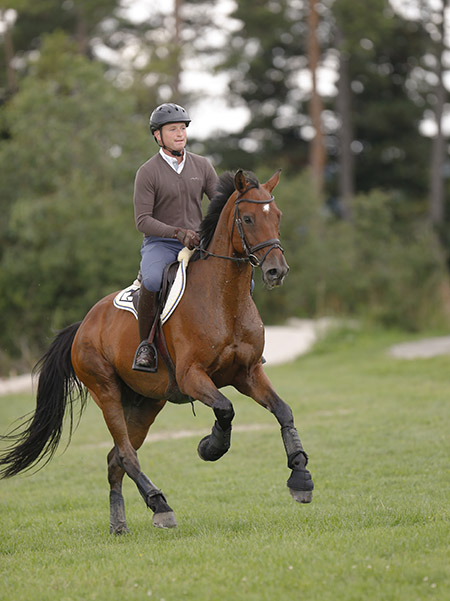 Conditioning and speed training:
Can my horse go the distance?
"Ideally, if you have the space, set out track of 2000 metres. This is perfect for doing slow canter work of 200 to 500 metres per minute. Begin slowly and give your horse time to find its breathing rhythm, otherwise he will tire too quickly and be unable to build up form."
"For hot horses I recommend a slower, more controlled speed; with experienced horses it is okay to do a short distance at a higher pace. It stimulates breathing activity."
"Check the breathing rate after each gallop, the regeneration phase gives you valuable insights on how your horse's fitness levels are progressing," Michael commends.
If your horse pulls up well from the initial gallop training, you can start increasing the distance or speed after two to three weeks. Further increments depend on the level of training, upcoming competition requirements and the horse itself. Two to three weeks before a competition you may like to shorten the distance and increase speed, however, it doesn't need to be faster than 500-600 metres per minute. The maximum for a horse in competition form should be 5000-6000 metres per day.
Eventing guidelines tell us to train the horse 20-25% below the competition requirements. Interval training also contributes to fitness work. For the first interval you ride in a quiet canter at a speed of 200-300 metres per minute for a distance of 1000 metres. For the second interval increase the speed to 400 metres per minute over 500 metres. The third interval is ridden like the first one.
Obviously you can diversify this training with walk, trot and canter reprises and by riding over undulated terrain, it comes down to personal judgement and good horsemanship.
Strength training:
"Always choose a straight approach to go up or down a hill, stay balanced and don't hesitate to ride up short, steep gradients in a canter," Michael says.
"There are two different hills near our riding school. I always have a plan of what I want to ride, say three rounds on each hill. The smaller hill is about 100 metres long, the big hill is 300 metres. First I walk down the hill, and then walk up again. I do the same in trot and canter up the hill, but down at a walk only. Maybe I should add that the small hill has a steeper gradient."
Health management:
A little bit of veterinary understanding does not hurt. Michael puts particular emphasis on checking his horses' heart and respiratory rate once before and twice after each ride, the first time immediately after work and the second time after the horse had time to recuperate.
"This tells you whether your horse is fit to compete," Michael says. A mature horse has a heart frequency of around 38 beats per minute. Under physical stress this rate can be three to four times higher. Heart activity should return to a regular level after 15 minutes. The pulse is analogue to the heart activity. Breathing frequency can vary to a higher degree, but you can count your horse's breath by watching its nostrils or flanks. Eight to sixteen breaths per minute are normal, under stress there may be 80 to 100 breaths per minute. Even body temperature may rise up to four degrees.
Michael's tip: The sooner both heart and breathing activity come back to their regular levels, the better your horse's condition. If heart beat and breathing rate are still more than twice as high as the normal value after ten minutes, it means that your horse is not yet fit enough or you have asked for too much.
Here's an example of training schedule with a CIC 1 Star event in six to eight weeks:
| | | | | | | |
| --- | --- | --- | --- | --- | --- | --- |
| Monday | Tuesday | Wednesday | Thursday | Friday | Saturday | Sunday |
| 30 minutes warming up, light jumping exercises over single fences and practise lines, finish with walk/trot/canter work in undulating terrain | 30 minutes warming up, then gallop training with walk breaks, finish with 30 minutes of walking on a loose rein | 30 minutes of warming up followed by flatwork, practise dressage movements or perhaps the entire test, then go hacking | 90 minutes of cross country training, walk and trot work uphill and downhill and on hard ground, some easy xc fences, then canter for 1.5-2 km | Repeat Wednesday's exercises | Repeat Monday's exercises, perhaps include skinnies and water | Go hacking for 1-2 hours, walk and relax |
Handy Hint 1: Always use the same saddlery and tack at home and competition to avoid a sore back and rubbing. However, try different bits in training to find the best solution.
 Handy Hint 2: Compete in a dressage or showjumping class the week before your event, a good opportunity to familiarise yourself and your horse with event atmosphere.
Handy Hint 3: Maximise your dressage score by riding all movements and school figures to the correct markers.
Handy Hint 4: During your course walk carefully and check the take-off and landing points at each fence. Ask yourself: how fit is my horse, how undulating is the course and how will this affect the time allowed?
Handy Hint 5: Post event – take a good look at the overall performance, not single mistakes. How did you both cope with the competition? Can your horse progress to the next level?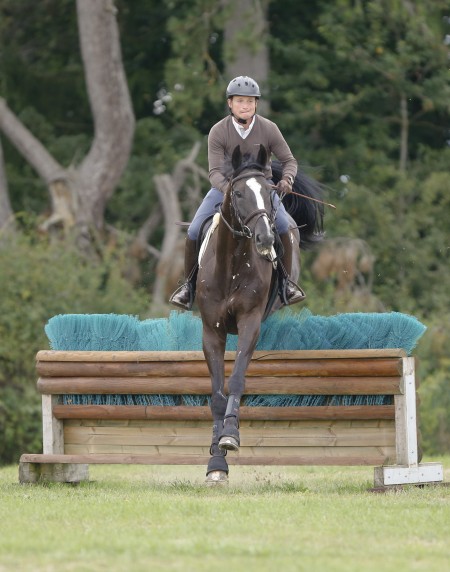 10 facts you didn't know about Magic Michi
1. He was only four when he sat on a horse for the first time. He quit school after the tenth grade to concentrate on an equestrian career.
2. The last time he had a fall was in 2001 at a Young Rider Championship.
3. Udo Lange, Hubertus Schmidt and Marcus Ehning were his coaches.
4. He also competes in Grand Prix level dressage and 1.6 m showjumping classes with great success.
5. He nominates his parents as his biggest influences on his career.
6. He has a legendary memory. Wake him at any time of the night and he will run you through the Kentucky and London cross country courses.
7. Michael and Sam were kept waiting for 40 minutes in the start box at Kentucky when a fence had to be repaired. They still won Gold.
8. To honour his achievements his hometown Horb presented him with a patch of forest, valued at 2000 Euro. Perfect for cutting wood to build new fences. However, the state government thought this was too generous and replaced the trees with a silver tin plate.
9. Michael's girlfriend is Faye Füllgraebe, a fellow eventer.
10. His Olympic gold medals are kept on his bedside table.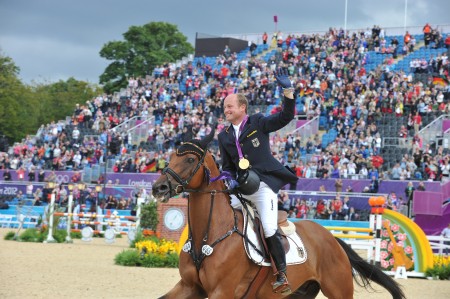 10 facts you didn't know about Sam
1. His dam, Halla was named after Hans Günter Winkler's legendary mare.
2. His breeder, Günter Seitter chose his sire, Stan the Man after seeing the stallion in Marbach .
3. Sam was presented to the licensing commission in Marbach, they dismissed him as "mediocre with a big head".
4. He was sold at auction for 8000 Euro, the Kreuter family were the only bidders.
5. Michael Jung and Sam won at their first event together and qualified for the 2005 Bundeschampionat where they finished in fifth place.
6. Sam's first and only refusal happened in the 2006 Bundeschampionat.
7. Sam won at his first start at Four Star level, Luhmühlen 2009.
8. Mary King, William Fox-Pitt and Oliver Townend tried to purchase Sam before the 2010 WEG.
9. After his WEG success the Kreuter family advertised Sam for 2 Million Euro.
10. Sam is now co-owned by the Jung family, family friend Erich Single and the DOKR (German Olympic Committee).