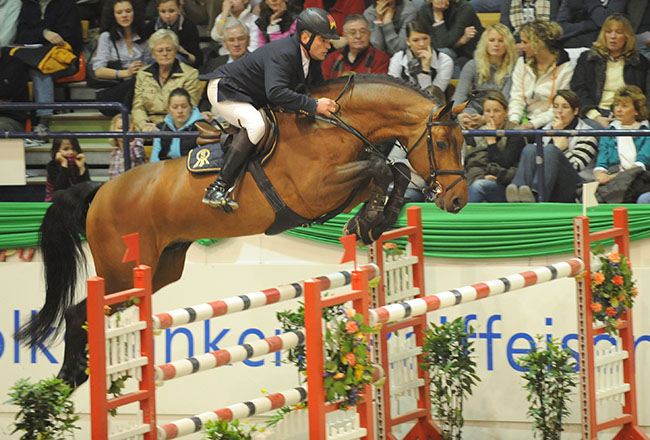 1998 – 2012  Bay  Mecklenburg
Breeder: Karl-Heinz Köpp
Chacco-Blue with four progeny was the best represented stallion at the European Championships 2015.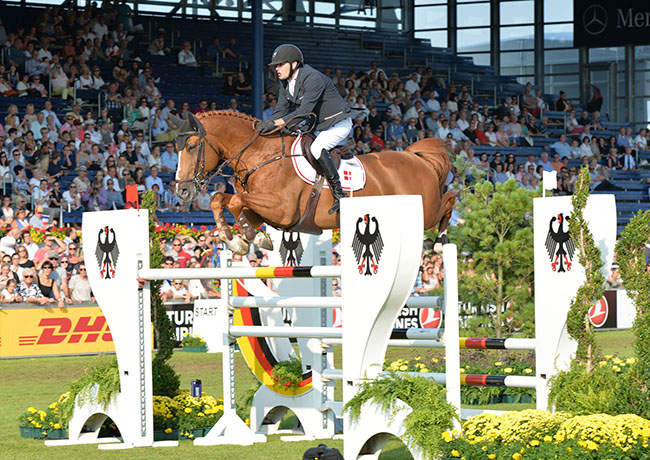 Tailormade Chaloubet and Sören Pedersen – one of four at the Euros
The bay stallion died in his prime, of Lyme disease in 2012, having won the Grand Prix of Neumünster earlier in the year, ridden by Schockemöhle stable jockey, Andreas Kruezer.
For most of his life, from 2007 to 2010, Chacco-Blue was ridden for Paul Schockemöhle by Alois Pollmann-Schweckhorst. They were moderately successful on the international scene: the pair were 3rd in the Grand Prix of Falsterbo, 2nd at Hachenburg, first in a 1.60 at Olympia, but it is as a sire that Chacco-Blue has been a star.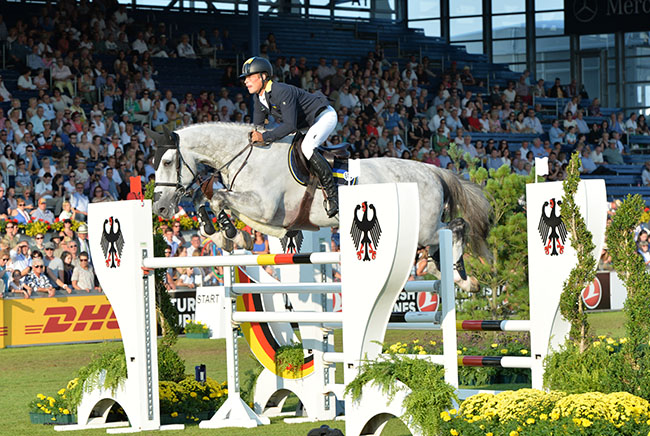 Chaccland and Ferenc Szentirmai at the Euros
For Alois, he was the horse of a lifetime: "When I started to work with Chacco-Blue, he was nine years old," he told me. "He was just ready to step up into international sport. The good thing for me was that he had always had good riders in his life. When he was five and six, Cameron Henley rode him, a popular well-known rider from Ireland, then David McPherson, then Manuel Fernandez Saro. When I got him, he was well-educated but for me in the beginning, he was really ambitious, he was sometimes a little over-motivated. It took about half a year before I could control him even at the end of the course, from number nine to the last fence, 12 or 13."
"He was a horse with a wonderful attitude, he always wanted to go, he was not spooky at all. The only thing that made it a little bit harder for me in the beginning was that I didn't have total control, but we found our way together, and for sure he was one of the best horses I have ridden."
Do you know anything about the motherline?
"I think the outstanding feature of the motherline is the grand dam, a half bred mare, Godahra II, by the Thoroughbred, Godavari (Tudor Minstrel line). In the Eastern part of Germany she was very popular, she used to win a lot of metre thirty, metre forty. She must have had really good sports spirit, because she was winning and many people were talking about her. She was small (167 cm) but she had a big heart and she was a fighter. I guess that this is a very strong part in Chacco-Blue's bloodline. I believe that if you see the offspring of Chacco-Blue, almost 99% have a super technique, a big heart, a good attitude to work, and this might come from this very strong grand-mother."
What does he give his progeny?
"He has given to the next generation a wonderful technique, front leg technique, and the most obvious thing is the positive attitude to the sport. Some of the horses, they might be a little bit delicate in the beginning, when they are young they are a little bit freaky, a little bit spooky, not really spooky but their senses are 100%, what they hear, what they see, and it takes them a little while to settle. This is not a weakness, this is something that every good young horse has."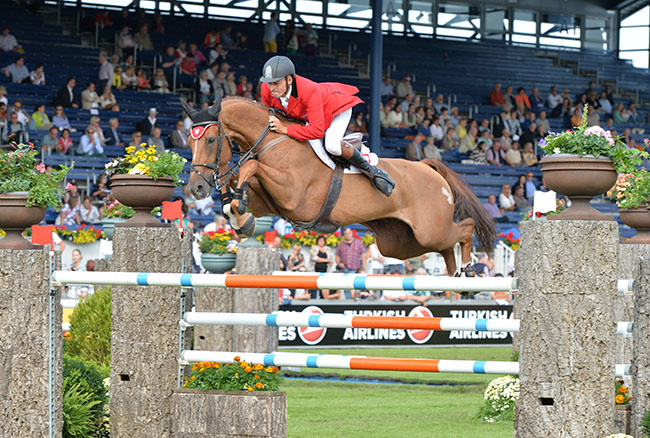 Crazy Quick at Aachen
Are there certain sorts of mares he works best with?
"I can't judge that. So far as I can see, there are many combinations – from France, from Belgium – that I would say, that is a perfect match. Paul Schockemöhle could answer this question more precisely than I could."
It is a big advantage that he stands with Mr Schockemöhle, so he gets lots of mares?
"Call it promotion. Paul Schockemöhle used him a lot because he realized very soon how to find the right mares for him. In his opinion Chacco-Blue fitted to a lot of his mares, he has around 1000 mares but he knows every brood mare by name. If you say one name of a mare, he says, yes, the grandmother of this mare, I bought from Hartwig Stenkin, or Alwin Schockemöhle in 1970…. She is related to this horse and this horse. That is a knowledge that no-one else has, and then it comes, maybe by intuition, that Chacco-Blue fits this mare. He has the best experience, and the best success."
The director of the Holstein Stallion Barn, Norbert Boley filled me in on Chacco-Blue's sire, Chambertin:
"Chacco-Blue is by Chambertin, a Holsteiner, and on the mother's side it is Contender, another Holsteiner who has a lot of offspring at the Championships, also some grandsons. Chambertin was not in our area for such a long time, the fertility was not the best, so the stallion was sold to the South of Germany, and he died shortly after that."
"He bred foals that were good in type, and their jumping style was good, very careful horses."
For Paul Schockemöhle, the worst thing about Chacco-Blue was his early death.
And how did you find him?
"I bought him as a five year old at the German Young Horse Championships. I believed in him right away – even as a five year old, he was quite expensive."
"Okay he could jump, but the best thing was his mentality. He tried always, even if you rode him at a wall of two metres fifty, he couldn't have jumped it but he would have tried, and this he gave absolutely to all his children. At the beginning they are not so fantastic jumpers but they always learn and they are really willing to learn."
Are there any particular mares he crosses best with?
"The best was when he got some blood – and his daughters are in general better than the sons."
On the 2014 WBFSH jumping stallion rankings, Chacco Blue is in 35th place with 35 of his progeny contributing to his standing. His most successful points earner is Crazy Quick (Quick Star) who is ridden by Poland's Jaroslaw Skrzyczynski. The pair finished 22nd at the European Championships at Aachen. On the 2015 rankings he has moved into 10th, his top points earner is still Crazy Quick, but there are 70 horses contributing to his ranking.
On the 2015 FN breeding values, Chacco-Blue scores 101 (0.94) for dressage and 155 (0.95) for jumping.
His Hanoverian breeding value is 85 for dressage, 157 for jumping and a negative 83 for type. In the 2016 Hanoverian stallion book, he is credited with 815 competitors with winnings of €1,297,381 (he himself earned €289,517). He has 14 progeny with earnings of over €15,000, the most successful of which was AFP's Cosmic Blue with €90,201. In 2015, Cosmic Blue was 2nd in the Grand Prix of Lubin** and Leszno** with Andre Plath.
He is the sire of nine licensed sons.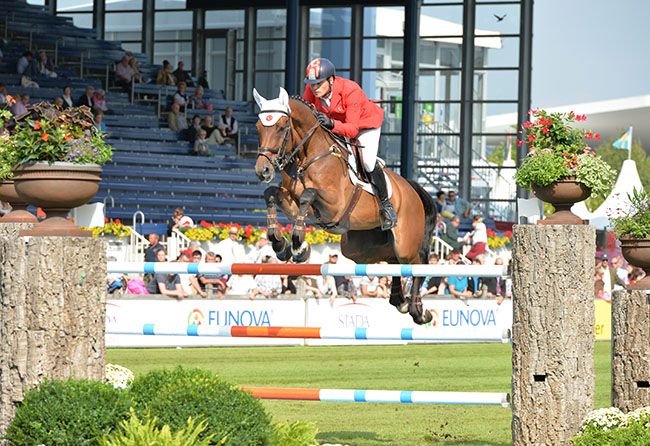 Four at the championships – Chaccomo and Cagri Basel