Story – Christopher Hector and Photos – Roz Neave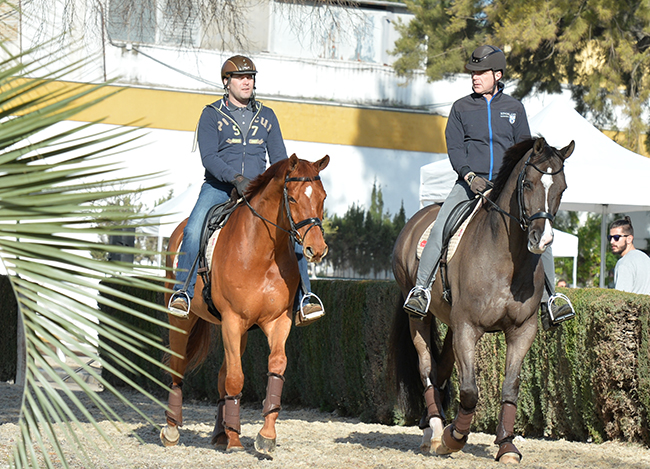 It doesn't take much to get us to go to Jerez, the heart of horse country in Spain, but this year there was an added inducement in the shape of an athletic black gelding, breezing around the outside track of the big warm up arena at the Royal School of Andalusian Equestrian Art, in a snaffle, accompanied by his chestnut pal. Yes, the black horse is Valegro, being ridden by super groom, Alan Davies, the orange? Carl Hester's Wanadoo
The horses' super star riders have yet to arrive, but they are in place for Valegro's long awaited return to the competition arena. Well, maybe.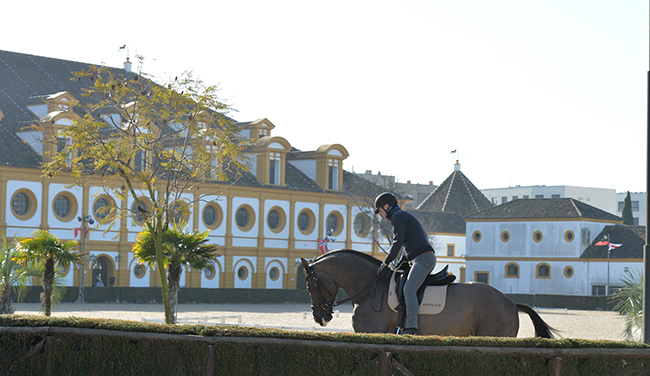 Okay, he is being ridden by the groom and the rules say 'exercised' not schooled, but even if Charlotte was on his back, I'm not sure the work would be all that different, after all on the morning of the Special at the Euros in Aachen, we found Charlotte bowling around the jumping warmup arena, and trotting a few cavallettis, in a snaffle. It's called horsemanship.
The next horse in is Matthias Rath's magnificent bay stallion, Foundation (Fidertanz / De Vito). In truth, I can well imagine if he and Valegro had been presented to Carl Hester as three year olds, Carl may well have gone home with the bay. Matthias seems a very pleasant, smiley fellow, but I find his riding style oh so depressing – he has an insecure seat, rough hands and has been hanging around Sjef Janssen way too long.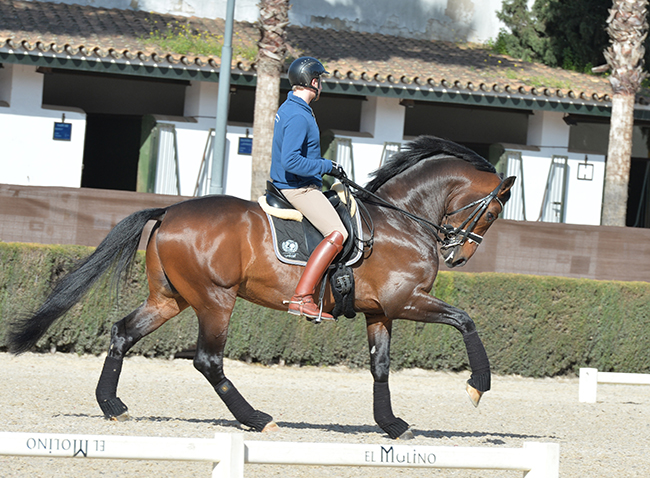 For at least twenty minutes the poor thing is hauled around way behind the vertical, sometimes with its head on its chest. The rider is back, behind the centre of gravity, and that always tells a tale, because properly ridden the horse puts you in the centre of the movement. When the rider adopts the defensive seat, the horse cannot find its real balance, and it shows with every downward transition because the stallion just falls out of the pace, it's not with the rider so it can't be ridden into the transition. It is not pleasant to watch, but it tells us a lot about the cross roads that confront dressage right now…
Of course Foundation wins the Prix St Georges – it is not only the riders who are at the crossroads.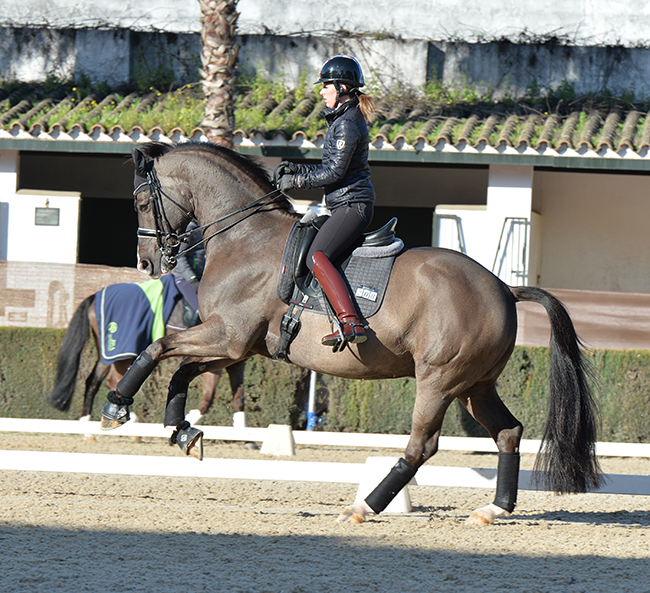 The next day Charlotte Dujardin treats us with a lesson in how to train a horse. There is not one second of aimless random riding, every second is meaningful, and it is so easy to see what she is trying to achieve, and achieve it she does. That's one of the incredible things about this amazing partnership, when Valegro makes a mistake, she tells him, but he is not frightened in the slightest, oh, sorry I got it wrong, let's do it right this time.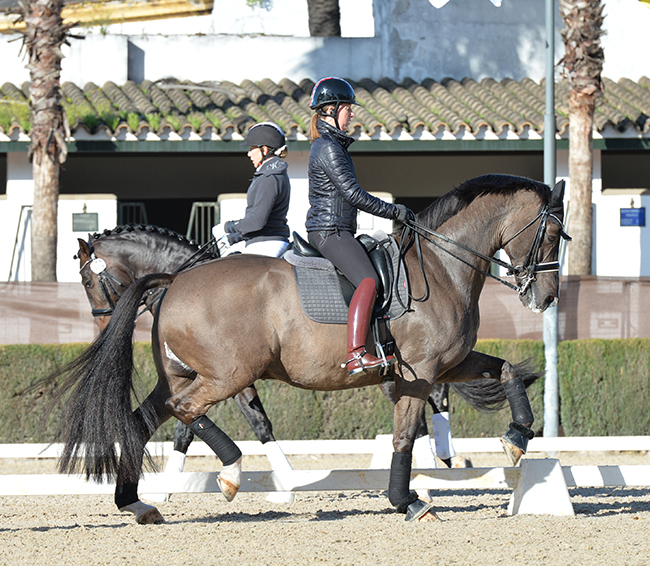 So here is the magic formula, do this 1000 times and you too can be a gold medallist. Breeze around the track a few times, onto the warm up arena, collect the canter, collect the canter, perfect transition to walk. Repeat. Repeat. Repeat. Collect the canter, half pass, change, collect, half pass change, circle, down the centre line, half pass in counter canter, flying change, changes of hand up the long side, more collected canter, circle and another walk transition.
Take a little break to remove a sweater, and sugar for Valegro, (they call it the sunshine tour, but don't mention that it can be sunny and freezing cold at the same time), two times changes down the long side, ones down the other long side, such expression. Twenty ones, five on the centre line, fifteen on the diagonal, go for a walk around the outside track.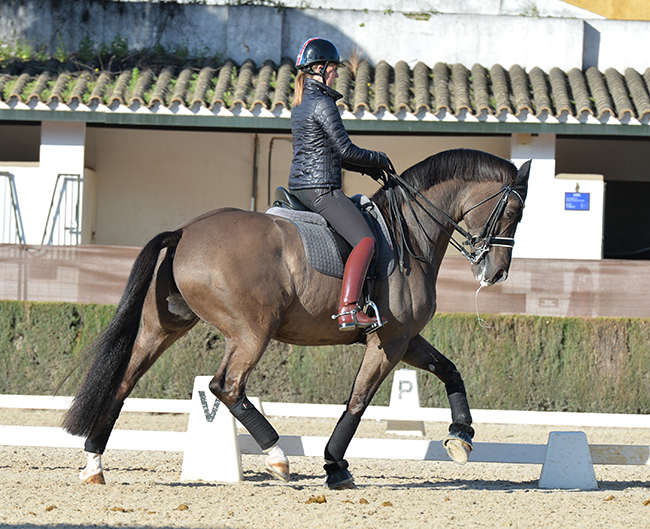 Gather the reins, passage to halt, passage to halt, repeat. Into the competition arena, passage around the outside. By this time, most of the riders from the Royal School have got the message, and are crowding to see this wonderful rider at work. Big trot, big passage, working trot, renvers, shoulder in, renvers, straight. Valegro gets a bit excited in the shoulder in, more extreme renvers, like I mean four track renvers. Walk on a loose rein, and sugar break.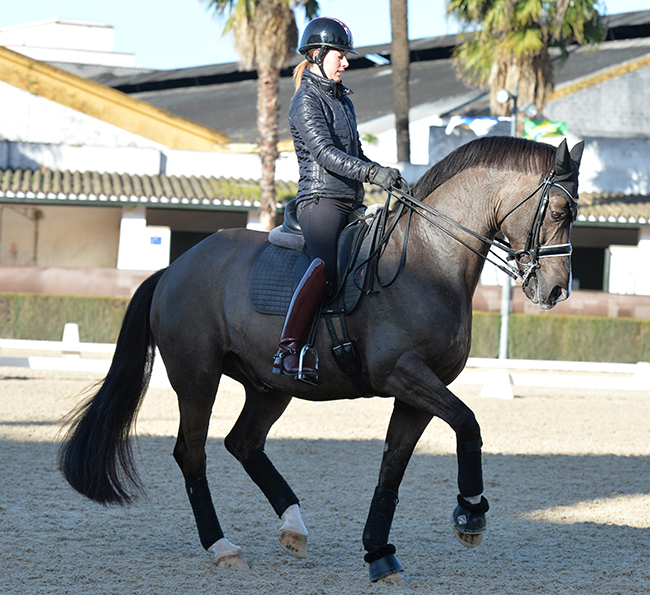 More passage, shoulder in to a big flowing half pass, and the other way, shoulder in half pass, more of that four track renvers…
A couple of brave young riders have joined Charlotte in the ring…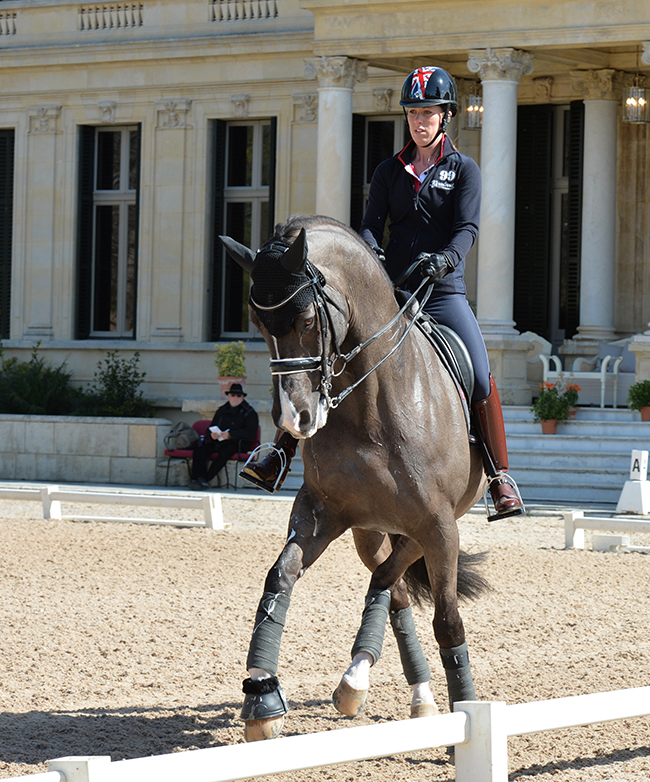 Walk on loose rein, Valegro wants to canter, Charlotte wants passage, into some super advancing piaffe, amazing elevated passage, more advancing piaffe, quarter pirouette in piaffe, more amazing passage. Repeat. A full pirouette in piaffe, more amazing passage, such contained elasticity, drop the reins and the horse walks out as cool as if he'd been for a hack round the country side.
Got that? Sorry, the next day the routine is completely different. Great riding is like that…
Charlotte is also riding her young chestnut Hanoverian, Barolo (by the wonderful Grand Prix sire Breitling out of Highlight, a mare by Hitchcock by the Thoroughbred, Hill Hawk, out of a Wenzel / Shogun – more Thoroughbred – mare). It really is worth coming all this way to watch Charlotte train each day – which is lucky because she is not starting Valegro in the Grand Prix in this first week of the two Jerez CDIs. He may start in the second week. So the Grand Prix is a bit like Hamlet without the Crown Prince of Denmark.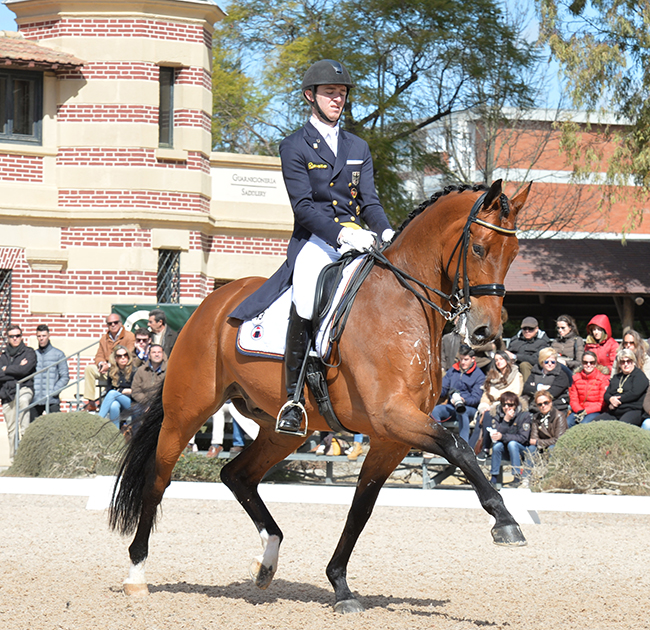 Which is lucky for Valegro (perhaps he can google the weather?) because when the Grand Prix is held, it's not just freezing, the rain is pelting down. But nothing can hide the brilliance of a shining new star combination on the international dressage scene, twenty-one-year old Sönke Rothenburger riding the nine-year-old gelding, Cosmo. Cosmo is by the international showjumping star, Van Gogh out of a Frühling (called Landjonker in Holland, and by Landadel) mare, and he has those wonderful strong hindquarters that jumpers – and for that matter – dressage horses, need. Young Sönke is more conventionally bred for dressage, his dad, Sven was a World Cup Champion, an Olympic medallist, and competed for both the German and Dutch teams. His mother, Gonnelien, was also a World Cup finalist, and an Olympic competitor with the Dutch dressage team. To round out the circle, his grand-father, Adrie Gordijn owned Van Gogh, and bred Cosmo.
Cosmo scores 76.222, even with a hiccup in the changes, and is rapidly moving into contention for Rio.
Dear Nip Tuck, who caught some of worst of the weather, is second for Carl Hester. Carl too has been delighting serious students of dressage with his training sessions with 'Barney' and his youngster, Wanadoo (another Hanoverian, this time by Wolkenstein II out of a Cavalier mare). Congratulations to the winner of the dumbest facebook comment of the week, the one who thought that when Barney bent down to inspect the bearded journalist sitting in the scary chair, that Carl was practicing rollkur!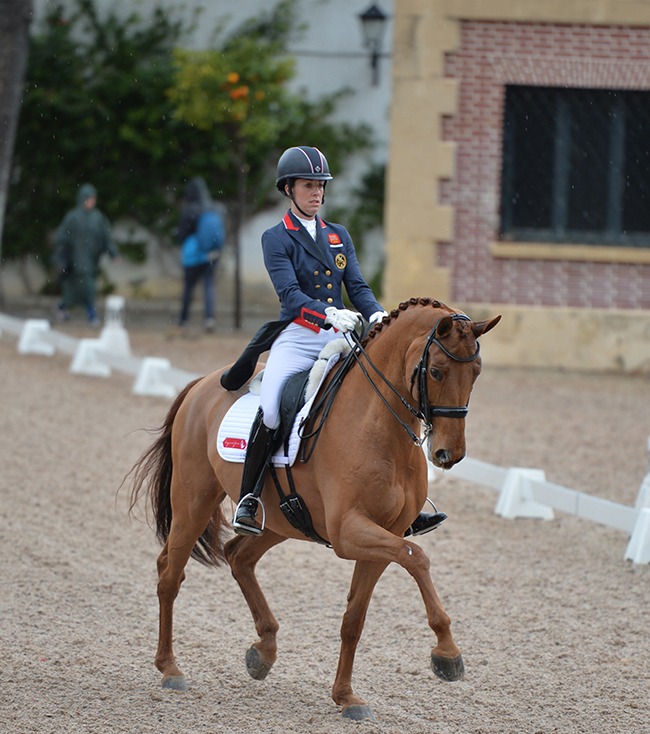 Third to Charlotte and Barolo, on his first international outing, with a score of 73.28.
There were only a half dozen in the Kür held late in the icy gloom, and by that time Roslyn and I had fled the freeze and were happily sitting in a little bar, sipping sherry, eating paella and enjoying the flamenco dancing and singing. I'm told Carl won on Wanadoo with a score of 75.15.
The Special really was very special, even though Barolo over-reached in the warmup and was withdrawn, now we were down to Hamlet without the Crown Prince or Laertes, but still Cosmo and Sönke continue to delight.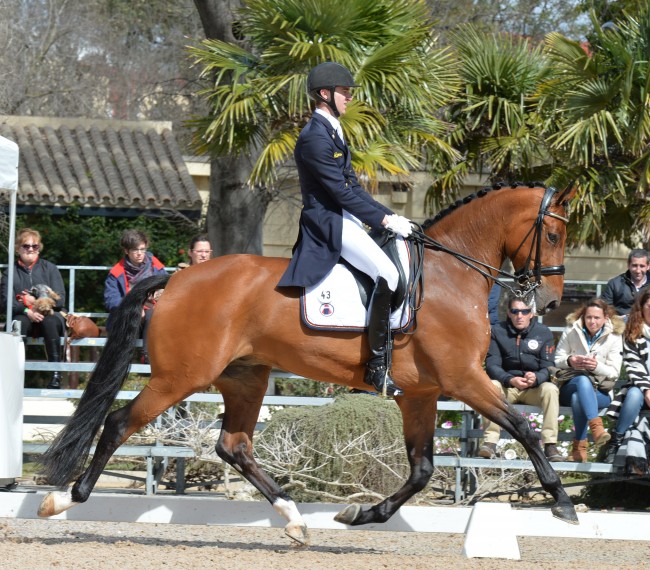 His bay gelding is so soft and loose to the ground, and so so correct. The nose is always on the vertical, the contact light, the rider in the centre of balance. Have a look at the angles of the legs in the photos but that won't quite give you the effortless elegance that characterized his work.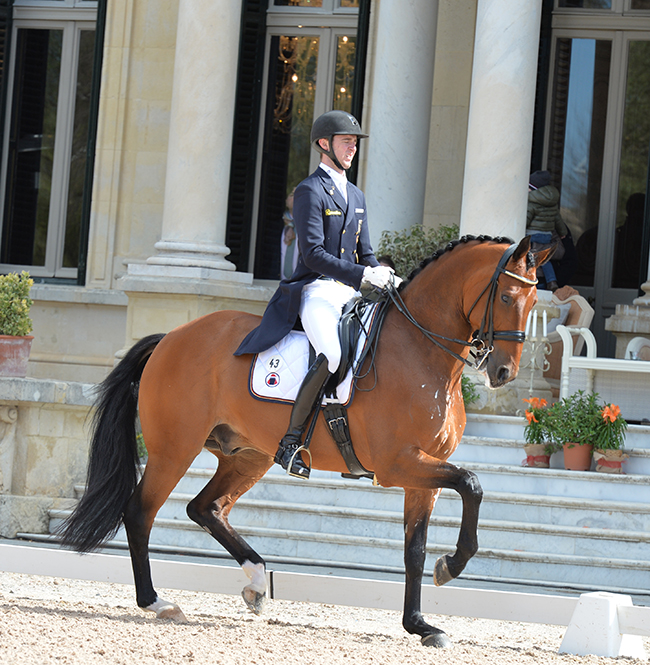 It is amazing to think that this is Cosmo's first Special, and that young Sönke has only ridden four or five in his short lifetime. I guess we can forgive them an error of course and just hope that it doesn't hurt their score too much. 77.94.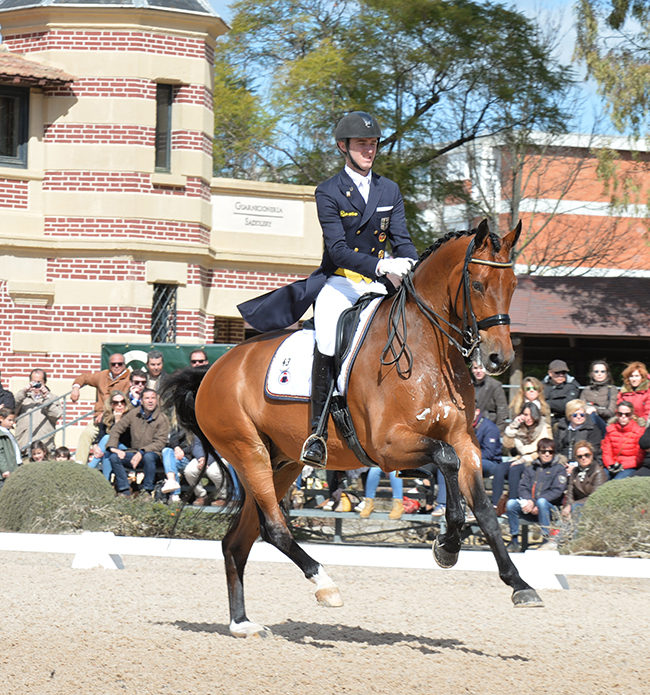 Well it doesn't hurt at all because Carl, being the gentleman he is, deliberately rides Nip Tuck into the wrong corner after the entrance/ halt. Actually that's not true, and one hopes that the judge closest has limited knowledge of some of the less acceptable words in the English language. You can see why Carl loves Barney, he is so sweetly with his rider, and tries his heart out, and indeed has improved markedly since we last saw him at the Europeans at Aachen. And yes, there is a prize of a used Macca's burger bag for the first person to can Carl for wearing an elegant blue silk topper instead of an ugly crash hat. 75.02 to go into second.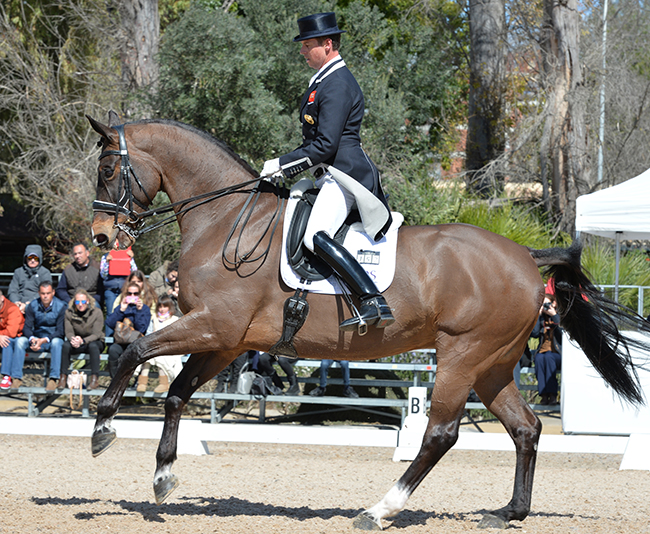 Portugal's Gonçalo Carvalho is trying to qualify as an individual on the Lusitano mare, Batuta, for the Rio Games, but it is tough when the Russians seem to be handing out whopping scores for very ordinary tests on their home ground. It would be a pity if they do miss out, as the bay is something quite special and deserves her chance to shine. 73.412.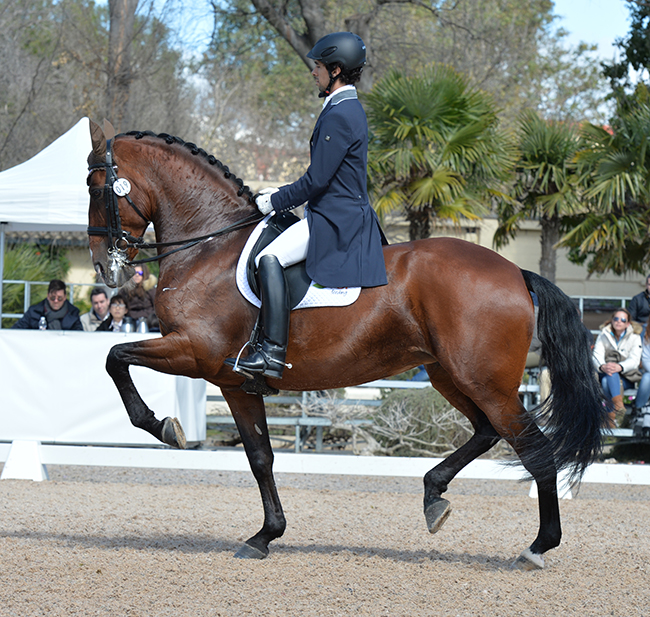 Another Portuguese rider, Maria Caetano Couceiro puts together a delightful test on the grey stallion out of a picture book, Coroado. The grey has a great loose flowing trot, but at this stage, his passage / piaffe tour is a bit under-done (he is only eight years old), but when that is consolidated, they will be a force to contend with.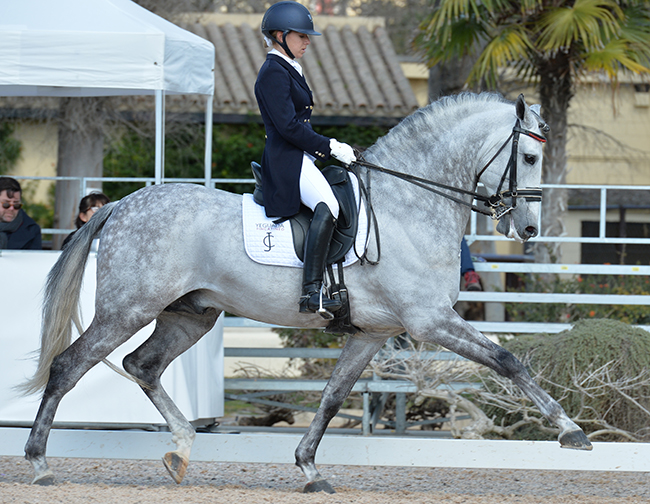 The canter is great, as is the walk. They finish on 68.98, just behind veteran British rider, Richard Davison and Bubblingh, whose test is best passed quickly over, though judges do like a familiar face, score 69.255.
Time out for some more music, it is Flamenco Week in Jerez, and no doubt a little more sherry. Will Valegro compete next Friday?
Aah my friends, that is the question.