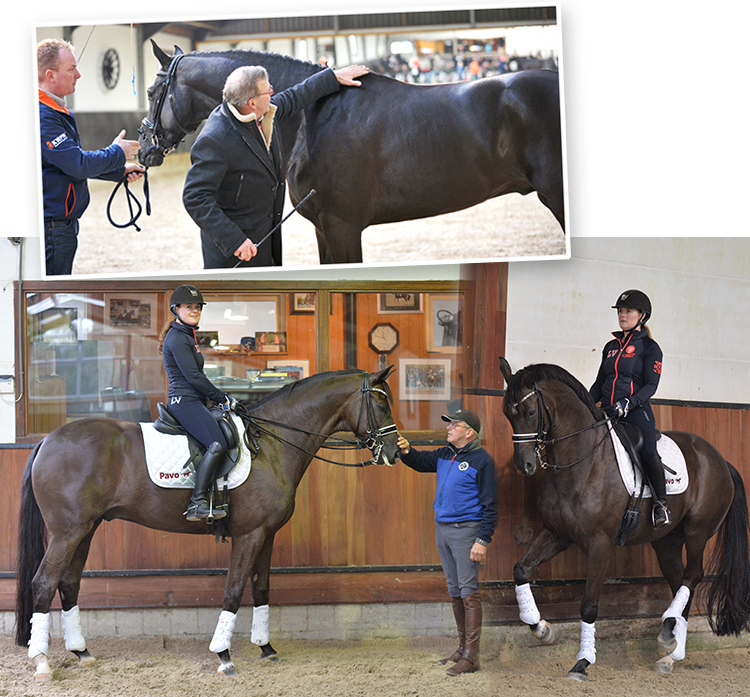 Story – Christopher Hector                                   Photos – Roslyn Neave
What I dislike most about the Master Class format is that it is so false. Not only does it give a false impression of the process of training, but it is also likely to give a distorted picture of what the trainer actually does when not performing for a crowd. One commentator on Charlotte Dujardin's recent masterclass opined that it was great to see what fun Charlotte had while training a horse. In that situation she might be laughing (she's in entertaining mode), but let me assure you that I watched her train four hours a day, ten days straight, and while she was training and working a horse she is absolute concentration, until she drops the reins and leaves the arena, then there are smiles aplenty..
Real training is not about a 45 minute quick fix, real training goes on over months and years – that's why is has been a rare privilege to follow the riding career of San Siro who we first saw as a two-year-old, just home after his appearance at the KWPN stallion licensing. San Siro is by the Sandro Hit son, San Amour and out of a De Niro mare. It has been inspiring to watch the handsome black gelding mature and grow, a delight to watch the special chemistry that exists between Johan Hamminga and Jennifer Sekreve in action – and a joy to see that calm, progressive, classical training is its own reward.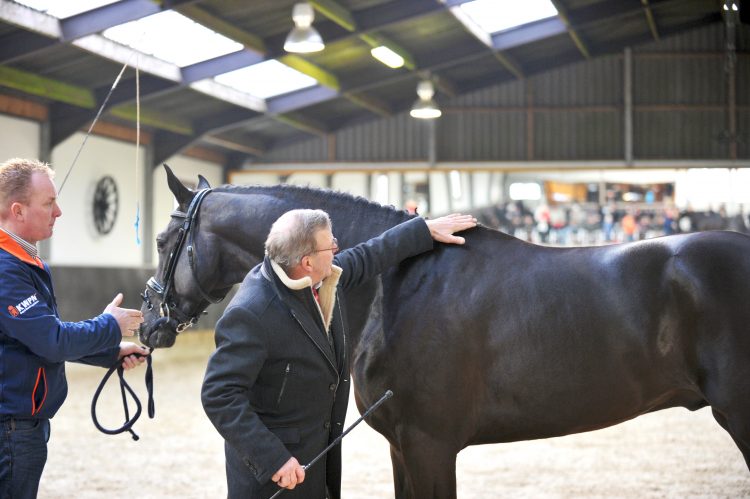 This was San Siro the first time we saw him, fresh from the Stallion Licensing, and one of the models Johann used in his lecture on the relationship between performance and conformation…
San Siro is seven years old now, and has been to four competitions for four wins with scores of over 70% in the class just below Prix St Georges.
Johan takes up his usual spot in the corner of the arena while I try to get the words of wisdom down and into my notebook, and Roz and her camera record the next chapter. Luckily Johan elaborates his points for us, to speak slowly and it is not so hard to keep up…
The story continues below…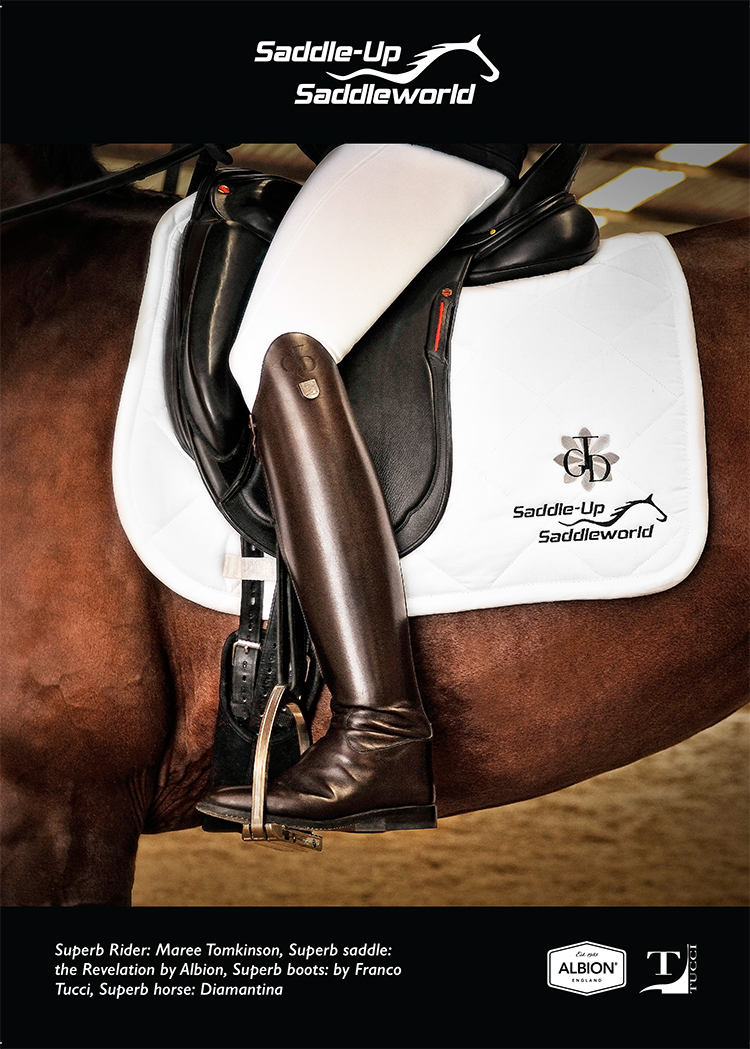 San Siro is into his big loose working trot: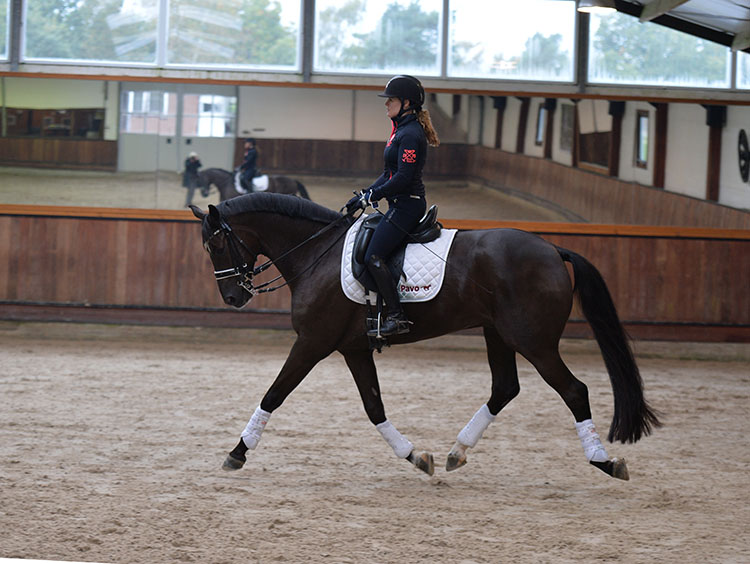 "Hind leg to the front, it is absolutely correct – the horse gives his body to the rider, and the rider sits in such a way that it is comfortable for the horse. Rhythm is the test of tenseness, and you can see that the rhythm is absolutely correct."
There is a little flex to the inside, a little flex to the outside, deep through the corner, the hind leg coming right under, taking the weight.
"A little more forward, deep and longer. Soo… Not shorter, a little more rein. You can ask him to follow your hand and if he doesn't, then a little bit more leg so he follows."
Of course, transitions are the key to the balance, and Jennifer is demonstrating total balance in her transition to walk and her canter depart, but Johan is not satisfied: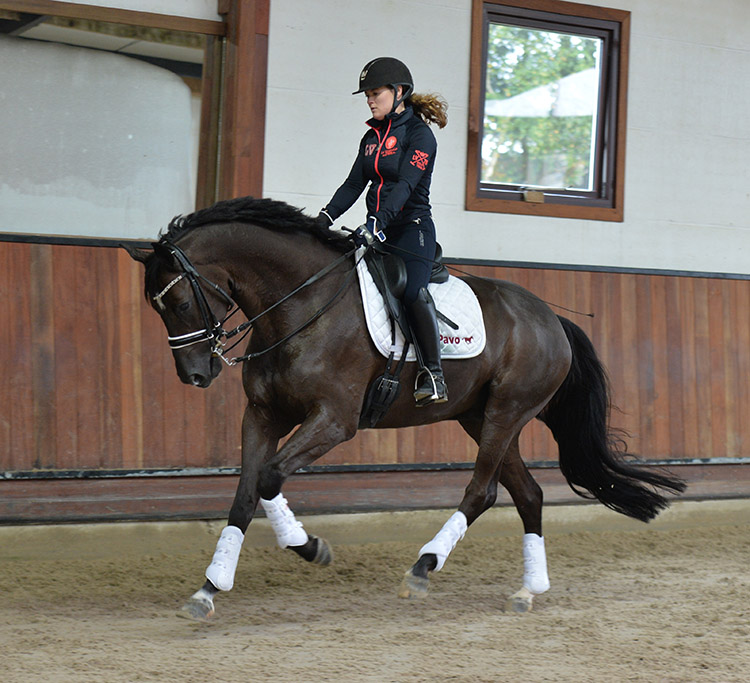 "Do it again, it was not on your first aid. Prepare the canter more. YES, that was on the first aid. Keep the outside shoulder more in. YES, when you rode more forward, the horse lengthens and lengthening gives straight – straight is when he uses both hind legs with the same strength."
"It is very important when you collect for piaffe and pirouette that you don't forget that you have to ride more forward. That the horse in his mind knows that he can go forward into collection, and come out going forward. It is never a good collection when the horse goes in thinking back, good collection is when the horse is thinking – I can go out."
"He has got a little short in the nose, open the reins more, leg so he follows your hands, then he can use his hind legs in a better way. A little inside rein so he can follow in a horizontal direction…"
And suddenly the canter is big, really big.
"Now he has a lot of suspension and he can come up in the wither."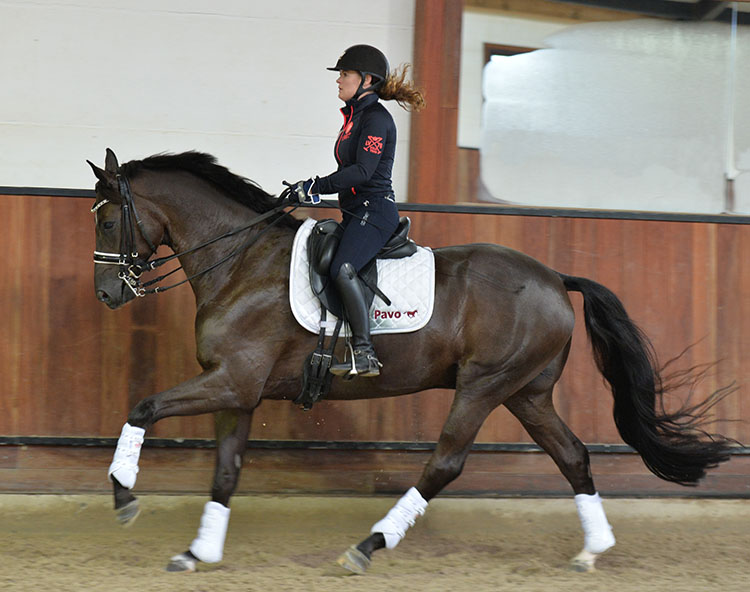 The story continues below…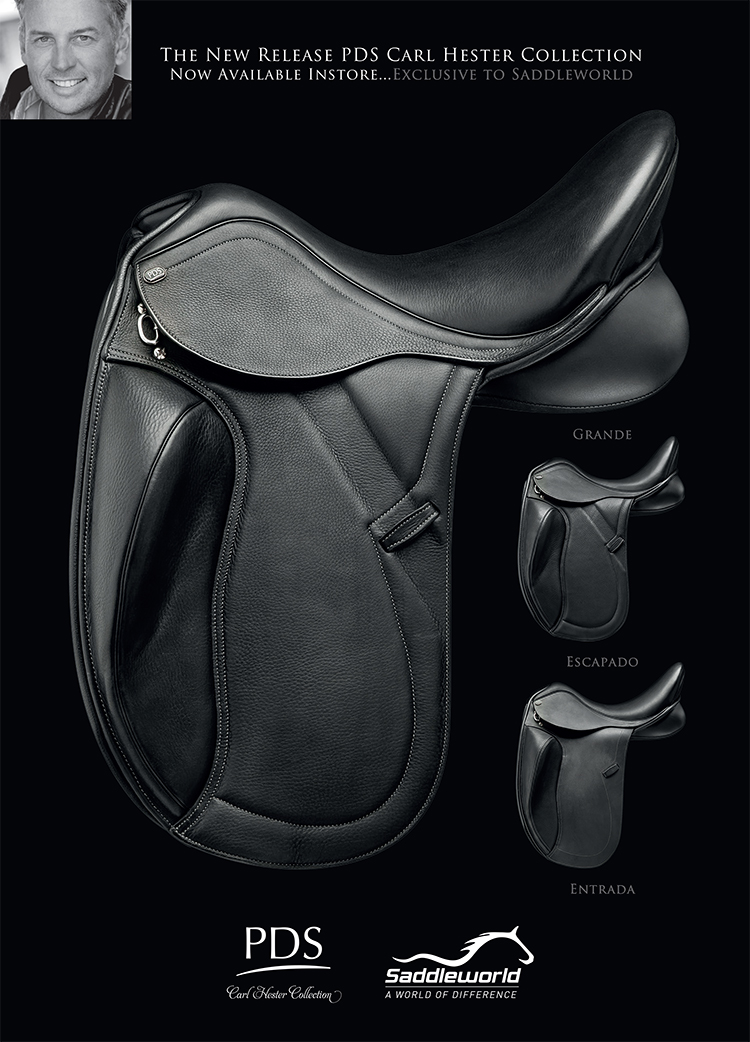 Johan may be Dutch, and he may use deep and long but what you see is certainly not rollkur.
"You have to be careful in warming up not to shorten the horse and get him behind the vertical. Give more rein, more leg so he follows your hands. A little deeper and lower in the neck, keep the wither the highest point."
It's time to relax in walk, but "even in this walk, keep a small contact. Ask the horse to go lower in the neck and longer and then he can use his topline in a better way. Pick up, forward, shorten the reins – SOFT."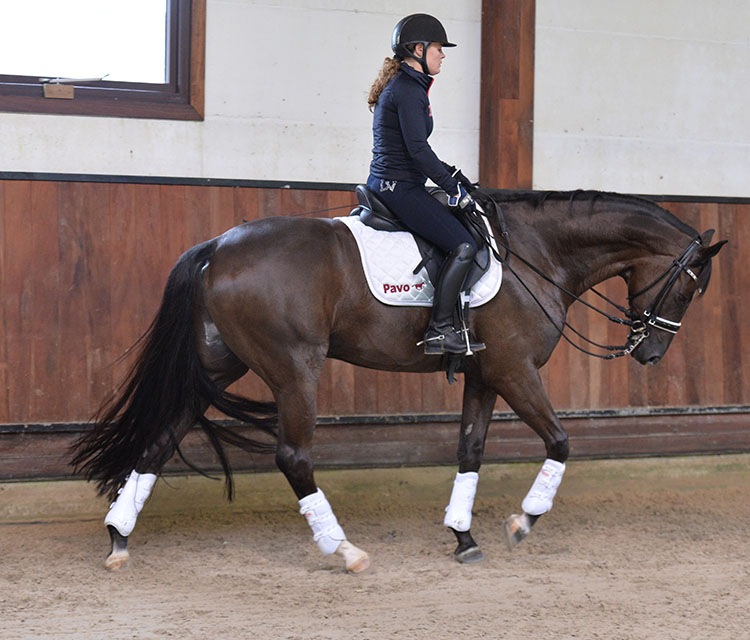 Jen is cantering the handsome black San Siro around the school now, her seat, as always impeccable – you just never see her hands move. Still Johan wants more length:
"More lengthening in the frame, more steady on the bit. Small tempi changes in the canter, we want him to bend his hind leg more so he carries more weight behind, but he must still be thinking 'forward', that's the most important thing. When the horse is behind the aids, that is circus riding, and when you ride circus, there is no development of the muscles. Every few strides ask a little more collection, then you can go out."
"He should be listening to your outside rein and your inside leg, then lift a little with the inside rein, and keep him a little more in front of you. Ask yourself, is my horse in front of me? Can I keep the fluency of the stride?"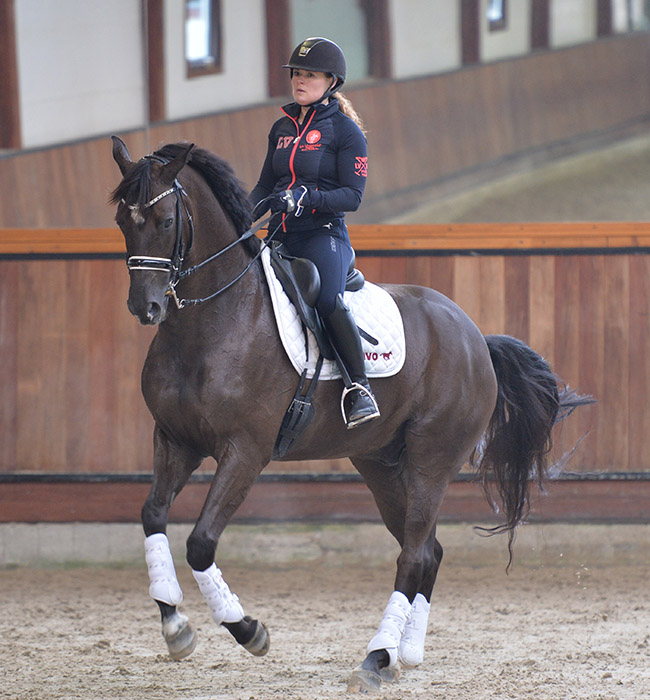 "Now he is more in front of you and uses his body in a better way. Now the frame is better, shorter behind the saddle, and he lengthens in front of the saddle."
Jennifer is riding big working pirouettes, but Johan insists that they are true working pirouettes: "Three, four, five shortened strides is enough, it is important to keep the rhythm and the strides the same."
Jen gets one almost on the spot…
"That was too much – there that is better, he comes more from behind and carries more weight. In the pirouette it is important to keep the poll up, and the nose on the vertical. BRAVE!"
"Lots of people when they want to ride an exercise like pirouette, are only training the pirouette. In my opinion, it is better to train the stuff before the pirouette – the very good canter, the very good balance. For the horse to collect behind, he needs a good rhythm. When you have those things, you can do a few turning strides. Train the stuff before, then it is easy to make a pirouette, but not too many. We want to keep the horse healthy, when you turn and turn, it is hard on the joints and you have injuries."
"More forward, more fluent in the pirouette, or it gets tricky, you have to keep the same distance between the outside leg and the inside leg. When the horse brings both legs together, then he is stiff, not loose, in his topline."
"When you want to give your guests a good meal, you have to shop beforehand, buy nice things to eat, then the cooking is the finishing touch. When we are training horses, we are shopping the whole time."
San Siro is showing what a lovely flying change he has…
"They are good flying changes because the horse is straight and in balance. For a good change the horse is loose through the body. Normally the canter stride is three metres, and the change has to be more than three metres. If you have a three-metre canter, and a one-metre change, the horse is not relaxed in his body, he is not obedient to the aids."
Once again, San Siro is into his lovely big walk, and Johan makes an interesting point about the relationship between big walk and piaffe:
"Often people say when the walk is too ground covering, the horse cannot learn piaffe. I don't agree. This horse makes a big walk, but he is not just moving out of the hip, the knee and hock joints bend. When there is no bending and the walk comes just from the hip, then it is difficult to teach piaffe."
And just to demonstrate, Jennifer is riding a few half steps: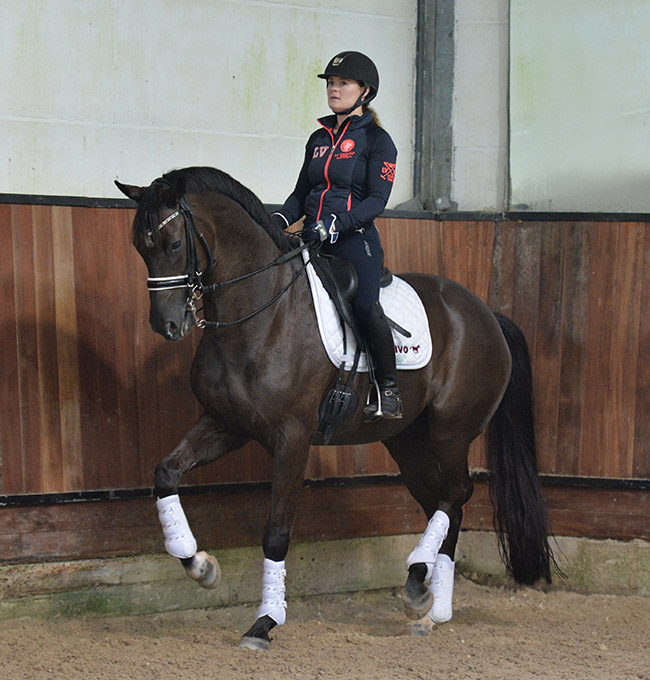 "In the beginning he has to find the rhythm and balance, now it is not always a good rhythm but he is searching for it, that is a good beginning."
"Now he carries more weight, and is also more on the vertical, touch him with the whip on the croup – now there is more bending of the hind legs. Enough, pat him."

And the trot after this collected work was sheer poetry.
"What we do is follow a logical system for the horses. The way we train, it is easy for the horse. He had to work hard, but we made it easy – ears pricked and relaxed, good in his eyes, the horse was relaxed and that means not so many injuries. If the horse is stiff and crooked, and the riding is stiff and pulling, then you have lame horses. The horse should be strong behind and not strong in front. The ones that are not strong behind, but strong in front, the ones that are ridden in strong nosebands, that's the beginning of badness."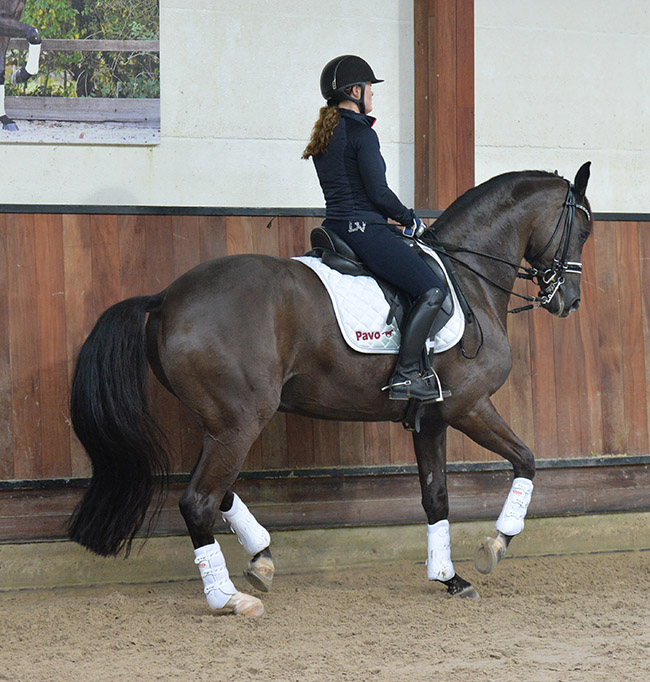 Not surprisingly, Jen is happy how the horse has come along:
"In the beginning, he was a bit holding himself – don't touch me! I gave him time to relax and give himself. It's good he is our horse, so we don't have owners putting on pressure to compete. We have clients who come to see a five-year-old, and the first question is, does he do flying changes? If we made him compete when he was four or five, he couldn't manage it in his body or his brain. The canter was not so good in the beginning, it took time before he stretched and pushed to the hands, now it is developed and loose."
"In the beginning you think, oh I am too slow, we are getting behind, but now he is starting to piaffe, and do the flying changes, everything comes together – and we are not so slow."
I got in touch with Jennifer again in February of this year, and she was still on a buzz with San Siro:
"San Siro is getting better and better, I'm very pleased with him. In two weeks he is going to the Dutch Championships. There is a freestyle being made for him right now, and he is doing really great in the training."
DUTCH DRESSAGE BREEDING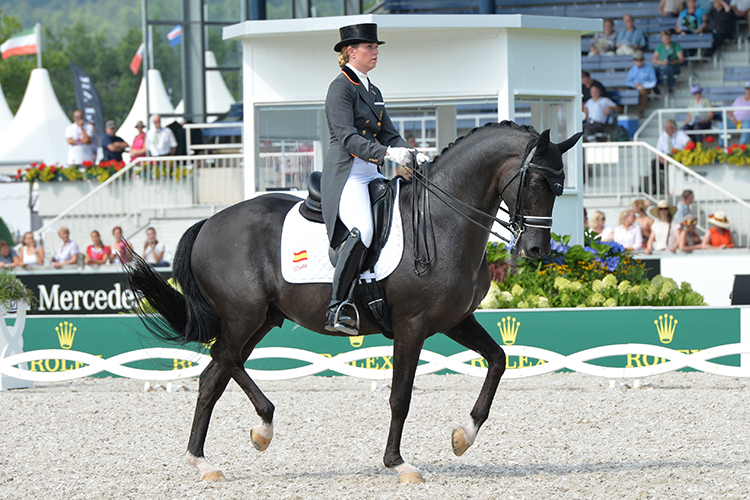 Painted Black 'one of the better Dutch dressage stallions…'
Johan Hamminga is not only a master trainer, he has been closely involved in the development of Warmblood breeding in Holland and he is an acute observer of trends in the sporthorse scene…
Looking at Dutch dressage breeding, is it a worry that no son of Jazz has really emerged to take his place?
"Vivaldi is one of the best sons, and it seems with the offspring of Vivaldi that they have a very high level of rideability, so we hope Vivaldi will be a successful stallion son of Jazz."
What mares does he need?
"The most successful combination is Vivaldi / Havidof, or Vivaldi / Ferro is a very good combination. Vivaldi needs power from behind, but his character is very good – so we are looking for dressage horses with a good character as well as natural balance."
---
ADVERTISEMENT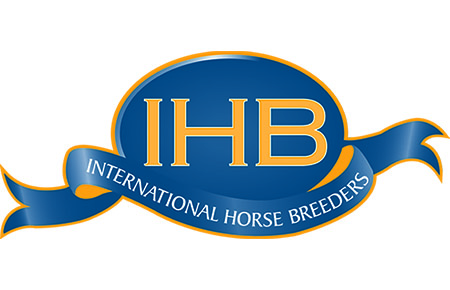 Presents the cream of Dutch dressage breeding – highlighting Vitalis, the best son of Vivaldi. Vitalis is the sire of last year's World Young Dressage Horse Champion, Victoria's Secret! Right now Vitalis is THE hot sire on the European scene…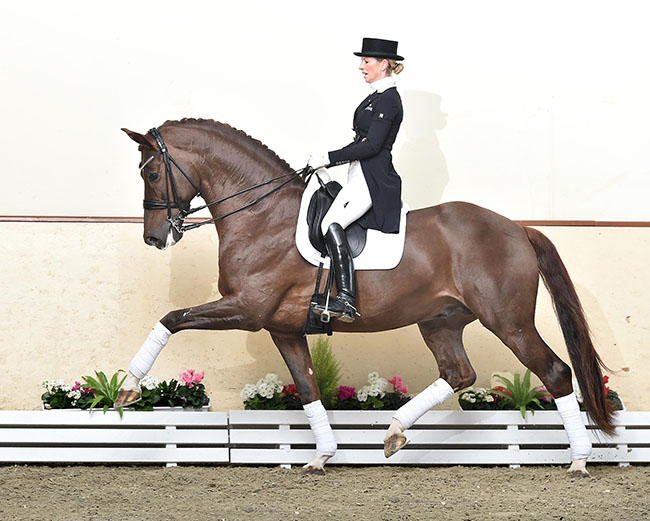 For details go to the IHB webpage:
---
Is that the problem, some of the other Jazz stallions, don't have such a good temperament?
"Yes, for Jazz offspring you need a rider who is able to say, I am the boss, and you have to listen. That's what the Jazz horses need. I rode Jazz for three weeks at his performance test – he was scared and he needed a boss. Jazz has brought dressage breeding in Holland to the highest level, but you have to be careful."
Are there any other bloodlines that are interesting?
"There are up-and-coming stallions, but you cannot say for sure, because they are too young, it is when the horses are from ten to fifteen years old, then you can say, that's a serious breeding stallion. When the offspring are seven or eight years old, then they can make the first steps of piaffe / passage or pirouettes – until then, you cannot say, 'that's a good one'. There are people who say, oh he will never learn piaffe / passage or that one, he is doing passage by himself. I say – and I think I've had a lot of experience with young horses – I had to train them, and take time to find, seriously, he learns it or he will never learn it. When horses are six and seven years old, then you can say, that horse is learning piaffe and passage, they are learning flying changes and pirouettes, that is an up-and-coming Grand Prix horse – but you have to wait, till they were six or even eight years old before you can tell."
Like this article? Want to see more? Go to http://www.horsemagazine.com/thm/article/dressage/
---
ADVERTISEMENT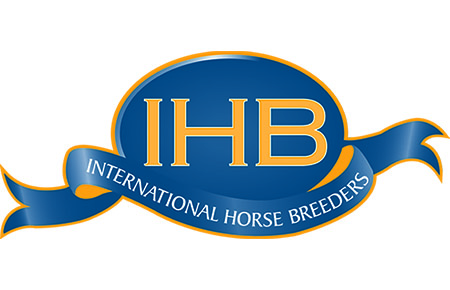 Presents Bordeaux – the ultimate fusion of the best of Dutch and the best of German dressage. He is by United, who scored the highest marks ever in the KWPN performance test, and who is by the Grand Prix star, Krack C out of a mare by the Grand Prix star, Partout. United is out of a mare by Gribaldi out of a Donnerhall mare. Bordeaux has already produced sensational foals…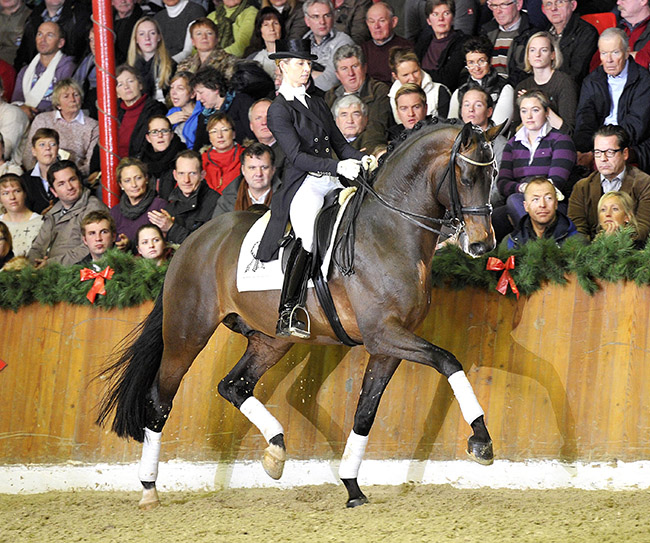 ---
"Of course, Ferro made very good strength from behind and good horses. Bordeaux is another, there are some from United, but they are all too young. Painted Black makes good horses…"
Better than himself?
"I think so, because when you have a mare with more frame, more length in the frame, this is a good cross."