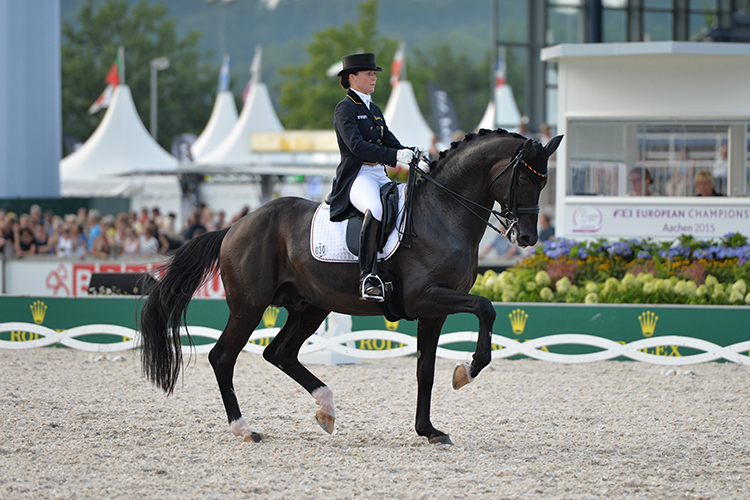 2001  170 cm Black
Breeder – Herbert Schütt
The 2016 Hanoverian Stallion of the Year title went to the black stallion, Desperados.
He has certainly proven himself an exceptional competitor with his young rider Kristina Bröring-Sprehe. Desperados won team gold and kur bronze at the 2016 Olympic Games in Rio de Janeiro, Brazil, and is currently the FEI/WBFSH World Dressage Breeding number 1 ranked dressage horse.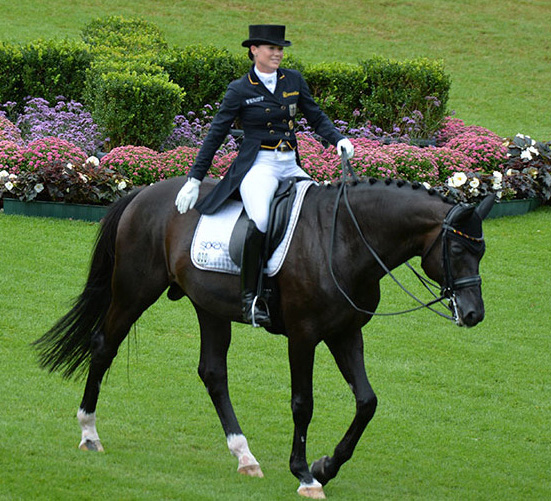 Desperados FRH is born on 2 June 2001 at Herbert Schütt's yard in Hemmoor, Germany. He is by the world's number one dressage sire, De Niro, out of a mare by the best son of Weltmeyer, Wolkenstein II, out of a mare by the French Anglo Arab, Matcho, which perhaps accounts for his lovely black coat.
Two years later he presented the black colt at the Licensing, but like so many of the very best Warmblood stallions, he was rejected.
(see http://www.horsemagazine.com/thm/2010/11/salon-de-refuses-the-stallions-that-almost-werent/)
Desparados became the most expensive, non-licensed stallion at the auction and sold to Gestut Sprehe  – the stud in owned by Kristina's father and uncle. One year later Desperados was licensed at the approval under saddle in November 2004. He also received a premium then. He completed his 70-day performance test in Schlieckau.
Dr Roland Ramsauer, the former breeding director of the Oldenburg Verband, who advises the Sprehe Stud tells the story:
When did you first see Desperados?
"I saw him when he was two and a half years, Paul Sprehe asked what about this stallion? It's a super stallion. And he was at that time not licensed! I said you can buy him, he's a super dressage horse. So Paul bought him for 105,000 deutschmarks. He was the most expensive unlicensed stallion at that time."
He's been a fabulous competition horse but how do you think he'll rate as a breeding stallion? What will he give?
"He was a super type and he was moving like that when he was free running – we couldn't believe that the Stallion Committee of the Hanoverians rejected him. The head was my friend from university days, 'Johnny' Wilkens, and I said to him, thank you, you had such blind eyes this day!"
What mares do you think Desperados fits best with?
"He should have mares that have Thoroughbred blood, that is most important. They should be medium size, not too big, not too small and they will inherit, of course, the movement, so the mares can have not so much movement because he will improve the movement of the offspring."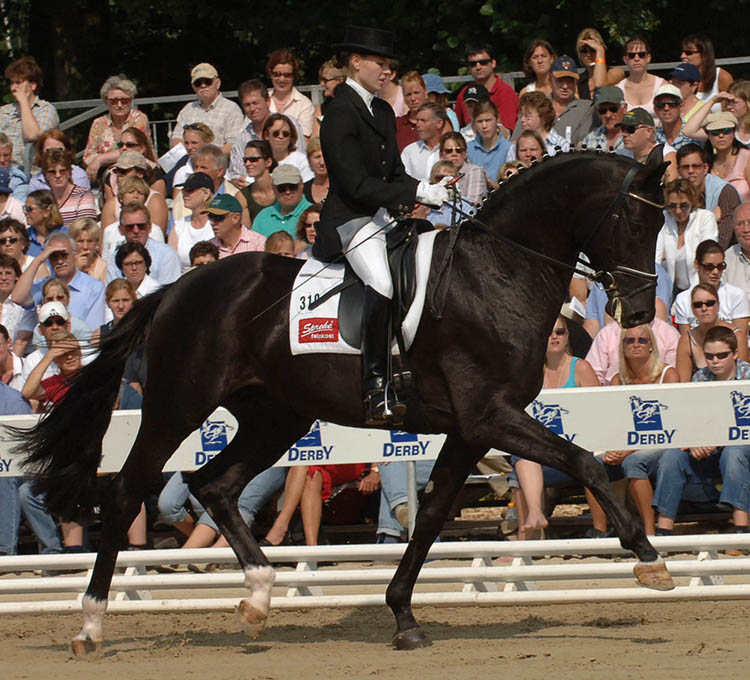 Desperados at the Bundeschampionate
Desperados went on to win the 2004 Bundeschampionate as a 3-year old and got bronze at the 2005 Bunderschampionate. Trained and competed by Falk Rosenbauer, he moved up to Grand Prix level and won the 2010 Hamburg Dressage Derby. In 2011 Kristina Sprehe took over the ride and they became the Otto Lorke Prize recipients. They won medals at the 2012 London Olympics, 2014 World Equestrian Games and 2013 and 2015 European Championships.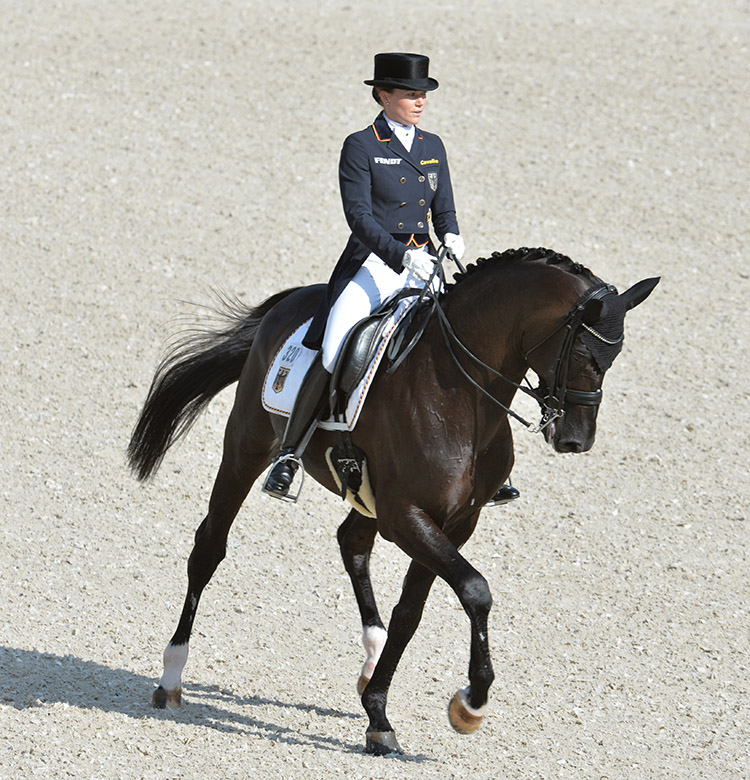 As a breeding stallion Desperados received the Grande Prize in 2012. Desperados' son Destacado won the 2016 Bundeschampionate for 3-year old stallions.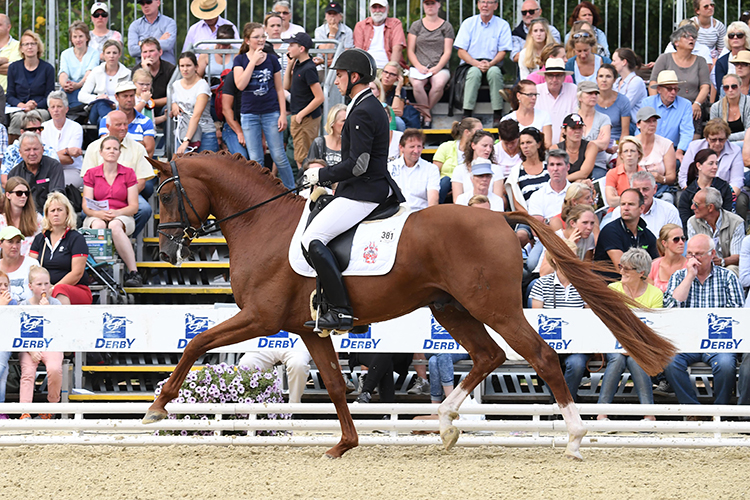 Destacado at the Bundeschampionate
Desperados has sired 8 licensed sons so far of which five were Hanoverian premium stallions. Daughter Doris Day was the 2010 Hanoverian Mare Champion and Bundeschampion winner in the 3-year-old mare class.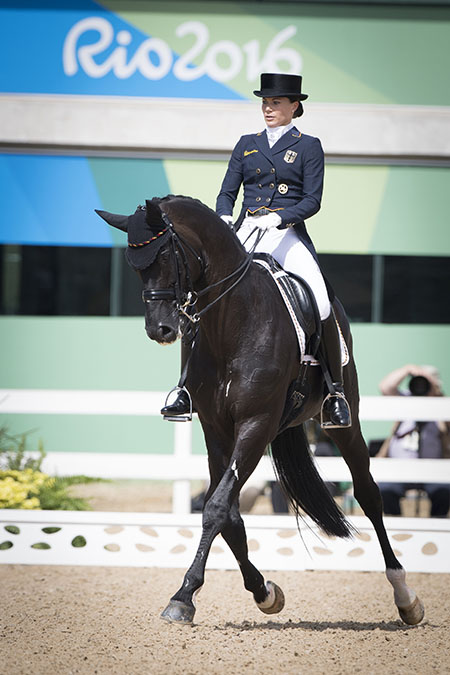 Desperados at Rio
The 2017 Hanoverian Stallion book records Desperados' personal winnings at €547,299, while his 280 progeny in competition have won between them €75,358, with 10 of them competing at Advanced level. He is the sire of 13 licensed sons.
On the 2016 German FN breeding values based on young horse classes, he has a value of 134, on the basis of open competition results, 120. He has a Hanoverian dressage value of 126 (82 for jumping) and a value of 137 for type. On the Hanoverian topliste for dressage stallions with a value of more than 120, he is in =23rd, while he is = 9th (with Sandro Hit)with a value of 137 on the topliste for Type. He has a value of 134 for his canter, 125 for his trot, 120 for walk, and 111 for rideability.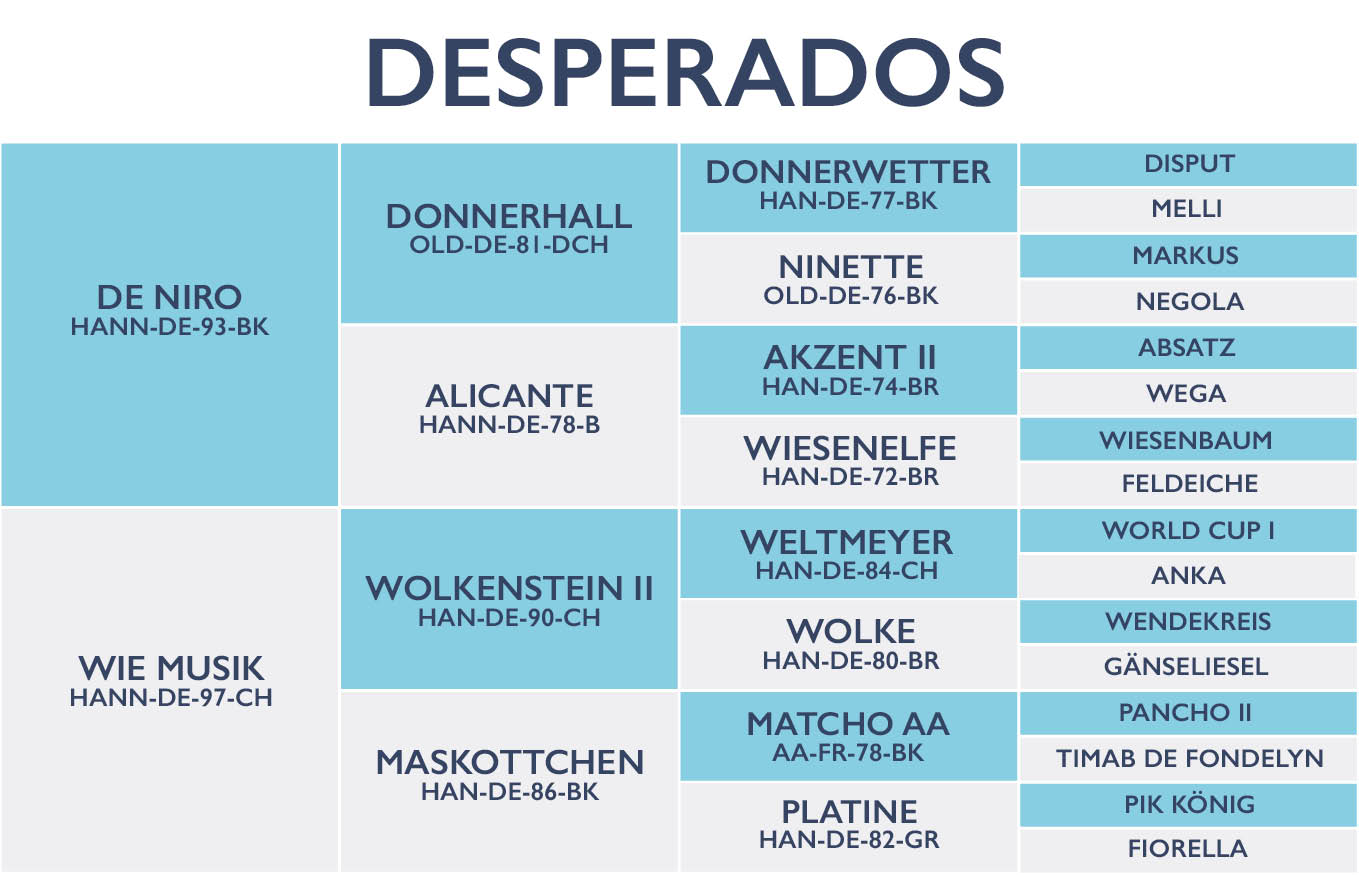 ---