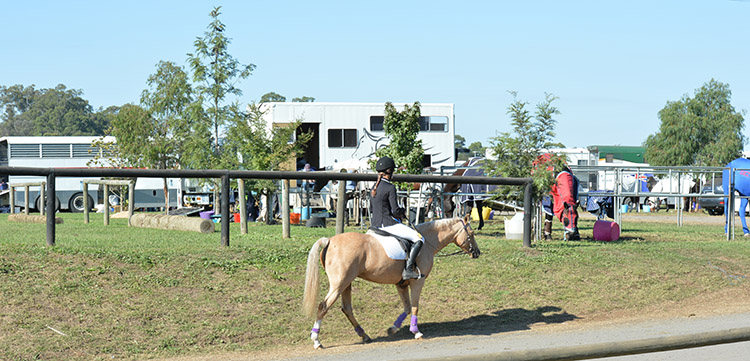 Story – Chris Hector                               Pix – Roz Neave and Rodney's Photography
In the week leading up to the Equestriad in Camden, we published an article I'd written about a school with the late Tina Wommelsdorf, back in 1986. The article obviously struck a chord since it rapidly went viral: 61,070 views and 235 shares. Tina's message was mind-bogglingly simple, you can't ride if you can't ride: the basis of everything is a secure, sympathetic seat, independent hands and an ability to use the aids discretely and accurately. And for the riders who hadn't got to this first base, Tina's solution was simple:
Cross the stirrups, tie the reins, and get someone to lunge you until you can sit.
But thirty years down the track, it would seem Australia's riders haven't got the message – or that was the sad conclusion I drew after watching a dozen two and three-star riders school their horses at Camden on the day before the official action commenced. Out of the twelve riders, there was one (1!) who sat adequately, easily into the saddle, soft to the movement, sweet (and STILL) lower leg, and soft, independent hands, and her horse was of course the only one that went nicely.
Ah, wingeing, grumpy old man, what would you know, those riders have won big classes, they include some of our best. But the trouble is, our best are not good enough. Australian eventing dressage is lagging far behind the rest of the world, and this shows in the scores. The winning score in the three-star here would be flat out making the top ten at a big international competition, and find it difficult making the top 20 at a championship. And Tina is still right, until our riders are prepared to bite the bullet and get someone to lunge them regularly, then they are not going to get any better because the way they sit, sets off a whole set of chain reactions: horses with tight backs (and yeah, that makes it even harder to sit), horses that come above and below the bit, horses that are bridle lame (I saw one horse at Camden that was so blocked that it was showing three types of bridle lameness at the same time) and most importantly of all, horses that are not relaxed and supple enough to show what movement they have.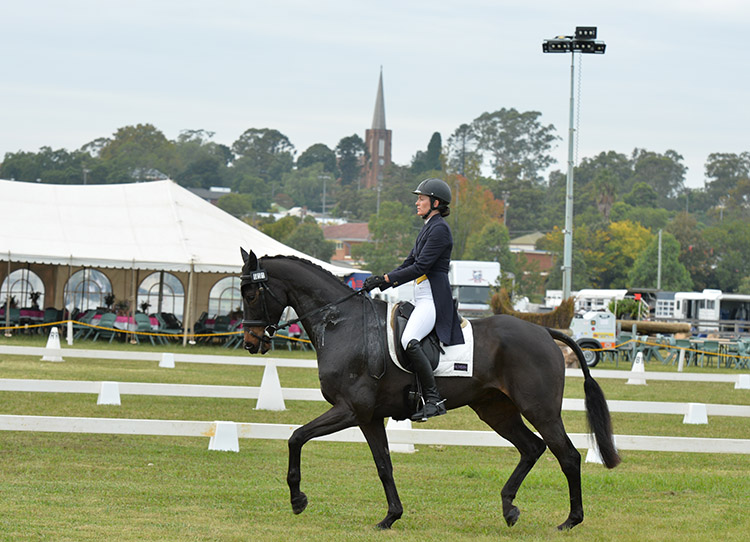 Katja and her first ride, Flamboyant
Luckily all the three-star horses were not included in my dreadful dozen, and there were a few decent tests in the class, decent, not great. Katja Weimann on BP Flamboyant was oh so close, but the occasional grab at the bit and loss of rhythm pulled the test down. And why oh why do horses come into arenas in Australia with their necks lathered with sweat? It ain't a good message to the judges.
Katja is headed to Germany to work with German team eventer, Dirk Schrade, and is taking three horses with her: Cosmopolitan, Escapade and Flamboyant. Three horses that Katja bred herself, and all by the Hanoverian stallion, bred in Australia by Remi stud, Triathlete, that Katja evented successfully.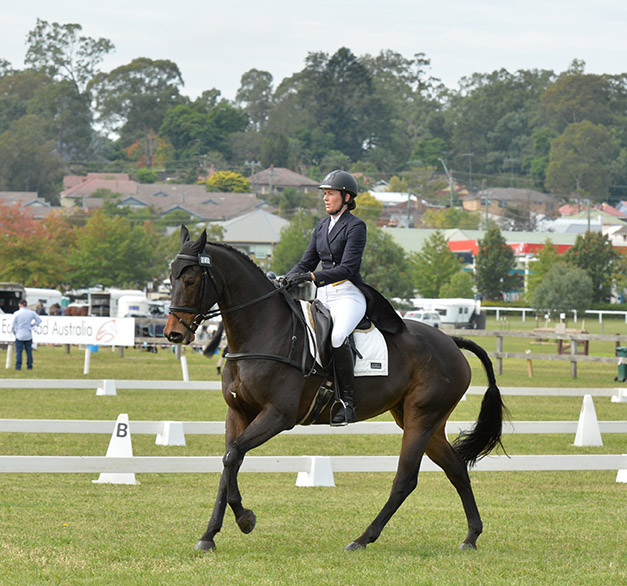 Another bred and trained by Katja, Cosmopolitan
Is this your last event in Australia for a while?
"Yes, I'm off to Dirk's, leaving at the end of May. Hoping to compete at Luhmühlen, hopefully at Aachen, and then I'm not sure after that, we'll see how we go."
Why Dirk?
"I spoke to a couple of people. Bettina (Hoy) said I could go to her, but she is busy now with the Dutch team and she doesn't have turn out. She said, Dirk might be a really good place. I met him when he was over for Equitana a couple of years ago, speaking to him on the phone, he sounds lovely, very funny."
He's quite a horse dealer so I guess you will get more riding opportunities with him…
"I hope so. Three horses is very quiet for me, I have anywhere from eight to ten in work at home, so hopefully I'll be riding some of his."
No limits on when you come home, just see what happens?
"I'll stay there for at least a year or more. Once you've taken them over there, it seems silly to bring them back too soon. I'll see if I can prepare for the WEG over there. It's going to be a different experience, I've always wanted to take horses overseas. I'm not sure if I'll stay in Germany, I might go to the UK for a bit, it's an adventure, it should be good."
All three are by Triathlete, but are they related on the dams' side?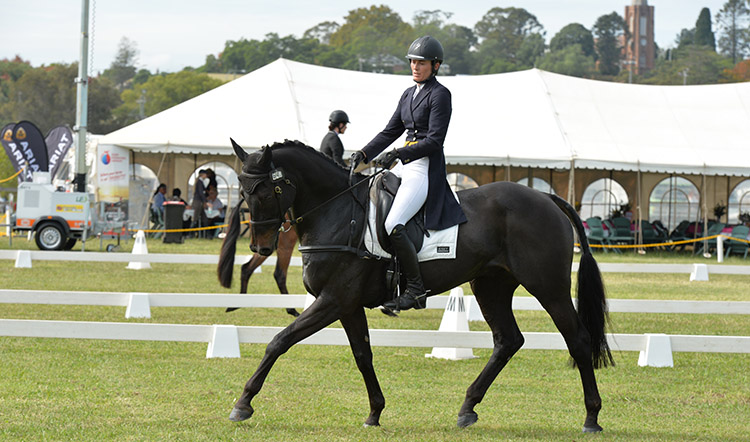 Katja's Escapade, youngest of her three
"All different. Flamboyant is out of the Star Kingdom line Thoroughbred mare, the dam of BP Gallantry that I used to ride. Cosmopolitan is out of a Connemara / Warmblood cross mare, he's the over-grown pony, and Oscar (Escapade) is out of a Thoroughbred mare by Esperanto. It's quite nice to have got them all to this level, seeing as Triathlete didn't have the chance to go three-star because of his health problems."
Cheaper than buying them…
"True, but it has taken an awful long time to get them there."
You've walked the course, what is your impression?
"It looks good, the going looks good. The course is much the same as previous years, it flows nicely – we'll see how it rides when we get out there."
Next we talk to Megan Jones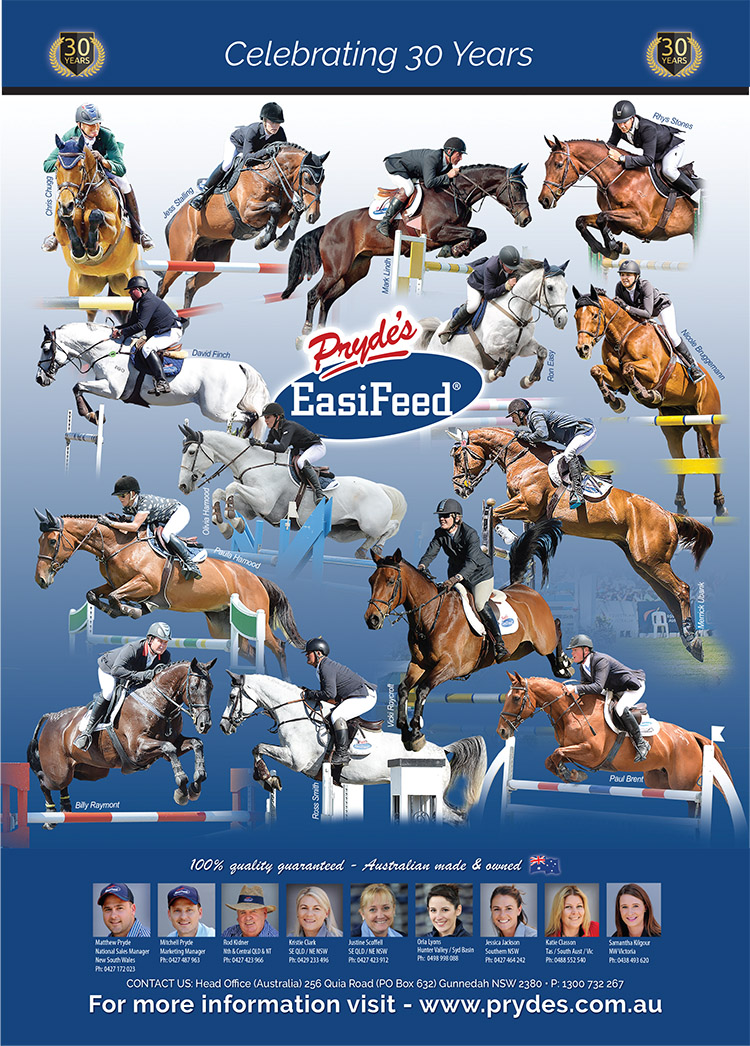 Megan Jones has been out of the limelight for a while, steadily moving through the lesser grades with a couple of home bred youngsters and Megan's mare, Kirby Park Impress, really is impressive. This is another test that is oh so close to being stunning and the problem is, I don't know who is supposed to add the polish and take our riders to the next level.
I did suggest that EA approach Bettina Hoy, on the grounds that she was strong in her dressage, and also had huge experience at big international shows, two things sorely lacking in the Rio management team. No interest, and now she is coaching The Netherlands, and the Australian team management is now made up of a part-time Chris Webb, who doesn't pretend to know anything about dressage and Gina Haddad, whose CV includes a stint as the State Pony Club Eventing coach and heading up the equestrian program at New England Girls School. As Gina Harp, she competed three-star and was tenth in a selection trial for Atlanta. I'm not sure how much Gina will have to do with the senior riders, since Chris Webb told me she would mainly be involved with the younger riders coming through. Gina comes from the Heath Ryan school of eventing dressage…
For Megan it is a welcome return to the big time…
"It has been a while but it doesn't bother me, because I just love the sport for the sport and if you are always trying to get on those teams, and that is the thing that consumes you, then you are going to send yourself crazy. I knew I had two good horses coming through. They were a bit weak in the two-star so we took our time. Jester was retired and Allofasudden was sold to a young rider in New Zealand, so you just refresh, stay happy with the sport, and start again."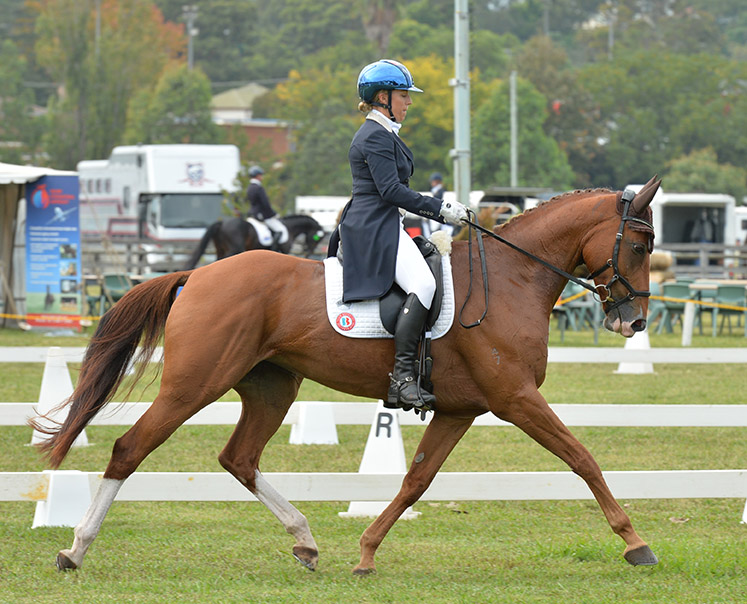 Another rider to breed and train her own, Megan and the elegant Kirby Park Impress
"It's nice, we bred both of my three-star horses. They are stock horse / Thoroughbred crosses. The mare, Impress is out of a Mustern Lake mare, by our stock horse stallion, Nantamboo, and the gelding, Invader is from a Salmon Leap mare – quite old fashioned Thoroughbreds. They are just beautiful horses to work with, but very different. Freckles (the gelding), he sees everything, he is spooky. A tarp attacked him at Camperdown one year, part of the trade stand. He is just really scared of spooky stuff. Adelaide in the two-star, he saw the big TV screen and he absolutely lost his mind. So we thought, what can we do? We couldn't go back in there, couldn't work on the side of the arena where he could see the screen, the stewards kept sending me away."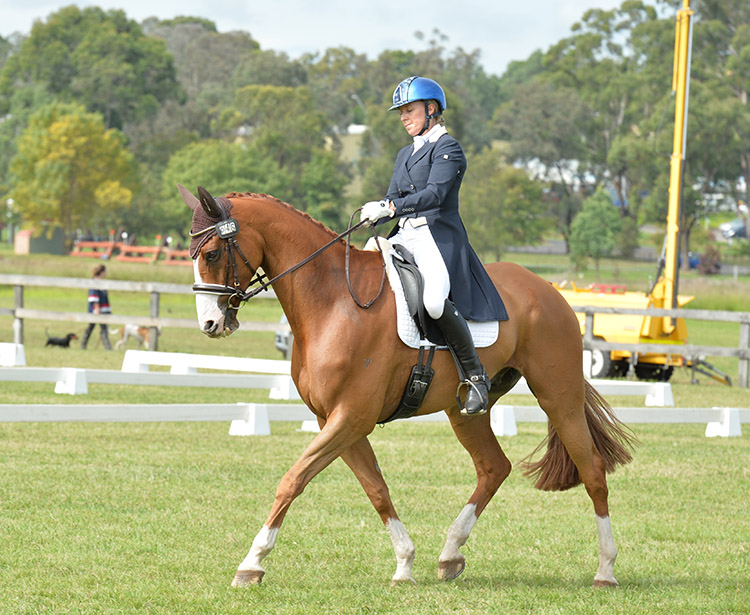 Megan and her spooky one, Invader
"So we went to the shops and bought balloons and blew them up and tied them inside his stable, put them on the ground in his stable, bandaged him up and closed the top door and walked away. Left him to deal with balloons around his legs and in his stable – next day he was de-sensitized, nothing can be worse than my stable, get me out of here. From that point on his paddock was covered in tinsel and bunting, and safety tape, Christmas decorations on his gate, by his feed bin, in the stable – we just keep bombarding him the whole time. He still looks at things, like yesterday, he wouldn't walk out of the arena, because there was white paint on the ground."
And the mare?
"A unicorn. A chestnut mare unicorn. You just ride her with your mind, she is amazing, you think whoa, you think go and it happens. She's my slowest horse and my fastest horse because you never have to touch her cross country. She is big in her movement, it has taken a long time to get her to sit on the flat and carry herself. She always looked flash but she really wasn't because she was so wide behind and long, and over tracked a bit too far."
"But they are both nine now and coming together really well."
It must be nice, it is the first time you've had two horses level pegging so you are not totally relying on one…
"Exactly. Things are changing, James and I bought a property, and we moved last week. Not far from Kirby Park in Woodside, I am still teaching at KP a few days a week. So we have our own place, it is kind of terrifying but exciting, finally moved out of home at forty!"
I guess you are thinking about the WEG next year?
"I am doing Sydney on the mare, and Werribee on the gelding, and from there to Adelaide."
So you are looking to be selected out of Australia?
"Absolutely, especially now we have bought somewhere, we can't afford to go overseas. I still believe that we should be able to be picked from here and I am not going to cave in. I don't want to go overseas, we've got good events here, good support teams, we can do it out of Australia."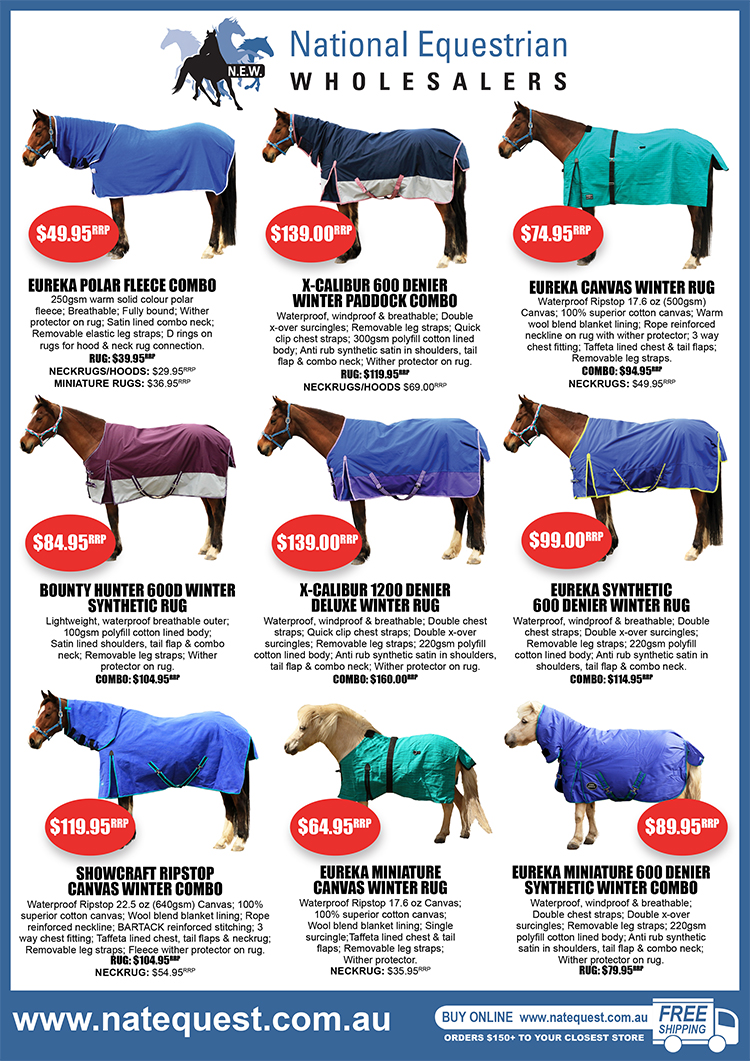 http://www.natequest.com.au
Tim Boland sits nicely and at the end of the day, he was sitting pretty in first place on GV Billy Elliot with a score of 41.5. Megan and Impress were second on 44.4, with young rider – tackling her first three- star – Gemma Tinney riding Annapurna, third on 46.7. Adelaide winners, Hazel Shannon and Clifford were 6th on 50.5.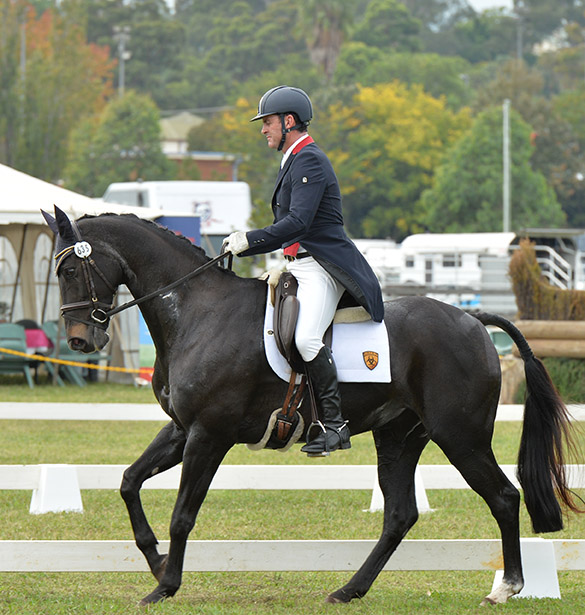 Tim and Billy Elliot, sitting pretty after the dressage
In the run up to the Equestriad, EA released the Australian squad for the Trans Tasman to be held at Werribee. Not only did the list include the truly diabolical but it also left out a couple of names you would have expected to be there – names like Tim Boland and Megan Jones…
I asked Tim, did you ask not to be considered for the Trans Tasman team?
"No, I was told I wasn't on the short list last night, then I was told you needed to apply. I'm not a real devotee of social media so I was completely unaware. I would have thought you just select the best team from results and that's all there is to it. You don't apply to be on an Australian team, we all want to be on an Australian team and that's why we do it."
It's the weakest lineup I've ever seen, I would have thought you might find a place there…
"I've no intentions of going overseas this year, so the Trans Tasman has been my target all along. I would love to be in the team, and I still haven't given up hope. I genuinely got a shock when I was told last night who was on the list."
Billy has had a history of soundness problems…
"Up and down. It's very well publicised that he's had two leg injuries and he's come back from those leg injuries well. He did a full season in Europe both times, it's not like we are battling old horse problems. He's had two injuries and we've been very careful how we managed him back. I've got him back in good shape, and aside from a disgraceful display in Adelaide, he's had two starts this year and couldn't have gone better. He went to Sydney at the beginning of the year and won there, great dressage, double clear, and then had a hit out just last weekend at Quirindi in an open/intermediate, great dressage and double clear and ran second, just had a canter round. He's in tip-top shape. I was happy enough with his dressage here – he was quiet, he could have had a lot more expression in the canter, but everything else was good. There's a lot of canter in that test and he's got a terrific canter, I just under-played it. I should have shown off his terrific stride more but that's why we come to these events, to get better."
When I ask Chris Webb about Tim not being in the squad, he says that the riders have had to apply to be selected for a long time, and that Tim as rider rep on the National Eventing Committee should have known the procedure. Then it degenerates into a he said / he sent / no he didn't/ squabble. I guess really Chris has to decide whether he wants perfect procedure, or the best possible team for the Trans Tasman.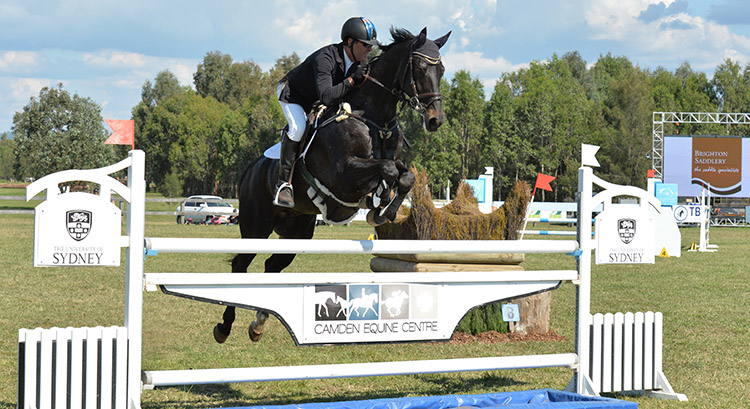 Still in first place after the showjumping, Tim and Billy Elliot 
The showjumping did not alter the placings greatly. Tim and Billy Elliot, Megan and Impress, Hazel and Clifford, all clear, as was Katja on BP Cosmopolitan, to haul herself up the leader board after being 11th after the dressage.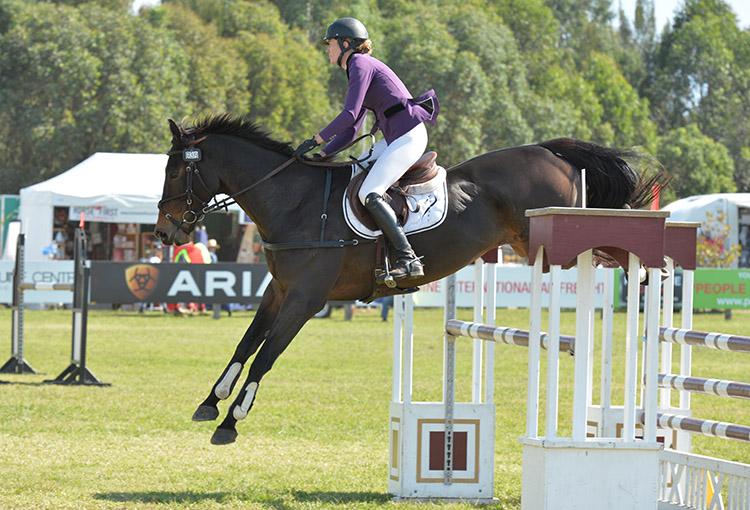 Katja and Cosmopolitan move up the leaderboard after the showjumping
Before the cross-country even began, the field started to fall away. Tim Boland said he wasn't going to ride his two, Billy Elliot and Napoleon, over bad going, while Hazel felt that the 'going wasn't too bad. I just don't feel like I need the run. I just did Albury and he felt fantastic and made time easily.'
This year at the Equestriad, the Australian Eventing Title was up for grabs. In the past the Eventing Championship has been shuffled of to all sorts of out of the way places, and there are a few names on the honor roll that you've never heard of. Bringing the Championships to Camden was a good move, but it seems that something might be needed to give the title a little more allure – at Adelaide last year there was an odd event called the crown of somethings, which paid a cool 10K to the winner, who was probably the only person to notice that it had happened. Transfer that $10,000 to Camden and the Australian Title, and watch the competition boom.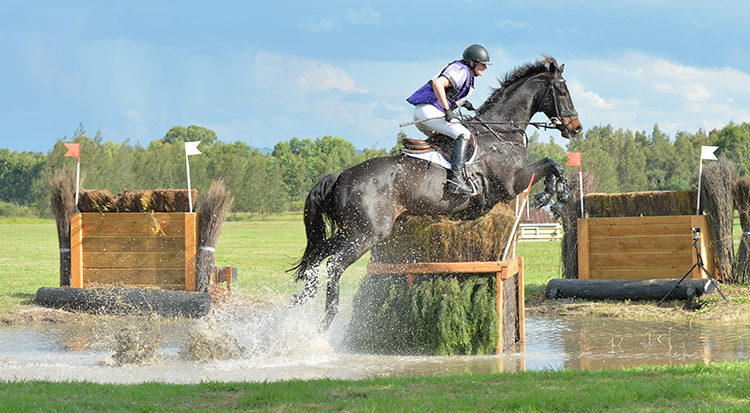 Katja and Flamboyant, early to go cross country, in the sunshine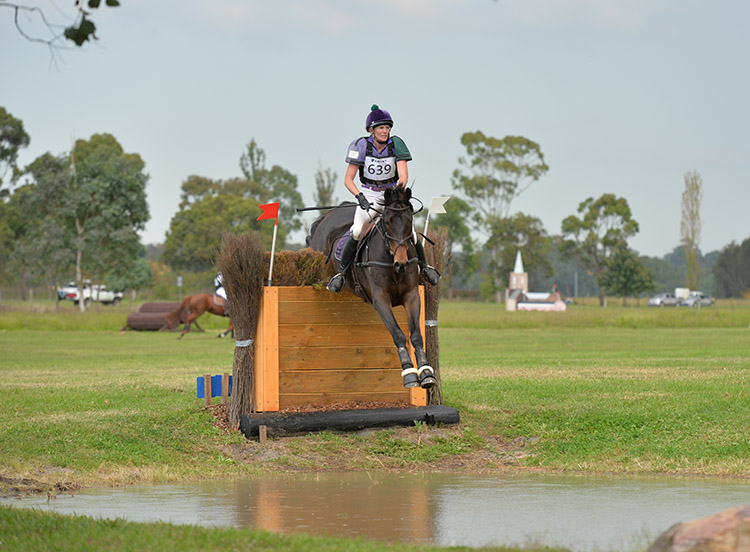 Katja and Cosmopolitan, second place, up from 11th after the dressage
Who would be an event organizer, or an eventing photographer? After brilliant weather all weekend, just as the action reached something of a climax in the three-star, one mighty cloudbank rolled in, and the leading three-star horses made their way home through the rain and in the dark.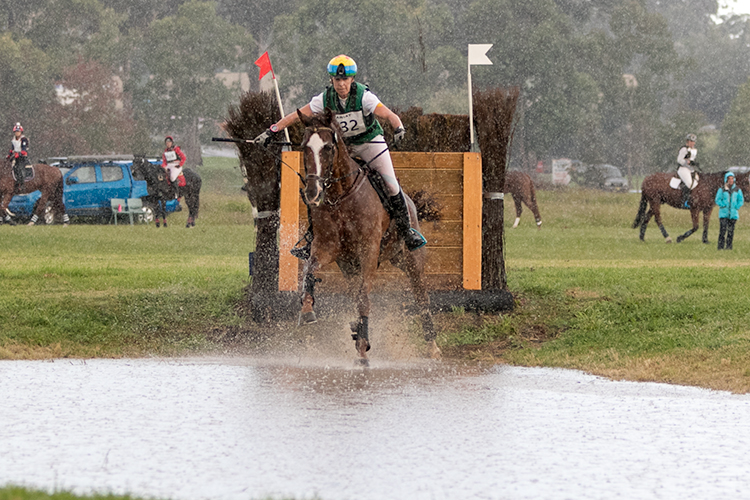 At the end of the day, rain for Megan and Impress
In the end it was Gemma and Annapurna who came home with just 14.8 time to take the Oz Title. Katja was second on Cosmopolitan, 10.4 time, while Megan and Impress were third with 23.6 time…
I suggest to Gemma that it is too easy, you just rock along to your first CIC three-star, win that and along the way collect an Australian Title…
"I wouldn't say it was easy, but I'm really happy with the result and with how Annapurna went, to win the class was the cherry on top of the cake."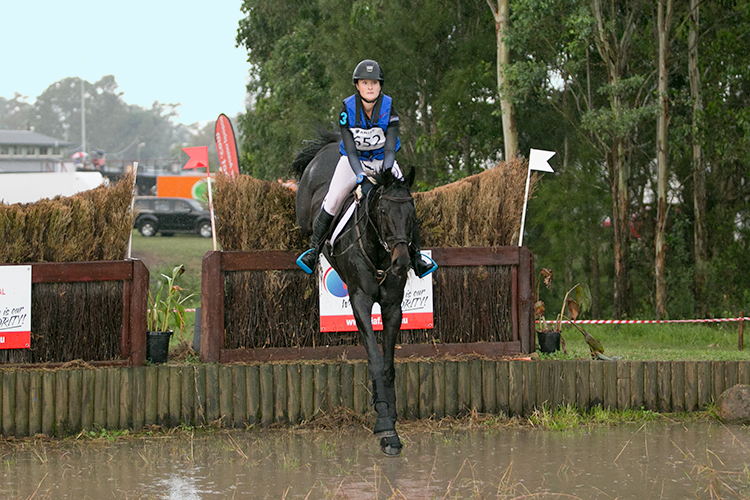 You copped the worst of the weather, the gloom and the rain, did that make it harder?
"It was difficult, but the last time I was at the Equestriad and did my first CNC three-star, it poured down with rain so I'd been on that course in those conditions before, it was just a matter of focus. It was a bit slippery and I didn't have the right studs in, but it all worked out well."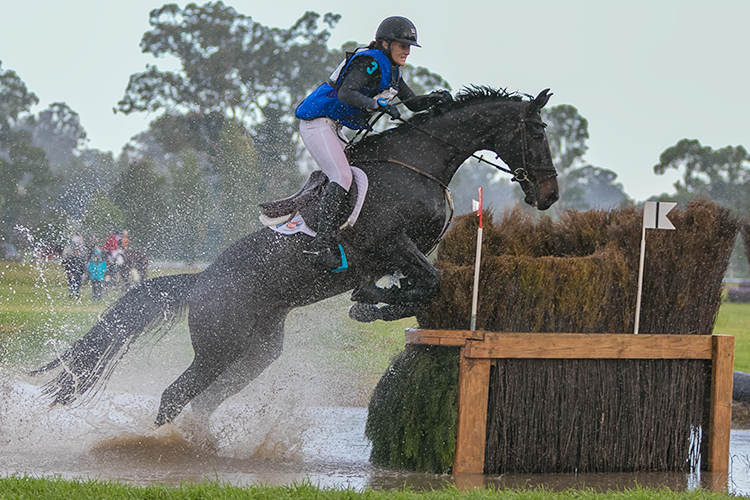 More from Gemma below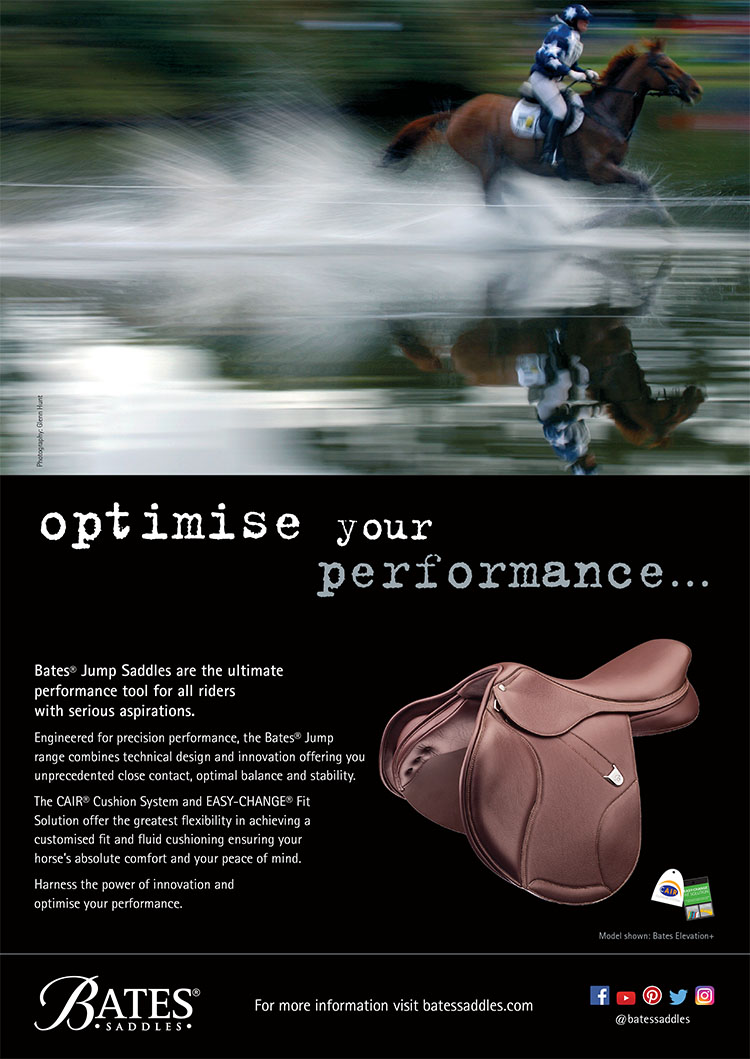 You seem to have an incredible empathy with your mare…
"We do get along really well. She's a really nice mare, not difficult at all and she goes so well for me."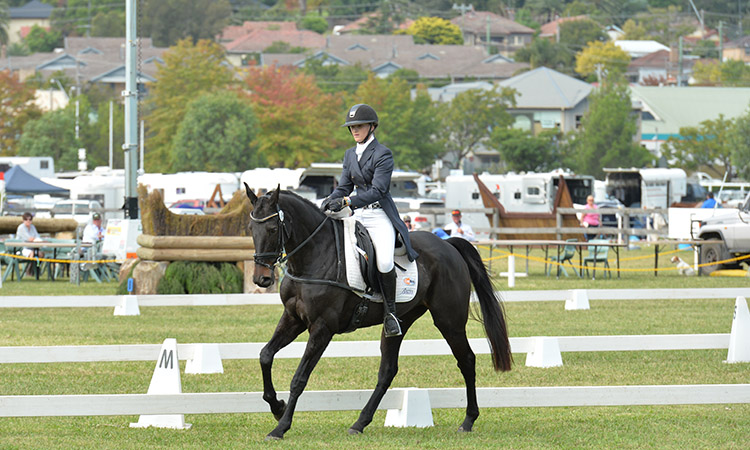 She doesn't seem to be as quirky as her big brother (Annapurna is out of the same mare as Stuart's Olympic ride, Pluto)?
"They are different and they have their own ways and their own little quirks…"
What are her quirks?
"She can get a bit hot, so when I go into the dressage, I ride her around the outside on a loose rein to keep her calm. She's a very fit horse and has lots of energy so I just stroll into my tests with a long rein and it seems to work well."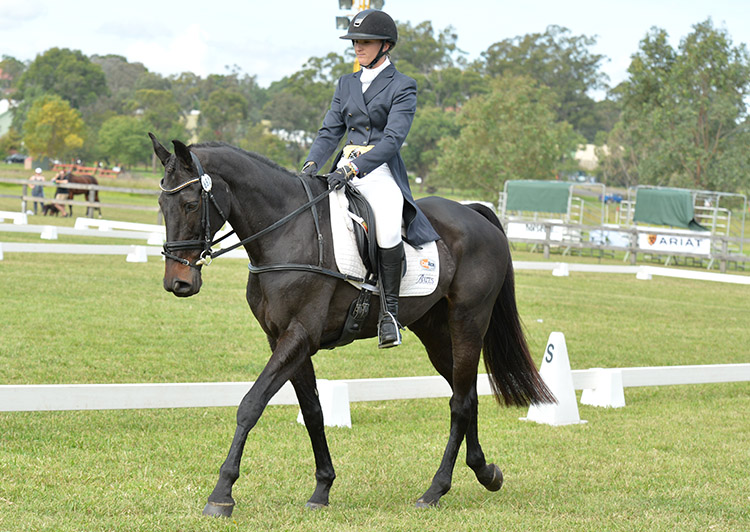 I watched you and Stuart when you were walking the showjumping course, and your Dad obviously plays a big role…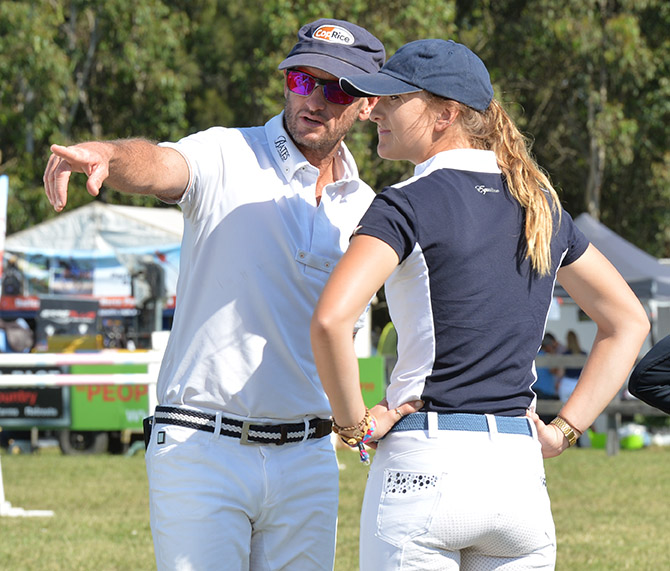 "When I am in that sort of environment, I want him by my side the whole way so I can get the best performance that I can. I'm just grateful for his help."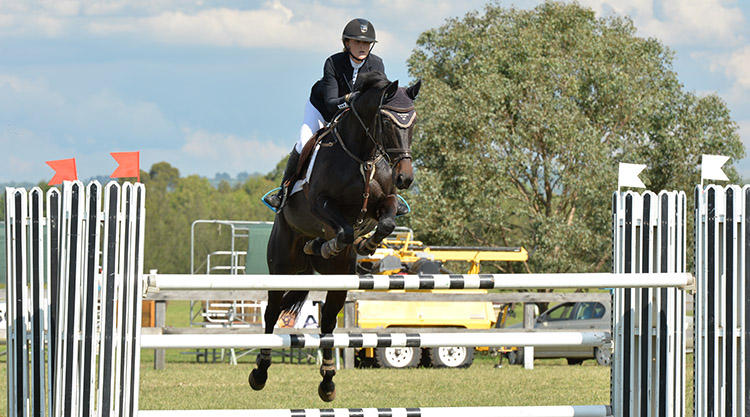 You are listed in the Young Rider Trans Tasman team at Werribee, what are the plans between now and then?
"I'm going to do the CIC*** at Sydney and then off to Melbourne."
And being the perfectly brought up young eventer that she is, Gemma took time out to thank her sponsors, Horseland and Bates saddles, plus a big thank you to owners of Annapurna – John and Jane Pittard.
Catching up with the hyperactive Shane Rose at the best of times is difficult, but when he is running a show with 650 entries, and flying out of the country to compete in Badminton, just hours after the final horse jumps at Camden, then it gets really difficult, but I did pen him down long enough to ask about the genesis of the event…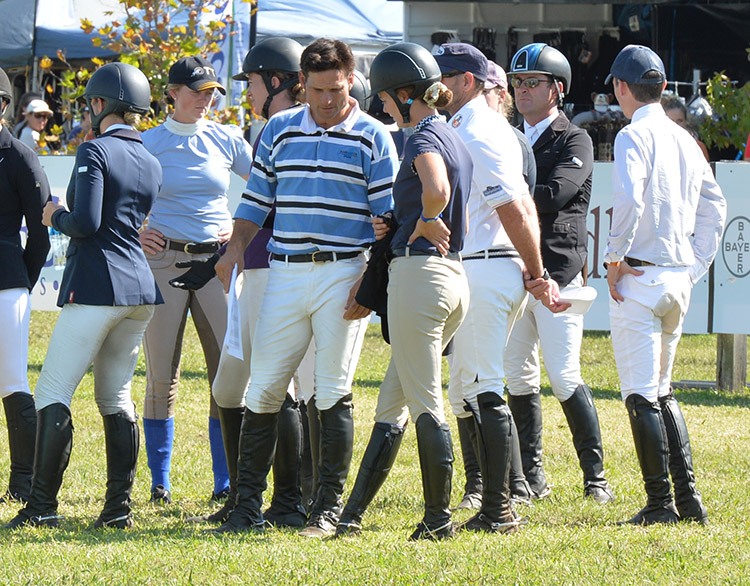 Did you always work on the basis of having 500 horses in the lower level classes, to finance the fancy end of the Equestriad?
"Not really. When we first did this, I just felt that people could be a bit more expressive in how we ran shows, like what they do in Europe. People go to Aachen, or Badminton or Burghley and don't actually see a horse. And I thought we could try and bring some of that here. Later on today, we'll have face painting for the kids, a jumping castle and a petting zoo. Things that are unrelated to the horse show. I also wanted to bring in the big screen and give that experience to our horses, experience we haven't had in the past except at Adelaide. Quite often when horses see the screen for the first time, they don't react well and as they get used to it, they get better at it."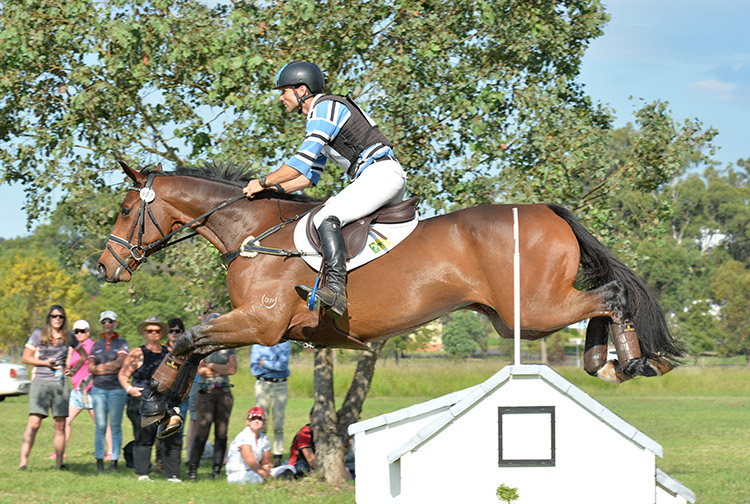 Of course Shane had to find time to ride home-bred Swiper in the Two-Star
"That was my intention, how I was going to fund it, never entered my mind. It's a bit like most things, you start and then you figure out you have to earn more money. If you create a good framework, then people want to come to the show, by people I mean the elite riders, put on a good show, and they bring all their horses and then the people who are just enjoying the sport at that lower end, want to come and ride with those good riders, come to the event and have fun and be part of it. Then it snowballs."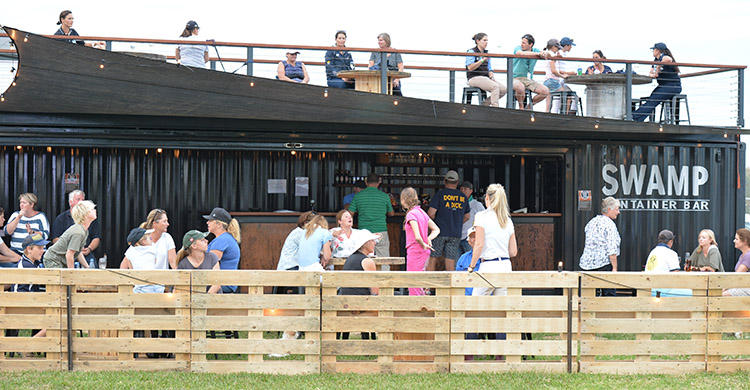 But 650 entry fees must provide a reasonably substantial economic base for you to play with…
"At this CIC we run a fairly big budget, certainly not as much as Adelaide and Sydney, but big – we throw a lot of money away in the hospitality tent, hiring the big screen, things like that, because that creates our atmosphere. We are lucky that it is such a good venue that we can spread it out in three different areas so while there are close on 700 horses here, it doesn't feel manically busy. Having said that it's always a thing that grates a little with me, the idea that the lower levels fund the sport. I personally think I put more money into the sport than any of those individuals, but it is the collective of those lower level riders, the sheer numbers, the fact that we can have 700 here, does fund the sport."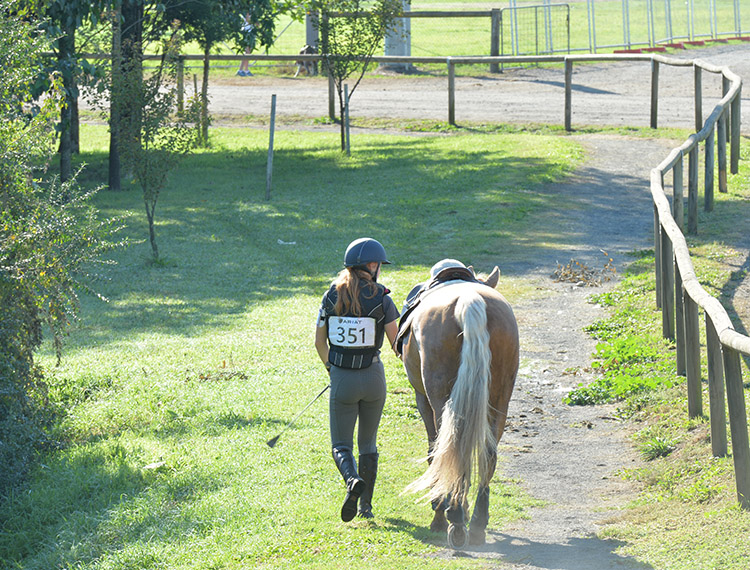 "My intention was that I wasn't going to run a horse show for the rest of my life. When I first started I just wanted to show people that it can be done…"
"I been lucky with the people involved. When we started we had a bunch of riders who live in the area and I said, come on guys we can do a better job of running an event."
more from Shane below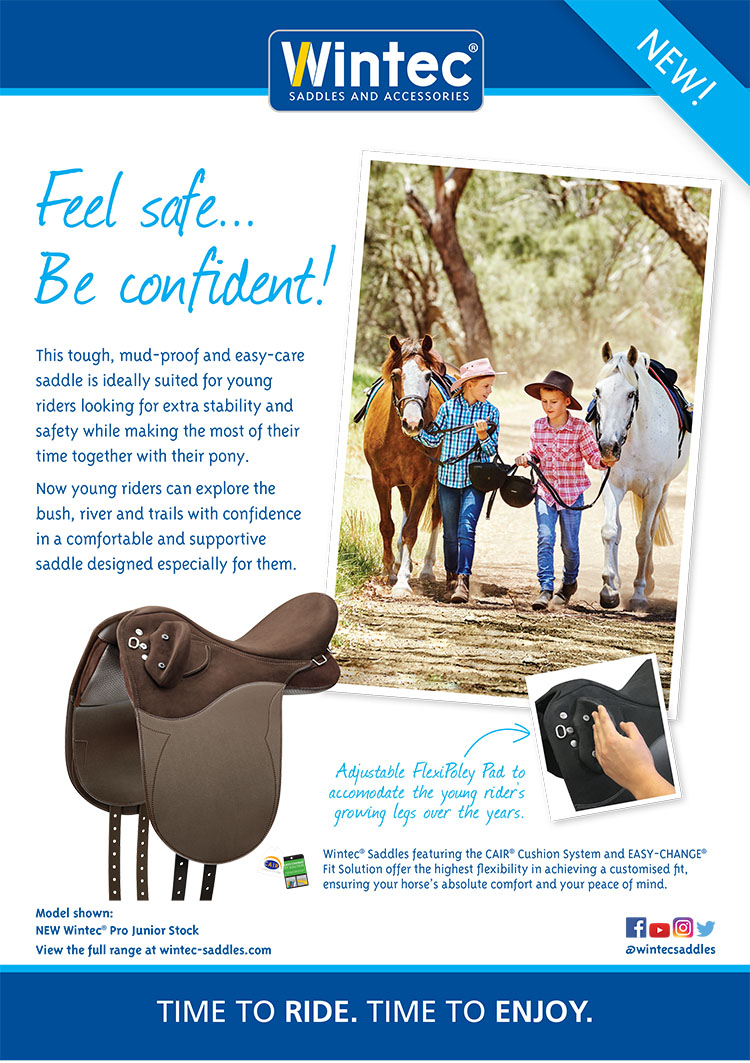 Will the Equestriad be long term viable – we've had wonderful shows in the past, all the product of one mad genius at the centre, and they go brilliantly until that key person burns out and the show disappears…
"Yes – absolutely. What we are trying to do here, and our committee is growing, which is testament to the fact that the people on the committee are easy to work with, and we try to have a fun environment to work in. Our philosophy is that this is not about any individual. It is not about me, it's not about anyone on the committee, not about the ground jury, or the technical officials, it is about us as an organizing committee and the technical group, putting on a show for the riders."
"When we have our working bees, we have 20 or 30 people turn up, I think there are a lot of committees that would love to have that level of participation. We try to make that fun too, a beer at the end of the day, lunch is provided, so there is a good group of people who enjoy each others company. As the show gets bigger, we are fortunate to have more people come into the committee. And whilst people think I am a control freak, I am quite happy for other people to take on the responsibility."
And that poor stray dog that no one wanted, the Australian Eventing Championship – does it finally have a good home?
"We'd love to keep it but that is Equestrian Australia's call. We've certainly got it for next year and hopefully we do a good job. I'm a little biased but I think this is a great show, and the Australian Champs fits well in that format – and we'd love the opportunity to give it a home. But it is not just the championship, I think if you can win this event, then you can win Adelaide, and the stats will prove that. You don't have to do this event to win Adelaide, but I think the track is tough enough and if you can get around here, it puts you in a really good place as you head to Adelaide."
And Shane and Nikki grabbed their bags and headed to the UK, and the next Shane Rose adventure – Badminton. Watch this space.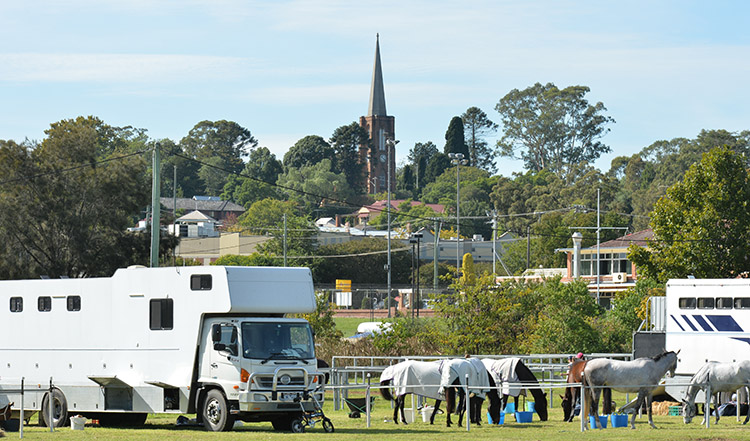 RodneysPhotography         Specialising in Equestrian Photography
*Eventing *Showjumping *Dressage *Show Horse        Onsite printing available
Contact us – Email: info@rodneysPhotography                        Phone: 0415 555 565
Website: RodneysPhotography.com