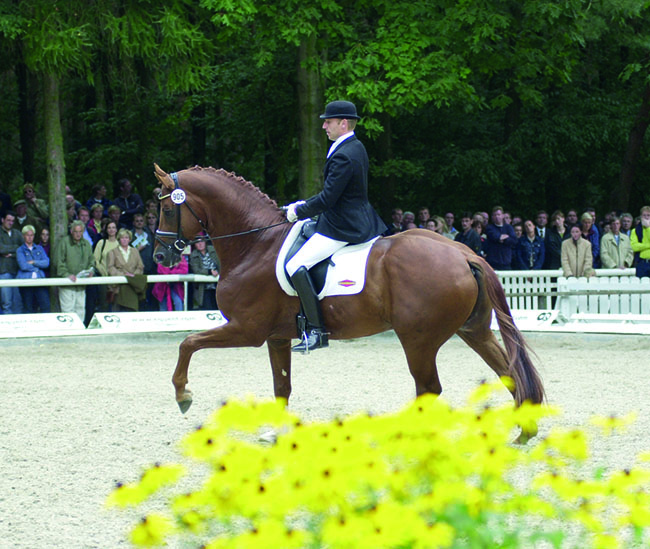 Above – Johannes and one of his Bundeschamp stars, Wolkentanz
Christopher Hector meets the German Young Horse specialist, Johannes Westendarp who presented the Saddleworld Masterclass at the 2017 PSI Dressage & Jumping with the Stars.
Roslyn Neave took the photos
The beginning? Ponies of course.
"Like a lot of breeders' kids in Germany, I started with ponies at the age of five, my brother and sister did the same. We were playing with the ponies and then we went into the pony sport a little bit, but then I switched over early to Warmbloods. My first Warmblood horse I got when I was ten. He was unbroken, and with a lot of Thoroughbred blood from Cardinal…"
Beautiful horse Cardinal…
"I loved him typewise, and his offspring were really incredible. So right from the beginning I learned to come to an arrangement with a hot horse. I really liked the energy, it was not so easy for me in the beginning because I was not so experienced but we came together finally. First I jumped with him up to 1.30m classes, and then he started to be really really hot and then I tried him with dressage and he showed good talent and we went to the Small Tour."
"I had the opportunity to go to Willi Schultheis, and that was good because he was also used to Thoroughbreds, he was very helpful."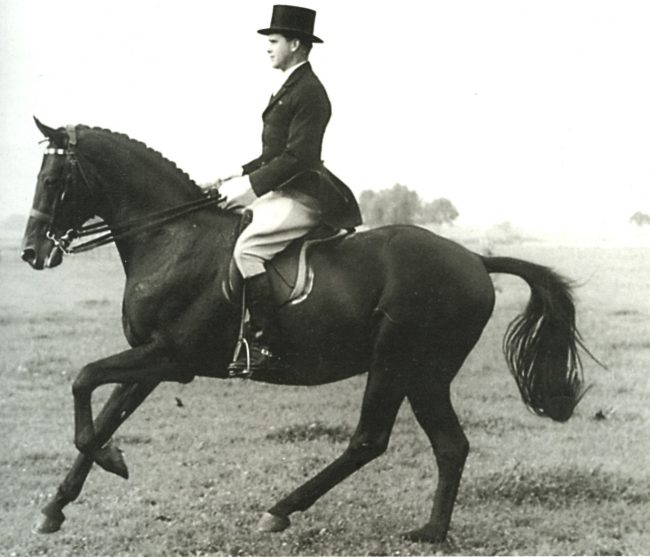 Willi Schultheis and his great Thoroughbred, Pernod
I get the feeling he could teach, ride and train like he did then, today – and be successful…
"That's absolutely right, in the end, after all the experiences I've had, I figure there is really only one classical way to train – I think it is really important that the riders learn to follow a really straight line so the horses feel secure – not one day trying out this, and one day trying something else. There is only one classical way."
I didn't ever see Mr Schultheis in action, but when I look at the photos, it seems to me very attractive the way the horse is a little more open in the gullet – a little in front of the vertical…
"That's right and they were very uphill, so they had the chance to come under, they were never running on the forehand, that's what I really like, and they were always very active from behind."
Johannes got his first big break when at the age of 20, when he won at the Bundeschampionate in 1994, on the stallion, Alabaster. "I was an absolute no-name and there were riders like Rudolf Zeilinger on Livijno, Alexandra de Ridder on Chacomo, as well as Isabell Werth and Nadine Capellmann."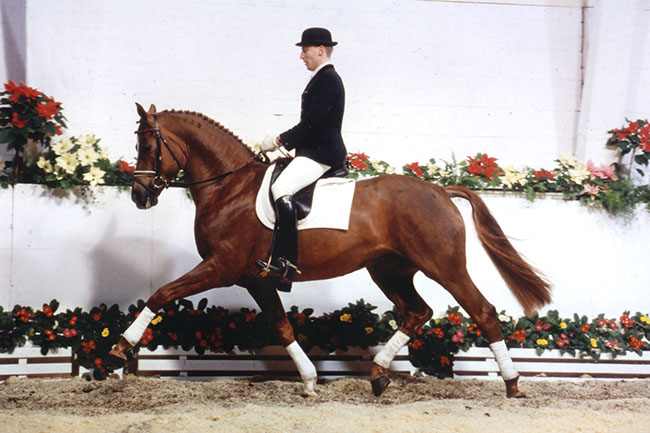 Johannes and Alabaster – the first big break…
"Then I started my own business at the age of twenty one. We had a normal farm with cows and pigs at home. My father died about then and because my passion was the horses we went more and more in that direction. I was lucky, I was asked to be part of the Oldenburg Auction rider team at Vechta at the Elite Auction. So step by step, I grew into that…"
But we have gone from Willi Schultheis, to a very different style of riding – auction riding…
"It's not really, no it's not what the people think. Auction riding has changed a lot because the people want a rideable horse. It's a lot of stress for the horses in the auction when different people try them out, therefore it's very important to give the horses a very good foundation. That means they have to feel secure, they have to accept the outside rein – it is not only the big extended trot because in the end, people decide to buy the horse when they sit on the horse and have a good feeling and a good connection to the horse and it doesn't matter if it is a little bit bigger, or smaller, in the trot and canter."
So not leaning back, driving the horse frantically in front…
"No, it's not like it was in the olden times. It changed, I was a part of this process. I did this for sixteen years alongside my regular work at home. There I also met my wife…"
You breed horses?
"Yes, each year we breed six / seven foals, then I buy six or seven from the local farmers in our area, so each year we are dealing with a group of twelve foals. We are looking for really rideable, modern types – like everybody. We are very focused on sport so for our bloodlines, we look for stallions that have been proven in the sport."
more follows below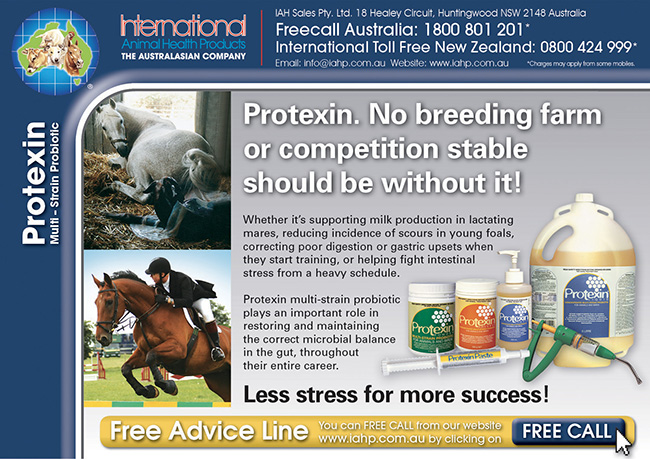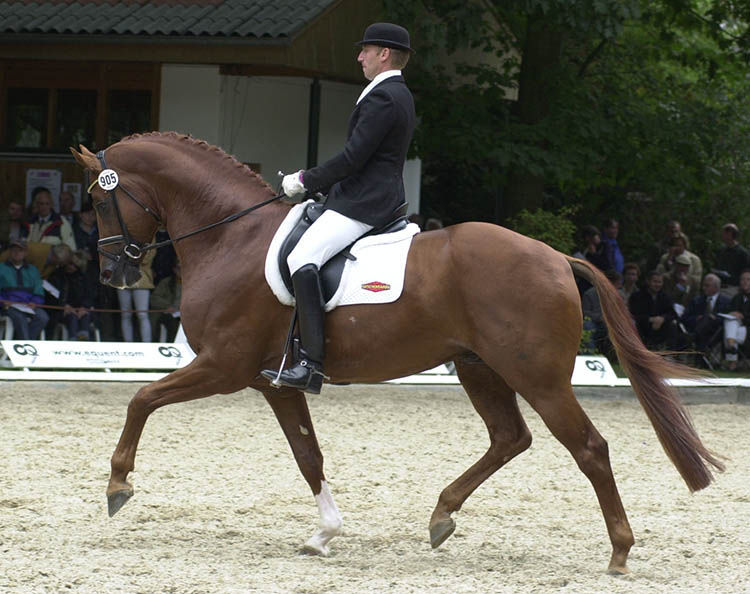 Competing at the Bundeschampionate with Wolkentanz II
"My career with riding and working with the stallions started with Wolkentanz II. I bought him as a foal, three days old. I took him to the licensing, then we did the whole young horse program, the Bundeschampionate and rode him at the World Young Horse championships. Then we started the small tour, as a seven-year-old he won seven Prix St Georges with scores of over 70%. He had a lot of energy, and I think he could have gone on to Grand Prix but he injured himself, that was a shame. Now we have some mares from him that we are breeding with and they are very good."
"Then we found Fürstenball for clients of ours, as a foal. He grew up with us and my wife Ines started riding him. He won the Licensing, he won the Bundeschampionate, he was twice at the World Championships, and as a seven-year-old, won at Prix St Georges. He is very talented for piaffe."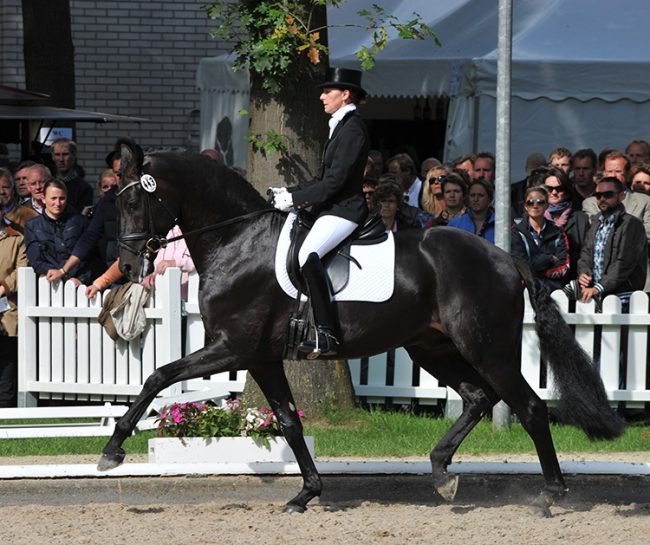 Ines Westendarp and Fürstenball
"So we cross this line with the Wolkentanz II mares, and one of the foals we bred went on to be the Champion mare in Oldenburg. My daughter, Alexa competed her and they are in the German young rider team now. We have a fifteen-year-old son Matthias, and he has gone into the jumpers, and so now we buy jumper foals too! I had good luck with my first jumper foal. He was licensed and we sold half of him to the Sprehe company, and he has just completed his stallion performance test."
Do you concentrate on the young horse classes?
"Absolutely, what I like as a rider is that you can follow the process. The development with the young horses is quicker, you can see the development from week to week. If you have a Grand Prix horse, you have to work on these really small things, day after day."
"At the moment our own riding career takes a little the back seat, because we are more concentrated on the kids, because that is the future – and we try to let them ride the young horses. It was nice here in Australia to see two young girls riding in my clinic, there is a lot of potential and talent here."
You've sold a number of horses to Australia…
"It started with Ferrero Rocher, the stallion. He also came to the young horse classes here. Then of course there is Diamantina – I was lucky to meet up with Maree Tomkinson, and she imported several horses and had good luck with them."
How did you find Diamantina?
"She came from a breeder of ours, for training. Even as a young horse, she gave me a really good feeling, she had something special right from the beginning, and I am happy that such a good rider got her."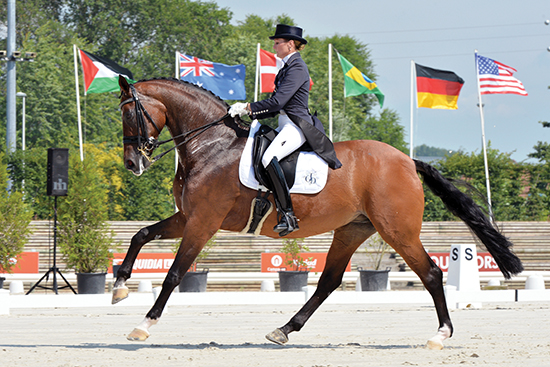 Diamantina and Maree – now that's a find!
Are there now two breeding streams in dressage – one for pretty horses for the young horse classes, and one for Grand Prix…
"I don't think you can breed for Grand Prix and why should a Grand Prix horse not be pretty? Even as a young horse they have to show the talent to take weight, and they have to be quick behind."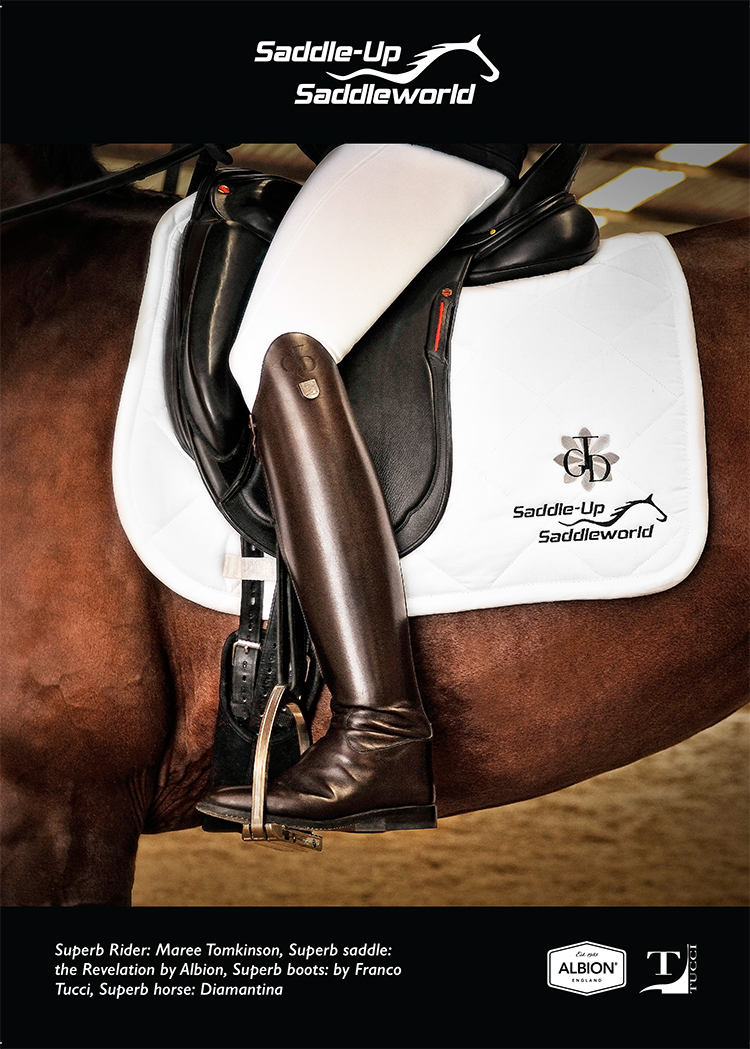 A lot of the star young horses don't go on to the big sport – and a lot of young horse stallions are not breeding Grand Prix horses, but the stallions that competed Grand Prix, are…
"Finally, it depends a lot on which stables they land in, which riders get them. If you have a fantastic young horse, and an amateur buys it and does not have the ability to bring the horse up to Grand Prix, then that's it for that horse. The Grand Prix rider / professionals, they cannot afford these high quality young horses and therefore they have to look for a little bit lower quality but they have the potential to make the horse go on to Grand Prix."
You think they way of riding and showing the young horses has improved?
"I think it has improved a lot but we don't have to make the mistake and judge only for the rideable horse that is calm and comfortable. It's normal that a young horse is looking, and jumping to the inside when it is a little bit scared. When we judge them, we really have to see the basic quality of the horse and not just looking for one or two mistakes in the test. That's not the priority, our job is to look to the future, and judge more the potential. They don't have to be mean, you can see if a horse is scared or nervous – or is against the rider. If you have a transition from canter to walk, it is normal for the horse to be a little bit tense in the beginning, especially with the atmosphere. So I think we should give these horses a better chance because we need this energy and power for the future, and we don't want to stop at the small tour."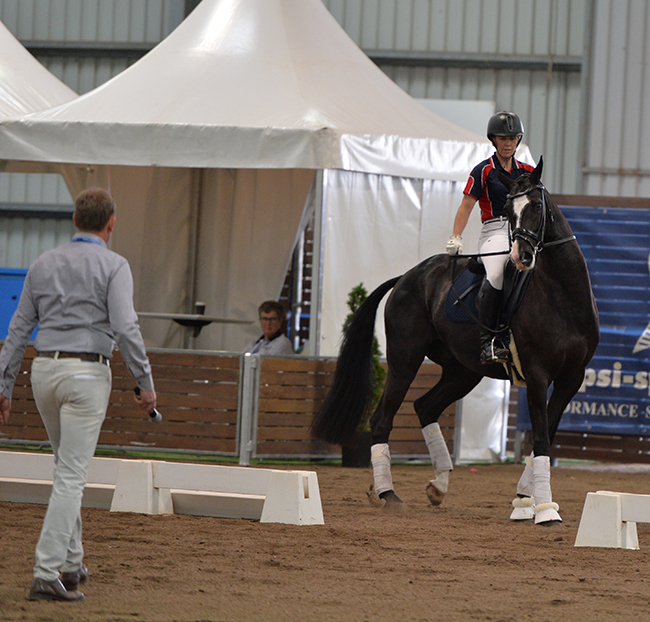 Leading in Windhill LA…
Certainly this approach was evident in Johannes' Masterclass, especially with the first horse, Windhill LA who was proving quite a handful for Kristy-Lee Brilliant. The five-year-old, by Lauries As was being lead by Johannes, up the long side, past the scary little dog boxes.
"I want to show you how to teach a horse to trust the rider," he told Kristy-Lee, and the audience. "Don't leave him alone, have him on your inside leg, on the aids, don't let him look all around him. The priority is that the horse doesn't feel alone. Steady contact on the outside rein and keep him between your legs, he must learn to feel secure."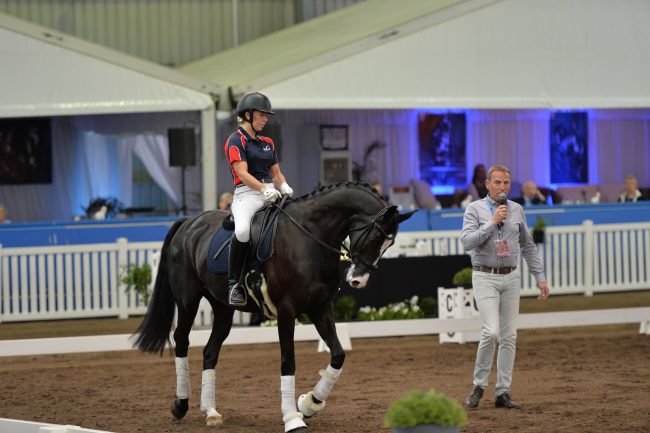 Now he starts to relax…
The crucial factor in the gaining of security was the outside rein:
"On the circle, thinking of shoulder in, and stay on the circle until he is honestly looking for the outside rein."
"I first saw this horse two days ago, and he had a tendency to open his mouth. When I looked at the bit, it was much too deep, hanging in the horse's mouth, and the noseband was too loose. The bit and the bridle have to fit, not too tight, not too loose so they can open their mouth and play with their tongue."
Suddenly Windhill does a little prop in the middle of the arena: "I could see that coming, the horse is not enough into the outside rein. You have to use your legs and a good contact to make the horse secure and confident. The rider has to have a plan and clear signals make it much easier for the horse."
Given the obsession in the past to ride young horses much too deep and much too behind the vertical, it was refreshing to hear Johannes ask for a higher neck.
"I want him more free from the shoulder, you have to bring him up in front, send him forward, more uphill, more from behind."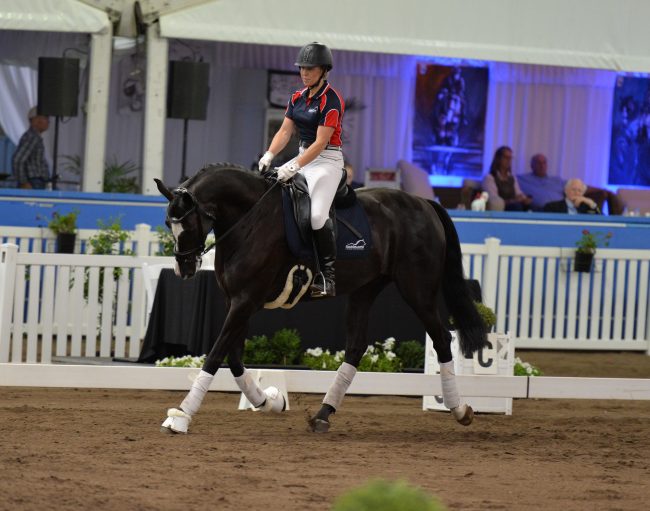 Even at the end of the session, Johannes was determined that the horse did not lose confidence:
"On the circle, stretch round and deep without losing the connection, don't throw the reins away and make the horse insecure. Keep an honest connection and the horse thinks, this is the outside rein, nothing bad will happen to me, and as the confidence builds, you go from there."
more horses to come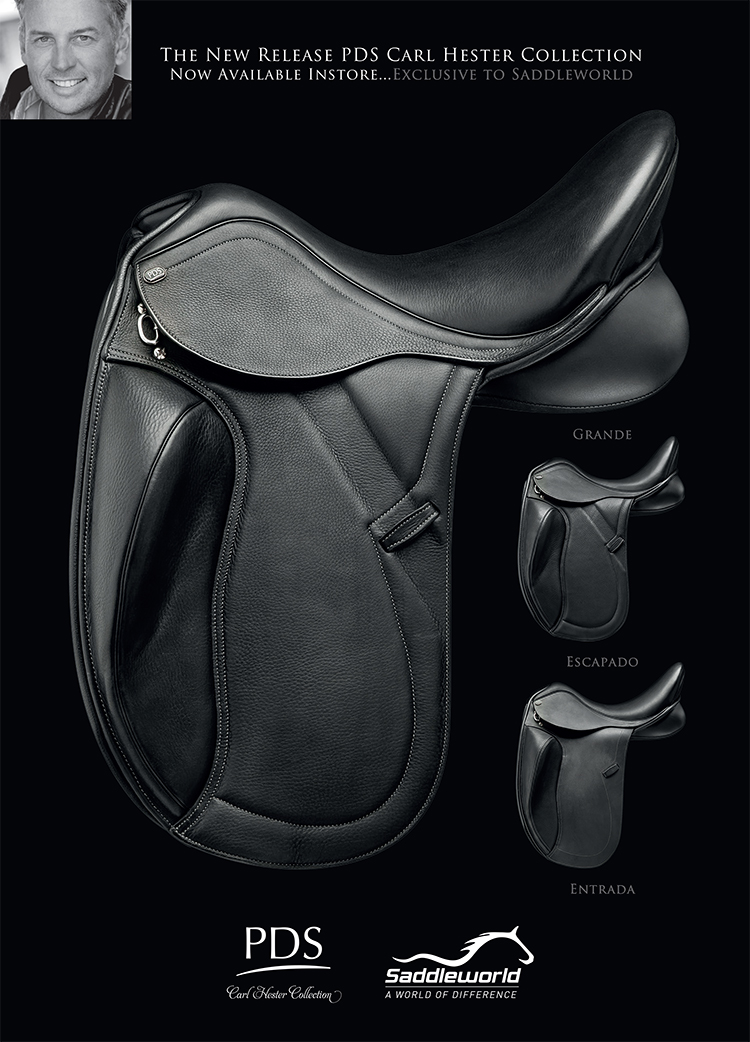 It was a brave move to concentrate entirely on young horses for the Saddleworld Masterclass, but it didn't make for riveting entertainment because really the message remains exactly the same. Thus with with Tamara Campain, and her four-year-old Bon Chance, it was:
"The horse must learn to wait for your legs. Really light and supple on the inside, steady on the outside. I want more spring, more out of the shoulder…"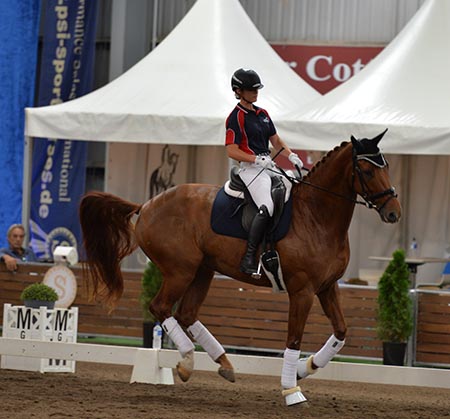 "If the horse is upset in the trot, try the canter, the tempo doesn't matter, it is still the inside leg to a steady outside rein. When you feel the horse is more happy, come back to the trot."
"When he is arguing in front, keep him busy from behind, not with the hand, use your legs and bring him up in front without losing the rhythm…"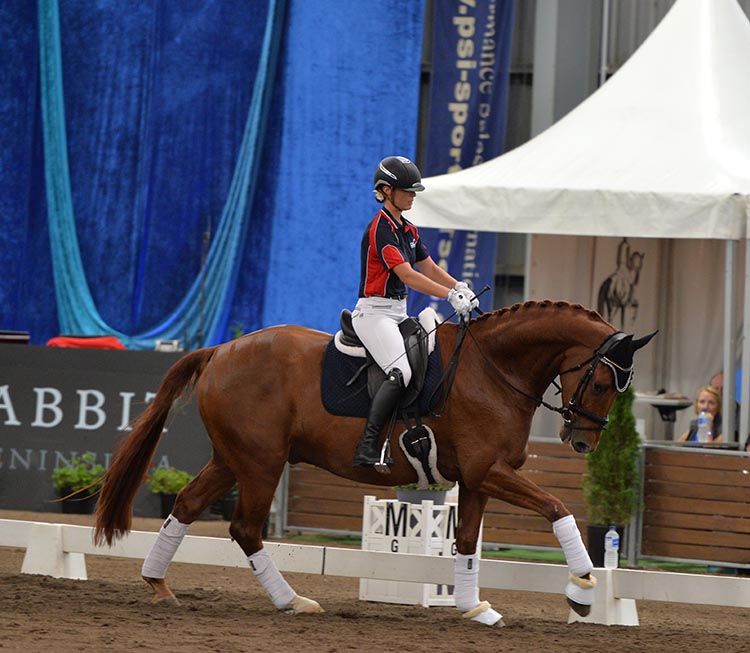 Or with Charlie Welsh and another four-year-old, Horizont de Jeu: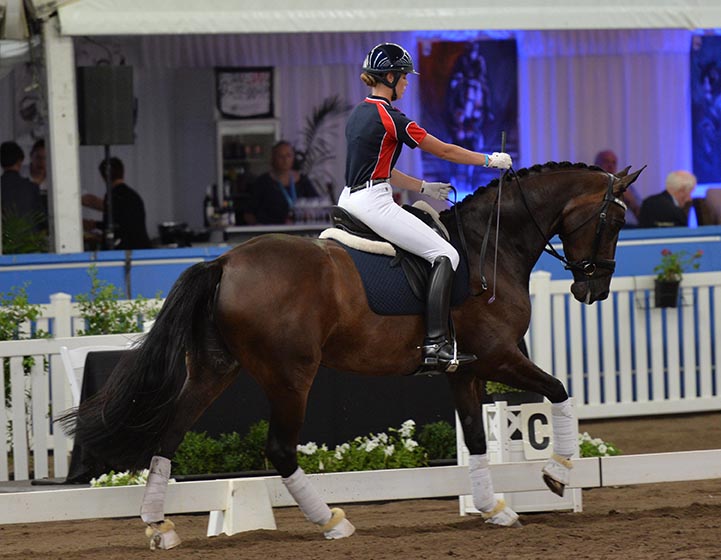 "This horse is more focused on the rider, looking around but waiting, and Charlie has very quiet hands and steady legs, the horse is really between her legs. It is nice to see the rider not over riding the trot…"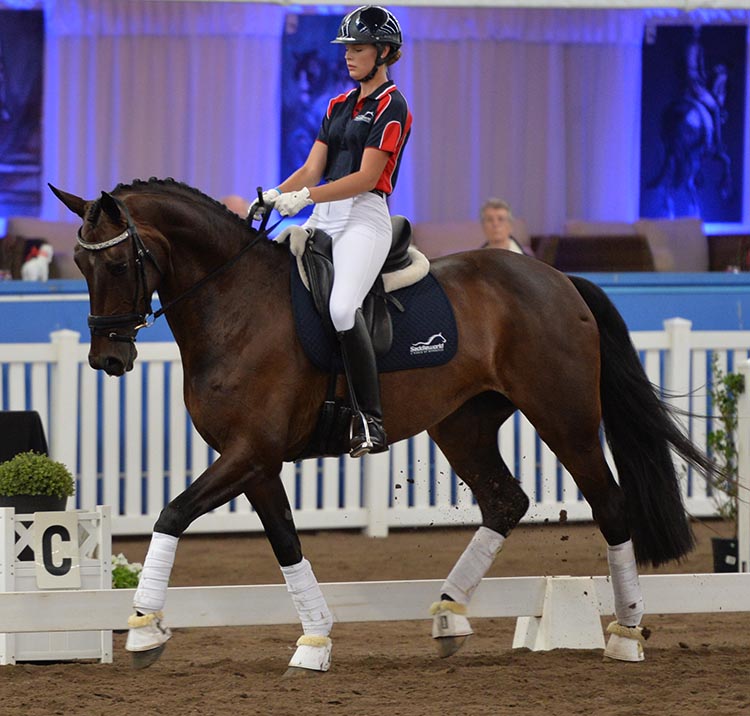 And finally, Tayla Desmet and another recently imported four-year-old, Zaubermans: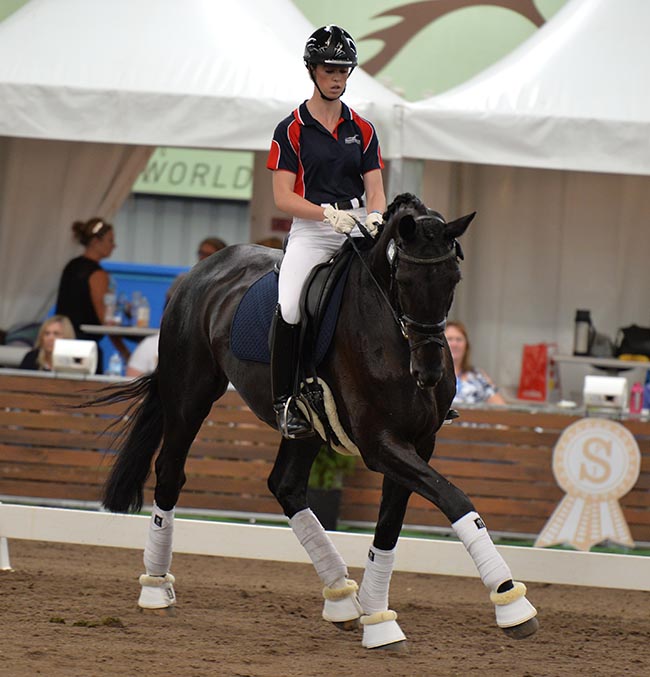 "This is a good example of how steady it can be with a young one. In the early sessions with this pair, the mare was dropping her neck, now she is looking to the bit. Just lovely!"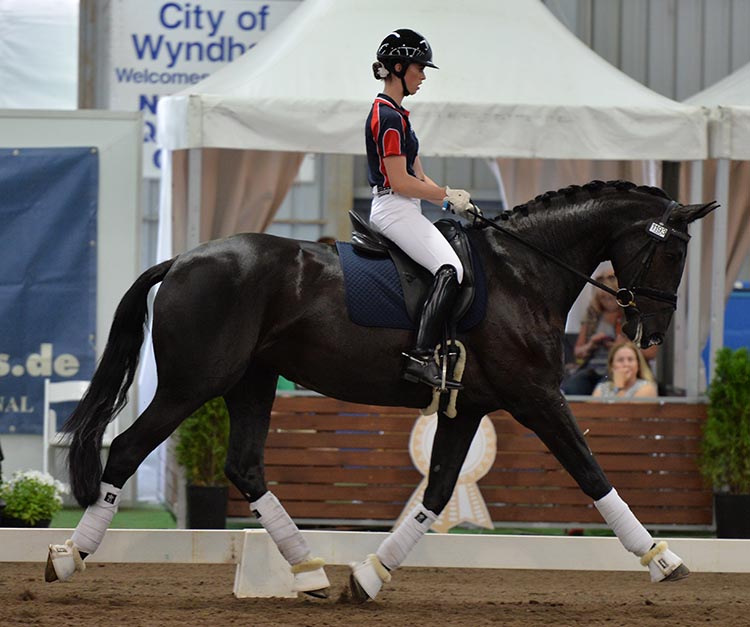 It was indeed lovely. Four very exciting young horses, four very nice riders – not one leaning back and water skiing, and a tactful and sympathetic trainer – the times they are a'changing.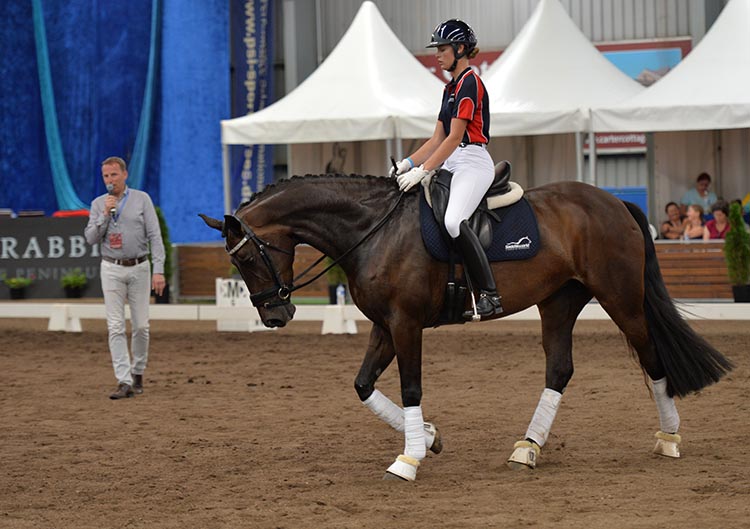 ---
Fürstenball is available in Australia through IHB – for more information on him and  the wide selection of stallions IHB offer, go to www.ihb.com.au Scroll down for pix of Fürstenball winning at the German Championships, now competing at Prix St Georges level.