The freestyle only really came alive with the chestnut Lusitano, Alcaide ridden for Spain by Claudio Castilla Ruiz. The flam-rock backing was tasteful, the choreography demanding. Halt, five paces to a double canter pirouette, or medium canter to piaffe, add to that a one handed passage to finish.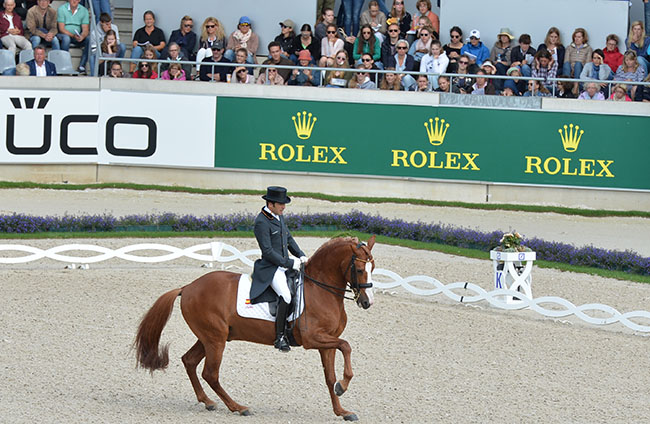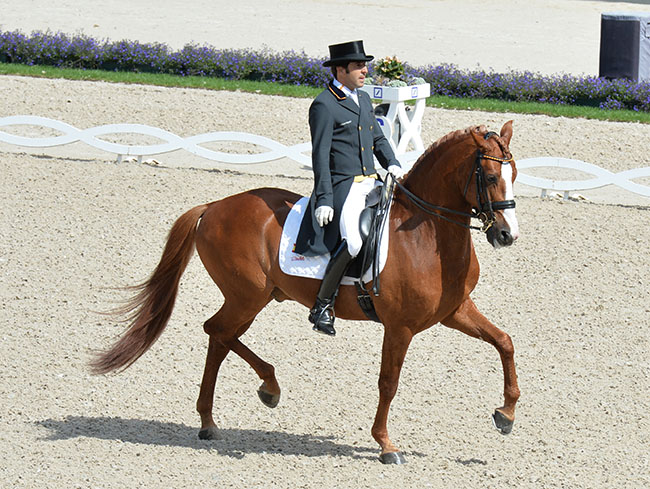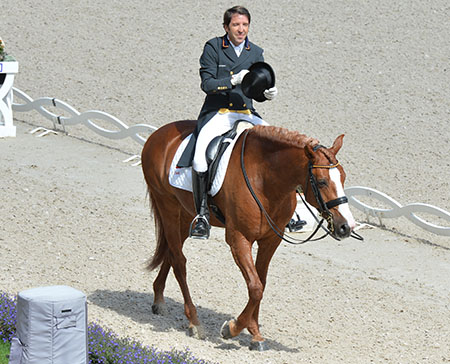 You could really see that pattern as it developed. 75.8 to finish in 8th.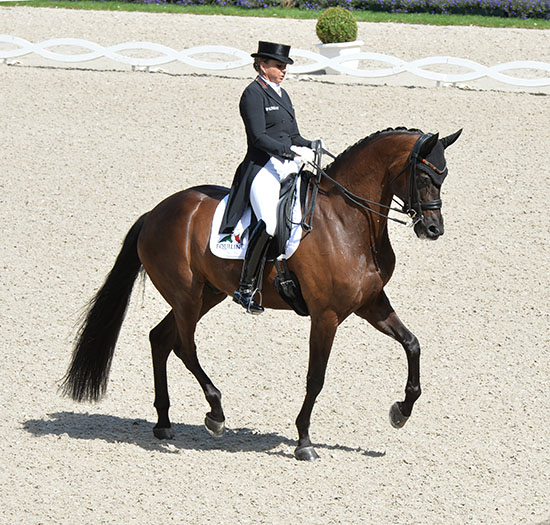 It was hard to actually listen to Dorothee Schneider's score for Sammy Davis Jnr, loud Salsa didn't do much for the horse and the choreography didn't really come together. 75.075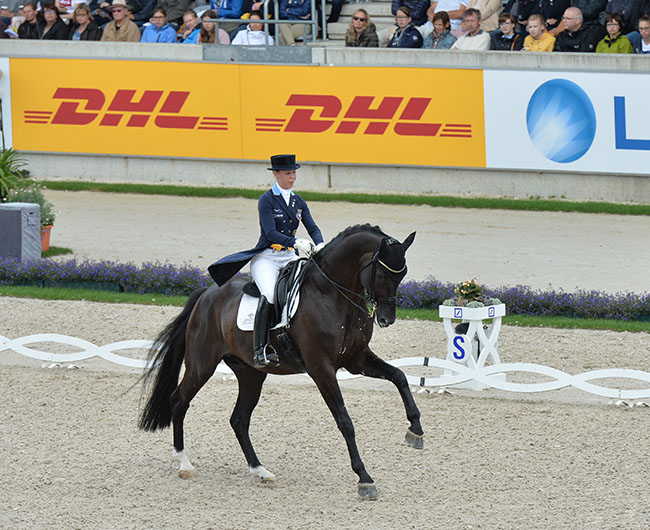 Dante Weltino is such an elegant creature, and Therese Nilshagen's music and her choreography really suited the stallion, with the music underlying his languid grace. It's Therese's first season in Grand Prix… she asked her parents if she could leave Stockholm for a gap year riding in Germany, eleven years ago! Working with Klaus Balkenhol for the last eighteen months, she is looking good. 79.975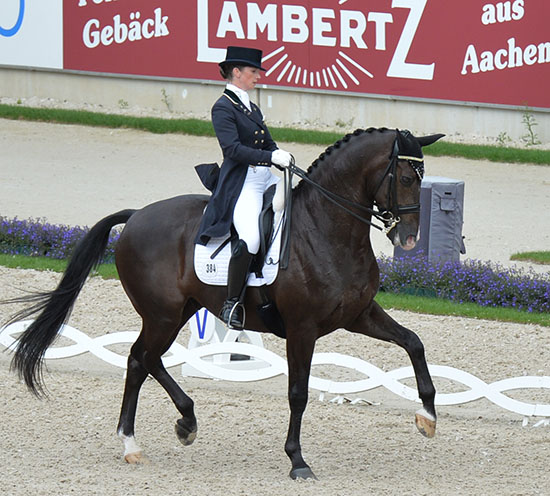 Judy Reynold's music for Vancouver K is a mess, like let's try and pack as many different tunes as we can into the one Kür, all the way from King of the Road to Aquarius and lots in between. 76.525
next Isabell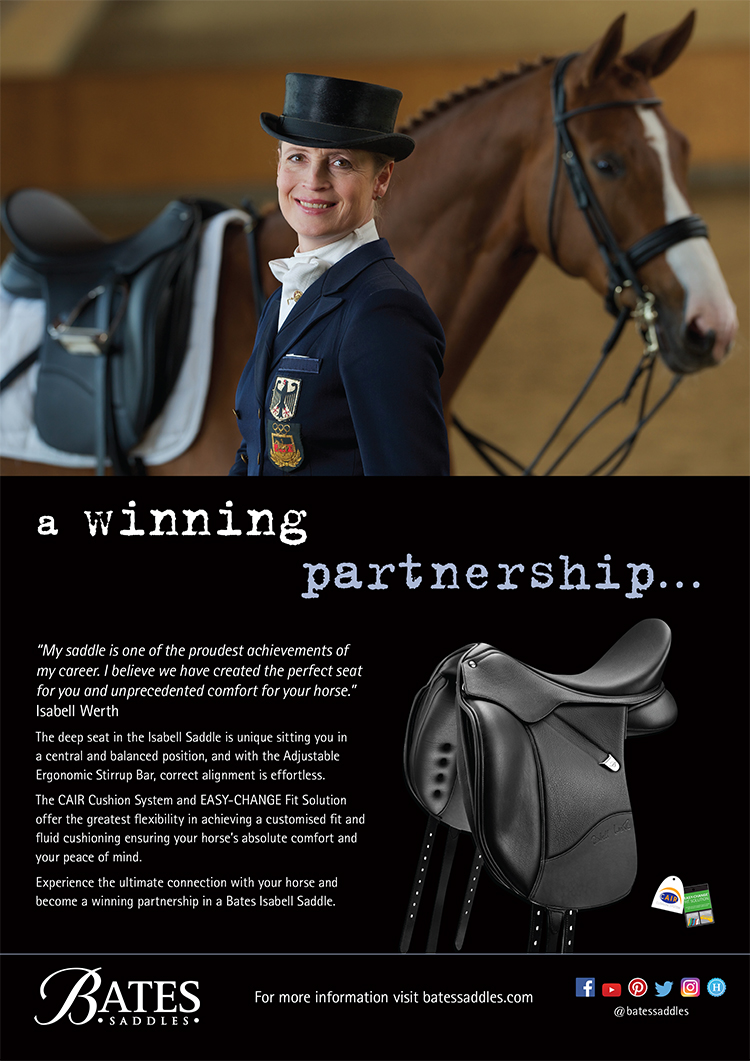 Isabell Werth loves to fill the arena with sound, this time it's 70's party Samba but Weihegold's work makes up for anything the score lacks.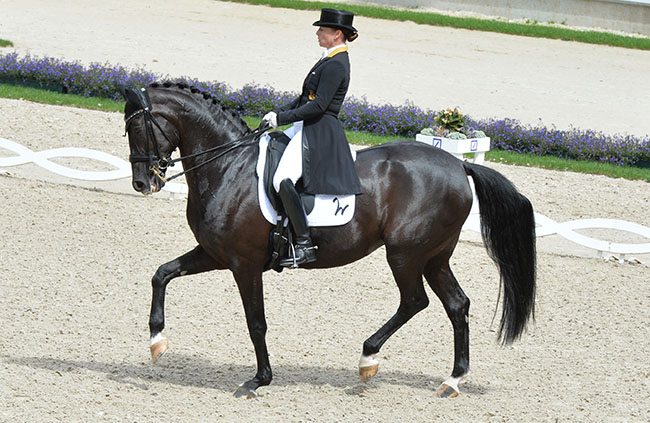 Fabulous piaffe and passage and the transitions are truly amazing. Isabell also knows how to fill the arena with movement – there's just not one false step in this super test. Aussie judge, Susie Hoevenaars,  is the most enthusiastic with a 98% for artistic, but the whole panel is pretty impressed – 89.475.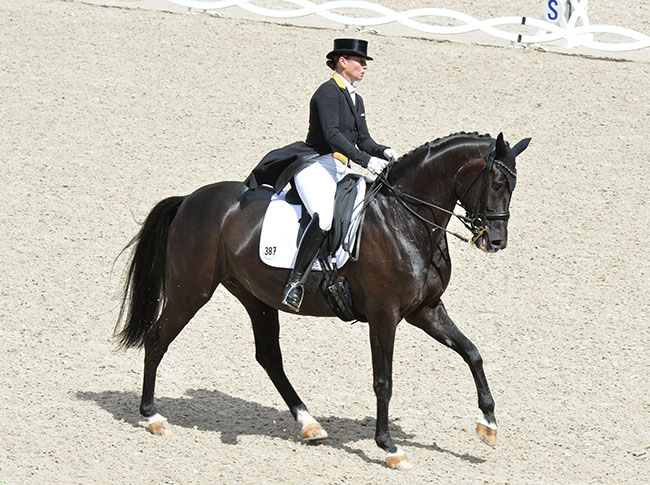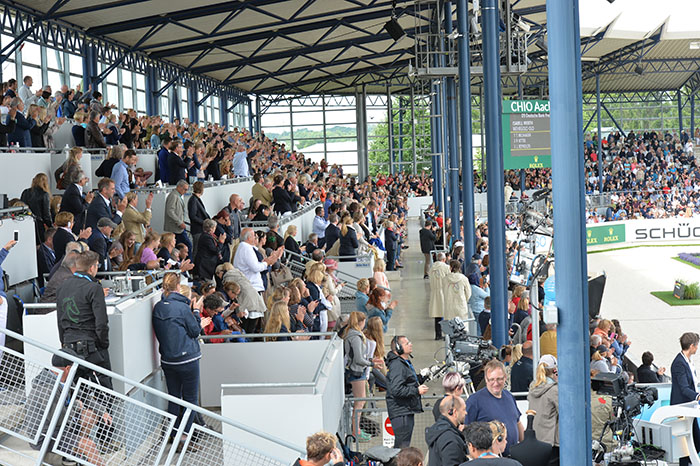 A standing ovation for Isabell and Weihegold
It may well be a new record, but to have been a truly great Kür, the music would have had to be more memorable…
Laura Graves and Verdades follow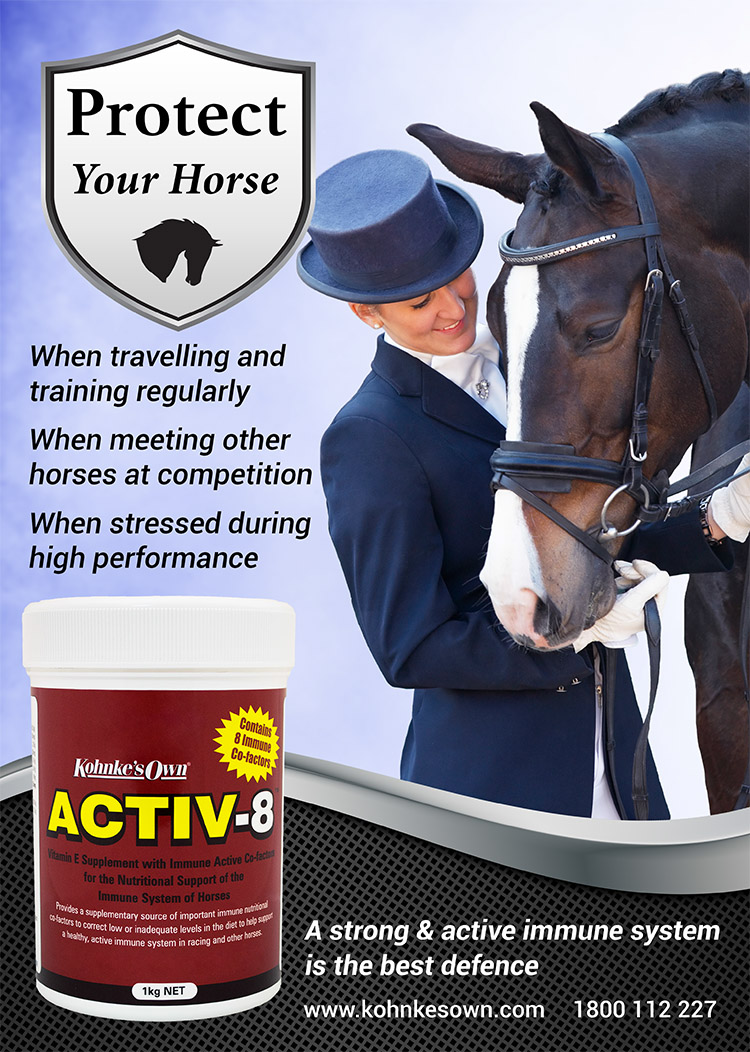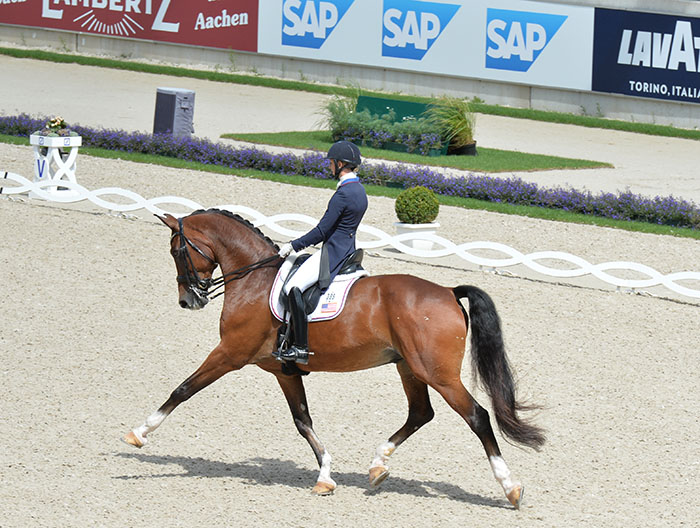 Verdades is a huge horse, and his BIG music suits him.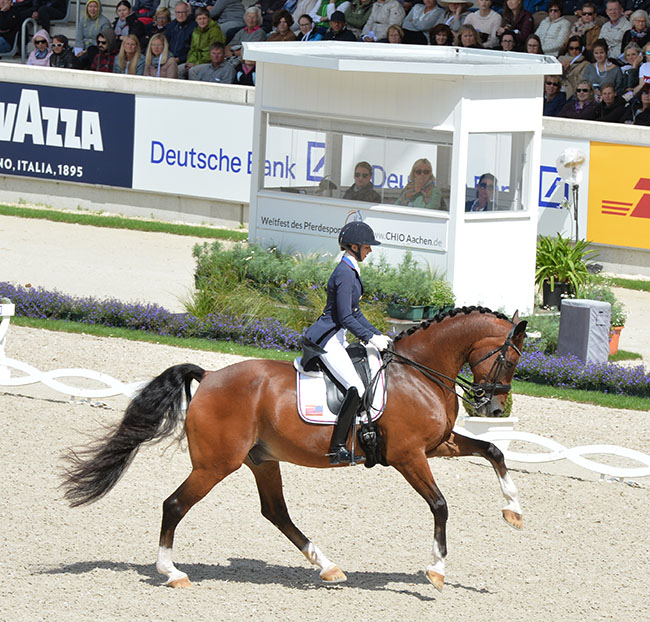 Laura has him really lowering in the piaffe today. There's a one handed double pirouette, it's very fine, only a little break in the final extended trot to the C judge. 82.55. They finish 3rd on 82.55.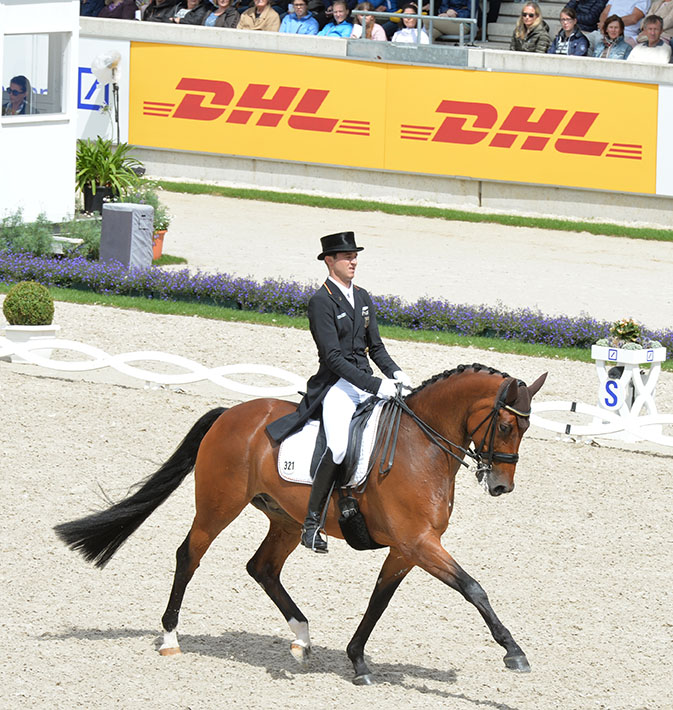 Sönke Rothenberger and Cosmo. The young man is bred to excel in the Kür, his Dad was a World Cup finals winner, while his mother was a regular finalist. The music is so light and delicate, counterpoint to this very tall horse, it swells and then pulls back, the performance is engrossing from start to finish.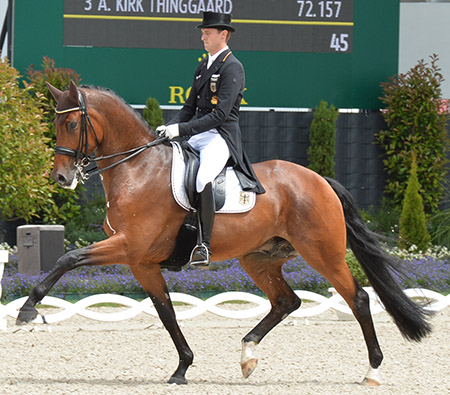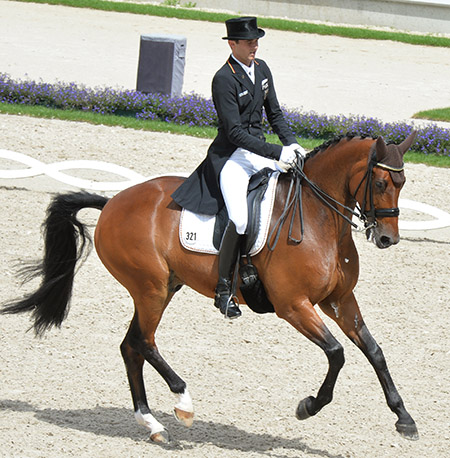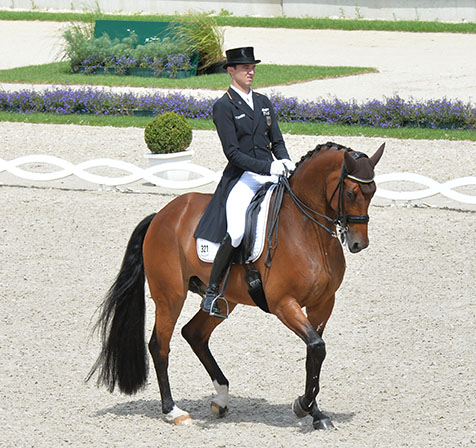 How many steps of perfect piaffe was that? Would you believe 25? Score 85.75.
---