by Chris Hector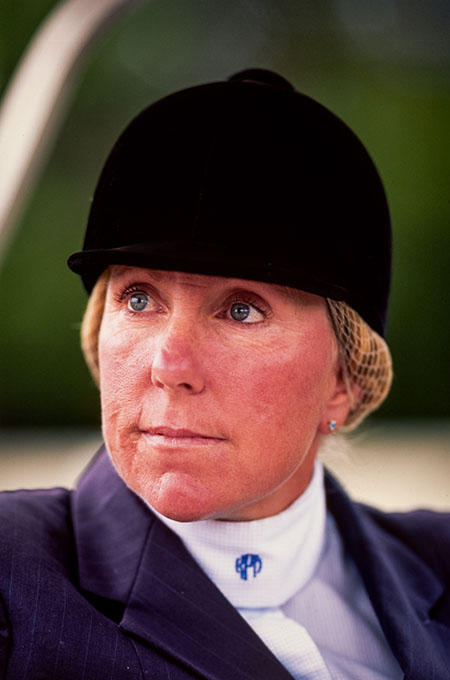 Photo: Arnd Bronkhurst
American showjumping star Katie Prudent has stirred up a hornet's nest with her comments on the dumbing down of the sport in a radio interview with Chris Stafford (for the full interview go to here) Here are some edited highlights.
According to Katie:
"Unfortunately, because of money, the fearful, talentless amateur can rise to a certain level. And that's sort of what the sport has become — how far can the amateur go by buying the greatest horse in the world. It's not where can a good riding kid go on any horse that comes down the pike? It's just a totally different sport now."
"And many coaches have become coaches who just bring along amateur riders and make it easy for them. 'Oh baby, here's a bottle of water. Are you too hot? Are you too cold? Let's get a fan. Let's get someone else to ride your horse because it's too difficult.' It's just become a sport for rich, talentless people. And I don't coach like that. I'm a mean teacher."
"I remember many, many years ago, we went to France to show. I probably was just dating my husband or we'd just met. When we went to France, the dollar was 10 to 1 on the French franc. So a great horse from France, and there were many great horses in those days in France, priced in French francs was 1/10 in dollars. So for a short time, horses could be bought in Europe for incredibly good prices. And people came from Europe with great horses, and then all of the sudden everybody started shopping in Europe."
"If you had an amateur rider or a junior rider, you got on a plane and went to Europe to find a horse. For about a decade it was like that. I think in the beginning, it was because the prices were so good. And as it evolved, it became clear that bad amateur riders who had a lot of money could buy really good horses and compete with the professionals. I think over time, especially in America — I'm not even going to say in the rest of the world, even though I have to say the rest of the world is catching up to us now — rich parents saw a way to buy their children success."
"One thing led to another, and now we're in a terrible place…. You look at McLain [Ward], who was the son of a dealer and had a lot of hard times with family problems. You look at Kent Farrington, who was a boy who didn't have a lot of money and worked for a lot of different people like Leslie [Howard] and Tim Grubb and came up through the ranks just really working hard. And Laura Kraut, who rode anything and everything that came down the pike. And she still can get on any horse and make it go well."
"We just don't have those riders coming along anymore. We just don't. Beezie [Madden], when she started working with John [Madden] and doing all his sales horses, she also can ride any type of horse and turn it around to go her way. Those are our four top riders right now, and they're always the four top riders for the last decade."
"Once they're gone, I don't know what we're going to have."
Stafford: What about that next tier down; I'm thinking of Reed Kessler, Jessica Springsteen, Katie Dinan. There's a whole tier of these younger girls, some of whom have gone through your hands as well.
Prudent: "They all have great basics. They're all very good riders. But they have all, the ones you've named, only ridden the best horses money can buy. In their lives, from the time they were little children, they have only ridden the best horses that money can buy."
"That's how you can't compare them to a McLain or a Kent or a Beezie. You can't compare them."
"Years ago — I'm not even going to mention the rider's name — one girl rider had had a bad day, and the trainer wanted that rider to ride another horse and maybe work without stirrups. To pay her dues."
"And the barn manager said, 'Oh no, she has an appointment to go get her nails done.' I have to tell you, that is America in a nutshell right there. That is where we're going in our sport in America. It makes me sick. And I don't know a way out of it."
"I have to say that most of the riders whose families have a lot of money, they don't have the same desire to work at their sport as the kids who grew up without money. I guess that's maybe the same in everything; I don't know. But I see it as a problem."
McLean Ward replied in an Op-Ed in Chronicle of the Horse: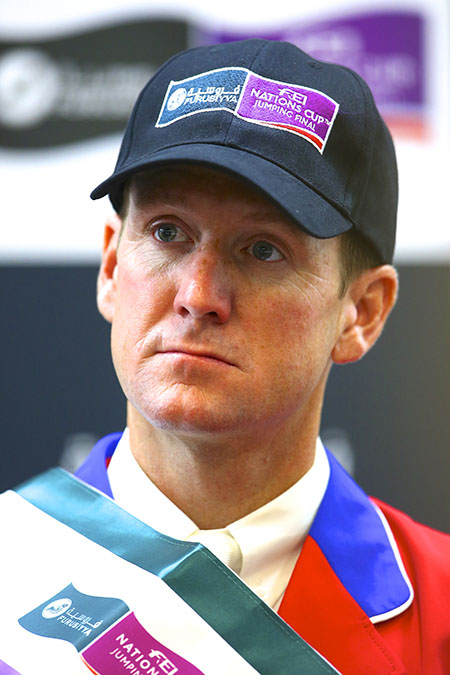 Photo: Arnd Bronkhurst
I read what Katie Prudent has to say about the state of U.S. show jumping, and I felt the need to respond.
I have the deepest respect for Katie Prudent as a rider and as a trainer of riders. I think she's the finest there is, and I appreciate the compliment she pays me in her words. And while I think she has some very valid points for sure, the general tone of the article, I believe, is not on point for the state of the sport in the United States.
Looking at the state of the sport—yes, the sport has evolved. The sport has changed. There's no doubt that the great riders of times gone by would still be great today, but they would have to change and evolve the same way the great riders of today would have to do things slightly differently if they were riding back then.
It's very hard to compare the two times. A six-foot wide oxer with 10 trees in the middle with 20' poles isn't harder or easier than a 1.55-meter oxer today with three poles and a false groundline and breakaway cups and a fast time allowed. The sport has had to change internally and because of external pressures, and the greats of any generation will adjust to what the sport is.
Like in any other sport, the highest level is always getting better. And the people who don't recognize that are the ones who do get left behind. The great riders, the great trainers, recognize that the highest level of the sport, in every sport in the world, is always evolving and getting better and faster and stronger.
I also think it's unfair to label someone as not being ambitious or tough or having a great work ethic just because they come from means. I've had to learn this through my own career. The reality is that in my own riding and my own teaching, I've come across a number of young people, including people with whom I've worked directly, who come from great means and are every bit as ambitious as I am, every bit as tough as I am and often have a skill set I don't have.
I was the biggest believer in Lucy Davis for the Olympic Games last year, and that's a wonderful example. I've ridden on the last two championship teams with her, and she's been nothing but ambitious and professional and hard working.
The reality, and this is something Katie touches on, is whether people from that financial background will sustain that level of intensity. But once they reach certain goals in the sport, maybe it isn't necessary for them to. Where for someone like myself or Beezie or Kent, it's how we make a living, so there has to be sustained intensity. That doesn't mean that those young riders, or anybody from that financial situation, can't be of the same level not only for a certain point in time but for as long as they desire to be. So I think that's a little bit unfair.
There have been wealthy kids coming up through the sport for the better part of the last 50 years. To label that as a downward spiral of American show jumping is incorrect about those young riders and is incorrect about the state of show jumping in our country.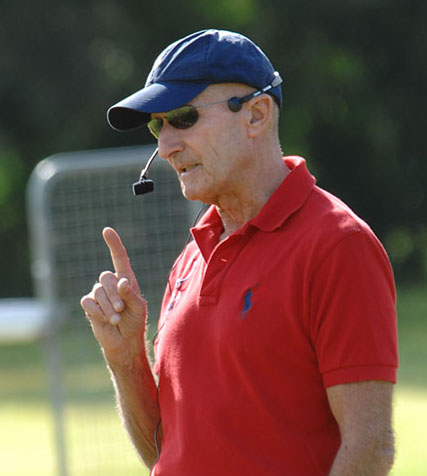 So what does George Morris think? Well for a start, George is resolutely pre-digital but he was aware that the controversy was raging…
"I don't look at the internet so I didn't see it. Chris Keppler called me and told me about it, then I called Katie and I've heard McLain's response. It's like riding, it's all correct. I've seen so many decades but what bothers me today is a cultural thing. I don't care that people don't know, I care that they don't want to know. I see it when I teach, it's a cultural thing with younger people and that's happened over the decades."
"The comfortable, well-to-do people of the 50's and 60's, up to the 80's, their parents wanted it tough. Their parents wanted the trainers to be tough. Now if you look twice at a kid, often the parent criticises the trainer and takes the kid to another trainer – they want soft. It's a cultural thing, the parents want it soft – it's not the child's fault, it's their upbringing."
"I haven't listened to the interview, or read the article, so I really can't comment, but I get the gist."
What they didn't touch on, and it is something you've been very critical of, over the years, and that is the way courses are being dumbed down so not very good riders on very good horses, can get around safely… the courses have been 'pussyfied' so the mega dealers can make more money.
"The origin of jumping sport is bring the country to the arena. The British taught that, Mike Ansell taught us that, Pamela Carruthers taught that. Now there is too much pressure not to bring the country to the arena because it could present something unexpected for a top rider, for a very expensive horse, for a weaker student – so from all sides there is pressure to make the jumps all the same. Go to Shanghai, to Wellington, Sydney, they are all the same jumps. Sticks over air. Rails, little sponsor fences."
"Now it's a very difficult sport because you can't ride at the jumps, they are too delicate. It's scope now because you can push them. It's not old fashioned scope where they were two metres wide triple bars. It's very difficult today, but it's a different difficult. It doesn't encourage blood and guts. The most important characteristic of jumping was developing courage in a person, and that's what riding did and that is what it is supposed to do. And that is not what the sport develops today because the fences don't ask for that."
Katie was talking about no new riders coming on, and if you look at all the countries, Germany, Great Britain, the USA, it's all the same old faces that are the backbones of the teams. Sure Lucy Davis is a lovely rider with a wonderful horse, but let's see her come out on a string of horses, year after year, before we talk about her in the same breath as Laura or Beezie…
"For example, what we have here is the same team here in 2017 as I had years ago. Because they were brought up differently. They were brought up hard, they were brought up to have a tough base. To ride lots of different horses, green horses, good horses, bad horses, ride racehorses, ride dressage horses, It's a comprehensive scopey base that the riders in the team have – and when the game gets tough, those people come through."
"Listen, I invented teaching amateurs to ride Grand Prix. I was one of the first ones to bring amateurs all over the world to ride but you have to give them that hard core, and that's not done today. Today's riders, when something goes wrong, they don't know how to handle it, because they are not taught how to handle it. It's a culture, it's not riding, it's a cultural problem."