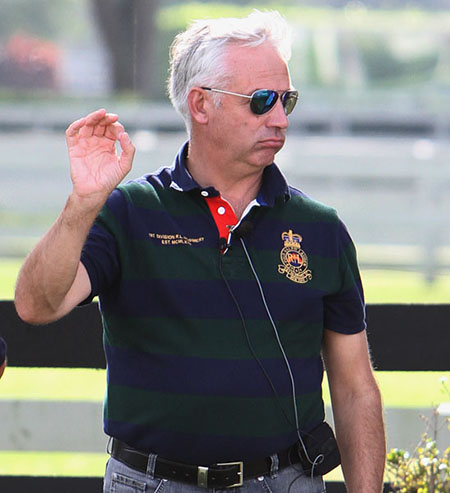 Photo: Kenneth Braddick, dressage news
Dateline: Aachen July 16
Chris Hector interviews Ton de Ridder
You have decided to call it quits, your role as advisor and coach to the Australian dressage team?
"I will stop this, yes."
An interesting experience?
"A long experience, I think quite successful. We have had some good teams, sometimes we have had little problems. We have to deal every time with different characters, but I liked to do it, and with a lot of them, I have a very good connection still – I try to be helpful if they are looking for a stable, or if they have some questions in the training. Or when they have problems at the competitions, I try to help a little bit, but I want to concentrate more on the European riders here, and on my own daughters."
"And to be honest, we should not lie and say everything is beautiful – what I have been missing in the last few years is that we have worked really well together, but what I am saying now is my own opinion, Julia Battams and some of the people from the office, they did a really good job, the riders can have a different opinion, I don't care, it is my opinion, but things changed too little. For example, you would talk about some problems, and they say, ya ya we will change this next year, and that happened too little."
It became frustrating the same shit happens time after time?
"A little bit of frustration. I think the clinics we did in Australia were very successful, we saw some very good young riders, but still the sport is in Europe. We see it with the Americans, they are here again – there are no World Championships, they are not involved in the European Championships but still they come with a big team to Aachen and Rotterdam – and they bring some young people, some less experienced and they really work hard."

"I don't want to say that the Australian people are not hard workers. They are really hard workers and most of them are riding months and months alone, just looking at the mirror, and still they are quite successful… but I think about the riders here: Isabell had Dr Schulten-Baumer on the ground, Nadine (Cappelmann) had Klaus Balkenhol, my wife had me on the ground and in our business we were very involved with Jo Hinnemann, and I am still very grateful for what he did for us. There are more examples, Nicole Uphoff with Dr Schulten-Baumer and Harry Boldt, they are not working alone like the Australian riders."
"There are also the selection policies. I look at the results from Brisbane CDI, with the winner on 70% – I don't think he will score 70% over here in Europe."
So what do we have to do to get better at the Olympic Games – in Hong Kong, two riders made it to the Special, but that was the last time an Australian made it to the second round…
"Okay, the whole sport developed a lot, you see it in the percentages, the horses are getting better, the breeding is getting better. Also in Germany you have a lot of trainers using new techniques, we are riding a lot now with video – there are many horses with a lot of expression. If you look at the Grand Prix at Atlanta, the half passes that I saw there, we don't see any more now, they would not get the marks. It's like motor sport, or soccer, everything is developing."
"Things change. We see now, England had a very strong team, with Carl and Charlotte, and now they are a little quiet. Charlotte is really working hard at the moment to make her own new horse, and she has very good results in the St Georges, so we should not talk too much about the past, and look forward. Look at Denmark, they are coming again, new horses, young riders."
"For me, there are some good young riders, and under 25 riders, in Australia but they are doing their own business and they are looking too much at earning money and thinking too less about developing their own riding and getting experience – coming over here, working a little bit. They are still young and they have stopped learning."
"I am going with my daughters to the training of Wolfram Wittig, I sent my daughters to Isabell (Werth), to clinics for the Under 25 with Monica (Theodorescu). And when I go there, I am sitting, I am listening and I am hearing new ideas. We have an open discussion with those trainers, and my friends who help my kids, you have to keep learning."