THM visited Ulla Salzgeber at home in the lead-up to the Jerez WEG in 2002. Ulla and Rusty had just become European Champions, and were tipped to win at Jerez.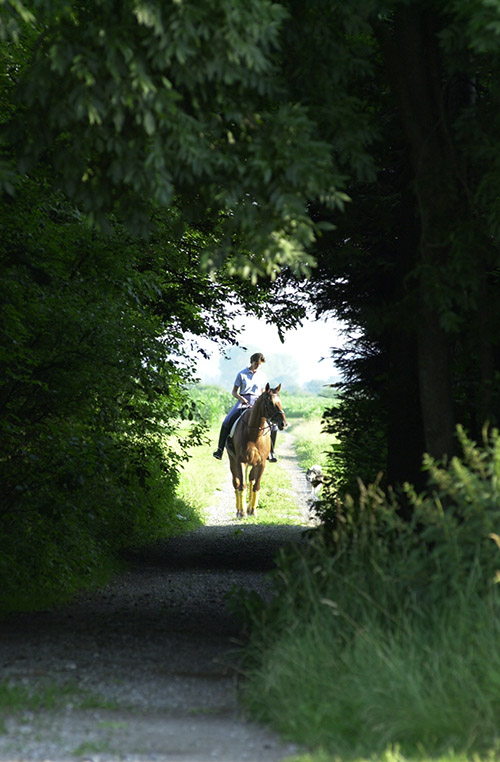 Story – Chris Hector, Photos – Roz Neave
It's a pretty normal warmup. A twenty minute walk, starting out through the little forest finishing with a few rounds of the indoor school. Then into a big loosening trot, the horse's front deep and round, the rider occasionally flexing his nose this way and that. Every now and then there is a little wake up boot in the ribs… But the big liver chestnut being ridden in a snaffle without a whip, is no normal horse. Nor is this any ordinary rider. This is the number one dressage combination in the world today, in just a few weeks, if all goes to plan, they will be crowned Champions of the World in Jerez, Spain.
This is Rusty, and this is Ulla Salzgeber.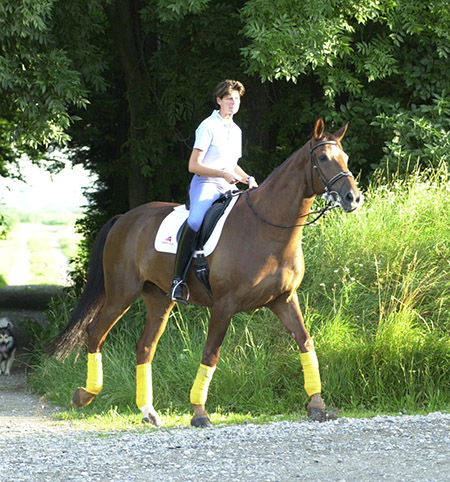 To tell the truth, Rusty is looking just a tetch ordinary right now. He has spied Roz standing in the corner of HIS indoor school and is stacking on a little turn. It is too early in the morning for Ulla to put up with a lot of nonsense. Yesterday it was hot, in the 30's, and Ulla has started her day at six in the morning to work the horses before it gets too hot. She has already worked with her other Grand Prix star, Wallstreet, now it is Rusty's turn, and even now the sun is shimmering off the nearby Alps. Still there is nothing dramatic in the workout, some twenty metre canter / trot circles, the occasional reminder that 'you will give to the inside rein', only the extravagant engagement behind reminds you that this is one of the more extraordinary horses of all time.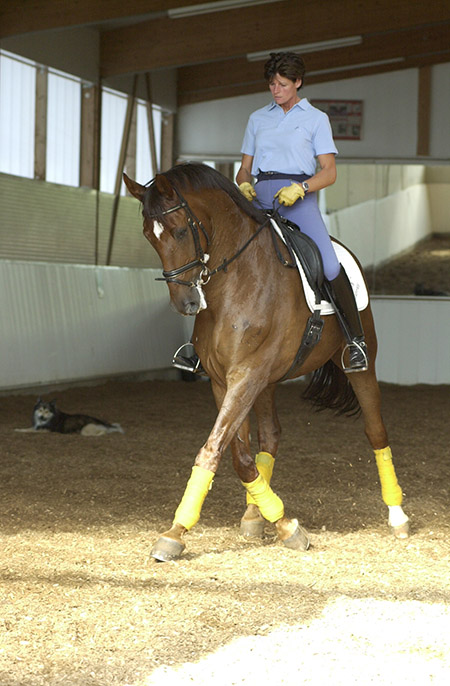 A coffee stop for Ulla, sugar cube stop for Rusty, time out for the mobile (Just how did horse trainers exist when phones were wired to the spot?). This Ulla has told me is how she normally works her number one star:
"We ride them very deep and low but you always have to control the neck and the head. If you can't control the neck – that it is long, that it is short, that it is up and it is down – you have problems. Many people ride with the head down and that is okay, but most riders are not able to control it. You have to be able to control it up, down and to the right and to the left. The riders see down with the neck down with the neck, and they pull the neck, pulling the head between the front legs of the poor horse, and the hindlegs are out behind, far behind."
more follows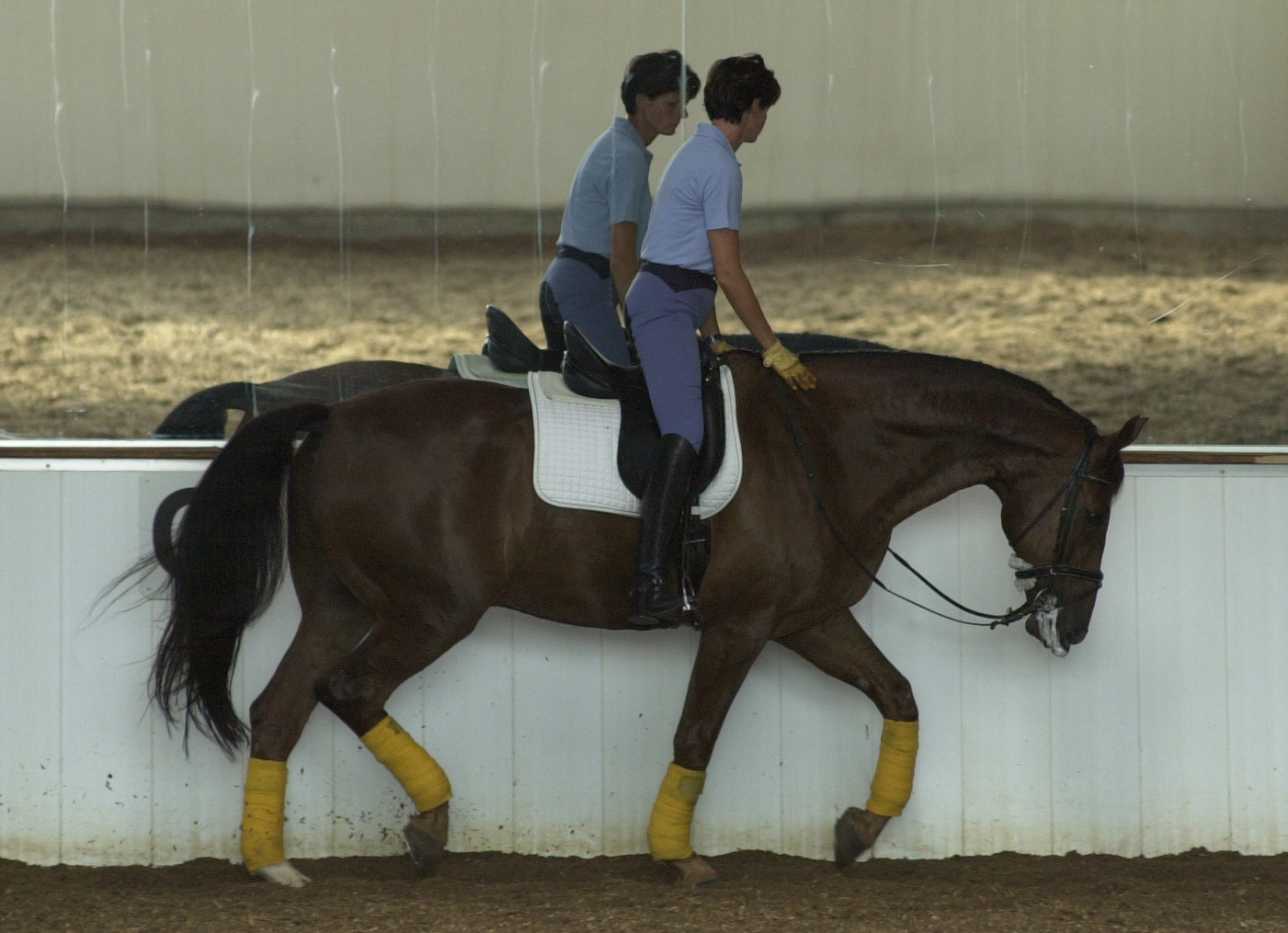 "It is good to put the horse's head down to strengthen his back, to make him loose, this is the way I train Rusty in the week where he has no competition, with a long neck, so he takes the bit and the muscles get very loose and he feels good."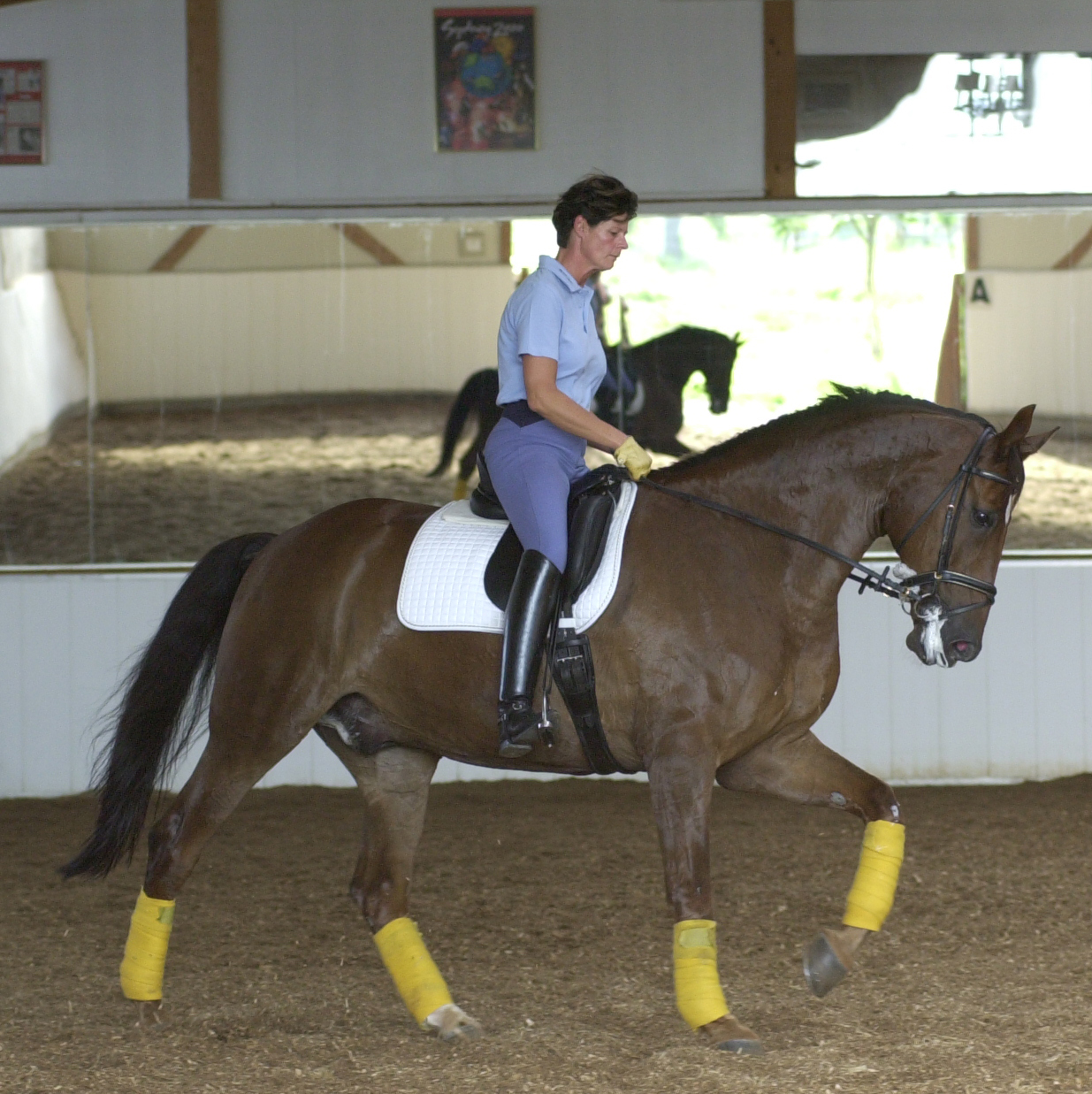 When you ask Ulla to name the most important influence on her riding and training, the answer is something of a shock. Despite the fact that she has worked with 'all the best teachers in Germany' the man she looks to for inspiration and advice is 87-year-old General Stecken!
"To find your own style from every teacher you take something. In my opinion the best teacher was General Stecken. He was so correct. If he says stop at A and you stop two centimetres too early or too late… you did it for an hour! Until you both knew where to stop, I think this still helps me a lot. When I was a child, General Stecken came to our stable two times a week for six or seven years, until I moved to the south. He still comes, he was here in the spring, he is 87 now, really fantastic. He was watching Wallstreet and Rusty and that was wonderful because I always ride alone. Sometimes Ernst Hoyos comes, my husband looks, but for most of the day I only have the mirror, and sometimes I say to myself, now ride a very nice half pass to B and if you enter the track one metre earlier or later, oh the half pass was so good it doesn't matter. But with General Stencken sitting there, I told you to enter the track at B and not one metre before B. Okay…. That was very good because I started again thinking about the correct riding from marker to marker."
more follows
---
Breeding a dressage prospect? Go to www.ihb.com.au and consider : Danciano – a representative of the famous D line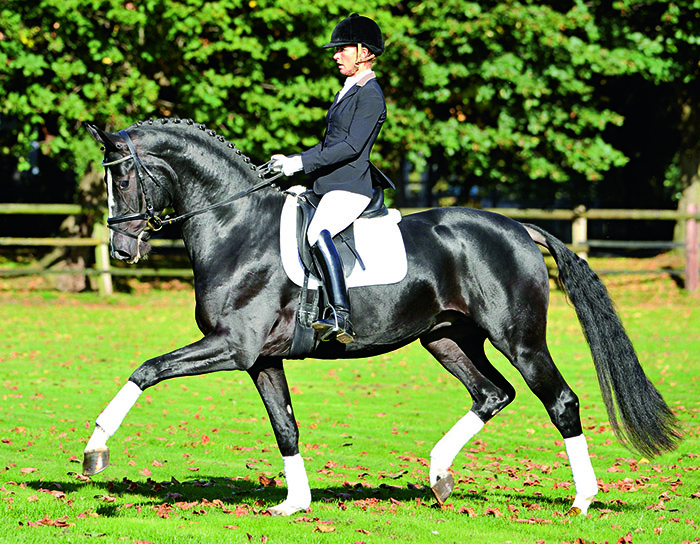 ---
There is all the talk about new ways of riding and training, but you are still finding wisdom from an 87-year-old man? Maybe there are not so many new things that are important?
"No. The horses are much better than they were thirty years ago, fifty years ago, but the classical riding of dressage will never change."
Do you still have to work on your own riding position or is it built into your brain?
"I think the position is built into my brain if I ride older horses. When I ride younger horses it is not so perfect sometimes. It was very interesting when General Stecken was here because he was very critical of my seat. My hands were too high, and my toes were too far out, more things for me to think about that I hope when he comes next time he will be happy with. I asked him to come back soon, because I am able to discuss with him everything. He is the one I believe in. I was too young when he taught me the first time. That is the only pity. He always made two hours theory with us, my sister, my brother and me, we were fifteen, sixteen, seventeen, and we said 'oh my god, not THEORY!' What he tells me now is the same as he told us thirty years ago, but it is so interesting because now I understand – before I had not had the experience to appreciate these things."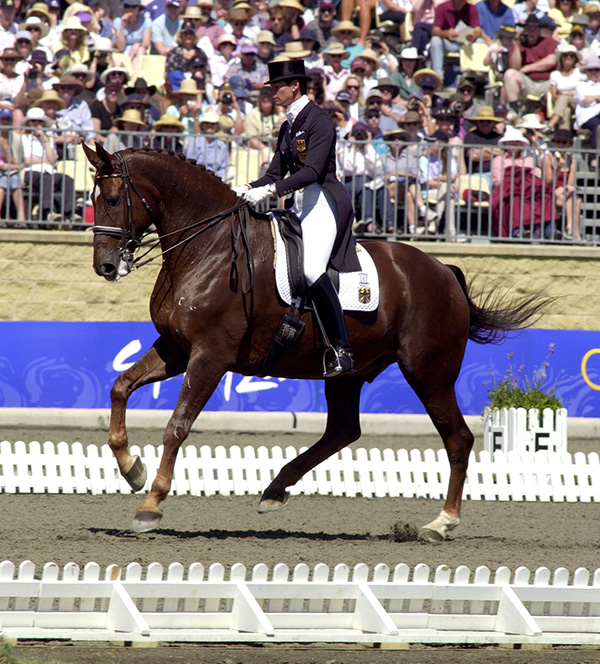 Ulla and Rusty at the 2000 Games is Sydney
more on training follows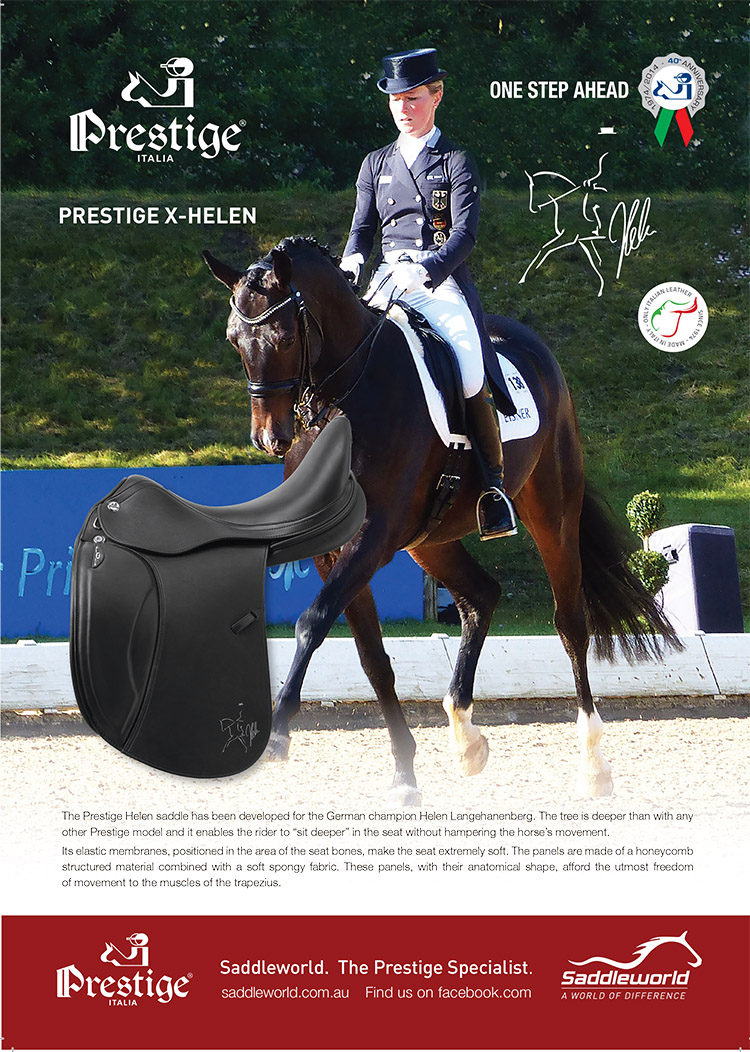 Will there be trainers to take General Stecken's place, or will that tradition die with him?
"I think his tradition will die with him, because he is like Steinbrecht, the very old 'book riders'. I am not sure that the younger riders have enough in their heads to go into all these things. There are a few trainers in Germany who are very good. Johann Hinnemann for example thinks a lot about riding and working with horses, and he discusses a lot with Ernst Hoyos. I think this is very important, I also do it with my pupils, when we go out for dinner or something, we discuss the theory. It is interesting if you ask younger riders even very easy theory, say how to ride a correct half circle, they don't know how to explain it, because they have never read a book. They have never thought about something like how to ride a simple change – oh, you walk and then canter again… Thank you."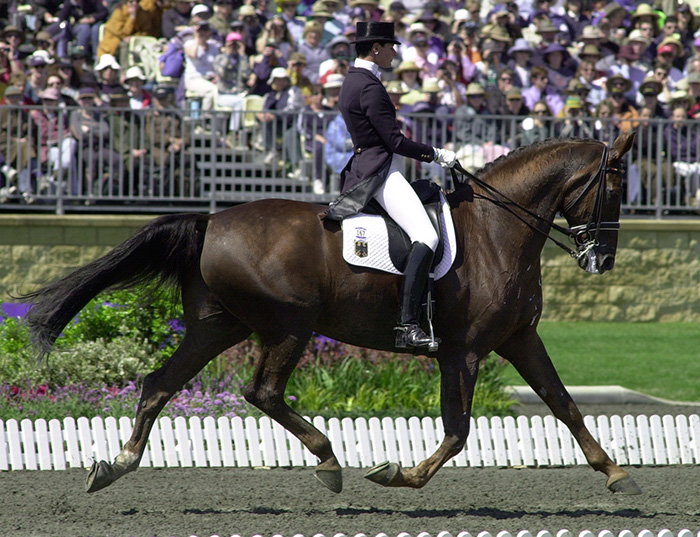 This is a huge responsibility of German riders and trainers to maintain this tradition for riders all over the world to draw on…
"It is necessary, the other countries have to learn it, this is why Germany is so successful because this is our tradition and we want to give it to the next generation. The other countries they have no tradition. They know that there is a tradition, but they don't ask for it, only a few people think, oh they have to come to Germany to train, to learn what is behind it but most are not interested. Give me a horse and I will ride."
But you didn't learn the technique of deep and low from General Stecken?
"No, this kind of riding I learnt in the last ten/twelve years. The older you get, the more you learn, you are never finished learning. My first Grand Prix horse I had ready when I was thirty, and then I rode my first Grand Prix, so I haven't been riding Grand Prix so long. With my first horse I had to try a lot of things to get him ready. I'd never ridden the test before, I did not know how to ride piaffe and passage – so he had to learn, and I had to try. Doing this work, I found when I rode him a bit longer that he became very relaxed, so I started riding all the horses very deep, then I take them up again, some horses are very good to work half high, some very high, and some you can work better when they are deeper."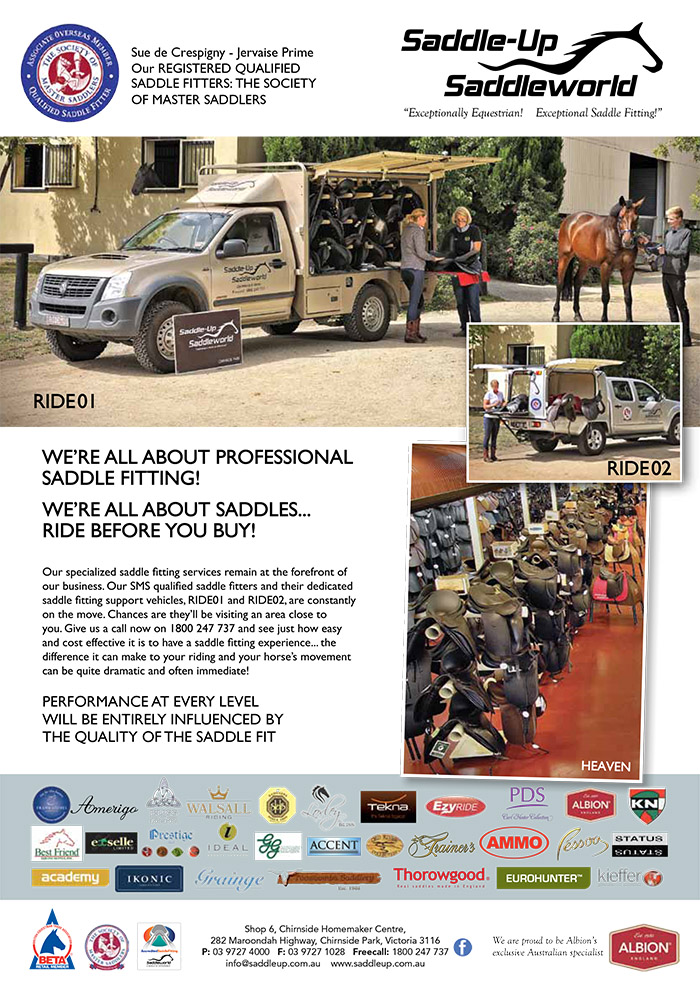 Ring Saddle-Up now on 03 9727 4000 and talk about your saddle needs
---
"They have to get more muscles and the back has to get strong. If you take a young horse up you can put too much weight on the back and the hindquarters. They have to go a little bit more round, but without falling on the forelegs. The trouble is you can't put all of this into a microphone, you have to ride it. People are always asking, how can you educate a horse? You can't explain… that becomes too much theory. Every horse is different, you cannot say, I educate every horse like this, every horse is different, every horse gets another education in my stable. I ride Rusty very differently to Wallstreet – these two horses are totally different, then my stallion, World Magic, he is totally different again. Rusty is ready with everything, he needs only gymnastic exercises every day, Wallstreet has to get a bit more education because he was out of the sport for nearly two years. The stallion has to learn the Grand Prix, and he is totally different to the other two."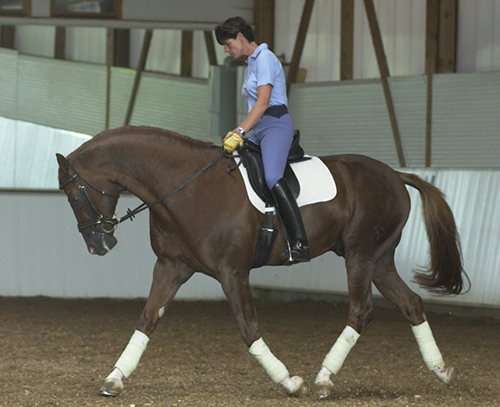 Ulla and World Magic
Right on cue, Rusty has finished his little gymnastic routine and out comes one of the most attractive horses you have ever seen, the eight year old Hanoverian stallion, World Magic. From his sire, Warkant he has the power, the presence and the movement, but you also guess that his dam must have had a very cute head. This is the horse that Ulla has tipped as her successor to Wallstreet and Rusty. Reputedly he sold for one million euros (that's about two million aussie dollars) to Ulla's sponsor from the training barn of Holga Finken, and before that he was with another mega-trainer, Martina Hannöver, so he had a good start in life! Ulla has only had the horse for three and a half months, but her expectations are high.
Can you tell if a young horse is going to go all the way to Grand Prix?
"I hope so, this is my job," Ulla laughs.
Do you get it right all of the time, most of the time…
"Most of the time. I have already had three Grand Prix horses before Rusty, which I made myself. I bought them when they were three-year-olds and they all went Grand Prix. I am able to do it."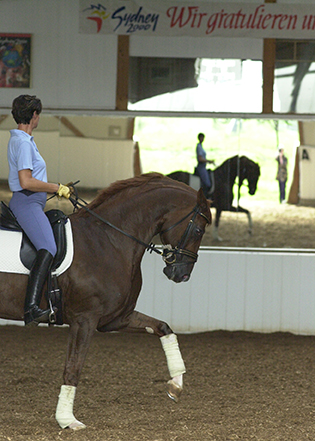 You don't take much notice of blood lines, more movement and character?
"Movement and character, and they have to be tall enough for me. If they are smaller it's nice to sell them, but not for me. And they have to be kind, they are not allowed to be piggy."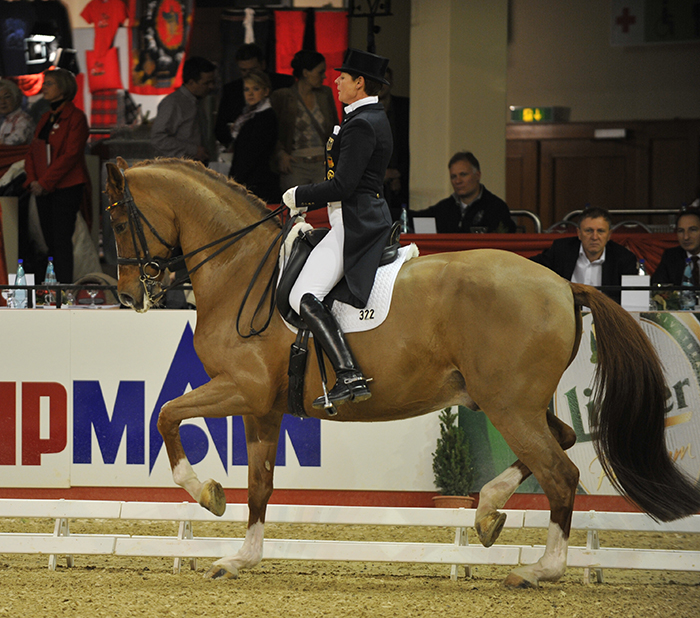 One of Ulla's more recent rides, Erbe
With the young horse, is it possible to predict if it is going to do piaffe and passage?
"You can see it a little bit in the movement, you can feel it a little bit. It gets a little like passage in the trot, if you can bring the young horse back, two or three steps, not more, and when he does that, and you take the whip a little bit, and they elevate one hind leg, then you know, okay, he is electric enough."
Certainly this one is electric enough, with that extraordinary ability of the modern dressage horse to both extend and collect with ridiculous ease, and he has that modern way of going with a lot of lift in the knee, but also a lot of sweep in the shoulder.
He also has such a sweet, kind disposition.
"He is incredible. Before he came to me he was used as a breeding stallion – with live cover! – and I thought 'oh, oh how will he be with other horses?' After I had him for 14 days I took him to a show, where the arena was in the middle, with a hill on one side with a field full of cows, and on the other side of the arena, the hill sloped away and in that field there were mares and foals. And he was so kind!"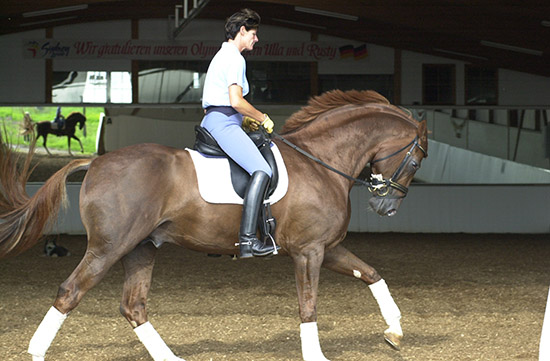 All the while, Ulla is working by herself. As she says, 'just me and the mirror', but she does have regular visits from Ernst Hoyos, the Spanish Riding School rider who used to work with Jo Hinnemann, and who is now Lisa Wilcox's partner, and trainer.
"Ernst Hoyos is very good with piaffe and passage, he is perfect, He starts with our young horses taking them in the hand. For the first time for piaffe and passage , some of them get very wild, others are easy to start and hold, but some get explosive and he is very good with them because he can hold them and work them in the right way. If I try to hold these horses when they get a little bit too explosive they would run over me. He has been doing this all his life in the Spanish Riding School, so if he does not know how to do it, who would know?"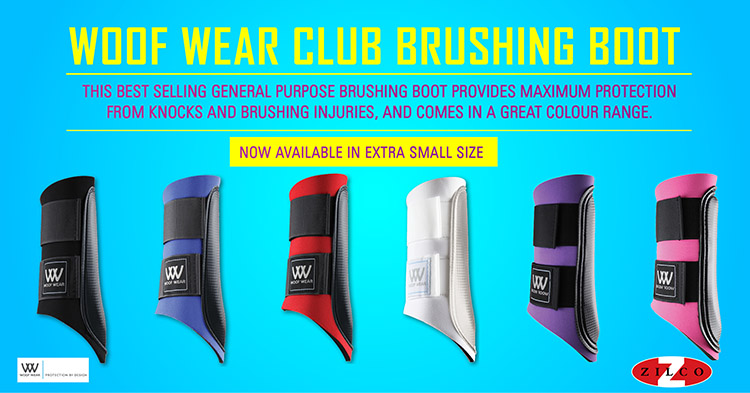 So again you have turned to a trainer from the older tradition?
"That is how it is! I was making a little clinic in Holland and people asked me, what does this mean when you say 'open the gullet'. I said you need this to get them loose for the shoulder in, and this trainer from Holland came to me and said, 'we DON'T do this here!' But you need this for everything – 'No we never do this in Holland.' It was so interesting, okay, everybody does it in a different way, but the old principles they really don't change. The medical treatment of the horses, that changes, but not the riding. Not the riding."
Now that you are so famous are you able to get better horses?
"I never go and say okay I am looking for a young horse, it is always people come and say I've got a good horse, and I say, send me a video. I look at the video, and if I like the horse on the video perhaps I jump on a plane and go to see it – but most of the time I don't go."
There are not many Rustys or Wallstreets in the world?
"These two are only once in a lifetime."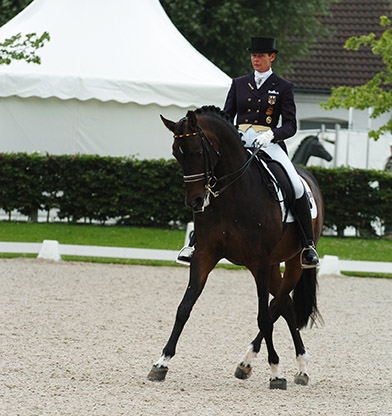 Ulla and Wallstreet warm up at Aachen
How many horses do you like to work with at a time?
"At the moment I work four to five horses every day. The horses I have in work, I ride them from the first step myself. The girls walk them twenty minutes, then I start. With Rusty and Wallstreet, I do the twenty minutes walk myself. For five horses I need six hours, then half of the day is gone. If the girls exercise one of the other horses, they only ride walk, trot and canter on the track, no more."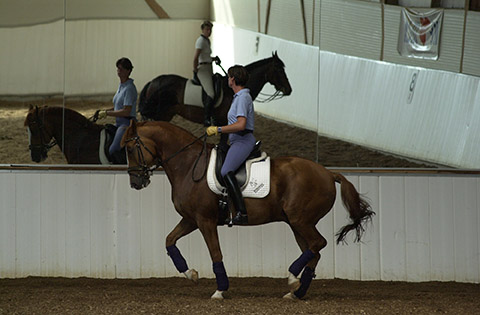 You prefer to have girls to guys working in your stables?
"You don't get guys. Most of the guys don't want to come to Bavaria. This is a very big problem in this area, they all want to stay in the north because there are more horses, more stables… more girls."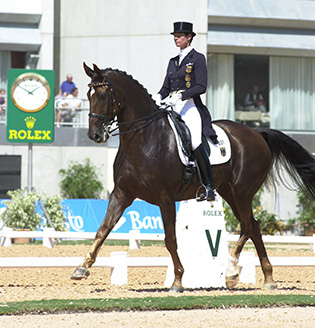 Ulla and Rusty at Jerez
You would rather start with an older horse, or start with a three year old and do all the work yourself?
"We start with the three year olds also. At the moment I have two three year old ones, two four year old ones. For me to work with a horse, I have to like their movement, and the expression they have – and I don't like mares. With a mare only one person can ride them, if you change the riders with a mare you will always get problems. I am not home enough for this. I have to leave horses at home when I go to competitions, so no mares."
A lot of what you do is based on feeling?
"Only the feeling. I would not buy a three year old horse that I had not ridden myself. I have to see him, then I have to have the desire to ride him. Normally I am a little bit anxious with young horses. If I am thinking I might fall down and break my leg, then these thoughts are not good in my head. If you get on a horse with these thoughts, then you can't ride."
Over coffee describes how she constructs her famous freestyles…
"First I look to my horse and I think about the things he loves to do, and I look and see if I like these things too, then I take a piece of paper and I start painting, circles and lines, and after many hours, my plan is ready. But most times I have eight or nine minutes, and then the difficulty starts, you have a very nice freestyle in your head, it looks very good on paper, but it is two minutes too long. Now we have to shorten it, but you have worked so long on what is nice, what do you take out?"
"Finally you shorten it, and everything is fine, then you get a few people to look at it. I take my husband, my girls, and sometimes some friends who have no ideas about horses I just want them to say if it looks nice. Two say perfect, one says horrible – okay start again, change a little bit. Finally I put it all on video and it goes to my musician. I tell him what music I want. So for Rusty we made another Kür with songs from Bony M, but the Bony M Kür is not for championships, for Aachen and the big Championships it is always Carmen Barana, that's the one, I will never change this music because there is no better in the world, that is Rusty's music."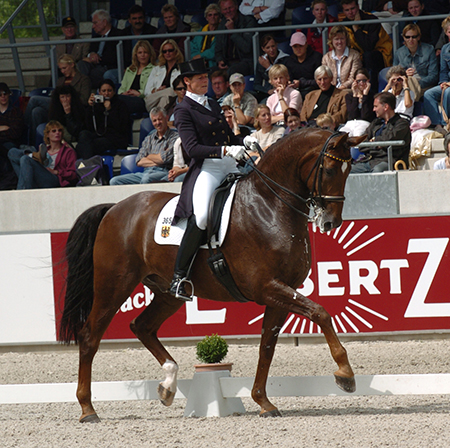 Do you feel any pressure going into Jerez as the favourite?
"Not yet! (Laughs) I don't think I will feel the pressure. I am only a human being and my horse is an animal, and it will go as it goes. I try to ride the best I can, and if it goes right that is fine. And if not…? People come up to me already and say we know you will win in Spain. No-one can know who will win. I don't know if I win – I will try to win, I'll try very hard, but I don't want the pressure, and I don't take the pressure."
Even at an Olympic Games it doesn't get to you?
"At the Sydney Olympics that was whoosh – the first Olympic Games of my life, but still you ride a Grand Prix in Aachen, and you ride a Grand Prix in Sydney and you ride a Grand Prix in Jerez – it is always the same. You have five judges, sometimes you have more spectators, sometimes you have less. The only pressure is that you ride for Germany and you have to be good to get a team medal, after the teams competition, you are on your own. So in the first test, the Grand Prix it is better to be a little bit conservative, no mistakes and a nice ride on the first day. After that the pressure is off because I ride for me."
What has been the highlight of your career so far – what has been your best show?
"The best show was the freestyle in Verden at the European Championships last year. That was really great even though I was wet from my head to my feet from the rain. I had to change for the prizegiving ceremony. This is the best place to ride, I love Verden. They have a little competition in January and if we do not have too much snow I always go to this place to ride because the spectators are so involved, they know. If they see that everything has gone wrong and is destroyed, they applaud to say it doesn't matter, tomorrow it will get better."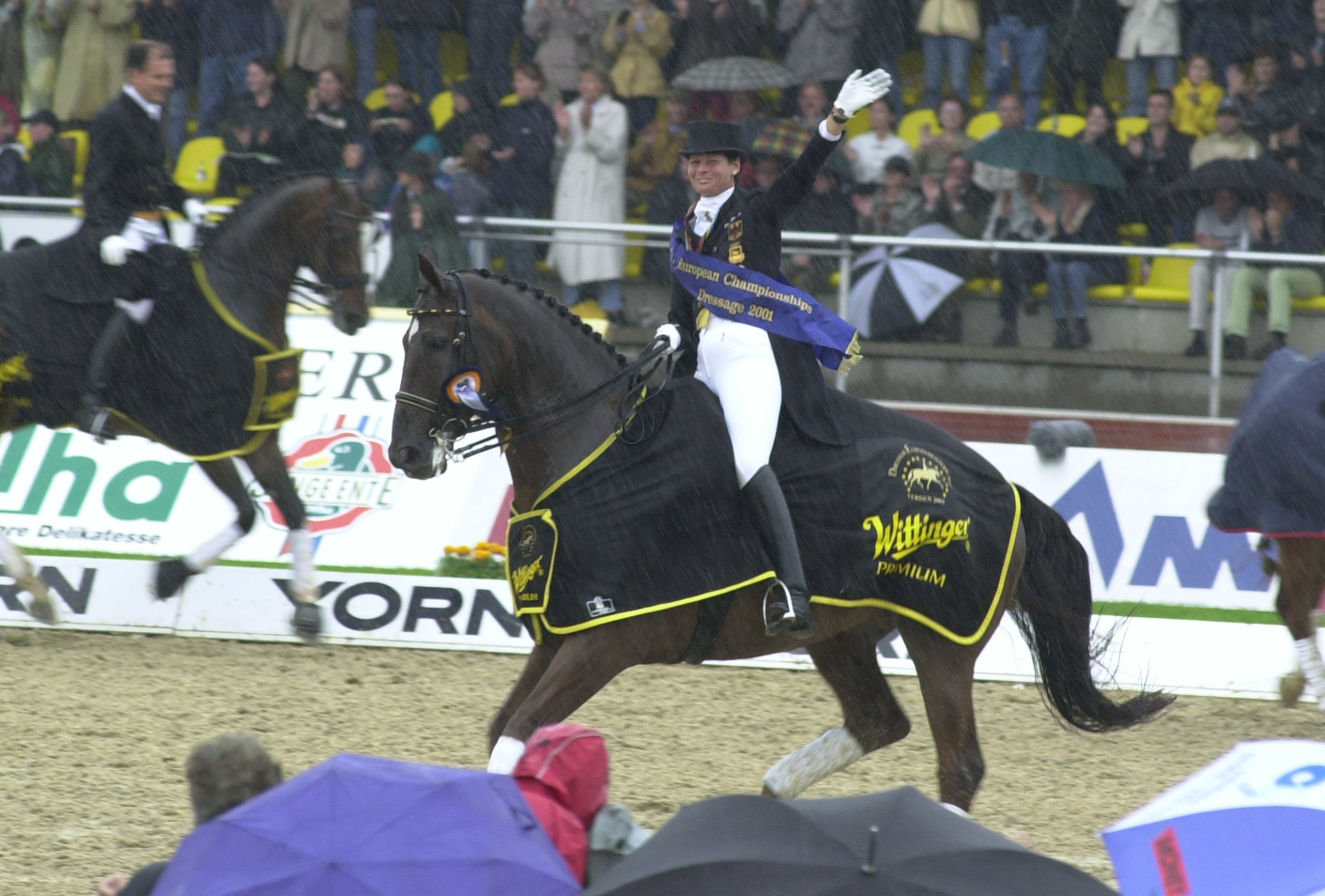 Winning at the Euros in Verden with Rusty
Looking to the Equitana in Australia, in Brisbane later this year, will you have any particular theme or message? Want to see the Masterclass?  http://www.horsemagazine.com/thm/2017/09/ulla-salzgeber-a-masterclass/
"I think when they learn how to soften a horse and how to get a horse round, this is the most important thing of all. To get the horse round and through the neck, the hindquarters underneath, then everything is great. If I can show the audience how we do it so they can understand what I mean, then I will be very happy."
You were a teacher? A trainer of young riders…
"I loved to teach and that is what I always wanted to do from the beginning, and then I met Rusty – if he hadn't crossed my life, then I would still be teaching because with teaching you have success every day – most of the time anyway. And if not, there are always my fields outside and I say, 'okay, today, forget it, go out and have a ride' – because when the head is closed and the pupils don't listen, sometimes you have days when you can't work with them. There are some days, the horses are not good, the riders are not good, sometimes I'm not so very good either, and on these days we say, okay, not today. When we work, we work hard, it is better to work hard twenty minutes than one hour soft. I don't mean hard with the stick, I mean hard in the head, concentrating. That is training for me – to be really concentrated and say, okay twenty minutes now – head and horse has to be one thing, not thinking about the coffee or the cinema, they have to be with their horse. When I am riding Rusty if I am somewhere else with my head, then suddenly he sees things and starts to react. For me working with the horse is a mental thing, it gets stronger when you have the horse for longer because you have to know them, and they have to know you. I always get the feeling with Wallstreet and Rusty that they know exactly how I feel. If I am very tired, Rusty knows, and he is like me, if she is tired, then I am tired also, that's fantastic, and when I get a little bit wound up then he is with me all the way. There will be other great horses I hope, but there can never be another Rusty."