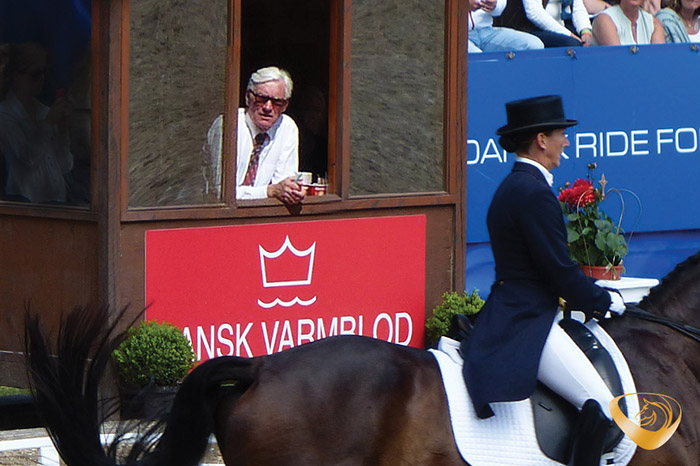 The Danish judge, Leif Tørnblad is one of the most experienced and respected five-star judges in the world, but he is also in his day-to-day life a rider, and a trainer, and now he has developed a teaching format that combines the two. The three days start and finish riding an actual test. It worked well for leading Grand Prix rider, Maree Tomkinson – but Leif also has some firm and controversial views on what can be done to improve international dressage judging as you will find out in this exclusive interview with Christopher Hector.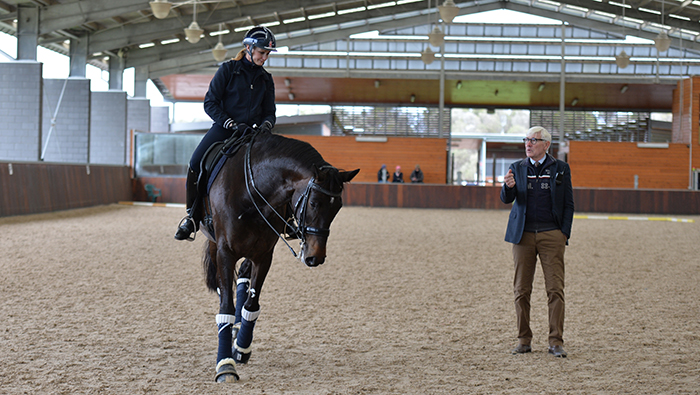 When did you come up with this format of the test to start the training sequence?
"I've actually been doing it for about five or six years. I do it in Denmark quite often. I like the format because I need to see what they are doing, and since I am a judge, this is my reference point, but I also train and ride horses, so I know it from that side too."
"I haven't done it so much abroad – I did it in Spain this year, and Portugal, and I am going to Hungary in October. Coming to Australia was Pernille's idea, I know her mother and father well, they live nearby, but it is my wife who trains her mother."
Leif's wife is a famed figure in the world of dressage. As Anne Grethe Jensen she ushered in a whole new world of elegant, soft dressage when she rode Marzog to win a World Championship in 1986. The pair were also European Champions and Silver Medalists at the Los Angeles Games.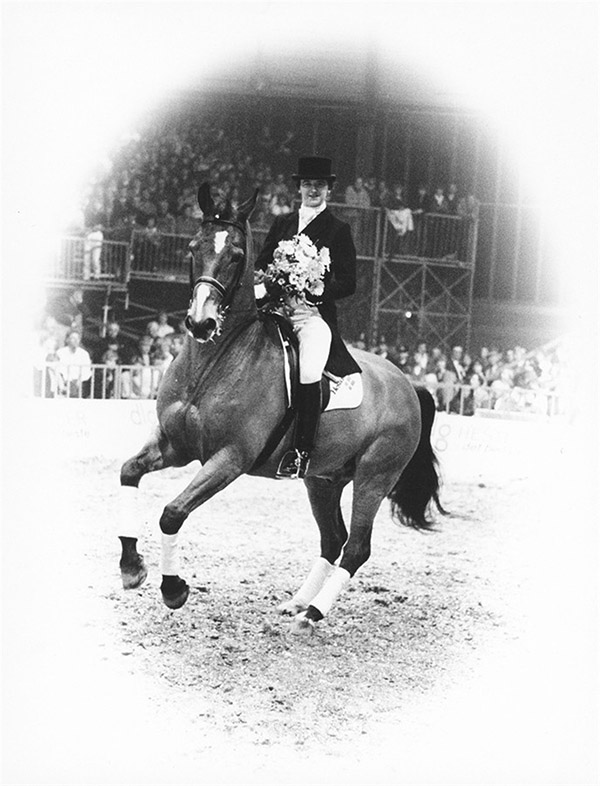 Anne Grethe was also the first World Cup winner.
"I am still judging so I am not a trainer. You cannot train and judge the same people. There has to be at least a month after I train them before I can judge them. It's a good format because you see all sides of them, you see what they are good at and bad at. If they get nervous – some of the riders get nervous when they see me, because they know I am a high-ranked judge, and that's the same when they go to a competition, they lose a little bit the concentration. So it's a good intermediate stage, to meet me without being too worried. Some are worried on the first day, but then they relax more and go much better on the last day."
Maree Tomkinson has a training session next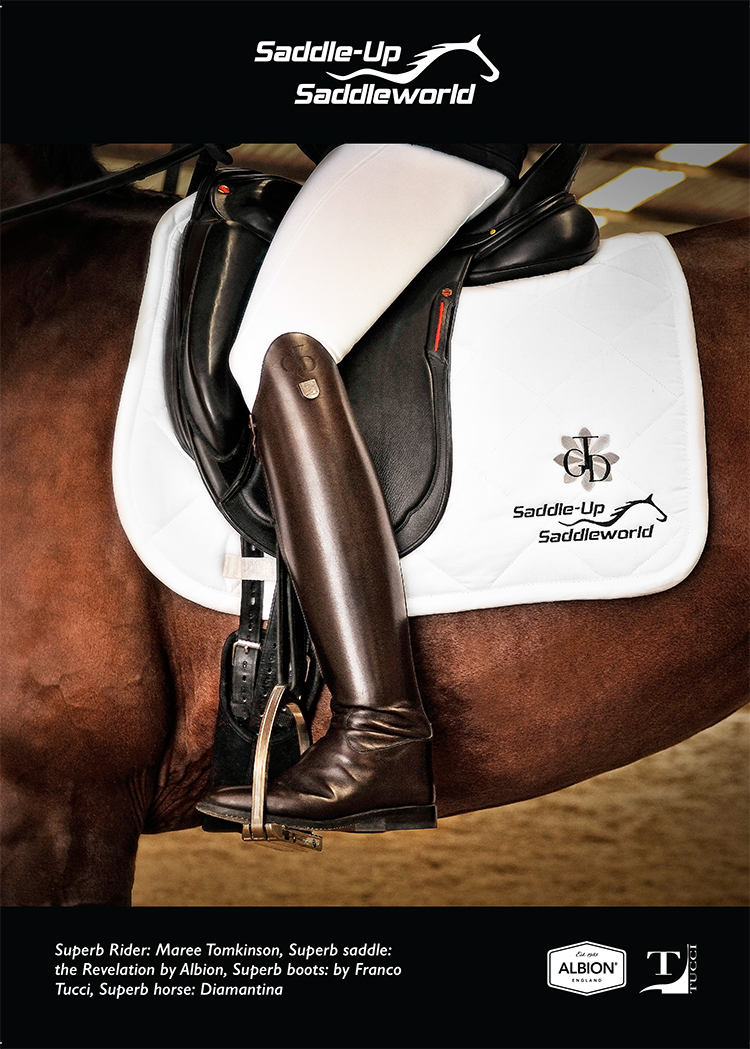 Ring Saddle-Up to discuss your new saddle now 03 9727 4000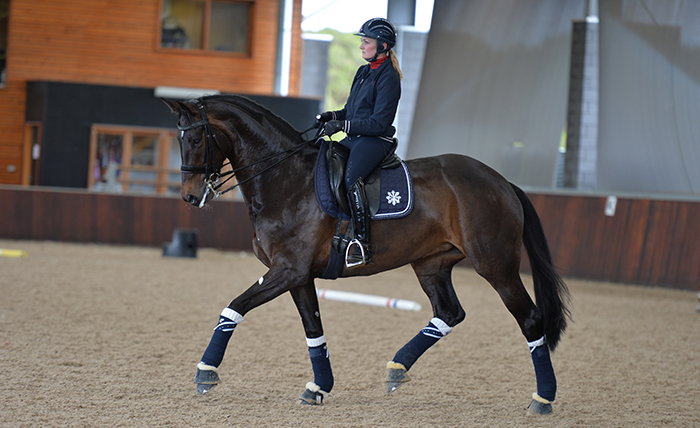 Looking at the session you did with Maree, what areas do you want to concentrate on over the three days?
" I'm not better than the daily trainer, but I come as a new broom, and I see the little habits they have and I can try and get them out of that. Maree has a little difficulty in giving her hand. It was the same with some of the Portuguese and the Spanish, they were all super in piaffe / passage but riding back, and pretty awful in extended, and people say, oh yeah but it is a Lusitano – but it is not, it is their riding."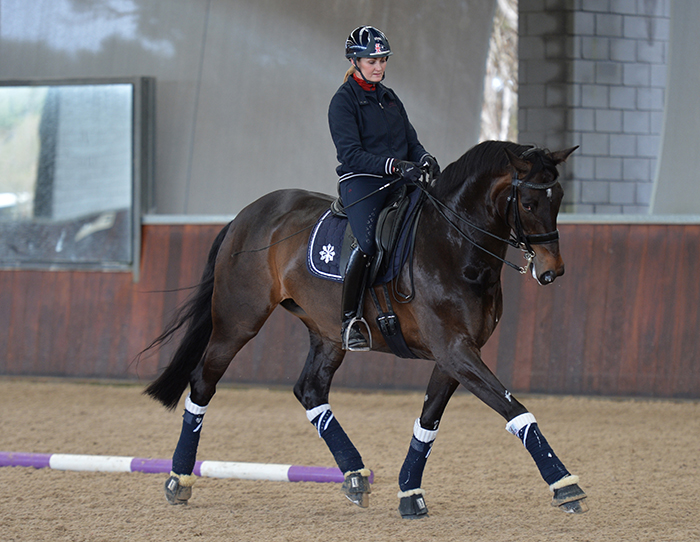 But we saw it with Maree's horse – in the beginning when you asked for the extension, it just came from the shoulder…
"Then it came from behind… It comes from the half halts, take then immediately a soft hand, it's rhythm, if you have that rhythm in your body then when you take a half halt, you take, sit, then leg and give. Many, they use their legs and their hands at the same time, which is like driving a Ferrari, pulling the brake and pushing the accelerator at the same time – you have to choose. Stop, sit, then you let go, and if it is a very energetic horse, you don't have to push so much with the legs and if it is a lazy horse, the forwardness comes from taking it back and creating the energy from behind."
"The hind legs are the engine of the horse, so when you create the energy from behind, like Maree did at the end of the extended work, then she could just sit and let it go. I always say, try and prepare on the short side, try and prepare every movement, the same with the pirouettes. You prepare them with the inner leg and all that, and then do the turning, but lots of trainers say you should use your inner leg in the pirouette, that's too late, you should have used it before and then you can do the turning, and then you need to open up in front – which is difficult. Because otherwise you cannot go forward, if you start pulling on the brake, that's where you get imbalances, changes behind, and all that. It's a rhythmic coordination thing."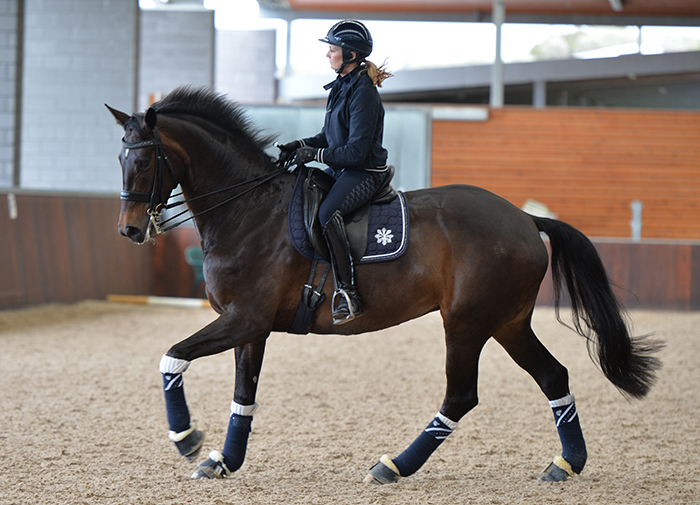 "The riders in this clinic are all good but they just need to focus a bit more on preparation and on the giving hand."
We were talking about passagey trot, and Maree's horse started with a hover – is this a problem because we are breeding super talented horses that offer passage so easily?
"No, no, it's the riding again. It is fantastic that the horses have that movement in them, you should never blame a horse for being able to do passage, but you should not nurture it as a five-year-old or a six-year-old. What you have to do is take the half halt, get the energy and as soon as the horse starts to become passagey, you ride forward so you keep the horse energetic from behind. Lots of riders ride a lot on their own, and it is very nice to sit on a passage, but it is not what we want, it is an evasion in a way. If they are not allowed to do that, then some horses try to avoid going forward with a quicker rhythm and start cantering, you have to correct them and then when the hind legs are working, the back is working and all over a sudden you can sit on them as well."
How did you get started in the equestrian world?
"I started riding when I was nine. My father was from the Army and he was riding as well. It was in the family. I was riding dressage and eventing and jumping, when I was younger. I started the normal way, in a riding school, then I had a half share in a horse, then I got my own horse."
"At that time is was not like children getting everything when they are five years old, I was seventeen or eighteen when I had my first own new horse. I did well."
"I became a judge quite early. I was the best in the riding school, and so they asked me to judge the others. When I was twenty-three, I passed the National Judges Exam but I was still riding lots of competitions. Hanne Valentin, who was an international dressage judge, was the chef d'equipe for the Danish Dressage Team, and I knew her very well. We were at a show and had a good evening together, and she said, could you please take over my job as chef d'equipe? So I did, and I traveled the world with the team, married the star of the team, and of course, Anne Grethe was the best rider in our family so we concentrated on her competing, and I stopped. I was about thirty five then. That was okay, I concentrated on judging, I was still riding at home, and I was never judging Anne Grethe's class."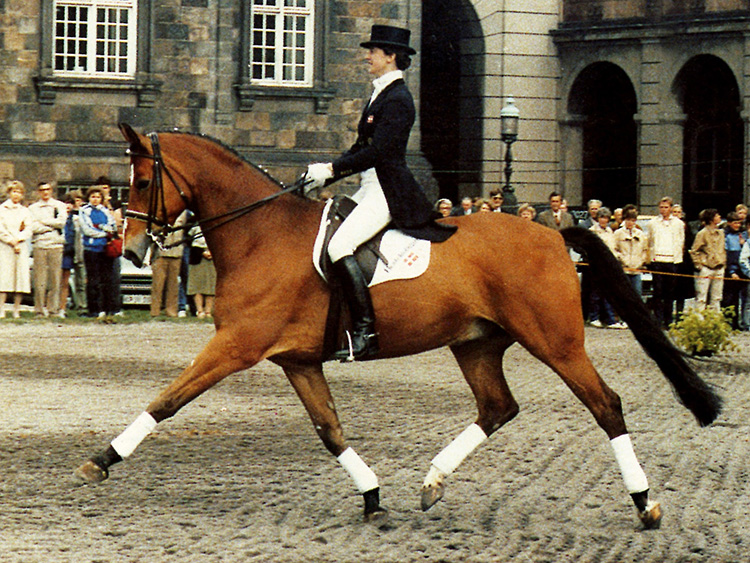 Anne Grethe Törnblad and Marzog
"I was asked to become a candidate judge by the Danish Federation – twenty years ago, maybe more. I was very lucky at that time, my wife was riding Grand Prix so they immediately gave me a lot of challenges in Juniors and Young Riders. So when I was a candidate – what they call three-star now – I was already judging European championships."
"I think I've done fifteen European championships for young riders, juniors, ponies. It gave me a lot of good experience in tackling the families, trainers, whatever, and trying to be fair, not nationalistic."
"I traveled with Anne Grethe and when she had finished her competing, I sat at the arena and did my own judging. It gave me quick reflexes because I had to write as well as judge, and at the end I could compare with the five judges. It was a super nice learning experience, teaching myself Grand Prix judging. I think I did more Grand Prix judging on my own at that time than any other judge! I usually came right in the middle so I became confident, and at the end the riders started noticing, because my wife was famous and they saw me judging and would come up and ask, what did you give me today? I got a good relationship with lots of riders that way."
"That was good practice, then Anne Grethe stopped riding so many competitions at the top level – she is still competing – and the FEI appointed me a five-star judge in 2007 and I did the Europeans that year, and the Olympics in 2008, and again the Olympics in 2012. And the European Seniors again in 2013. I've done six World Cup finals as well. Even though I've been doing all the big stuff, I still enjoy the young riders and the juniors – which I did again this year and judging under 25."
"Now we have two more five-star judges in Denmark, so I do a little less, but that's fine because I've done enough really and now I've started doing these clinics and I enjoy that. I'm a consultant in my private work, and sometimes when you're judging you think I wish I could go out and tell them how instead of just judging, six not enough or more forward…. It's a good challenge to see if you can go out and make them actually do it."
"We have a stable and my wife and I both ride, I'm riding every day at home."
Do you think it is important for a judge?
"Yes. I have to be careful because there are some judges who don't ride at all and they still might be very good judges because they are objective and they have a very good theory, but if you really want to be a good judge you should have the feeling when it is good or bad, and you can get that from riding. But there are still very good judges who don't ride, and there are also judges who are housewives, and I don't mean to be negative to housewives, but if the main thing is traveling and having nice dinners and seeing the world, if that's the main thing and the judging is secondary, there are a few of those that aren't good judges. Some are very good at being political and getting invites."
"Most judges are sincere and want to do their best…"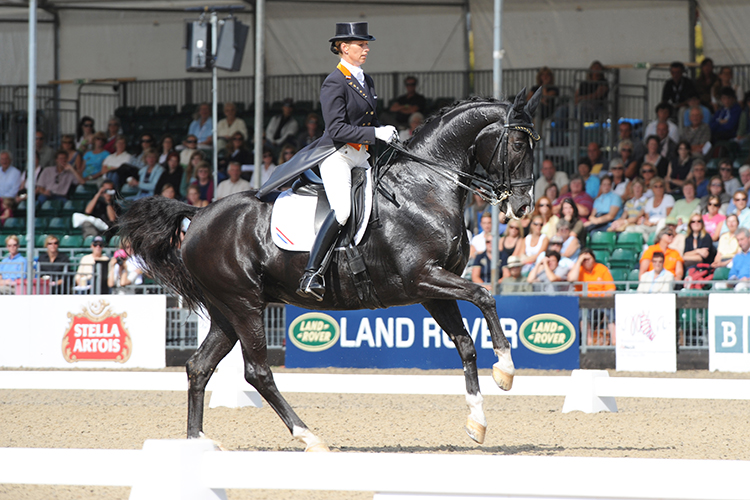 But you have judged through several eras of judging, you were judging in the time of Salinero, and still judging when we had the period of Carl and Charlotte – what went wrong in the Salinero era, why was a horse that was so tense able to win so much?
"But it started already with Bonfire."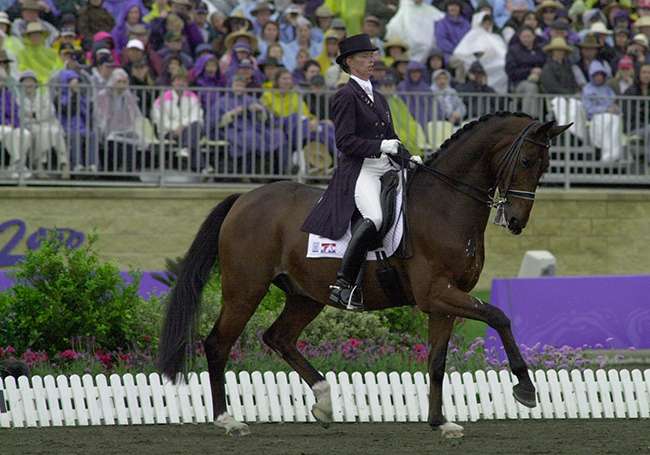 Bonfire in Sydney in 2000
He wasn't quite so tense as Salinero…
"I thought he was the same in a way. In some senses I quite liked Salinero, of course he was a better horse than Bonfire. She's a very good rider, Anky and she presents the horses well, but there are problems with the whole Sjef Janssen way of training…"
It was awful…
"That's your point of view, I think Anky did ride quite well, but I think the ones that tried to copy her, didn't cope. Anky could actually ride them deep and whatever, but when they came into the arena, they were looking okay."
I can show you so many photos from Aachen, from Olympic Games, of Anky in the ring, and it is awful, and people can say, oh, it's just a bad moment, but good riders don't have 'bad moments'…
"I can assure you if you look at photos of my wife and Marzog, you cannot find one single picture that is bad, you cannot, it is not possible."
And the same with Charlotte… I'm sorry, I thought there was nothing nice about the era of Salinero…
"I wouldn't go that far, but he was over-tense, and her passage was more forward going piaffe, but she also had her good moments – she made fantastic freestyles, good music, good choreography, and that was her benefit to dressage at the time when the freestyle came to the front. I think she's a good rider and she presented well. I've been back stage many times, and I saw that kind of warming up and I don't approve of that – you can see that in the way I train – but you also much remember, at that time, who was the second best? The third best? I judged Anky and Salinero in the Olympics in Hong Kong, where she won, and that is when Satchmo spun around in the ring…"
And got a silver!
"I didn't judge the Special because we were seven judges, and I did the Grand Prix and the Freestyle. But horses like Bonaparte and Ravel were placing third and fourth and they were not on that level."
It was a lovely day for dressage at Rotterdam in the Europeans, when Carl and Charlotte came out and said, hey dressage can be like this…
"But if you look back in history, Granat was the first to set a standard, being through. He was never a beautiful looking horse but he was more through and more supple than most at that time. Then came Slibowitz and horses like that, more power – and then came Marzog, and everything suddenly became easy and elegant and light footed, and also Ahlerich was very good. Rembrandt was also in the same line as Marzog, he only had the deficiency that he couldn't sit, couldn't take weight on the hind legs, but he was a nice light footed elegant horse."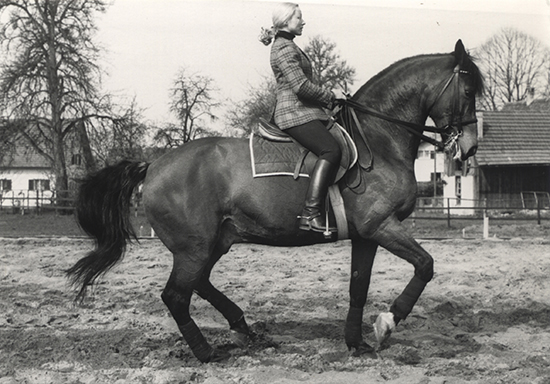 Granat – not so pretty but through…
"Then came Andiamo who was tense like hell, then the Sjef Janssen era. It swings like a pendulum: strong, power, lightness, strong power and now we are back to lightness again. I think Isabell Werth nowadays is much better than Isabell Werth ten years ago because she has also adapted to the lightness and she is very efficient. Now you see this Cosmo boy, Sönke Rothenberger, fantastic huh? Also the Danish rider, Cathrine Dufour, she is in the same light tradition as we used to have."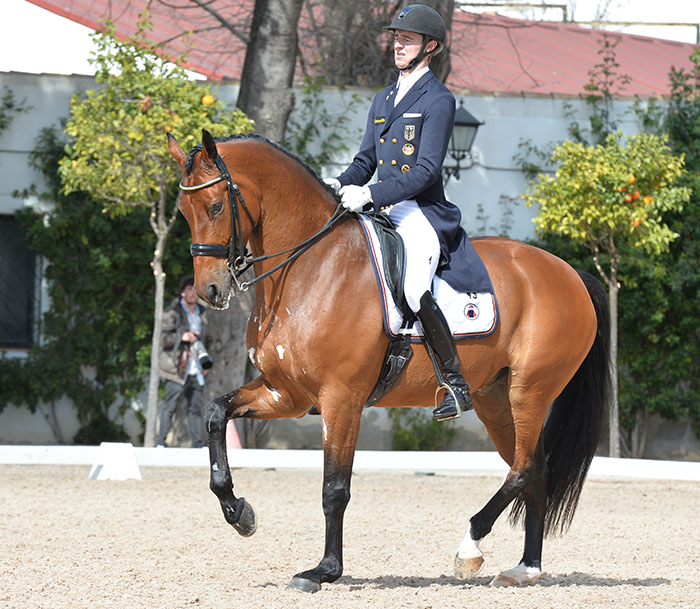 Cosmo – fantastic!
So maybe dressage is going to consolidate in this…
"Lightness – and I've had big discussions with my five-star colleagues, I said it cannot be right that we give high marks for horses behind the vertical, with front legs up in the sky and hind legs lagging behind, and of course it stirred up a bit of discussion. I have to be careful what I say, but we see some top placed horses that do not take weight on hind legs in transitions and that do not over-track in extensions still being awarded with high marks. But the fact that I brought it up, created discussion and changed the attitude amongst the judges. I think I have a slight influence… But I am in line with many others who are saying the same things."
There is all this talk about judging in crisis and all the drastic things we have to do to change the situation, but I think if you look at it historically, judging is probably in pretty good shape…
"I think so too, and I think that is partly because we are more and more open about it, you can see the score sheets anywhere and that makes it more obvious what is going on. Wayne Channon and Kyra (Kyrklund) say the system is wrong, but I don't think that is correct. It's not the system that's wrong – now we are getting into a very long discussion because I am very engaged with this issue. We can start by saying, the selection of judges is too slack. The training of judges is too slack. The exams are too slack. I have just made an exam for the first time for the FEI – I had to create all the questions myself, I had to set all the standards myself. I thought there was a general standard given by the FEI, questions of rules and regulations – no, I had to do it myself. Maybe they were lucky I was a good guy, or maybe they were unlucky and I was not good enough, but nobody controls it."
"We've had good people setting exams, we've had Dieter Schüle, Ghislain Fourage, Mariette Withages, Volker Moritz, they were all very good people but they should have set a much firmer standard. Then when you are passed as a judge and you start going away from the standard we like, it doesn't have any consequences, you are still selected for everything! The good thing is that now you can see that this person is five percent off the average more often than others. You can do it once or twice, you can even be right doing it, but if you are off the mark continuously, someone should look after you, take care of you. There is no somebody today. We have a Judge General, he doesn't do it. We have the JSP, they sit at the Championships and change a little bit up and down, which is useless. They should be much more out in the field to see who is good, and who is bad, because it is not enough to have the statistics, you have to also see if they are right or wrong."
"At the Europeans, at Aachen, there were two or three judges that were way out of line, and all of them were selected for Rio! There's absolutely no consequences."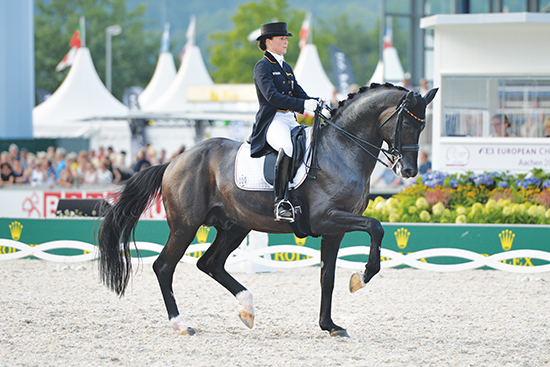 Desperados at the 2015 Europeans
The ones that judged up a lame Totilas above the sound black stallion, Desperados, they went to the Olympic Games, they should have been banned for six months…
"Yes, that's what I mean. That's the one side. Of course you can't ban someone for making one mistake, or being different, unless you compare it to the quality of what is going on. Was it right or wrong to have Totilas on 80%?"
Of course it was wrong, the judge at C should have been ringing his bell…
"Sure, but that is not obvious from the statistics, you have to be there to see it. The second thing that is wrong with our system is, in the old days when we had Nybleus, we had Niggli, we had Lette, we had Mariette – Mariette based her strictness very much on Volker Moritz. Today, we don't know because it is like, anything goes. There is nobody coming in and saying – this is what we want."
more follows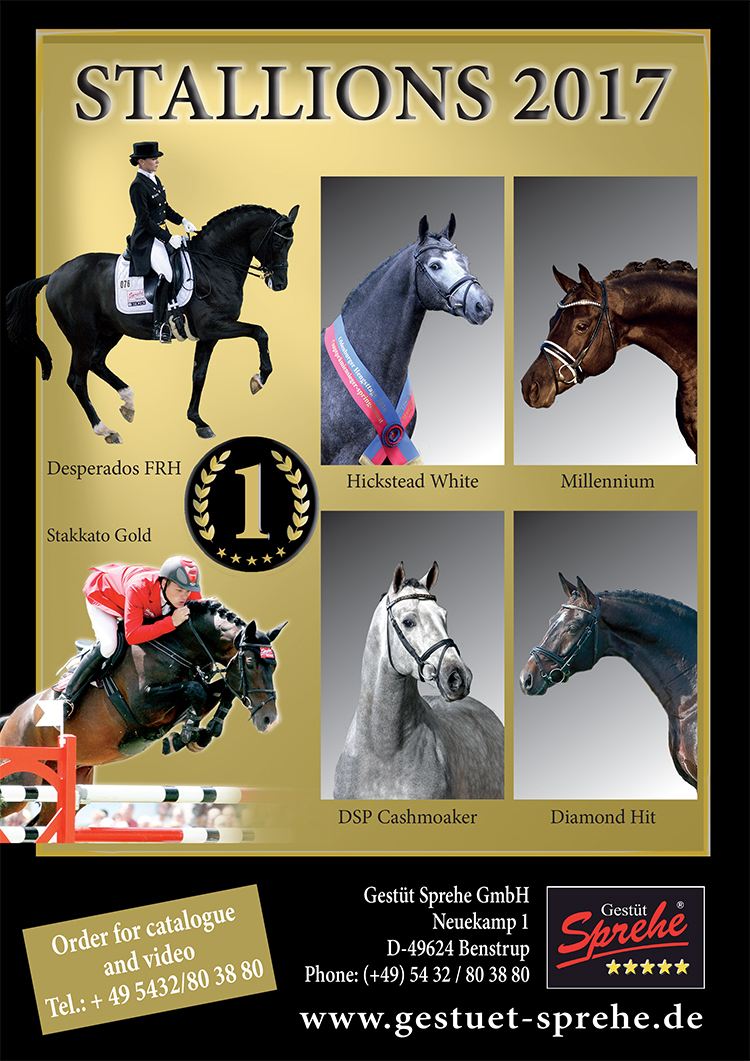 "I did write to Stephen Clarke. I watched a rider competing in London, and his horse was not for one second on the vertical, mouth was wide open, and he came out and got 80%! I immediately wrote to Stephen Clarke who was the C judge and our Judge General, and asked how on earth can this happen? Either we change the rules and say, this is the way we want it or we judge differently. He took it very positively and we had a little debate about it, and now we have come back a little to the basics. But that's me, an individual, not in charge of anything producing that result. We need a torch to look upon what is happening so we know what is black and what is white."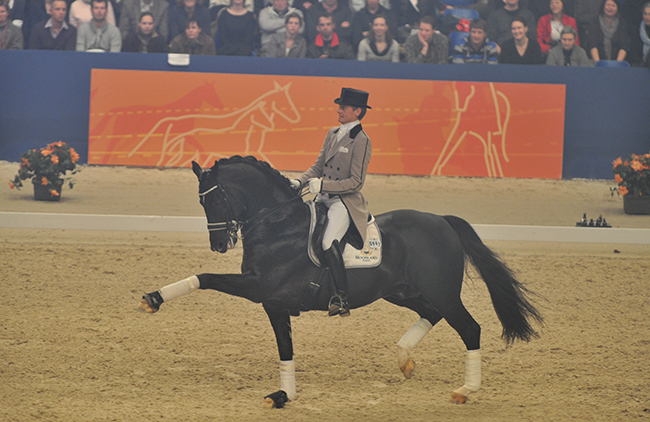 The Dutch way – Totilas and Edward Gal
"It's not good enough that the Dutch say, we like dressage this way, and the Swedes say, we like it this way, and the Germans say, we don't want this, we want this. We need to agree on what we want. When we had a dictator like Nybleus, like Lette, we could agree or disagree, but at least we knew. That is the second thing that makes judging difficult. I can say, I want them in front of the vertical, I prefer a little bit with the mouth playing instead of a tight noseband, lots of little things. There are other judges who think the opposite, if the horse plays a bit with the mouth, they immediately go down. We have to make a decision – this is what we want and that makes it difficult."
"Of course one of the excuses is that in the old days there were maybe only ten judges judging the big shows and they could all meet and talk. Now it's thirty, and meeting together is difficult. The bigger the sport gets, the more difficult it is, like any organization, but that means we need to have even more emphasis on having a clear view."
"I can come down here to Australia, and give a clinic and you see what I do, and you like it, or not. The next time someone else comes down and says the opposite – and that can be approved in that person's environment."
I don't believe that for one second Leif, the only trainers that are different and new are bad trainers, all the good trainers – they might use different words – but all the good trainers train exactly the same way. If that had been Jean Bemelmans or Hubertus Schmidt, sitting in the school this morning instead of you, they would have been saying exactly the same things…
"But you are now mentioning the Germans, if it was Sjef Janssen sitting there, or Edward Gal, or Hans-Peter Mindenhoud, they would not say the same things."
But I don't think they are good trainers or riders…
"That's your definition."
No, it is not a subjective thing, we have a standard of riding and of how horses should go, and this has been recognized since at least the 1936 Olympic Games, and riders in chair seats with ultra-tense horses, are not good dressage riders, and you can see how many of their horses break down…
"That's your opinion, it is also my opinion, but that's not everybody's opinion. Next month, Edward Gal comes to Denmark to make a clinic."
That's not a very good idea…
"No, but he still does, and attracts a crowd. If you go anywhere in Holland, or some parts of Denmark, they disagree with you and me."
The person I spend the most time with in Holland, is Johan Hamminga, and his training is like the good trainers is Germany, if he'd been in the school with Maree, he'd have been saying things very similar to what you said…
"But he's the old fashioned one. What happened when Anky came out with the deep Rollkur, they actually managed to get more drama, and more higher movements, more fantastic piaffes and things. They did manage to do that – you call it tension – but people in general thought it was fantastic."
I thought it was just ugly, and it was always irregular because if the horse's front leg is swinging twice as far as the diagonal hind leg, then one is going faster or the other slower but the rhythm is gone and that is the first building block and the way horses show their tension…
"But it is not everybody who thinks that. Look at the results."
But if someone says to you, the earth is flat, I don't say, that's your opinion so it is a valid way of looking at the world…
"But like I said, the pendulum swings, and all of a sudden it was accepted and now it is not accepted again."
Let's hope the pendulum stops swinging for a while…
"Now at the moment the Brits are out, and who is taking over, the Germans, and the top ones are okay. Dorothee Schneider is a good rider and so is Katrina Böring Sprehe."
But Katrina is one of the few riders who gets to the top, but then gets better still, she was always a nice rider but now she is more effective…
"And softer, but that I think, has to do with Monica (Theodorescu)."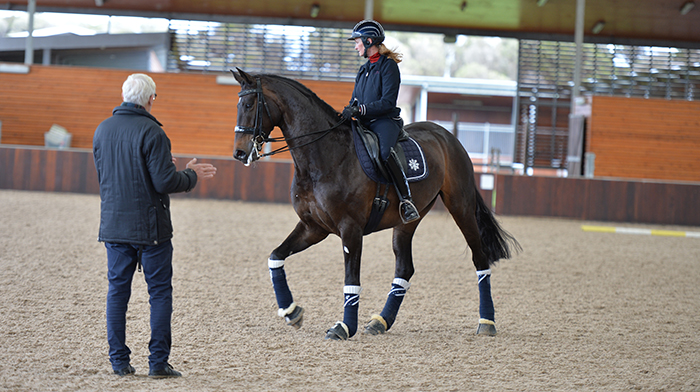 To sum up your day in the indoor school?
"The first day is really hard. That's why I make them ride a test so I can sit down and see what is the big challenge for them. I don't know them before, what is their big challenge? If I just start doing a standard routine, then I am not a good trainer. I look and then I might be using some of the same tools, but for different reasons. But I can look at Maree, and go in on some challenges but I can't do everything at once, or then they get confused."
On the second day, Maree's horse looked much much better…
"But there are always more things that can be improved in that horse as in all horses all the time but you cannot focus on everything at once, you have to pull out the most important things and next time, when that is fixed, you can go to something else, but try to put too much in their heads at once, and nothing happens."
SEE ALSO http://www.horsemagazine.com/thm/2017/08/the-great-dressage-judging-controversy-does-it-really-exist/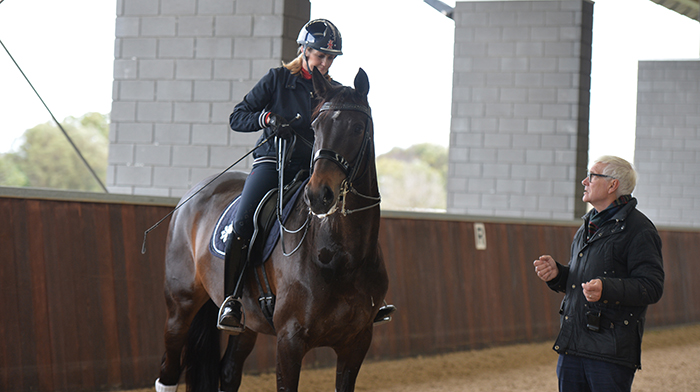 next Maree tells us what she got from her sessions working with Leif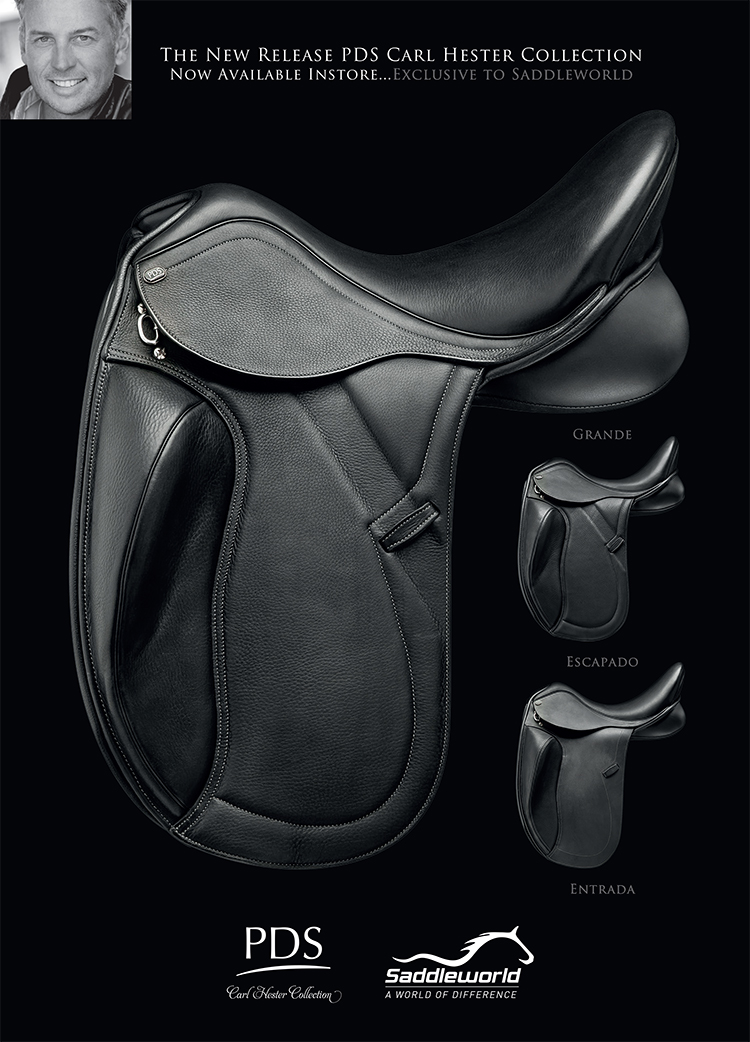 OUR GUINEA PIGS: Maree Tomkinson and Donna Elena
Australian WEG dressage team member, Maree Tomkinson agreed to test the Tørnblad format for us…
I think it is a nice idea of Leif's, to start the three days with an actual test…
"I think it is a very nice idea. For me personally, and at the moment, bringing the horses here and riding a competition test, without the pressure of an actual competition, was exactly what we needed to do. I haven't ridden a test for more than a year, the horses haven't been out for more than that – so it's really good for them to get out in a competition venue and ride a test under a really well respected five-star judge. It's a good experience and gives you some new ideas – it's great."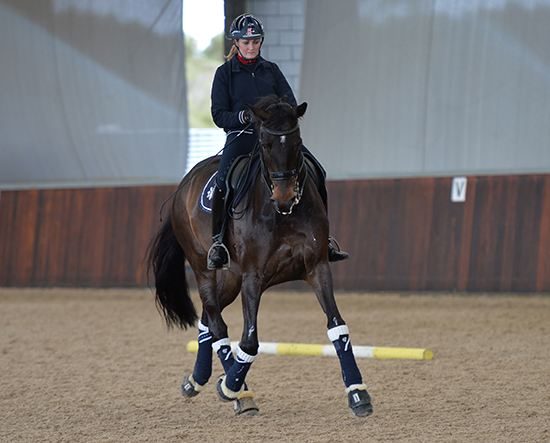 I thought it a good idea in that he quickly discovers the problem areas, whereas in the traditional lesson format, it might take a couple of days to reveal the problems and then it's too late to do much about them…
"Absolutely because training and competition riding are two absolutely different things. There's a little saying, you have to be a good rider, and a clever rider. The training is good riding and competition riding can often be about being clever, because in competition you don't always have the horse's attention, you are not always ready to do it right then and there, and you just have to make the best of what you have got. So I think it is a fantastic idea, it is something a little bit different, and it really focuses more on the test riding, and the training towards that goal."
Tell me a little about Donna Elena, the mare you were riding…
"I love Donna Elena… we bought her as a four-year-old from Johannes Westendarp. She won the five-year-old and the six-year-old classes at Dressage with the Stars. We've basically spent a year at home, training, getting her into a double bridle. She didn't go into the double bridle so easily, it has taken a bit of time. Some horses have no trouble with the double and go better in it, Diamantina was instantly better in the double – and some of them don't like it as much. I know that now you can ride tests up to an FEI level in a snaffle but you can't at FEI level, so they still have to be able to go in a double bridle. Donna Elena just took a little bit of time to get better at that."
"Normally when we first put them in a double bridle, I just put them in the bridle and ride them with absolutely no pressure. Walk, trot and canter, with a very soft contact – and I try to start them quite early, like five or six years old. They've had it on, they know it, you might ride them in it for a few days, then not, then again, and just change it around. I do that even with the older horses, I don't ride them all the time in a double bridle."
"When we first got Donna Elena, she was really bad on the right rein, really bad. Even on the video when we bought her, cantering on the left side, she was disunited behind, she crossed her jaw and did some strange things. She's now a lot better. She's pretty even on both sides now, most of the time."
I thought the most interesting exchange between you and Leif, was over the extended trot and I thought there was a big difference between the first extended trot, where the horse was out behind and the movement was coming out of the shoulder and not from the engine – then when he got you to really prepare, prepare, prepare, and rev across the diagonal, then you could see the movement moving…
"Yep, and these are the things that happen when you ride on your own, at home all the time. The difference between medium and extended trot, you feel that, but you don't see it, that's why it is great to have someone standing on the ground, pointing it out. That's something we take away, and we have to ride more for that difference between medium and extended."
"Harmony, having a harmonious horse and rider combination is so important at the moment, but there is a really fine balance between keeping a horse harmonious and keeping the expression. I often look at horses and think, okay that might be harmonious but there's nothing there, there is no expression. The horse has to have really good energy, really good expression AND be harmonious. If you have a harmonious horse with no energy and expression, it's not really dressage."
"I guess I've been working a bit more towards keeping her harmonious and not enough towards the expression, whereas Diamantina was always the opposite, loads of expression but she lacked a bit the harmony. Now I have to work on Donna Elena's balance."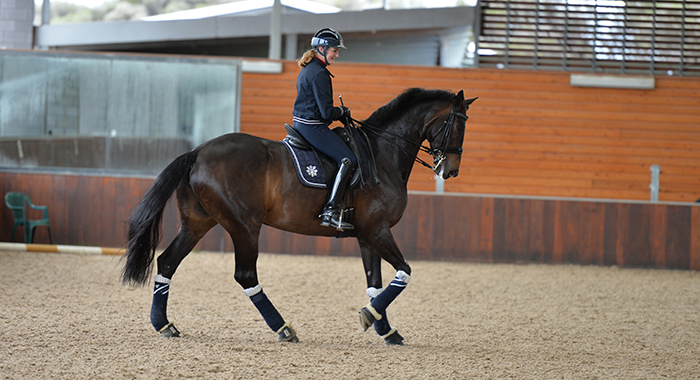 THE POSTSCRIPT:
"I think Leif's format is a really interesting variation. I think that we probably weren't prepared well enough for it to truly do what he had in mind, justice. It was hard with poles on the ground and no markers. I don't know about the other riders, but I didn't know I was going to ride the test straight up. I think there were a few things where we were not as prepared as we could have been, but I think it's a really good idea."
What was the take home for you out of the three days?
"Going to the clinic offered a few things to me, one was getting my horse out after a long time just working at home, to see where she is at. It was good for me to ride a test again, without the pressure of competition. A lot of Leif's suggestions as to how to ride the test were extremely helpful. The overall idea that everything has to be a lot more harmonious BUT still with good energy and good quality. A lot of the tests you see are harmonious but there is no quality. Not only do you have to ride a harmonious test is still has to have expression and quality."
Did you find it a little surprising to be working with a judge who was also a trainer, and obviously, a rider?
"I thought he was an excellent trainer, his manner and the way he worked with me, and the horse, were great. I got a lot out of the sessions, small things that were very helpful. Attention to detail things, like walking with more seat and less legs, small but very useful."
We should have more judges that ride more and train more…
"Yes."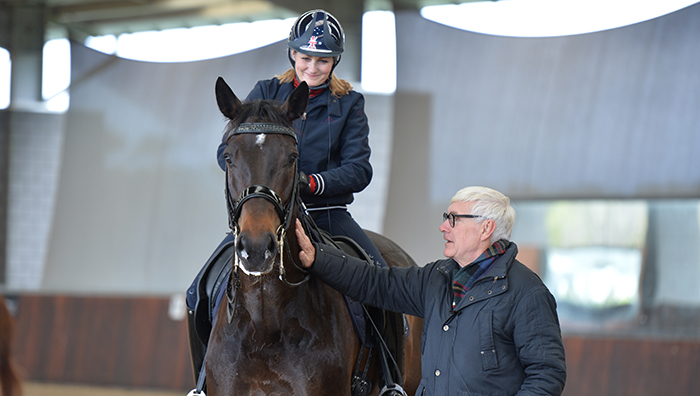 ---
Breed to the rideable 'F' line, considered one of the best – choose from the range available in Australia through International Horse Breeders: www.ihb.com.au 
Stallions like Foundation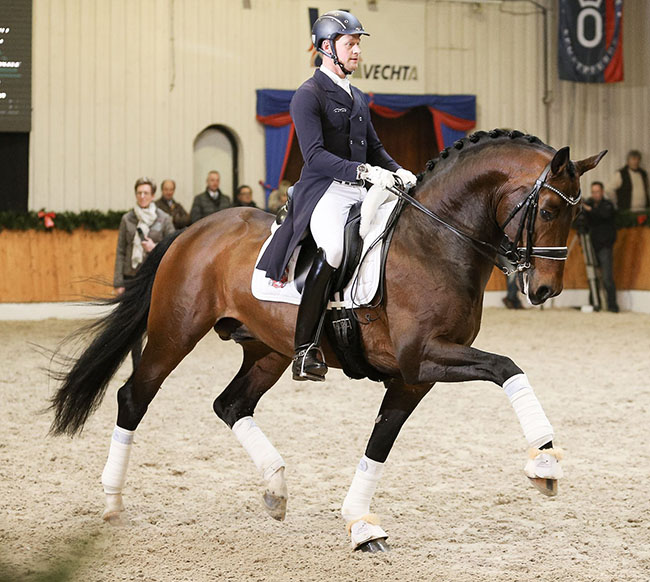 or Fidertanz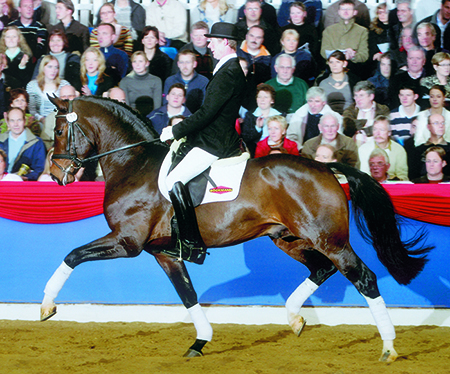 Or Feinrich