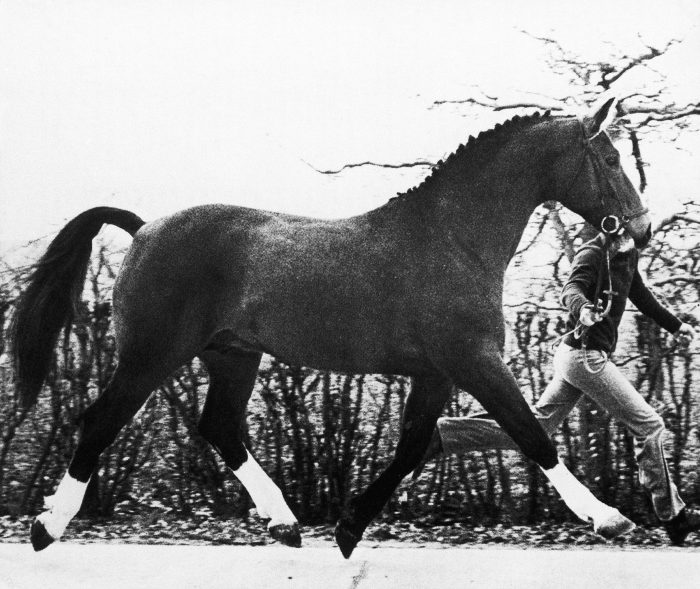 1971 – 1997 Brown 1.69
Back in 1997, in the first ever sample issue of Breeding News, Belgian equestrian journalist, Leen Devocht celebrated the Selle Français stallion, Fantastique – and no wonder!
That year Fantastique had celebrated his 25th birthday, and he was one of only two sons of the great Ibrahim alive, the other being Gibramino, who was also based in Belgium. The truth is, while the French breeders shunned Ibrahim, the Belgians were happily buying his progeny to boost their fledgling Warmblood breeding industry. Alas, 1997 was also the year of Fantastique's death but in his last season he produced the third of his 1.60m competitors, Tijl van het Pallieterland (out of a Codex mare). The other two were Jeremia (Grandissime) and Vagabond (Fredy du Fief).
The French finally realised what Ibrahim had to offer, but by then some of his good sons had slipped out of their grasp. Alexis Pignolet, owner of the famous Studfarm d'Elle remarked: "Fantastique is a very good stallion with an outstanding production record. His offspring is solid and robust, very often they come with the same charming and beautiful head as their sire. Typical for the Ibrahim line, Fantastique devolves to his offspring lots of strength and energy and on top of that a very big heart. Maybe he isn't the most fashionable stallion these days, but from the point of view of quality of production, he remains one of the best. He is ageing well, at 25 still the very picture of health and in good shape, again proving his qualities."
Fantastique was bred by Lucien Esnault (Sartilly) in 1971. This stallion made his journey to Belgium in 1973 – the year Ibrahim died – when Marcel Van Dijck bought Fantastique from Alfred Lefevre, the legendary French horse dealer. Luckily the sale was completed before Fantastique was shown at the French stallion selection in Caen and Saint-Lo, otherwise the stallion, a full brother to the state owned Ukase, at stud in Saint-Lo, might also have ended his days in a French Haras National. It was reported that Alfred Lefevre, when he sold the stallion to Marcel Van Dijck observed : "Fantastique is Ibrahim's only son who, perhaps, one day, might replace him." But then again, horse dealers tend to say things like that…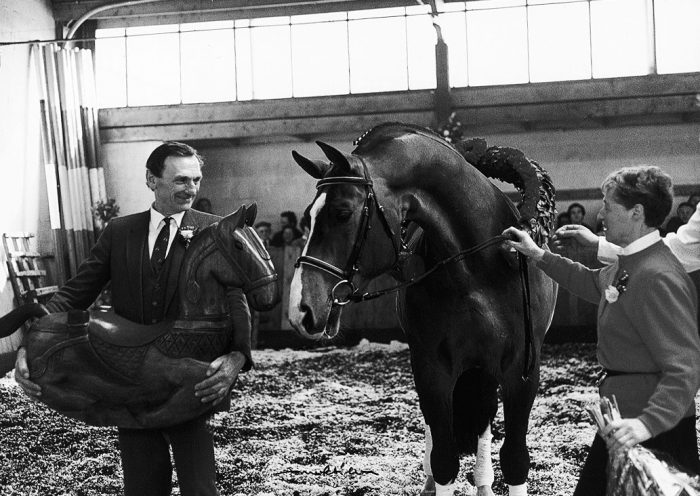 Fantastique – on the left holding the wooden horse is Marcel van Dijck
Fantastique was approved by the Belgian Warmblood Association (BWP) on 20 February 1974. Two years later he passed his performance test with flying colours and, at the end of the second test in 1977, he rightfully claimed the title of Champion. In his early years he jumped successfully with Harry Van Dijck, Marcel's eldest nephew.
By the end of 1995, 1,064 progeny had been registered: 1,042 BWP and 22 SBS.
Right from that very first year (1975) Fantastique has produced top flight showjumpers like Vasco, renamed Favorit, and international performer under the saddle of Franke Sloothaak and Terry Rudd who, based upon his results in sport, was accepted as a stallion within the Oldenburger studbook – standing first at Paul Schockemöhle's in Mühlen, later at Links der Weser's stud farm in Bremen.
In the 1995/96 stallion rankings of the World Breeding Federation for Sport Horses (WBFSH), Fantastique, represented by eight offspring, occupies 24th place, making him the highest-ranked Ibrahim son (Almé held 36th position with 11 progeny).
Famous showjumpers by Fantastique include: Elastique, bred by Michel Desmet and ridden by Nelson Pessoa and Georgio Nuti ; High-Flyer, bred by Jan Meurrens and ridden by the Mexican Luis Yuren; Ingo/Cyrano, bred by Aimé Claessens and ridden by Federico Fernandez; Barough C.R. bred by Roger Caphaert and named Vagabond under the saddle of Canadian rider Terrance Millar, and Vagabond King ridden by Erina Yanabe; Ibrahim, bred by Karel Aerts and ridden by Joris Meulemans; Jannique, bred by Jaak Maes and ridden by Ludo Philippaerts; Jeremia, bred by Ils Smit, who was one of the revelations of the 1995/96 Volvo World Cup season under the saddle of Urs Fah ; Jumbo, bred by Maurice Bossaerts and competing with Geoff Billington under the name, Mancuso.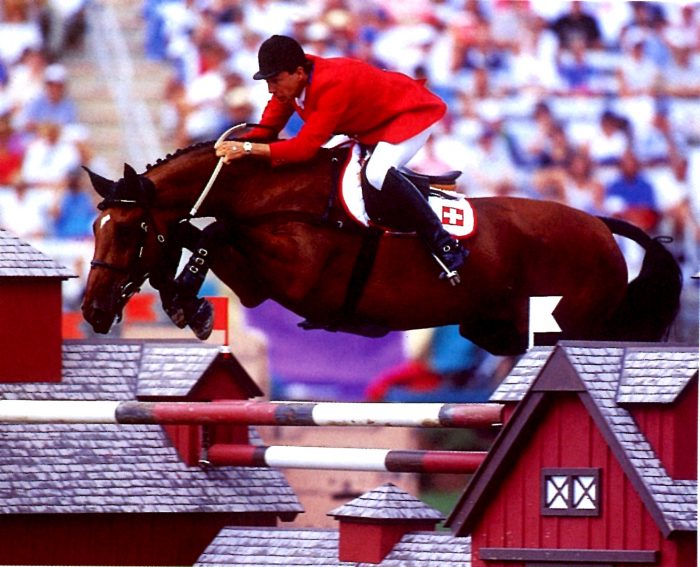 Jeremia and Urs Fah at the Atlanta Games….
Fantastique was also a noted sire of brood mares: Didi (Colorado X), bred by Walter Roosen out of Wiske and ridden by Michael Whitaker and Ludo Philippaerts; Fonda (Lido Minotiäre), bred by Danny Tops out of Belina and an international showjumper with John Whitaker; Hilton by Romeo, bred by Frans Meeusen out of Widit, showjumping internationally with Dirk Hafemeister.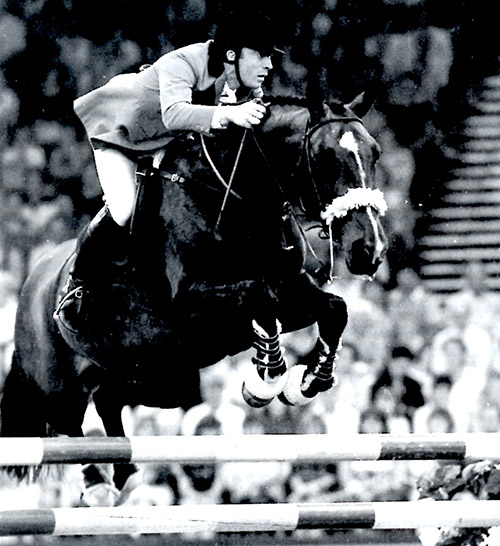 Didi won the Kings Cup at the 1989 Royal International Horse Show with Michael Whitaker
 Even today, his influence as a mare sire is being felt. Eldorado vh Vijverhof (by Thunder vd Zuutthoeve) 13th on the Hippomundo standings (6/10/17) with earnings of over €600,000, with five star wins in Valkenswaard, Paris and Lyon, is out of a grand-daughter of Freia by Fantastique.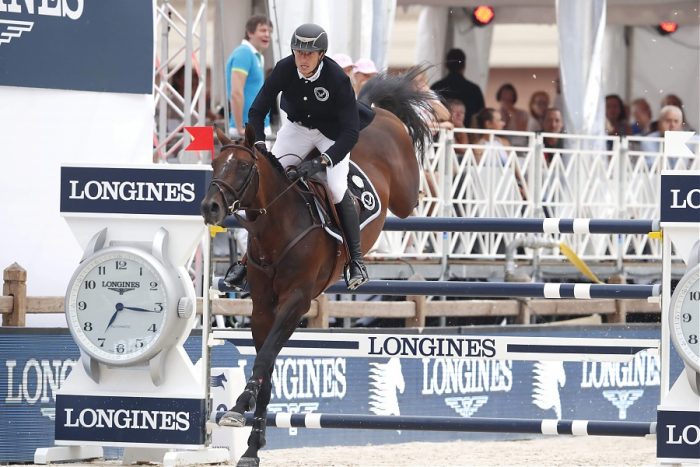 Gregory Walthelet and Eldorado (Photo – Stefano Grasso)
Fantastique was certainly appreciated in Belgium. Arnold de Brabandere, Belgian breeder of Jus de Pomme commented: "Fantastique was the first sire to be imported in Belgium representing the new modern type of riding horse. He also was the first French-bred BWP stallion capable of producing genuine showjumpers, fit for top level competition and good looking as well."
And the riders loved him too! Ludo Philippaerts enthused: "I consider myself very fortunate that a few very fine products of Fantastique belonged to my stable, the most famous, of course, are Alwit and Jannique. Fantastique's products are remarkable for their gentle nature, their good character and their willingness to work – very fine horses indeed. At 25, Fantastique remains a good and valuable choice for high-bred mares."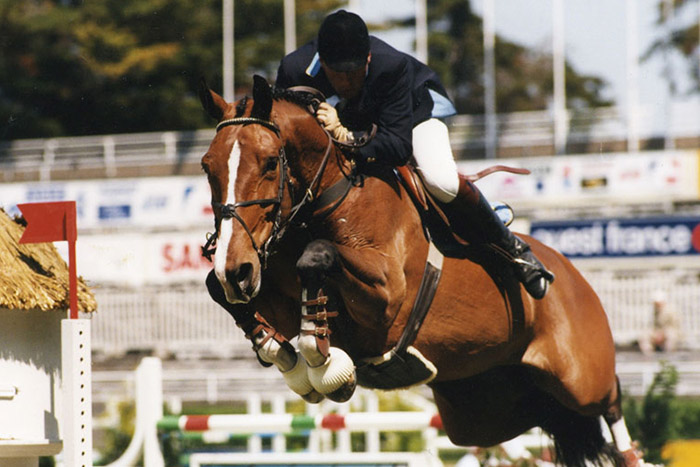 Ludo and his Grand Prix star, Jannique, the mare he describes as 'somewhat complex'…
Alas at the time of Leen's tribute, Fantastique's illustrious career was coming to an end, but not before he'd played a key role in the emergence of the Belgian Showjumper…