By Christopher Hector
Most people who have been around horses for any period of time tend to share a vision of what 'good' conformation should be. My question is – given that so many jumping and dressage horses, even eventers, can be hugely successful even with 'bad' conformation, how useful is conformation as a guide to later success?
In the KWPN Magazine (Issue 2, Volume 1) Inez Kampman dissected one of the most sophisticated systems of conformational analysis, the Dutch system. Senior inspector, Ine van Deuzen explains: "For each horse in the studbook inspection, the jury describes 21 conformation traits which have a demonstrated functional relationship with sport performance. These traits don't just come out-of-the-blue, but actually have a relationship with the manner in which the ultimate sporthorse moves and jumps."
"The inspection standard for dressage horses states: The envisioned KWPN dressage horse has rectangular-shaped conformation, is long-lined and proportionally built, has an uphill body and is long-legged."
---

The length of a horse's neck is important. Riders tend to like a longer neck that gives a better feeling of control and steering than a short neck. Arnaud Evain points out: "Colonel Deroches, Emeritus rider, said about the neck, that the way in which a horse uses it is more important than its length of orientation. We must respect the opinion of this horseman, but so far as possible – avoid extremes."
---
On the Dutch linear score form, each conformation trait has two extremes. Take the length of the neck, "while long lines ensure flexibility and elasticity they can compromise power. Similarly a neck which is too long leads to imbalance. This principle applies to the other traits as well. In other words, a score for a trait which falls outside the average is not necessarily desirable."
The KWPN jury looks first of all at body type and here they make a distinction between the idea type for dressage and what is best for jumping:
"In the past, a short compact horse was desirable as this body type was suited for pulling a wagon over deep clay soil. For the modern sporthorse, however, a longer back is more beneficial as it gives a horse more elasticity and athletic ability, which allows it to turn, collect and jump more easily. For these reasons, the KWPN strives for a rectangular type in all its breeding directions."
The jumping stallion, Jasper, shows a downward slope
"With respect to body direction (upward versus downward) the ideal body direction for a dressage horse is upward, while a more horizontal body is better for a show jumper. An upward body direction is advantageous in a dressage horse, as the goal in the discipline is developing an elevated forehand and a hind leg which steps powerfully under the body. To that end, an upward body direction makes achieving that goal easier. Although a show jumper also benefits from equal weight distribution over four legs when collecting, shortening and lengthening between obstacles, an upward body direction can curtail its ability to bascule over an obstacle. When a horse bascules, he rounds the body, lowers the neck and jumps with an elevated wither, all of which are essential for optimum body use."
---

The shoulder position is the angle the shoulder blade forms with the horizontal axis. The shoulder can range from sloped to moderate to straight. Once again, Arnaud offers his insight: "Between the small shoulder of the Landgraf progeny to the powerful shoulder of the heirs of Ibrahim, this is a decision the breeder must appreciate and choose."
---
Okay, so let's have a look at arguably the greatest dressage horse ever – Valegro. As you can see he certainly has that upward tendency, and a nicely sloped shoulder. Although it might be noted in passing that the KWPN stallion commission rejected him as a breeding prospect…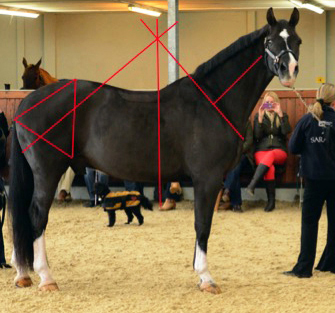 Now that's upwards – Valegro
But let's look at arguably the most successful jumping horse stallion in the world today – For Pleasure.
For Pleasure doesn't conform to the KWPN thinking that the jumper should be horizontal. He's a short horse with quite an upward tendency. In fact, For Pleasure is seemingly one of those jumpers that startled the Hanoverian breeding authorities when they discovered that the better the jumper, the worse the conformation score. And what is more, For Pleasure's offspring have the same undesirable conformational traits, they just happen to be super jumpers.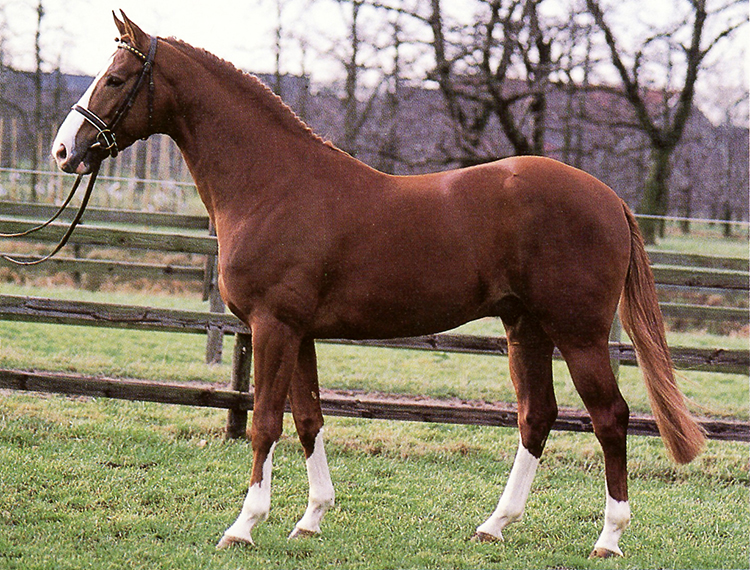 If we look at the 2015 Hanoverian Stallion Book, we find that when the mares by For Pleasure were evaluated, they had a negative value for type – 84 (100 is the mean, above indicated, good, below, bad), there is even a negative for the head – 81 (odd since he was quite a cute guy), a very negative value for the neck – 77. There is even a negative correlation between saddle position and jumping ability, as these mare evaluation tests would seem to bear out, the mares produce a score of 92 for saddle position, and 92 for frame. Breed and sex type, rated 89…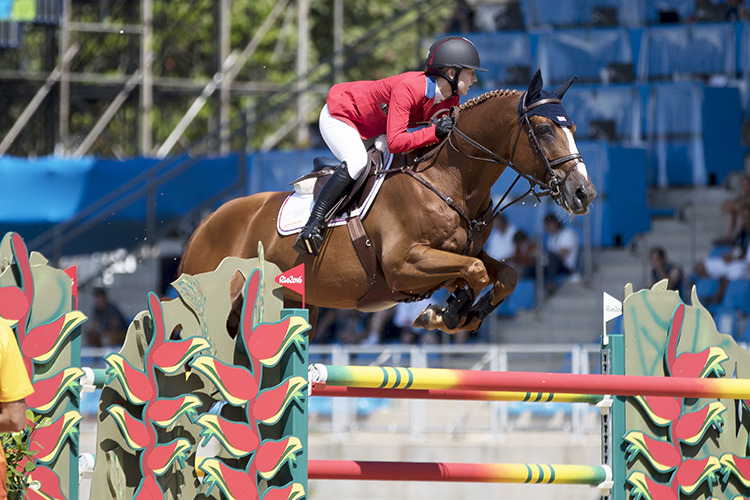 They may not win mare conformation classes, but they can jump – Barron at Rio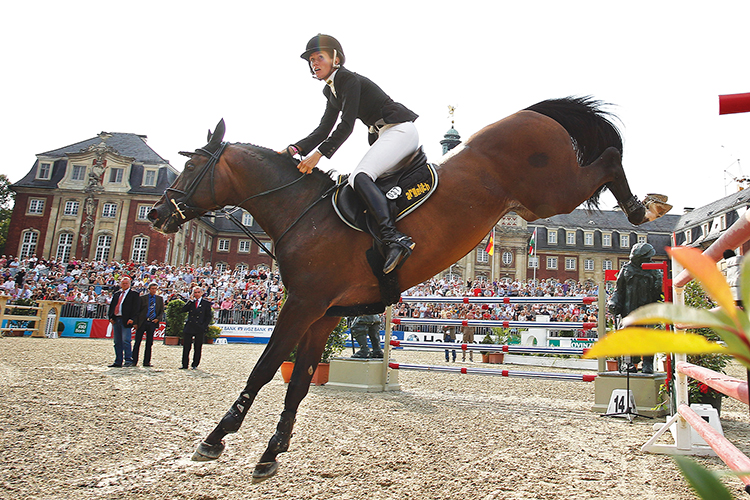 Stakkato, just 66 for 'type'
And yet, when the results of these mare tests was added to the results of the auction inspections, For Pleasure has a wonderful index of 152 for jumping, 148 for technique, and 154 for scope. You can find the same result over and over again – Stakkato, jumping index 153, score for type – 66; Balou du Rouet, jumping, 149, type, 92, in fact of the 33 jumping sires on the Hanoverian standings with a jumping value of 120 or more, 17 have a negative score for type.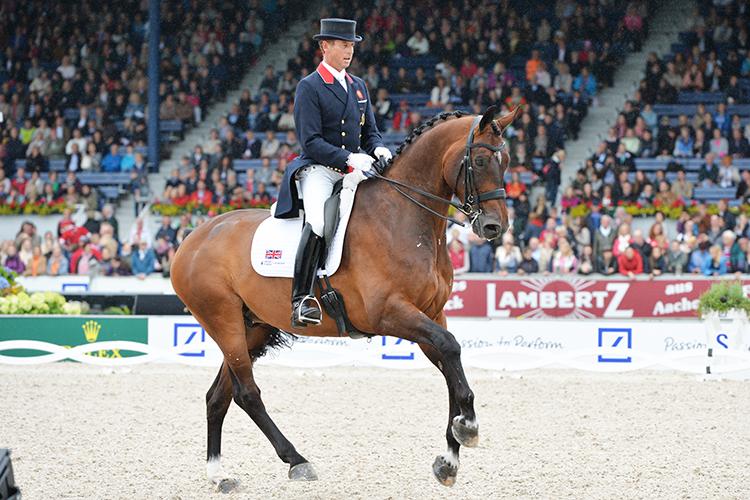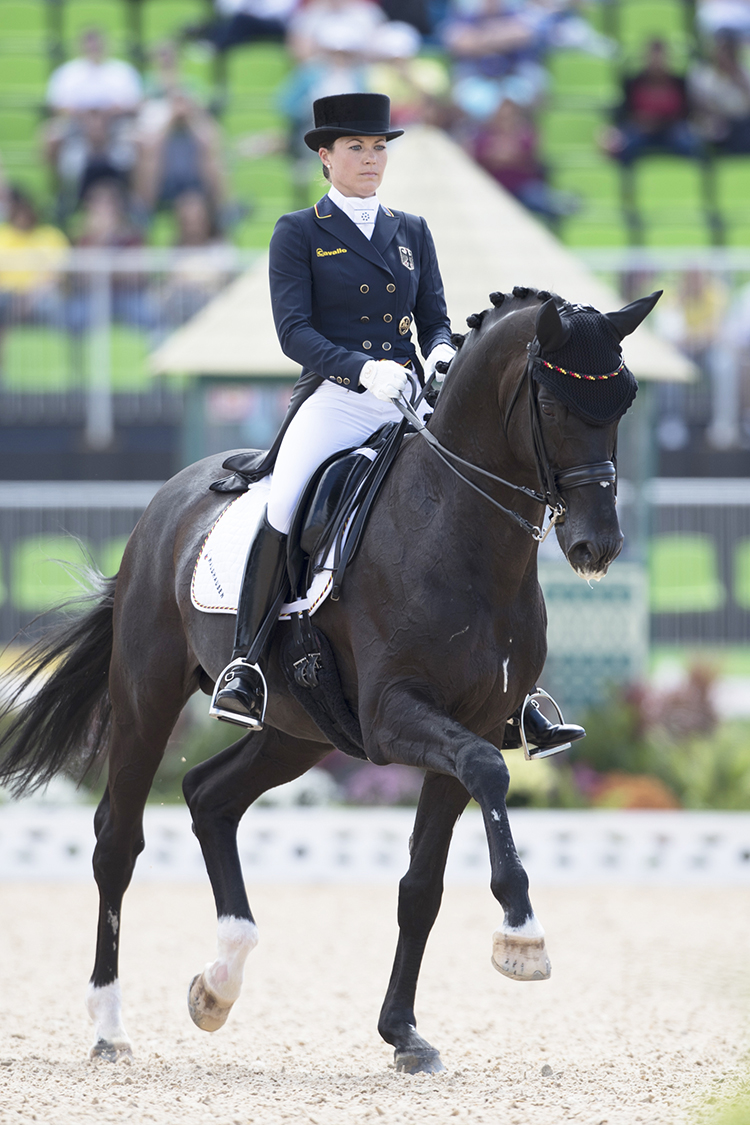 Nip Tuck and Desperados – they come in all shapes!
I asked my friend Ludwig Christmann, who was the person who originally discovered the negative correlation between conformation and jumping ability, if any further study had been done, or perhaps an attempt to revise conformation values for jumpers. Ludwig's response is, as always, worth thinking about:
Dear Chris,
You are very good in asking simple questions, which are not so easy to answer. There was no follow up to my study in Germany, so it is difficult to answer your question on a scientific base. Correlations now would be different as our population has developed over the last 20 years. From experience there are a few conformation issues, where I would say, this is ok for a jumping horse, but not for a dressage horse, for example lower set necks, a more downhill build, a flatter croup or a bit more roached in the loin, but I still do not think that you can predict jumping ability just from conformation.  
With regards to the Grand Prix dressage horse versus the young horse super star, I do see a development. When you look at the horses at the Olympics then you see more and more elegant dressage horses, for example in the German team. Desperados, Showtime and Weihegold were very successful young horses and had a straight career towards Grand Prix. But you still have some stockier types like Nip Tuck, who also does the job. What does this tell us? A horse does not have to be a beauty to be a successful Grand Prix horse, but it can.
---
Looking for elegance? A modern dressage horse? Go to www.ihb.com.au Stallions like Fürstenball are available in Australia