Julia and Samourai, Luhmühlen 2017 (Photo – Eric Knoll)
Rebecca Ashton profiles the German Eventing Star…
The world doesn't always conspire to help your journalistic endeavours. I interviewed the new star of German eventing, Julia Krajewski, a few months back at the Bundeschampionate. Transcribed, edited, submitted, and photos done, the publish button was basically being pressed when the news that Julia's European Championship horse Samourai du Thot had tested positive to a controlled substance at Strzegom was made public.
I contacted Julia for a statement and was directed to her Facebook page where she's keeping the public updated with her side of the story. You can read the whole statement there, but in summary she says, "This will certainly be the most difficult time in my career as a horse rider and athlete, and I am seriously worried about what has happened."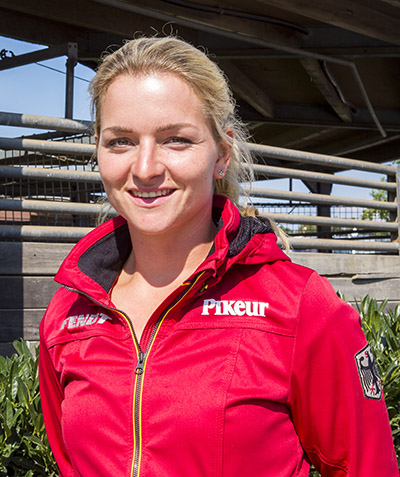 "I and my team have no explanation about how this substance (Firocoxib) has got into my horse, and believe that it was not administered by any fault of our own. Nevertheless, the positive result would mean disqualification for me, and lead to the subsequent loss of the hard-won silver medal for the German team. I am devastated to be (even unintentionally) the cause of such a bad blow for our great team, which has fought so hard for this success! That I have no idea how, when and why this substance got into Sam's body, worries me deeply and is a big mystery to all of us."
"As a member of the German team, which has been one of the favourites, traveling to Strzegom I was very well aware that it was highly probable that my horse would be subject to medication control. I firmly agree with the doping prevention rules and know about my obligations and responsibilities as a rider and the inevitable consequences. I would never, ever put a potential medal at risk by such a grossly negligent act as to administer a drug during a championship (let alone the one with the longest waiting period on the market) and I hope, that everybody else understands the absurdity of the idea that I could have done that on purpose."
The B sample has also since come back positive so we await the decision as to whether Germany is stripped of its European team silver.
So, do we still publish the interview? I think Julia's story remains interesting, how she's worked her way up the German system, to be in her 20s, and teaming with older legends Ingrid Klimke, Michi Jung and Bettina Hoy and I'm sure this won't be the end of her journey. So, press that publish button.
More below…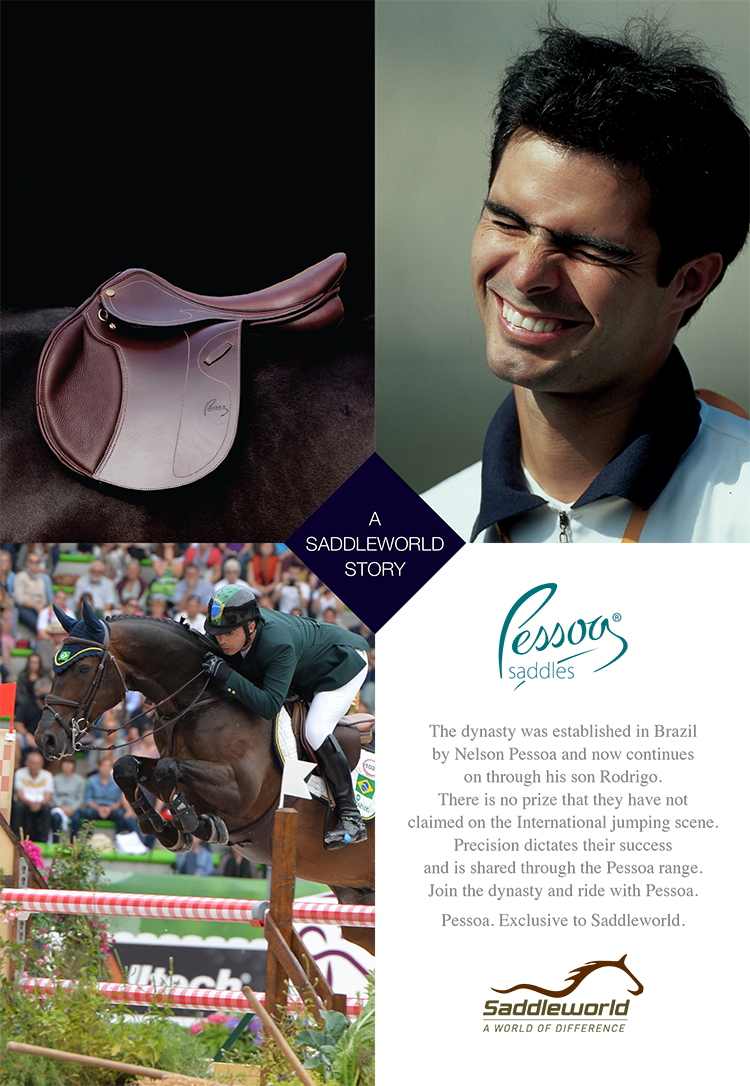 **************************************

Julia Krajewski has been quietly creeping up the German eventing ranks. The 29-year-old has successfully competed right through the levels from Pony competitions, and in more recent years has represented Germany at Nations Cups. It was last year at the Rio Olympics that she was thrust centre stage, being asked at the last minute to go from reserve position to take up a team spot, replacing Andreas Ostholt. Although Julia did not have a wonderful time at Rio, the Germans went on to win team silver and Julia has continued to grow and succeed, enjoying a win at the end of last year at Strzegom on Chipmunk, the horse's first CCI 3*, as well as her first 4* win this year at Luhmühlen on her Olympic mount Samourai du Thot, and another team silver at the Europeans in Strzegom.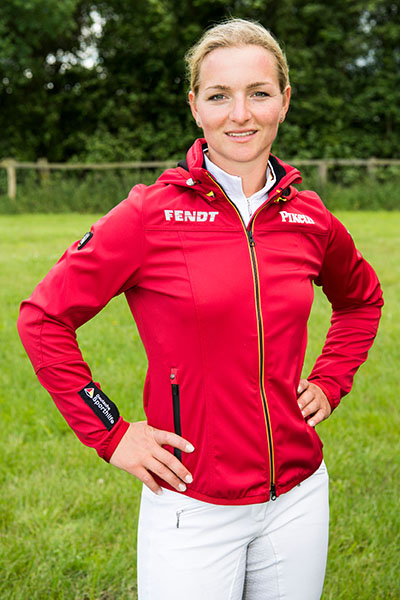 Where did the whole horse journey begin for you?
I'm not from a very horsey background. My Mum used to ride a bit, but we never really had horses before it all started. We used to go on holidays to Lüneburger Heide with my grandparents, and there were Dartmoor ponies, so I always rode them. I really liked it. Then we moved from Hanover to a smaller city, Lingen (Ems) and my Mum decided we needed a hobby so my parents bought an old pig farm and Dad rebuilt it. It was quite normal, but good for us. I think we had a maximum of 25 ponies at one point, but then it was reduced in the end.
For me it started with the ponies. We have national championships for pre novice and then it just kept building up. I was lucky to always have a pony or a horse that could do top level for my age, so I went to Pony Europeans twice and then Junior Europeans, then Young Riders. After I finished school in 2007 the DOKR (German national federation) asked if I wanted to join the Prospective Group. Because I didn't really know what I wanted to study, I said yeah ok, I will come. That was 10 years ago and I am still here. Now I'm national coach for the Juniors and competing top level. I always said I never wanted to be a professional rider because it's really hard to earn money, especially as an event rider, in Germany. There are only a very few who can do it and make a living from it, and normally they are not just riding, but also selling and training, so I am quite happy that it is a mix of training and riding and I really enjoy it at the moment, so we'll just see where it goes.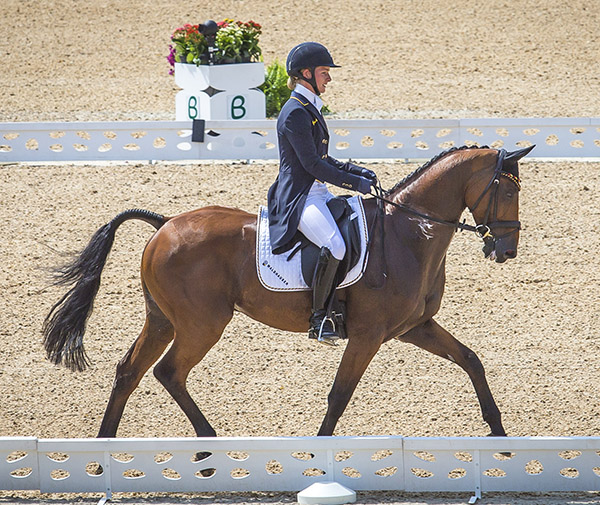 Was it always going to be eventing?
Well the first pony I got was Cyrano. He was supposed to be a dressage pony. He was a four-year-old stallion when I got him because we didn't have too much money to buy expensive ponies, but he was gelded quite soon! However he didn't really like dressage. He was always quite hot, but it turned out that he liked cross country and we had a really nice regional coach who somewhat pushed me in the direction of eventing. I actually like to ride dressage. I think I would definitely like to be a dressage rider if I would have to switch, maybe it comes a little bit more naturally to me than showjumping.  But I really like eventing people. You're really happy if someone does well, and you wish everyone well, and I really like the atmosphere. You have BBQs and you don't need to stay in fancy hotels, but the riding itself, I would probably rather do dressage.
To jump a 4* cross country course, you have to be a tiny bit crazy, so how do you get over that fear, especially if dressage is your preferred discipline!
I do tend to get quite nervous, and I tell my friends, especially in the build up to the big events or before cross country, actually I only really want to do 1*! But you kind of grow with it, and really I haven't done that many 4*s yet. I only do what I feel the horse and I are ready to do. I've got good jumping horses and they look after me. Luckily, touch wood, I haven't had any nasty falls and I am not a rider who likes to take risks. I like to be safe and I like to feel ready.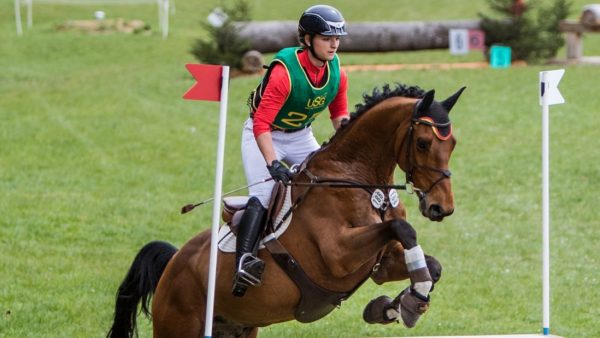 A couple of years ago I said I never wanted to do Badminton or Burghley but I've got Chipmunk and he's a bold horse and he likes big things to jump, so I think he might be a horse who I feel comfortable doing it with, but we will see at Blenheim in two weeks (the pair finished in third place). I think you grow with the task and maybe once you've done it, it's not so bad! Obviously you really love the feeling once you've finished, but sometimes I do think, why am I doing it?!
Do you have any routines or rituals before a cross country to prepare yourself or do you just get nervous and deal with it?!
I like to go around the course by bike. I really don't like that some TDs or course builders try to forbid that as it's really good for the riders, because you're quicker than if you go by foot and you get a better feeling for the course, and how the lines come up, and sometimes if you go by bike maybe you see, OK, this turn I need to take more time because the fence is coming quicker. That's what I like to do in the morning. Then I like to prepare my horse myself for the really big events, put the studs in, put the boots on, put the saddle on. It gives you something to do and you know it's done right. Then I would sit there and probably listen to some music and ride through the course in my mind and get in the right mood. Once you get on the horse it's better. You just go for it.
more follows…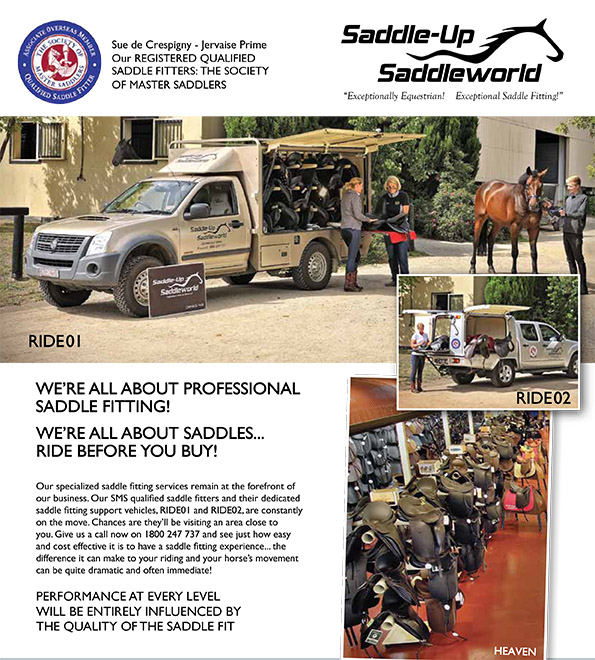 Tell us a little bit about the horses.
Samourai du Thot is the oldest one. He's 11 and I've had him since he was five. He's a very funny little horse. He's not very tall, 1.6m, quite short so he feels like a pony sometimes. He's a really good jumper and at the same time he's quite careful so it took some time to build him up to the level he's at now. I wouldn't be so sure he's the horse for the really big events like Badminton or Burghley, because he might get a bit frightened. He's done Luhmühlen twice, and maybe we can take him to Kentucky or Pau, which would probably suit him. What's special about him is that he's super smart. Really, really smart. I think he knows what's going on. He thinks he's very important. Obviously he is! But he's absolutely not a horse who likes to cuddle or anything. He likes it if you stand there and admire him and give him attention from afar, but he has his own ideas also. When he's at a competition and he does very well like at Luhmühlen this year, he was standing there with his garland and rosette thinking, "This is what I deserve!". And the weeks afterwards, he gets a bit annoying, but always in a nice, cheeky way, not nasty.
I think he really learned the business. He's not a very big mover, he's not a naturally fast galloper, but he learned over the years, to move, and to do good dressage, and keep himself together. Cross country he's really quick on his feet and locks onto a fence and because he's not so big, I don't have to set him up really early. Sometimes from the outside it might look like, oh, she's going quick, but he's so quick on his feet and he's such a good jumper, he'd never push into a fence. He keeps himself back a little bit and always keeps the rhythm so he's really fun. Showjumping is obviously really cool on him. So far he's never been really tired on the last day. He keeps jumping and it's great fun.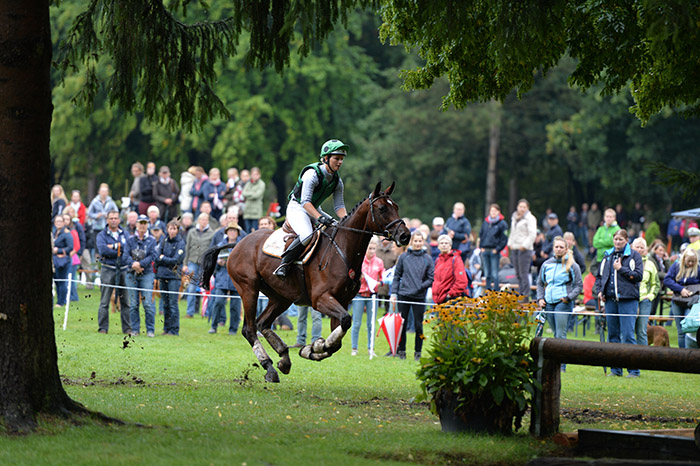 The new star, Chipmunk, winning at the Bundeschampionate
Then I've got Chipmunk FRH who won the Bundeschampionate of the five-years-old event horse four years ago. He's the complete opposite. He's quite tall and has long legs and it really took him time to grow into his frame. I got him when he was four and he was 1.65m and now he's 1.76m so he kept growing and growing. Everything went into the bones and it took so long to get him muscles. But he's a very genuine horse. He would jump off the house and do it twice! He's also a very scopey jumper but maybe not quite as smart as Samourai. I have to look after him a bit more, but he really goes for it. He had to get more used to the bigger atmosphere like in the showjumping on the last day when there's big crowds he gets a little bit insecure like, "Oh Mummy, what are we doing here?!" He loves to cuddle and have attention and he really loves to have a routine, like now I have breakfast, now I go out in the field, always with the same horse. If you leave him alone he thinks he's been abandoned and no one is ever coming back for him. He needs his people, and you really have to look after him. I think over the years he will get more secure and if he gets everything together, I think it will be hard to beat him because he's a really, really good horse but he's still a bit inexperienced.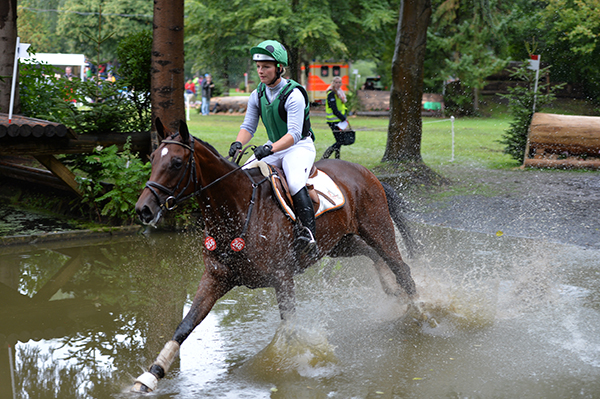 My third horse is a seven year old French mare who I think is a really, really cool horse but she's not so experienced yet. She should do her first long 2* soon. Her name is Amande de B'Neville and is related to Piaf de B'Neville.
more below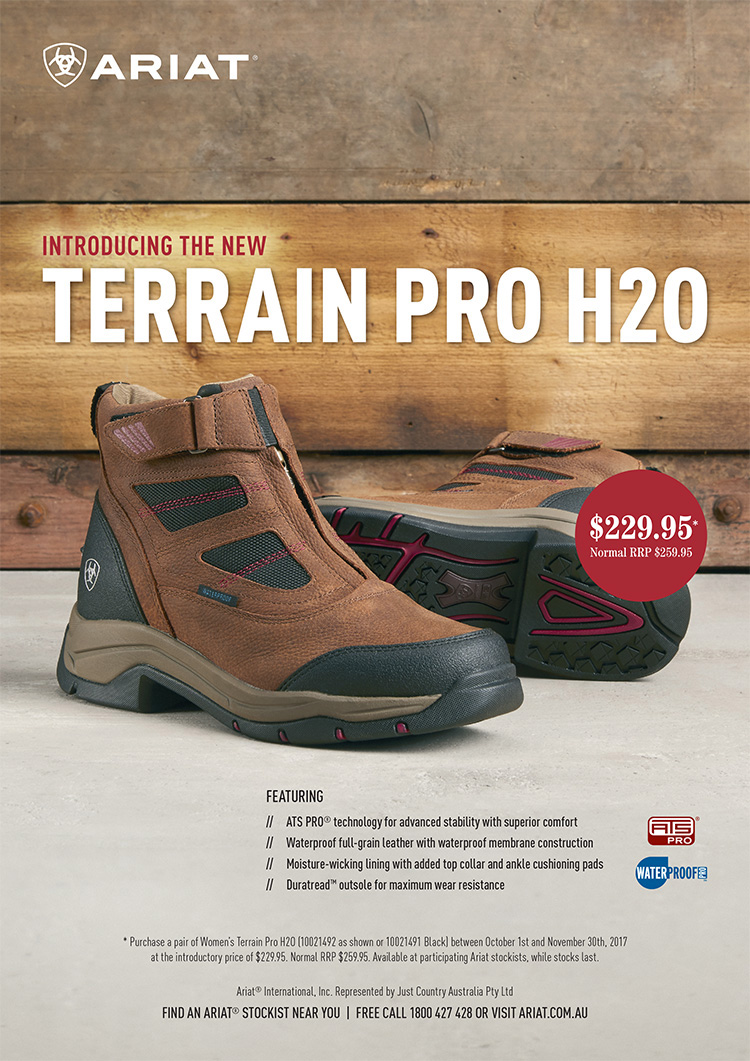 At the moment I only have these three horses. Normally I have four, sometimes five where I'm based here at the DOKR, one of the students helps me, which I need because being a trainer for the Juniors, it's probably 50/50 between my own riding and competing. If I'm not riding myself or if I'm competing 1* or 2*, I have to train the Juniors or walk the course with them. So far it's going well. There's always a competition you can go to either to ride or train. I prefer to have not so many horses so I have the time to put into each one. If I had eight horses or something like that, I don't think I could do each horse justice and I don't think it would be fair to the owners also; if I had to say no to a comp because I have to train somewhere, that's hard to explain. It's easier when it's your own horses. Samourai is owned by the Federation. Chipmunk is half my horse and the mare one third so I am involved in all of them. I would also like one or two young horses to produce, maybe to sell or keep.
How do you prepare them for a big show?
It depends on the horse. Last year, to be honest, the Olympics came a little bit too quick for Samourai du Thot after his first 4* at Luhmühlen, but sometimes it just happens. He was in good form and some people had injured horses then suddenly you're there!
For him he needs enough competitions into the lead up because after he does something big, I like to do something small again. It's best if he does something every three or four weeks, not so big, something to give him confidence and get his nerves settled. Like after he's been to Luhmühlen with lots of atmosphere, the next event he goes to he's quite excited and then he has to realise well OK, it's not always so big. I can relax again.
Before a competition, I like to have the last gallop the weekend before, maybe the Saturday or Friday so they've got a full week without fast work. Normally I jump on Monday or Tuesday. Samourai likes lots of lunging just in a head collar so he trots and canters around until he's settled. It's easier than riding him because once he's a bit excited, he doesn't really loosen up.
With Chipmunk it's better to ride because he doesn't really loosen on the lunge. But I try to get them as relaxed and happy as possible. At a show on the day of the dressage, normally the routine would be for Sam, to ride him once then lunge and do the test. Chipmunk would probably only be ridden once. But I like to ride them in the morning to get the feeling how they are, and how much I need to do in the afternoon.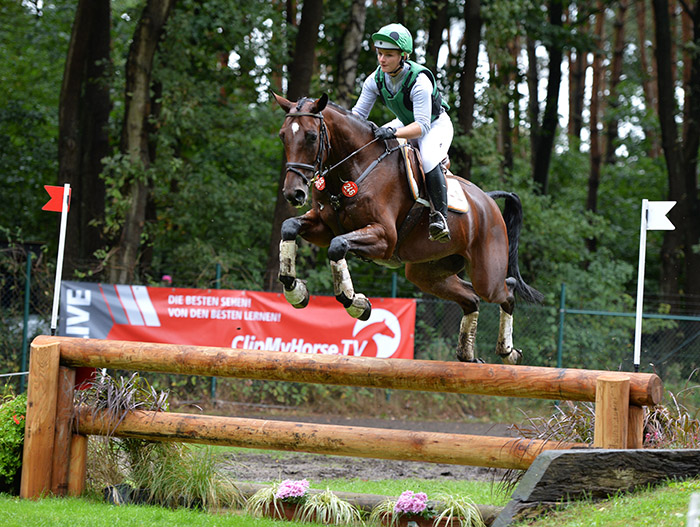 Chipmunk in action
In the off season, they get their normal work in winter, lots of jumping and dressage in February and March.
What has been your experience training the young riders?
It has developed over the last seven years. The first time I was the co-trainer for the Junior and Young Riders was in 2010 when we had the Europeans in Germany, and you're allowed to send both coaches, and the former coach Rüdiger Schwarz asked if I could come and help him. Since then I've been to Pony, Junior, Young Rider Championships about 10 times, so I know what is expected and what is different between the younger people compared to the older ones. It's a totally different thing. The seniors, everyone is professional, they know the routine, have been to championships a couple of times, know their horse, have their own plan.
With the younger riders, for some of them it's the first time they've travelled more than six hours, and you have to look after everything. Some of them haven't thought about spare shoes or studs or things like that. You really have to think for them and plan a lot. Then you're not always the trainer, some of them have their own coaches, but you try to work together with them during the year, and in the lead up. I try to visit everyone at home in the winter, to see where they're based, and how they train, talk to everyone and make a plan. During the season, for the people who are not so far away from Warendorf, they normally come for cross country training. Some even come every week. Then you have lots of competitions and you try to be there and help. But at a competition, especially when you get to the German Championships, there will always be two people too close together, and you can't help all of them. But I think just being there, and helping plan, and having a word is very important. The most difficult part is nomination, and telling people you're in the team, and you're not. But it's fun to work together with the kids, and feel who will become someone, because they really want to do it. Others are happy with what they're doing now, but they won't go on.
more below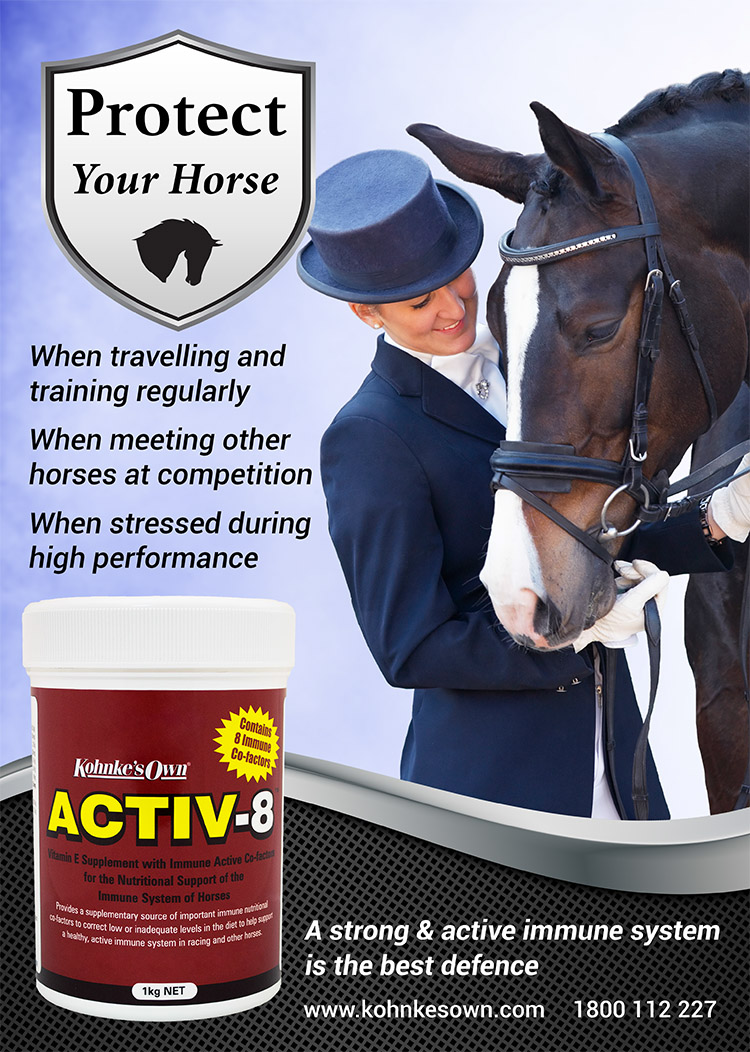 What are the main characteristics you see in young riders who will go on?
They really, really must want it. If you're really willing to work hard, everybody can make it. My parents, they were not wealthy, we didn't have a horsey background, but it happened. You must be willing to work for lots of different people, and grab the chance, and not be asking, how much money will I earn, can I go on holidays? First you have to learn the job, and if it's two years of hard work, just do it. It's only two years. It's not the rest of your life. You see quickly who has this attitude and who has not. If you have training days about three or four times a year on fixed dates, and people don't come because of this or that, and it happens a couple of times, they don't want it bad enough. The kids who really want it bad enough, they get on their parents nerves so much that someone will make it happen. If you're a good rider and you want to learn, the top riders and the professional riders are really thankful if you ask them if you can help them. If I have a really good junior or young rider, I would always let them ride my horses.
Then you need to realise that it's not always nice and easy. There are bad experiences or injured horses and things. That starts to happen when you start competing as a Young Rider because that's the proper sport starts. Either you make it through that, or you don't. Then they get the first boyfriend, some keep going and some don't, and you are left with a handful who want to do it. Because in the end if you look who makes it to the top, especially in eventing, it's not the people who got nice, fancy horses when they were 12, it's the ones who stay in the sport long enough, and try long enough, and keep working, most will make it. It's not always the Championships but Nations Cups or the A or B Squad. It's a bit about talent, but it's really about hard work and determination.
Who has helped you most over the years?
That would probably have to be Rüdiger Schwarz. He built the course at Strzegom this year and he was the Junior and Young Rider trainer for about 20 years, and he trained the Prospective Group which is a programme that helps younger riders to make their way into professional sport. You are based here at the DOKR, you can get the stables a bit cheaper, help with the training and looking for owners and horses. He was the one who, with the other officials, asked me to come here, and he's trained me for about 10 years. He's very critical and really gets you back to earth very quickly with one sentence, "Well, this horse won't make it anyway"!
Do you then just say, OK and agree with him or do you really want to prove him wrong?
Both things. If you really want something, you work harder, but sometimes if you're not so sure and someone says don't do it, it sort of backs your thoughts and decisions. He's really a strict trainer especially in cross country and showjumping and he's a really good course builder I think. He taught us here by asking really big questions cross country. He builds every kind of technical question. Then he's very good at planning for the horses, where to ride and compete, and he's very, very strict on not doing it too quick, give the horse time, even if you have to wait a season to make the next step up.
This is especially important when you don't have too many good horses, because I think if we have a problem in Germany, it's that we don't have too many top class event horses. Many are sold when they are young, because people from abroad tend to pay a lot more money, so we really have to look after our horses. We can't just take another one. For me, I have three horses and if they don't stay sound then I have a problem, so we tend to be very careful, and would rather save the horse for the championships than go to a big event. But that's something we learn from the beginning. For example in England, the first thing they want to do is Badminton, but for us it's a championship first, then once they prove themselves and they're tough enough and they can do it, then you can look at the big things.
Also for the media and the support you get, championships are worth more than big events somewhere else. Whereas as a rider, you want to ride there also but I think like Ingrid or Michi, it took years before either took their best horses to Badminton.
The system must work because as a country you're so successful without that big pool of horses.
I think first we try to build them up really slowly, and not rush them into something big or frightening and focus on the championships first. Sometimes we have a couple of top horses and a few reserve horses and that's it. We try to look after them. It might change in the future, we don't know. I think we've had a really, really good group of riders and horses at the top for the last couple of years, and it's about building up younger riders to make it. You always have to be lucky to have super horses like Opgun Louvo and Sam and you don't find them too often, especially horses that stay at the top for so long.
What's it like to be in a team with the likes of Ingrid and Michael?
I rode at Strzegom with Ingrid, Michi and Bettina who are all legends of the sport. We are used to competing with them, because we do the first competition of the season in 2* at Luhmühlen and they are there, and then you go to the next normal 2* and they are there, and then if you go to the Bundeschampionate they are also here. I think it pushes you to do better; you want to make it, you want to be in the top, and not just behind three horses of Michi's, three of Ingrid's and two of Bettina's so you really want to get better. On the other hand, they are very helpful and normal people if you talk to them.
It changes a bit though. Twenty years ago they were just idols. They'd walk past and you'd think, Wow, but OK, they are also probably having the same problems that you are. It's nice to talk to them. It's a good team and you can always ask for advice. It's a mixture of riding with legends and also friends.
You're all here this weekend (in Warendorf)….you, Ingrid and Bettina and only Michi is in Burghley. Is that just a case of looking after the horses or is the Bundeschampionate just too important for you?
Bettina is based in Warendorf anyway, but of course, you look at the other young horses. Why not? You might find a good one. We also compete the young ones, like Ingrid too, not this year, often she also has dressage horses here as well. The Bundeschampionate, if you have a good young horse, it really is where you want to be. Even if you don't, it's like a big get together!
Do you do anything else to support your riding?
Yes, I started to do fitness work about three years ago, but only in winter. This year, together with a friend, I really tried to make it happen twice a week when I'm at home. We're doing weightlifting, and I also did interval running. It's only half an hour and I really like that because it's more like cross country riding compared to running for an hour. It sounds weird, but I prefer to run on a treadmill because it sets the pace; so, five minutes slow, five minutes fast again.
I also did work on core stability, and flexibility and I really felt that it benefitted my cross country riding. It's not that it was bad before, but you're a lot more aware of your body position and well, I'm just sitting better. Obviously you feel better if you do it also. I'm much fitter than the last years, and once the jumps get higher, it really helps. I would advise every young rider if they had the time, just try to do it. Say, for the next six weeks, try to do it twice or three times a week, once is probably not enough. Try something with weights and try to get more muscles and then see if it benefits you. If you ride ten horses a day and compete every weekend then maybe you don't need it, but with three horses, it's not enough. I think that really made a difference.
What's next for you?
Next year the World Equestrian Games in America is exciting. I'm thinking, maybe it would make sense to go to Kentucky, but then I would think about which horse and who pays for it and would you get your horse fit enough that early. When the winter is nice, it's possible, but sometimes we get snow in March and then if you have two weeks of snow, it's not possible.
Then we have the Europeans in 2019. So the aim would be to be on the team for the next few years, but it is never easy. You have to really work for it and your horses have to be fit and stay in form.
more below
---
Breeding eventers? Have a look at the range of stallions available from International Horse Breeders, you're sure to find one to suit your mare: www.ihb.com.au How about Diarado?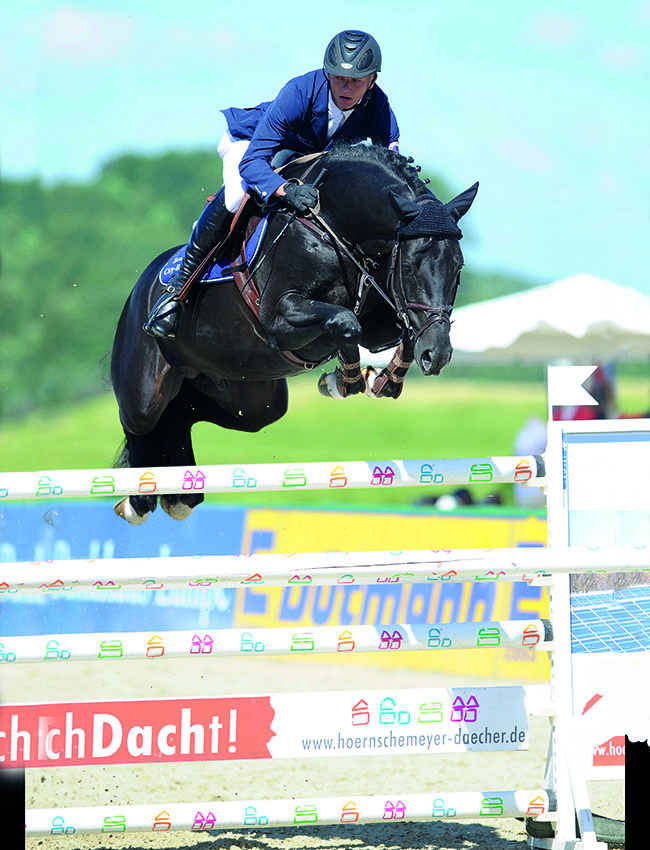 Are there any fences you really hate?
You just really have to train everything you can train. For example with Strzegom, this was a typical course you could train for because the big questions were technical questions. Then you have courses that are a bit more natural that you can't train too much that you just get experienced at over the years. I don't really have a hate fence. I don't naturally like corners, but I don't have more problems with them. I feel the best when I train everything I can train and I'm prepared, if something goes wrong, as long as I can find a reason that happened, it's ok. So if I fall off but I can see, well I didn't sit well or I didn't present well enough then there's a reason, so ok.
Having Christopher Bartle leave as coach must have been hard?
I think we really miss him. He's really special about his cross country position, and I think he taught all the Germans a lot about riding cross country; body position, preparation point, many things you would normally not think of he would burn into our heads, and of course we have to refresh and the people who come after us, we try to pass it on, but it's then not first hand. Maybe you forget 10% and the next one forgets another 10% and maybe it might get worse again. So, we're afraid of that.
We also miss him as a person. Whatever happened, he would always stay nice and be there for you and always had in mind what was the best for the team and the goal. That's what was really special about him.
Sometimes we would make fun of him, but always really friendly, and he'd always be there for us; we could talk to him, ask him for advice. We really miss him, it was very sad when we heard he was leaving. Obviously we could understand why, but it was still sad.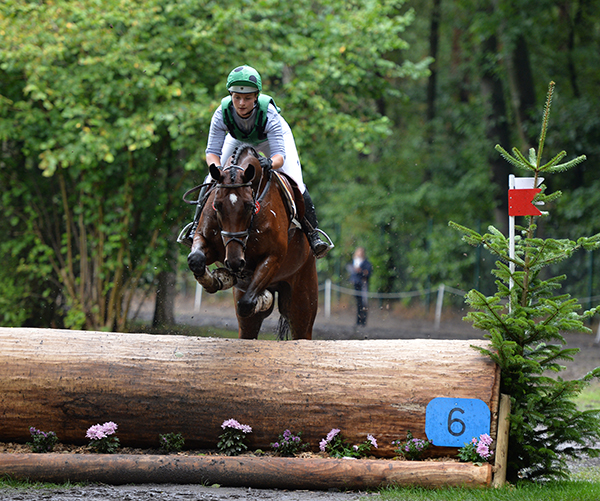 POSTSCRIPT: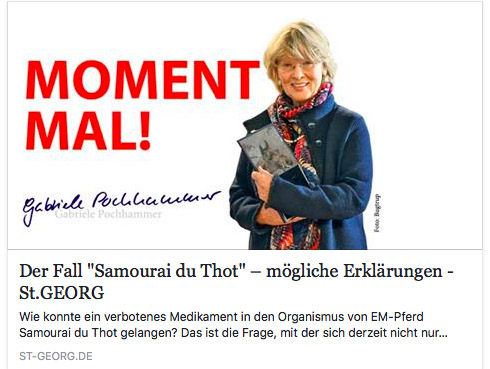 The issue has been tackled full on by Gabriele Pochhammer, the editor emeritus of the German magazine, St Georg. Over her long career, Gabriele has had a history of courageous, tell it like it is, journalism.
Gabriele says that she can't imagine that Julia would be so stupid to use a drug that can easily be detected for 30 days, and would damage on her sport career, as well as her future life, given the fact that she is national trainer of the junior and young rider eventers in Germany.
We do know that team manager, Hans Meltzer personally cleaned and disinfected all troughs and stalls before the horses arrived in Poland. Nor is it possible that the positive was caused by a dog peeing on hay, since the amount detected is too high to have been caused this way.
So are we looking at a conspiracy? We need to look at stable security: The back of the stable tents were close to a bank without any fences so it wasn't a problem to get into the stable area. "We used to install fake cameras at other championships but not this time," says Hans Melzer.
Gabriele points out that it would have been easy to insert a couple of Previcox (that is the name of the drug when used for dogs) pills to an apple and feed it Samourai.
German team vet says he never uses this drug for horses listed in national squads, and that he hadn't the drug with him when he was in Strzegom.
Gabriele's conclusion: The worst thing is the poisoned atmosphere with that sword of Damocles that is swinging above all – all who have lost faith, and don't know what to believe, and who to trust, or not.