Christopher Hector tries to make sense of the numbers      Photos – Roslyn Neave and archives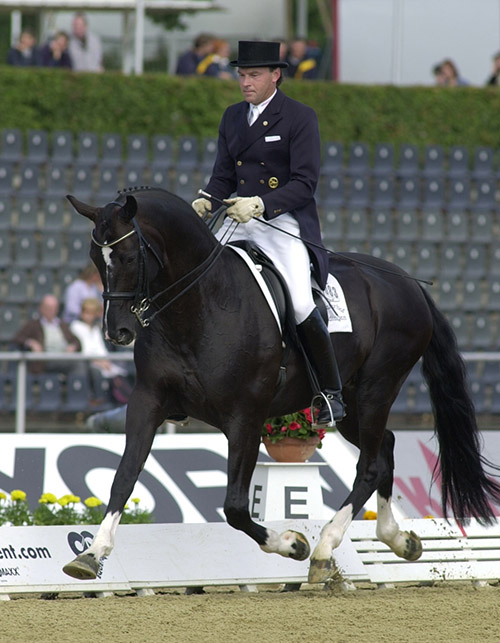 The Dressage Stallions
What can we say about this year's WBFSH Number 1 dressage stallion, De Niro (Donnerhall / Akzent II) that hasn't been said over and again – certainly in 2015 when he headed the WBFSH standings, and again in 2016 when he repeated the feat? Well one thing, he died in October this year, leaving a legacy that will perhaps rival that of his sire, Donnerhall (Donnerwetter / Markus).
Burkhard Wahler is an individualist, he follows his own instincts rather than the prevailing fashion, and so it was when he selected the Hanoverian, De Niro, to diversify his – until then – Trakehner stud.
"I love to buy the Donnerhall blood but I don't like the very popular Donnerhall / Pik Bube cross – very heavy big horses, and I didn't like that so much because I am from the other side, from the Trakehner side and I like more an elegant horse. I really liked De Niro, because he was out of a mare with Wiesenbaum / Akzent breeding. Akzent is through Absatz, Trakehner, Wiesenbaum is from Thoroughbred – so in my opinion, this was a very interesting bloodline."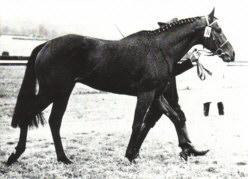 Wiesenbaum – the  Thoroughbred influence
It proved a more than interesting bloodline, it was one that set about dominating dressage competition at the highest level, this year six of the top 50 dressage competitors were by De Niro, with his most successful points winner, Spencer Wilton's Super Nova.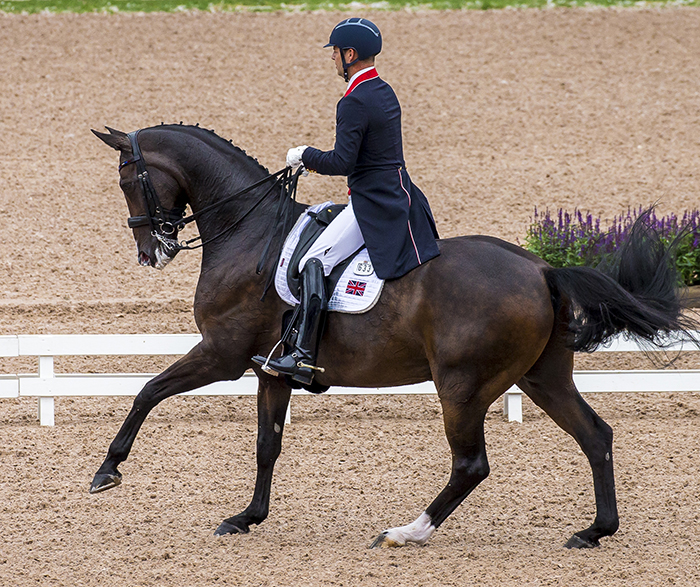 Super Nova and Spencer at Rio
De Niro made his own success because even when he was not so fashionable in the first few years, the riders loved him. As Ludwig Christmann of the Hanoverian Verband remarked to me recently: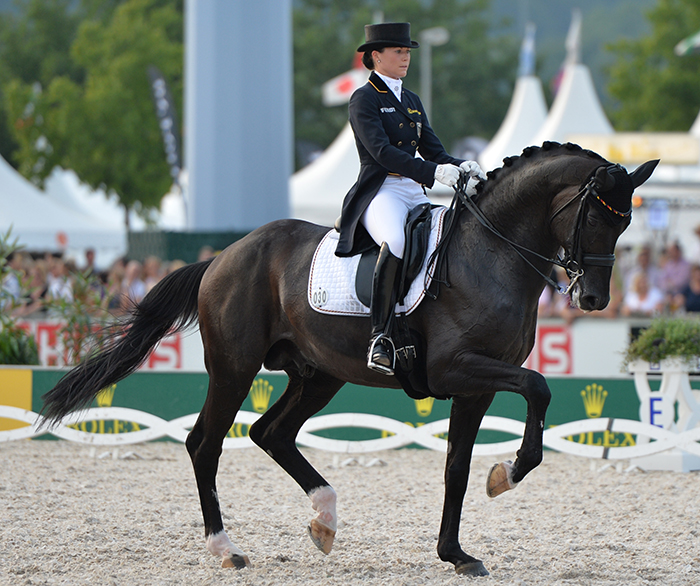 Desperados does the job, even in the heat
"I think you should probably talk to the riders and trainers, I think it is the minds that they like. When I talk to Mr Sprehe about Desperados (De Niro / Wolkenstein II) and he says the horse is always fit, even if it is 35 degrees like in Rio, he always does his job. They have the talent for collection and the higher movements, but it is the mind that makes them so special."
more follows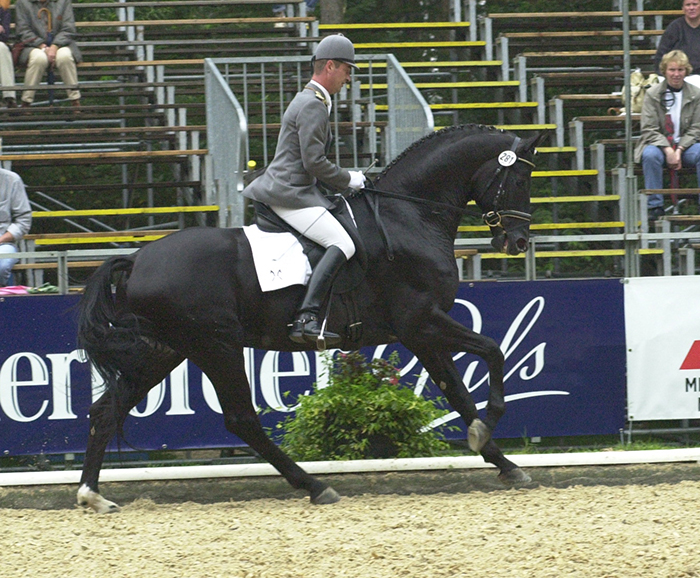 Don Frederico competing at the Bundeschamps as a young stallion
That's another quality of De Niro, like his sire, he seems to have the ability to produce stallion sons that enrich his line. Donnerhall has two more horses in the top ten, Don Frederico (Consul), up from 16th to 6th – another whose progeny made their way on the basis of their rideability since they were less than stunning foals – and Don Schufro (Pik Bube I), slipping from 9th to 10th, after peaking at number 6 in 2013.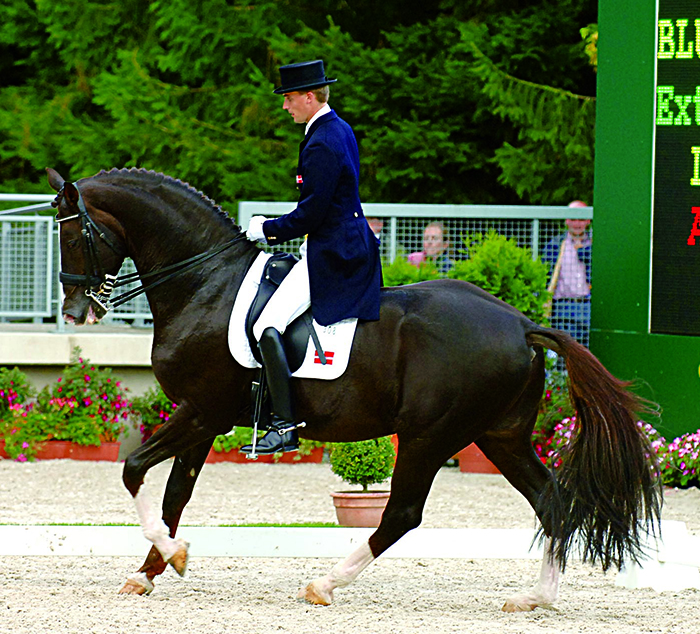 Don Schufro, back into the top ten thanks to Isabell Werth's Weihegold
Sandro Hit (Sandro Song / Ramino) moves up from 3rd to 2nd, but perhaps he has achieved this standing more on the basis of quantity than quality?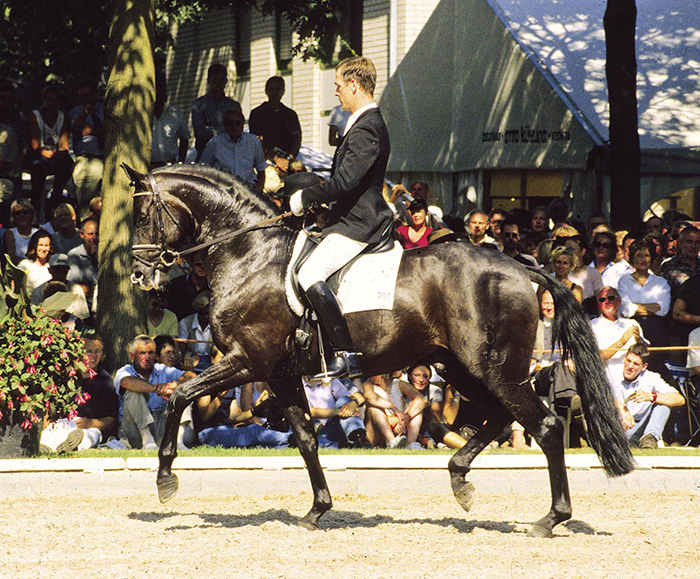 Sandro Hit – quantity or quality?
His highest placed representative is the 47th ranked American bred Selton HW (Hohenstein) – his best placings are three wins at three-star shows – Roosendaal, Le Mans and Saumur – with Denmark's Anders Dahl.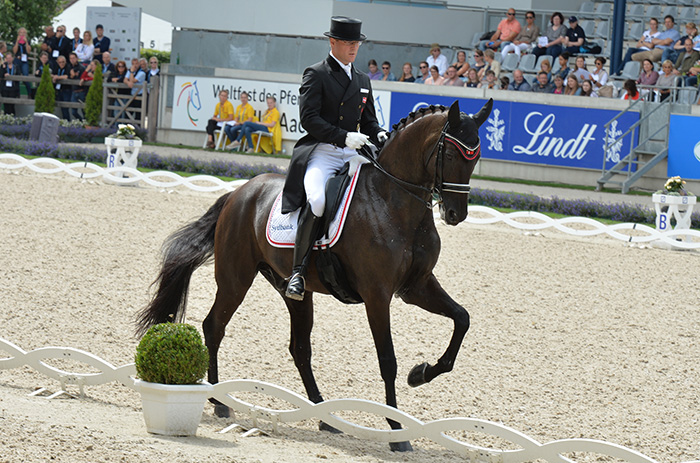 Selton HW with Anders Dahl
The next highest placed Sandro Hit, is the somewhat controversial, Sir Donnerhall II (Donnerhall) in 78th. Controversial in that he was initially standing at the State Stud Celle, before he was refused licensing by the Hanoverian Commission, banished to Scandinavia, only to emerge as the new ride for Spanish youngster, Morgan Barbarçon Mestres.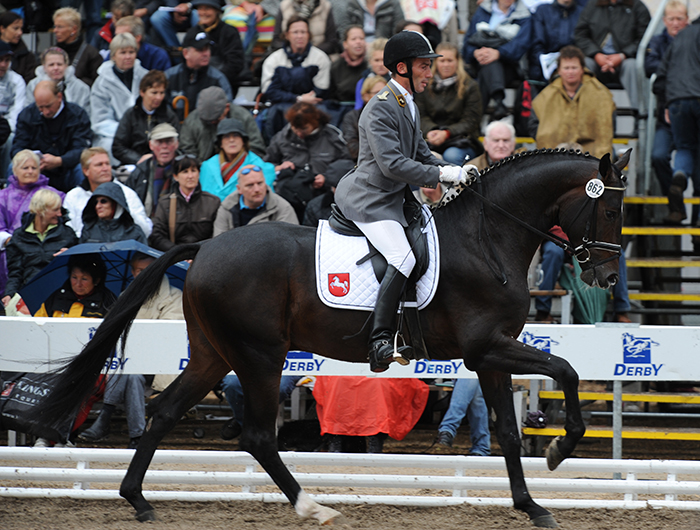 Sir Donnerhall II (briefly) representing the State Stud Celle
Sandro Hit is also the sire of Stedinger (Landadel) who moves from 15th to 8th, somewhat ironically since he was not commercial enough to make it in Germany or Sweden, and was finally pensioned off to Australia. His most successful competitor is the stallion, Spirit of the Age (Donnerhall) who is ranked 56th in the world.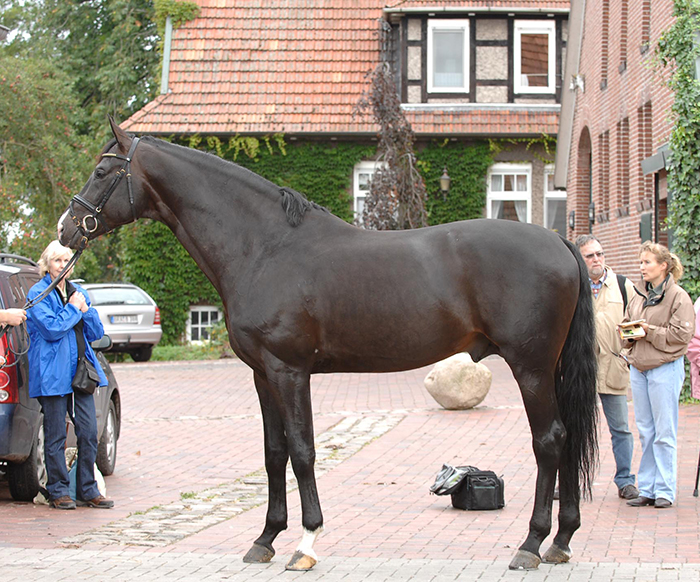 A young Stedinger at Hof Sosath in Germany
Rubin-Royal is by Rubinstein, but is a product of Harli Seifert's famed mare line, in this instance, Rumirell, a great grand daughter of the foundation mare, Chica, and by Grundstein II. His most successful competitor is Real Dancer FRH, out of a De Niro mare (what else?). Real Dancer's best result is a 3rd at Aachen in the GP Freestyle with Jan-Dirk Giesselmann, but nb. this was the 4 star Aachen class, not the 5 star feature event. If by now you are getting the impression that – with the exception of De Niro – you don't need to produce much of note to feature in the dressage top ten, then you are right. It's very different as we will see in the jumping….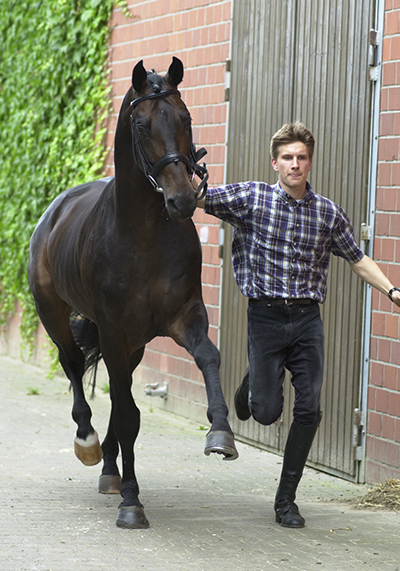 Rubin-Royal, from the famous Harli Seifert stud, that no longer exists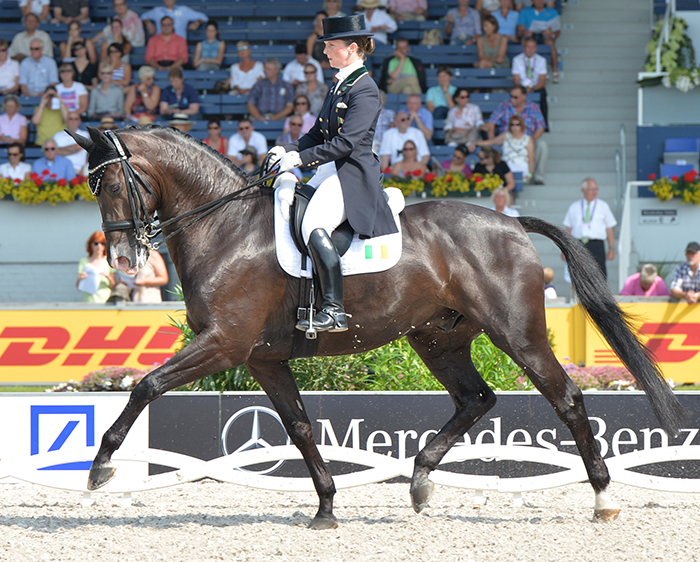 Vancouver K representing Jazz
Rounding out the top ten we have Gribaldi (Kostolany / Ibikus), his most successful Thriller (Amor) in 64th, then the great Jazz (Cocktail / Ulster) represented by the charming Vancouver K (Ferro) in 19th.
Don Frederico is 6th, and
his best, Don Johnson FRH (Warkant) in 6th, then Sir Donnerhall I (Sandro Hit / Donnerhall)… Hello, something is wrong here.
In the past, the stallion rankings came in a threesome: the top ten, the top 100, and the top 50 with progeny. This last was very useful in evaluating exactly what the ranking signified. This year we only received top ten and top 100, so I went back to the Breeder Rankings, which are the WBFSH competitor rankings in the various disciplines and that's where I found out about the progeny and what they had done. This time you have to hunt through the breeder rankings, and there you finally find a Sir Donnerhall I in 89th, Sai Baba Plus (out of a De Niro mare) ridden for Portugal by Boaventura Freire into 35th place at the Euro Champs, and with wins in the Grand Prix and Special at Achleiten.
Best of the Sir Donnerhalls – Sai Baba Plus (Photo Kenneth Braddick)
His next highest ranked horse is 104, then 200, 266, 346, 404, 440, 484, 545, 559, 579, all the way to Sunshine Tour – Alabaster – whose best Grand Prix result is an 8th with a 64.6 at Saugerties in the USA.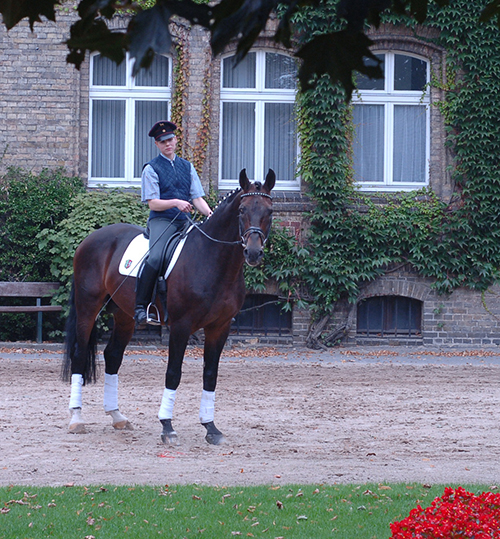 Florestan at home at the Westphalian State Stud in Warendorf
For the record, the great Florestan (Fidelio / Rheinegold) is in ninth place with his best performer Glock's Flirt (Gauguin de Lully).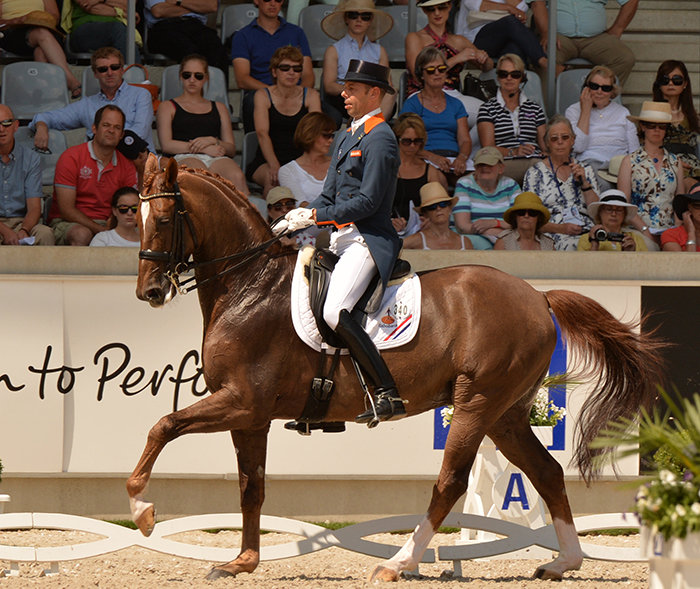 Glock's Flirt and Hans Peter Minderhoud

The Jumping Stallions
At this point I gave up on the dressage standings and turned for a breath of reality to the jumping sires rankings where a stallion really has to produce top horse after top horse after top horse to make into the top ten, although perhaps this time round, the horse in number one is the odd sire out in that Chacco-Blue (Chambertin / Contender) was himself only moderately successful on the international scene with Alois Pollmann-Schweckhorst: the pair were 3rd in the Grand Prix of Falsterbo, 2nd at Hachenburg, first in a 1.60 at Olympia, but it is as a sire that Chacco-Blue has been a star.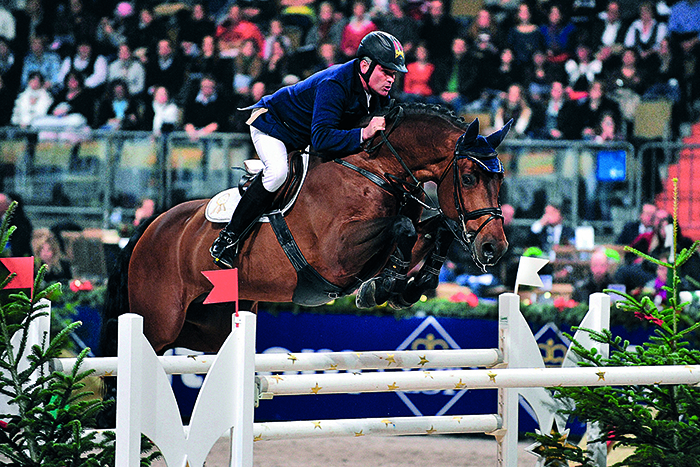 Chacco-Blue and Alois Pollmann-Schweckhorst
"He was a horse with a wonderful attitude," Alois told me, "he always wanted to go, he was not spooky at all. The only thing that made it a little bit harder for me in the beginning was that I didn't have total control, but we found our way together, and for sure he was one of the best horses I have ridden."
Do you know anything about the motherline?
"I think the outstanding feature of the motherline is the grand dam, a half bred mare, Godahra II, by the Thoroughbred, Godavari (Tudor Minstrel line). In the Eastern part of Germany she was very popular, she used to win a lot of metre thirty, metre forty. She must have had really good sports spirit, because she was winning and many people were talking about her. She was small (167 cm) but she had a big heart and she was a fighter. I guess that this is a very strong part in Chacco-Blue's bloodline. I believe that if you see the offspring of Chacco-Blue, almost 99% have a super technique, a big heart, a good attitude to work, and this might come from this very strong grand-mother."
Chacco-Blue's progeny tend to be a bit like their dad – honest workers rather than superstars. He might have had the most number of progeny at the 2015 Europeans, but the best of these was Crazy Quick (Quick Star) in 22nd.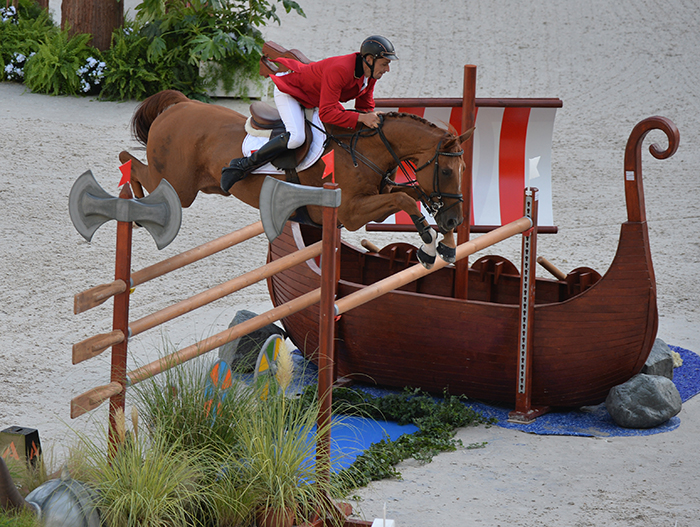 Crazy Quick at the Euros
The rest of the ten are out-and-out stars, as competitors and sires, with exception of Balou du Rouet (Baloubet de Rouet / Continue). Second to the great Diamant de Sémilly (Le Tot de Sémilly / Elf III) dropping from 1st last year.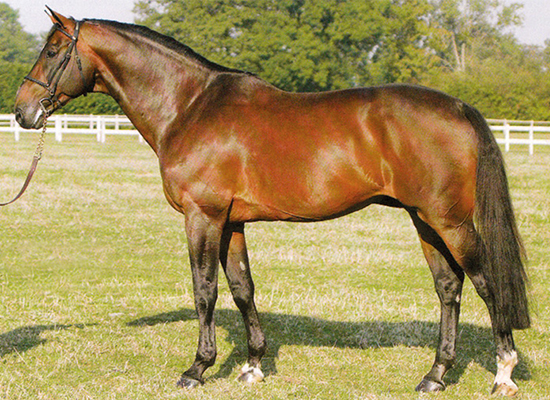 Diamant de Sémilly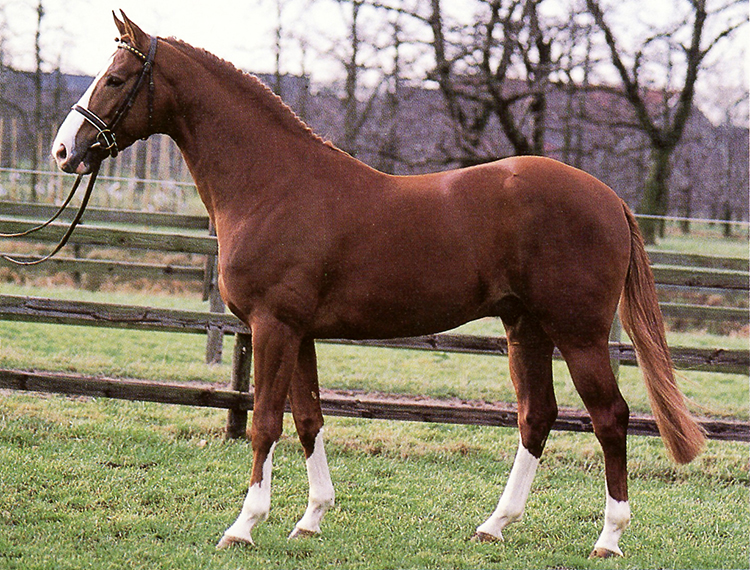 For Pleasure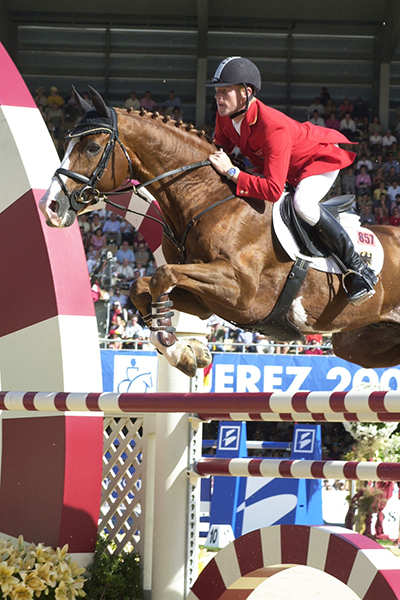 For Pleasure competing at the WEG in Jerez
The mighty For Pleasure (Furioso II / Grannus) moves to 3rd from 2nd, the amazing Cornet Obolensky (Clinton / Heartbreaker) also slips a place 3rd to 4th.
Casall (Caretino / Lavall II) holds on to 5th, while another whose progeny have amazed the world, Kashmir van Schuttershof (Nabab de Rêve / Tenor Manciais) stays in 6th. Shock horror, Kannan (Voltaire / Nimmerdor), the stallion that has arguably covered more than the rest put together, drops from 5th to 7th.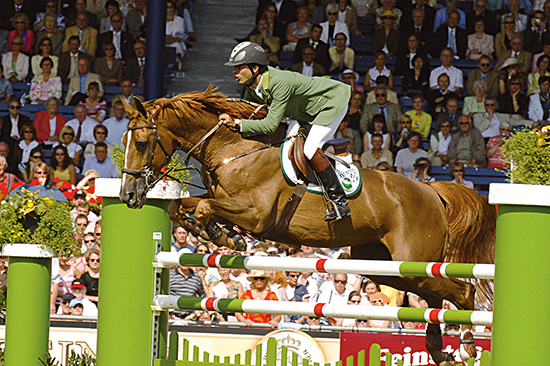 Baloubet and Rodrigo Pessoa at Aachen
Although he died in August 2017, Baloubet du Rouet (Galoubet / Starter) makes a gallant move from 9th to 8th to slip in front of his son, Balou who moves from 7th to 9th. Quidam de Revel (Jalisco / Nankin) is another to prove that there is life after death, and he rejoins the top ten after finishing eleventh last year.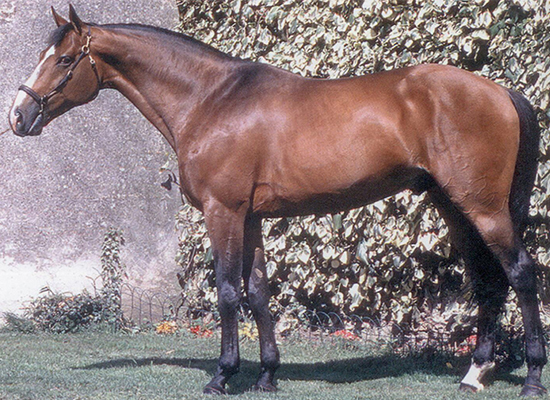 Quidam de Revel
Now if who-ever was responsible for putting together the standings had done his or her job properly, I could easily tell you the numbers of competitors that contributed to each stallion's total, but I can't. We can get some idea by looking at the 'Breeders' standings, which are a list to the top competitors…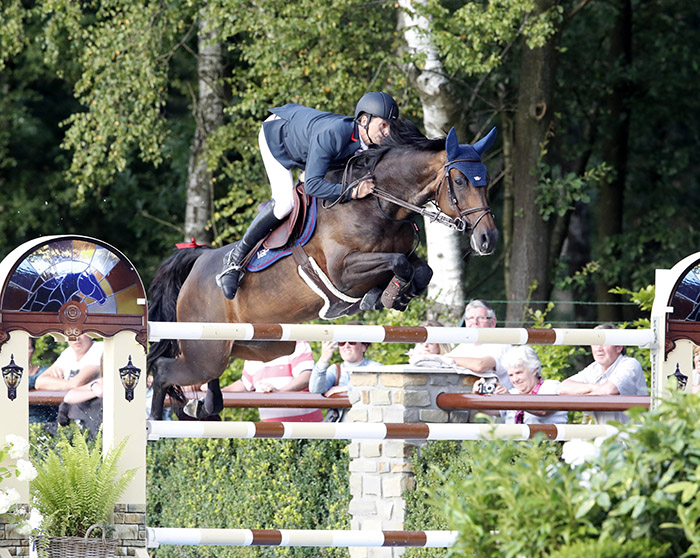 VDL Groep Miss Untouchable
Thus we learn that Chacco-Blue's top competitor is VDL Groep Miss Untouchable (Aldatus). Once again, solid rather than starry. Ridden by Leopold van Asten, her two best wins in 2017 (€18,400 each time) were seconds in a 1.50m at Rome, and a 1.45/1.50m at Valenswaard. Her total winnings are €200,879, which in this day of mega prizemoney is modest. Chacco-Blue has three more in the top 100: Chaqui Z (Quinar) at 50, Chacco Kid (Come On) in 54th and Chacanno (Kannan) in 63. These last two both bred by Chacco-Blue's owner, Paul Schockemöhle at his Gestüt Lewitz.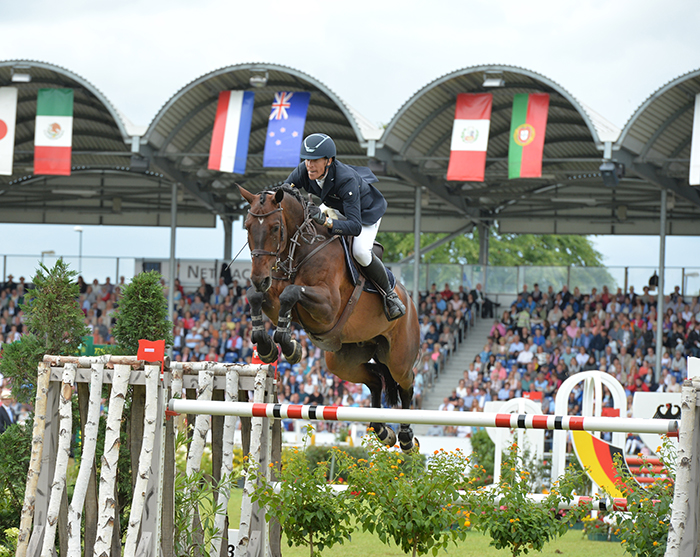 Chaccano representing Chacco Blue at Aachen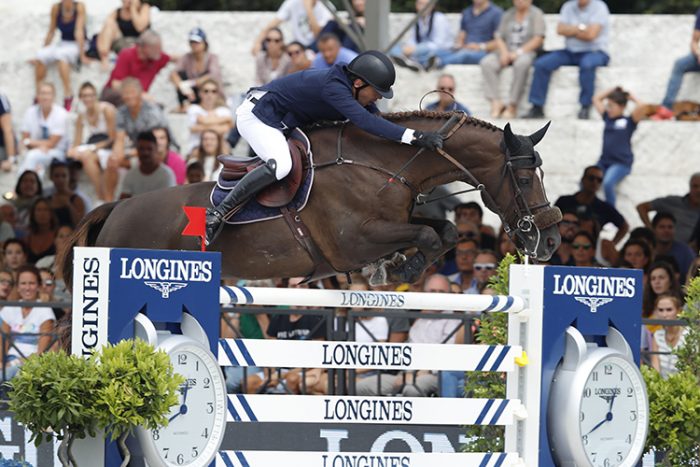 Don VHP Z 
Diamant de Sémilly owes his second place largely to Don VHP Z (Voltaire) a winner of over one million euros in prizemoney – he is the half brother of McLain Ward's recently retired star, HH Carlos Z (Chellano Z). Diamant de Sémilly's next highest ranked competitor is another stallion, Emerald N.O.P. (Carthago) who with Harrie Smolders has been a star of the Global Champs circuit with a win in Chantilly and 4ths in London and Miami.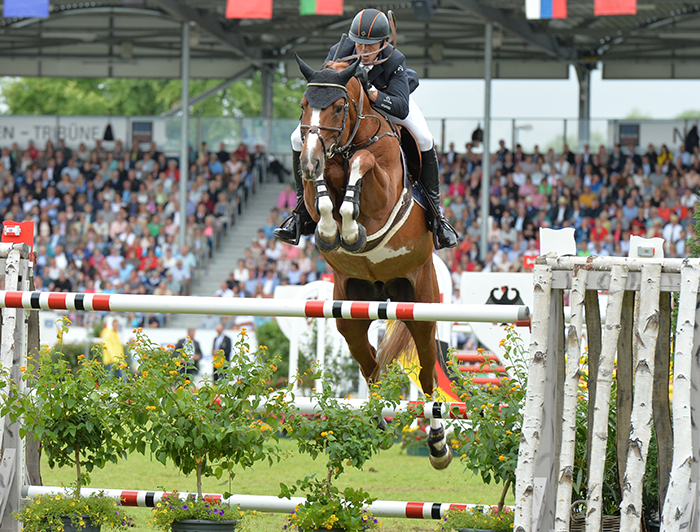 Emerald N.O.P.
Third to one of my favourite horses, the late and truly great For Pleasure. Not only was he an exciting competitor but he has produced a string of such rideable horses. He has three in the top one hundred headed by Hello Forever (Nimmerdor), a winner of almost a million euros with Scott Brash.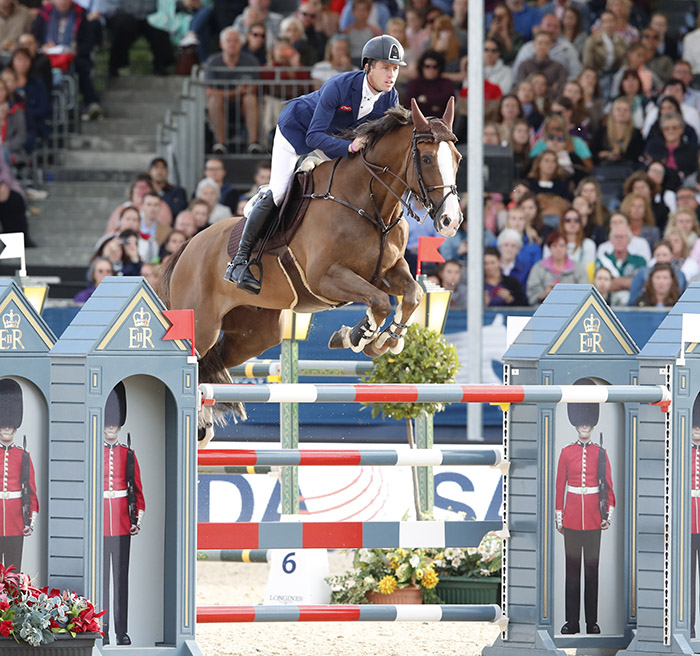 Hello Forever
Fourth to the wonderful Cornet Obelensky who has four representatives in the top 100, the most successful of which is the second ranked, Clooney (Ferragamo) who carries the Westfalien brand. The grey has won over €800,000 with young Martin Fuchs.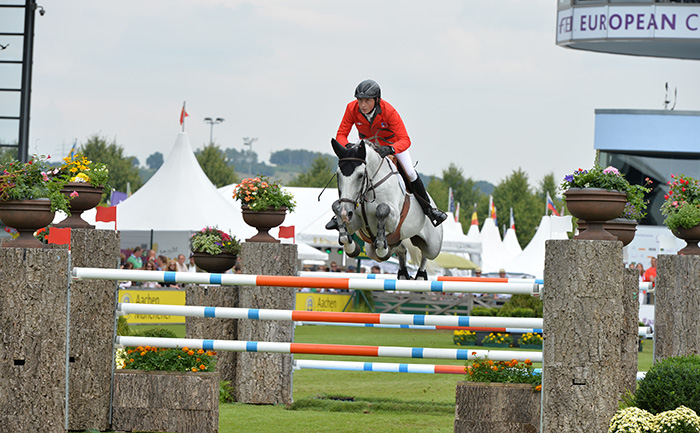 Clooney
Casall has, like For Pleasure, the distinction of having competed Grand Prix against his sons – my colleague Adriana van Tilburg reminds me he has competed against Alicante, Caracas, Chesall Zimequest, Casallo Z and I also think against Casello. I believe there was at one point one moment one LGCT where he was with three offspring in one class. 
Great competitor, and shaping as a top sire.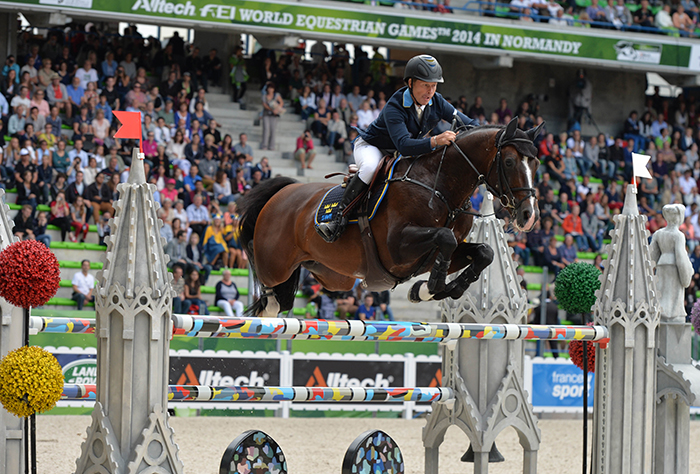 Casall
His top this year is last year's number one, Chesall Zimequest (Concerto) in 13th and he has four in the top 100, five if you stretch it to 101.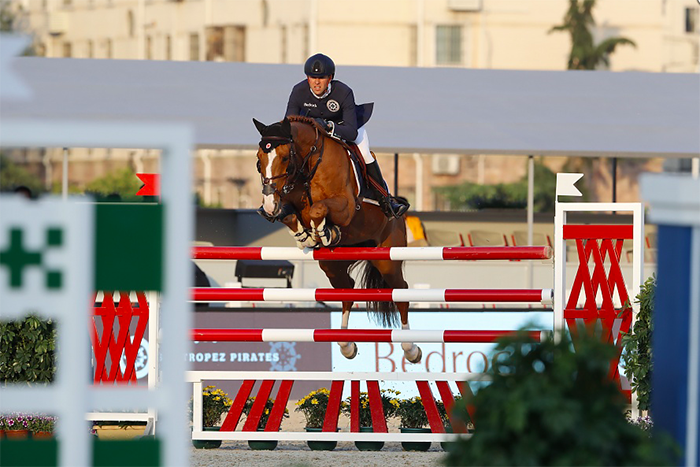 Chesall Zimequest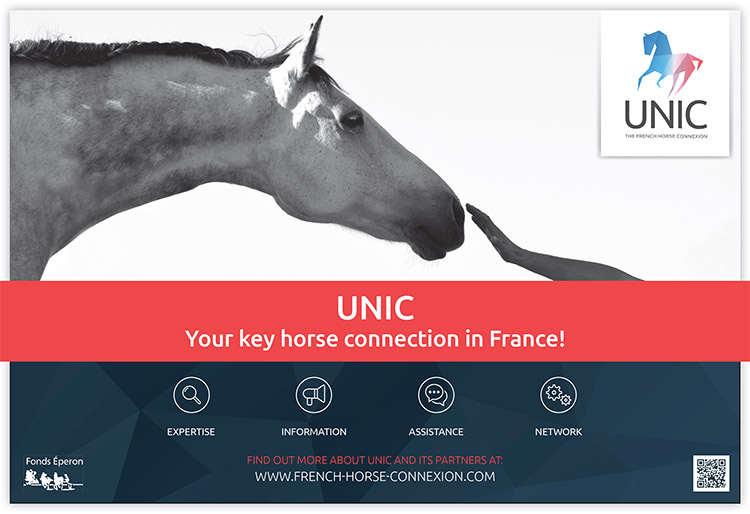 The Eventing Stallions
The future of jumping breeding looks very healthy indeed, and that is something that – at long last – we can say about Eventing Breeding. A decade ago, the eventing sires rankings, after you got past the super stars, the Thoroughbreds, Heraldik and Master Imp, and the Holsteiner, Cavalier Royale, represented a sorry collection of randomness, which seemed to confirm the prevailing wisdom that you can't breed eventers. This in fact is not true, I suspect that eventers are probably the easiest to breed of the three Olympic disciplines, and the people who have tried, have been remarkably successful, and the latest WBFSH top ten stallions, now produces a line up of horses, all of which you might expect to breed top eventers.
I suspect that just as the Irish breeders spotted a market for their eventers decades ago, the Germans, with the success of their team, have moved quickly to grab a market share and five out of six top competitors on the eventing standings are German bred. The odd one out is Clifford in third. I get a bit angry that the people who compile these standings don't try and fill the gaps  (it's spelt g-o-o-g-l-e). Thus we have breeder and breeding unknown. Would have been easy to find out that he was bred to race, in Tasmania, by Sue Devereaux, and that he is by Passing Shot out of a mare by Double Income. Too slow to race, he came to talented young Australian eventer, Hazel Shannon, the rest is history.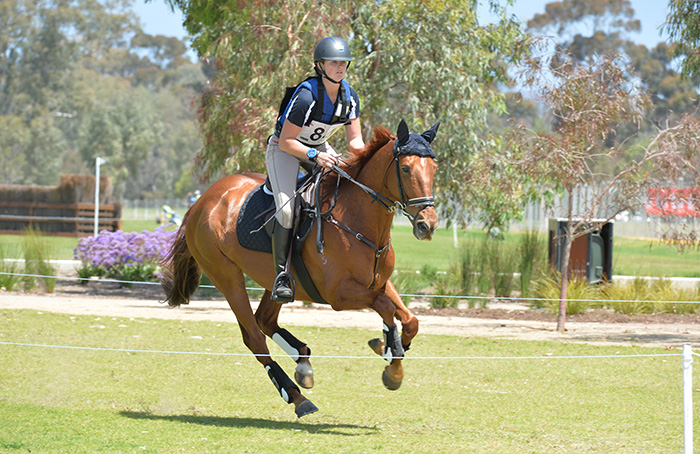 Clifford – not hard to find his breeding if you try…
For the second year running, the German born, now, French based Contendro 1 (Contender / Reichsgraf) is in number one with 1185 points, way in front of second placed, French born, British based, Jaguar Mail (Hand in Glove xx / Laudanum xx) on 761. Contendro is still sailing along on the basis of his German progeny, with Julia Krajewski's exciting youngster, Chipmunk FRH (yep, out of a Heraldik mare) his best placed competitor in fourth.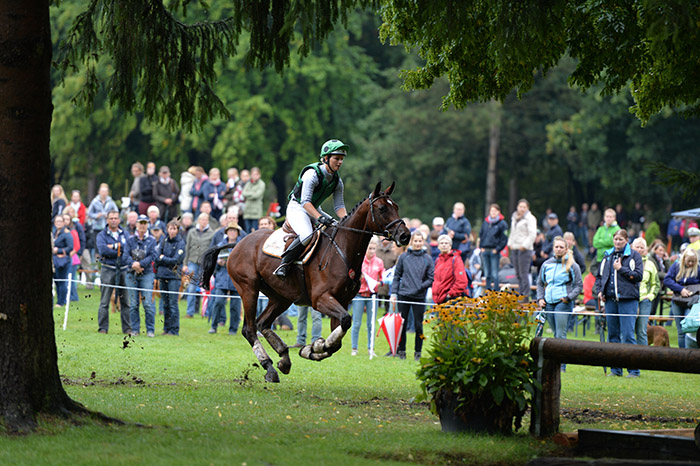 Chipmunk flying the flag for Contendro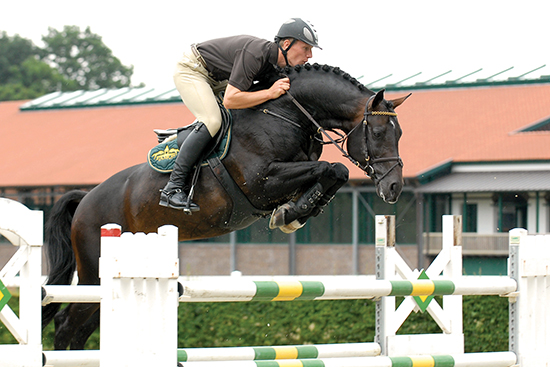 Contendro
Contendro has three more – all German bred – in the top 100, Chatwin (Oldtimer) in 73rd, Mark Todd's international, NZB Campino (Pinkus) 76th, and FRH Corrida (Espri) in 90th. Contender is mainly Holsteiner, with just 37.99% Thoroughbred. It will be interesting to see how he nicks with the Selle Français and Anglo Arab French mares. Arnaud Evain who is standing him thinks his strengths as an eventing sire are 'the quality of the gaits is a strong point for Dressage but also the elasticity and the rideability.'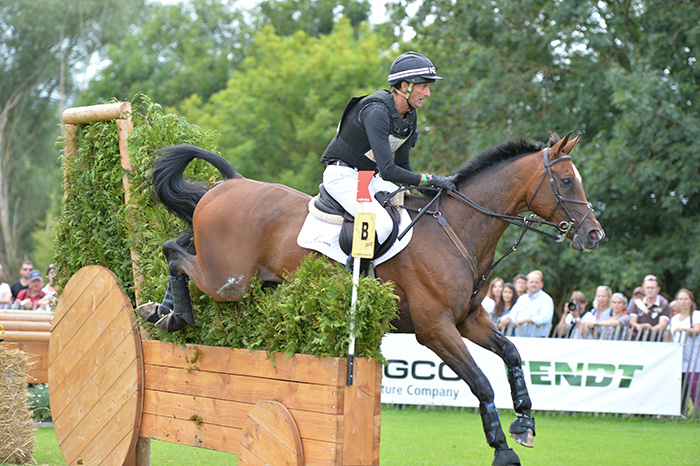 Mark Todd and Campino, another Contendo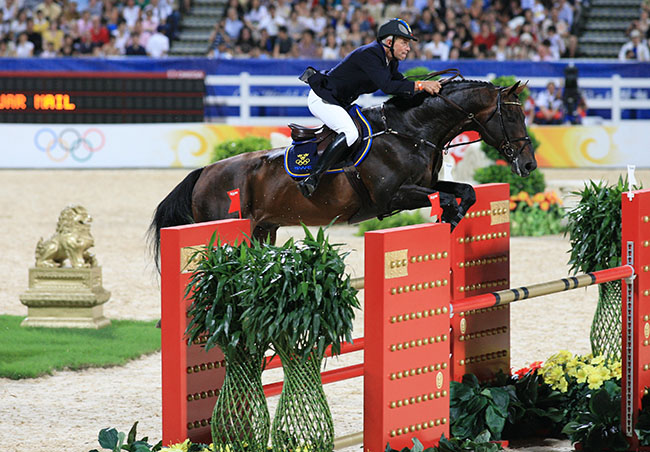 Jaguar Mail
Jaguar Mail on the other hand is 80.08 'blood' from his Thoroughbred sire, Hand in Glove and dam sire, Laudanum xx, with the add on a pretty handy mix of the best of the best European jumping blood: Almé and Gotthard. You have to go right to the end of the top 100 to get the first Jaguar, but it is worth the wait, the French bred, fischer Takinou, is an up and coming star with German genius, Michael Jung, but he was bred by a young French breeder, Mathieu Boisselier, who with some justification is hurt that he is no longer dubbed Takinou d'Hulm. He is out of a mare bred by French eventing rider, and the fifth generation of a family Anglo Arab breeders, Gilles Pons. The mare, Gita aa is by Sardana Pierre aa out of Paladine aa by Roslem II aa. She has three crosses of the chef de race Nithard.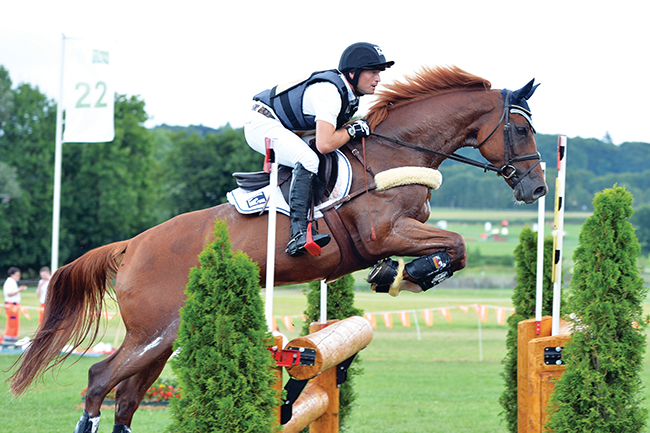 fischer Takinou
There are lots more on the list but you have to go all the way to 4877 (!) to find the love child – Little Brittania out of Lucinda Frederick's star, Headley Brittania, and conceived before Brit and Jag were dubbed 'married with kids' at the Games in Hong Kong.
Up from sixth to third is the ghostly presence of the late Master Imp xx, then a European import to Ireland, Ramiro B (by Calvani and all Holsteiner on the top, out of a Belgian mare by the Hanoverian Wendekreis) who one suspects may have sunk without trace in his native Belgium but brought just the right collection of genes to fire over the Irish mares. Puissance in fifth (up from 66th last year!) seems to have been bred with an eventing career in mind, he is by Master Imp's sire, Imperius xx, out of an Irish mare by Diamonds Are Trumps, a son of King of Diamonds, his most successful, Ardagh Highlight, out of a Kings Servant (King of Diamonds) mare.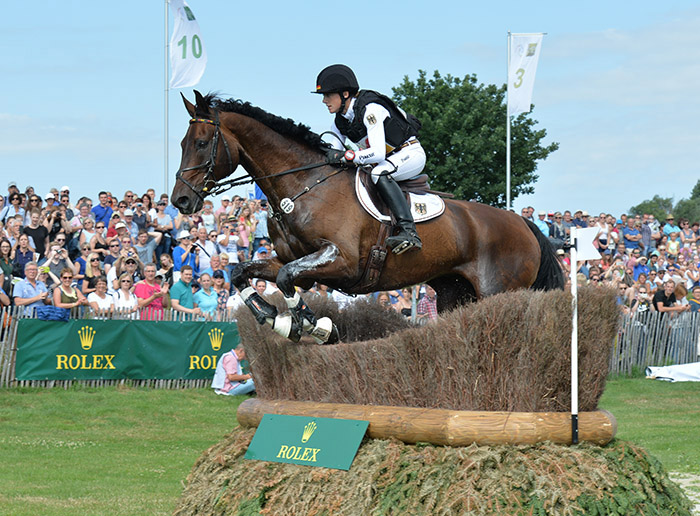 Hamilton
Another heavenly presence in sixth is Heraldik who career has recently been re-booted by the arrival in the German team of Hamilton (Furioso's Sohn). The gelding is ridden by 35-year-old Josefa Sommer, and bred by her father, Joachim, the former manager of the Hessen Verband.
In seventh we find Lux Z (Lord Calandro / Ahorn Z) who was a very successful showjumper on the world stage before being imported to Ireland to stand at Tom Meagher's stud.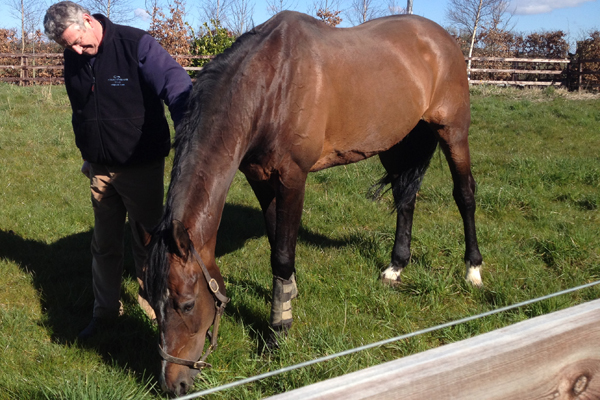 Lux and Tom in December 2013
Rocketing up the standings frm 26th to 8th we have the very successful international showjumper, Cruising (Sea Crest / Nordlys xx) – his most successful being Harbour Pilot, a solid three and four star performer with American Hannah Sue Burnett.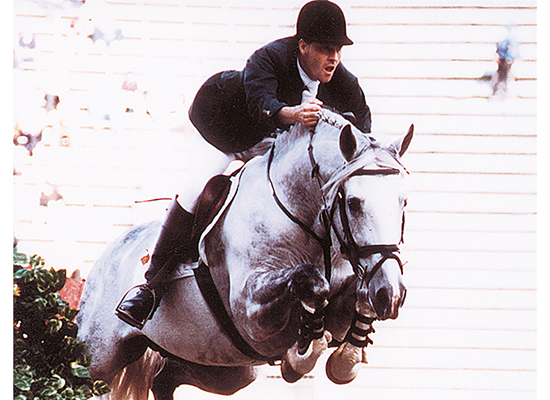 Cruising
Into 9th from 28th, and the only stallion to make two top ten rankings, is Balou du Rouet, his star is Billy the Red (Stan the Man xx), German bred but part of the British gold medal winning team at the Euros with Kristina Cook, where he finished 4th in the individual standings.
Rounding out our top ten, we have the Trakehner, Grafenstoltz (Polarion / Camelot) who won the World Six Year Old Young Eventing horse title with Michael Jung and went on to compete two star with him. His most successful representative is Grand Prix Iwest (Grafenstein), who has just moved into three star with German, Julia Mestern, best result a 4th at Waregem.
That's it for this year's survey of the WBFSH stallion rankings, I hope you have enjoyed our little trip around the breeding world…
and below we have an exciting analysis from Gemma Alexander of Pacific Jumping Breeding…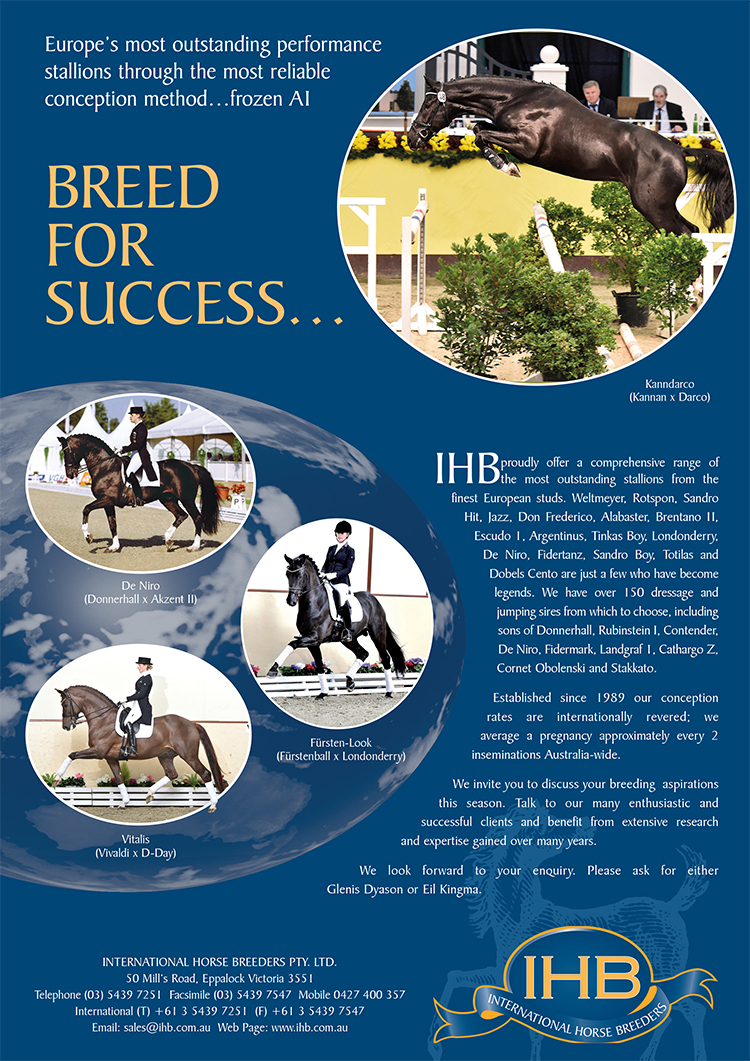 Selle Français dominate WBFSH top 10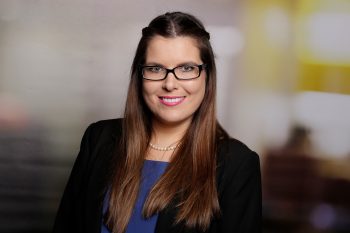 Analysis by by Gemma Alexander
Studbook Selle Français dominated the top of the 2017 WBFSH Sire Rankings, with three stallions in the top 10: Diamant de Semilly (2), Baloubet du Rouet (8) and Quidam de Revel (10). The top 10 was rounded out by one representative from each of the following studbooks: Mecklenburg (Chacco-Blue, 1), Hanovarian (For Pleasure, 3), BWP (Cornet Obolensky, 4), Holsteiner (Casall, 5), SBS (Kashmir van Schuttershof, 6), KWPN (Kannan, 7), and Oldenburg (Balou du Rouet, 9).
Holsteiners were by far the most represented studbook in the top 100, with 40 stallions in the 2017 rankings. Second was the KWPN with 17 representatives, followed by Selle Français (10) and Hanovarian and BWP with nine each.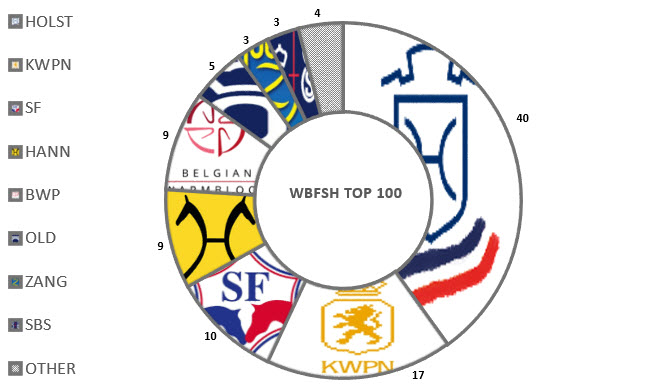 2017 also saw 20 new entrants into the top 100 rankings, the highest-ranked of these being Canto (41), Dulf van den Bisschop (55), Contact van de Heffinck (56) and Contendro II (57).
Several sires in the rankings were also represented by offspring, 22 in total: Quidam de Revel was also represented by six children and three grandchildren, Heartbreaker by six and one, Contender by four and three, Carthago by four and three, and Cassini I by three children and two grandchildren. Other stallions in the rankings also represented by offspring were: Stakkato, Argentinus, Baloubet du Rouet, Nabab de Reve, Clinton, Darco, Corrado I, For Pleasure, Cornet Obolensky, Canturo, Caretino, Clearway, Namelus R, Cumano, Lux, Calido I and Coriano.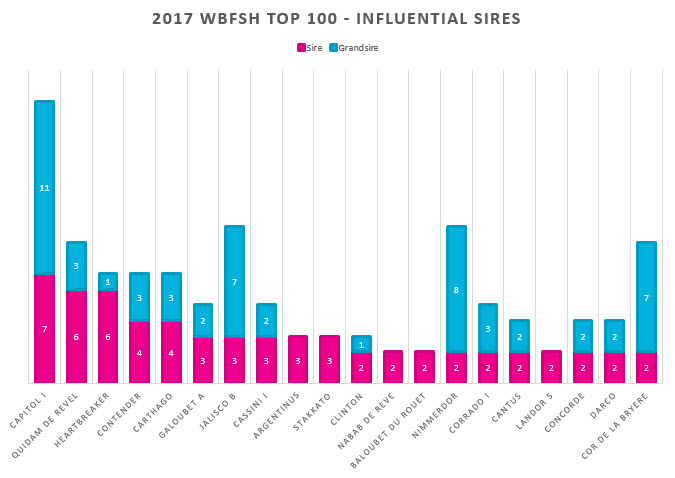 Influential sires on top 100
The stallion with the greatest influence on the 2017 Rankings was Capitol I, with seven children and 11 grandchildren! He even had two children and two grandchildren in the top 20! Jalisco B was represented by three children and seven grandchildren, Nimmerdor by two children and eight grandchildren and Cor de la Bryere by two children and seven grandchildren. Also of note were Quidam de Revel and Heartbreaker, with six children each!
Several stallions in the 2017 top 100 have proven their staying power, having featured in the rankings as far back as 2010:
Diamant de Semilly 2017 (2) 2010 (25), Kashmir van Schuttershof 2017 (6) 2010 (29), Kannan 2017 (7) 2010 (8), Baloubet du Rouet 2017 (8) 2010 (5), Quidam de Revel 2017 (10) 2010 (3), Nabab de Reve 2017 (12) 2010 (7), Cardento 2017 (13) 2010 (33), Calvaro 2017 (14) 2010 (28), Heartbreaker 2017 (15) 2010 (6), Indoctro 2017 (20) 2010 (16), Cassini I 2017 (23) 2010 (43), Clinton 2017 (25) 2010 (21), Darco 2017 (28) 2010 (1), Quick Star 2017 (30) 2010 (10), Caretino 2017 (33) 2010 (4), Andiamo 2017 (35) 2010 (20), Larino 2017 (36) 2010 (88), Mr Blue 2017 (39) 2010 (9), Numero Uno 2017 (40) 2010 (11), Stakkato 2017 (42) 2010 (51), Contender 2017 (43) 2010 (12), Argentinus 2017 (50) 2010 (80), Dollar du Murier 2017 (52) 2010 (36), Lupicor 2017 (54) 2010 (63), Corrado I 2017 (58) 2010 (37), Calido I 2017 (70) 2010 (13), Carthago 2017 (71) 2010 (2), Tinka's Boy 2017 (75) 2010 (60), Chellano 2017 (76) 2010 (50), Corland 2017 (81) 2010 (14), Cumano 2017 (82) 2010 (15), Coriano 2017 (83) 2010 (52), Lord Pezi 2017 (85) 2010 (85), Lordanos 2017 (86) 2010 (69), Lux 2017 (89) 2010 (34), Cruising 2017 (95) 2010 (30), Cento 2017 (98) 2010 (76).
2017 wbfsh top 25 jumping sires
Chacco-Blue (Chambertin x Contender)
Diamant de Semilly (Le Tot de Semilly x Elf III)
For Pleasure (Furioso II x Grannus)
Cornet Obolensky (Clinton x Heartbreaker)
Casall (Caretino x Lavall I)
Kashmir van Schuttershof (Nabab de Reve x Tenor Manciais)
Kannan (Voltaire x Nimmerdor)
Baloubet du Rouet ( Galoubet A x Starter)
Balou du Rouet (Baloubet du Rouet x Continue)
Quidam de Revel (Jalisco B x Nankin)
Berlin (Cassini I x Caretino)
Nabab de Reve (Quidam de Revel x Artichaut)
Cardento (Capitol I x Lord)
Calvaro (Caletto I x Capitol I)
Heartbreaker (Nimmerdor x Silvano)
Toulon (Heartbreaker x Jokinal de Bornival)
Thunder van de Zuuthoeve (Argentinus x Nimmerdor)
Quasimodo Z (Quidam de Revel x Carthago)
Contendro I (Contender x Reichsgraf)
Indoctro (Capitol I x Caletto II)
Vigo D'Arsouilles (Nabab de Reve x Fleuri du Manoir)
Verdi (Quidam de Revel x Landgraf I)
Cassini I (Capitol I x Caletto II)
Colman (Carthago x Lord)
Clinton (Corrado I x Masetto)
We want your feedback!
Pacific Jumping Breeders is in its infancy. We would love your feedback on what it is you would like to see.
Do you want to see more interviews? More in-depth analysis?
What else would you like t he b reeding analysis to cover?
Contact us
Pacific Jumping Breeding
17 Tunney Road, Oldbury, Western Australia, 6121
+ 61  437 051 397
info@pacificjumpingbreeding.com
www.pacificjumpingbreeding.com