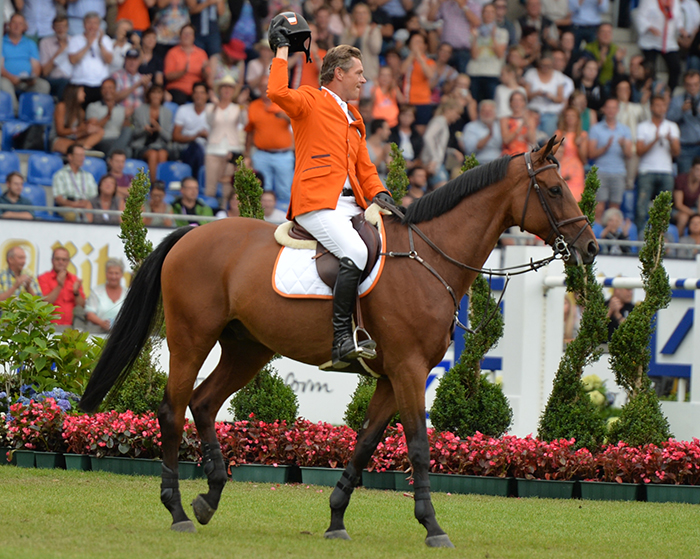 In a recent development, the SFN 11 has been able to secure the combination of Jeroen Dubbeldam and SFN Zenith. At the Rio Games, THM asked Jacob Melissen to explain how the scheme was formed and how it worked…
Going Dutch – keeping top horses for the riders…
Showjumping and money, at times it seems the sport is dominated by money. It's great for the ones who are making the money, but sad for the riders who see good horses sold out from under them by owners who just can't reasonably be expected to hold on, given the crazy money on offer.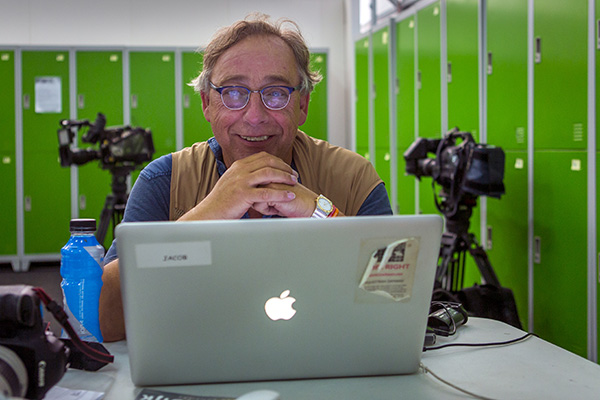 Jacob at Rio
It was a dilemma that my Dutch pal, Jacob Melissen set about solving, with a scheme that has proven that it can be done. Let Jacob (who is one of Holland's most prominent journalists) tell his story:
"It started a long time ago, in La Baule in 2005, the Dutch team finished last and four American girls rode Dutch horses to win the competition. On the way home, 1400 kilometres, you have time to think and all the pieces of the jig saw puzzle came together. I had a column in the weekly horse magazine and in my column, I invited the top horse dealers of The Netherlands for a really good dinner where I would outline my proposal. They all accepted my proposal and they said, dammit this is the first time we've heard a really good plan that could work. They were enthusiastic. I had also invited the treasurer of the Dutch Equestrian Federation who is a banker, a really small but really influential bank, because I know something about horses but for money, I know nothing."
"Two months later I received a phone call, Jacob Melissen, you are speaking to Floris Deckers, President of the board of Van Lanschot Bank. I said – You are kidding. I have such a small business, the President of such a famous bank is not calling me. I said, okay can I have your phone number, and I will call you back. I checked the number at google – hey, it's him. And he was really enthusiastic, his daughter rides, so he knows the horse world and we were on our way."
"The plan was quite simple. Get five or six people who have a lot of knowledge of horses, showjumpers, who are well known talent scouts, they were people important in the sport like Emile Hendrix, who was a member of the board of the International Showjumpers Club, he was the organizer of Rotterdam and San Patrignano. Henk Noren, a famous coach and Edgar Schepp, President of the Dutch Horse Dealers Association."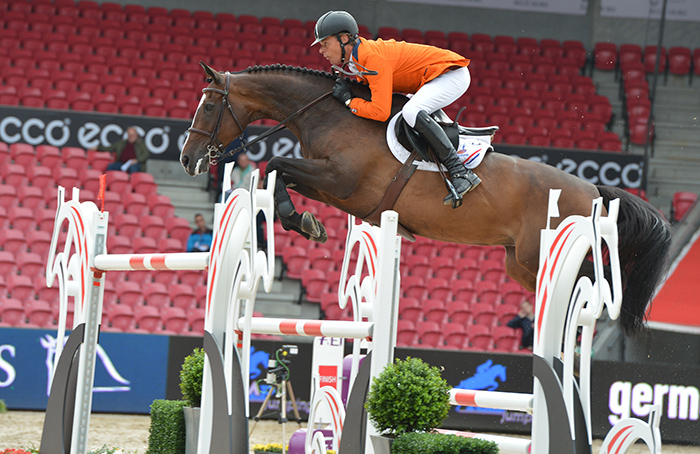 Utascha and Jeroen Dubbeldam at the Euros in Herning in 2013
"The bank made a prospectus and then we went to find people who would love to invest, 10,000 or 25,000 or 100,000 euros. We collected 2.6 million and then we started buying young horses, five-year-olds, six-year-olds, seven-year-olds. The first horse we bought was Utascha (Lux / Indoctro) who went to the WEG in Kentucky and the European Championships in Madrid with Eric van der Vleuten, and then he transferred the horse to Jeroen Dubbeldam who rode him at the European championships in Herning. Then we sold Utascha to Qatar."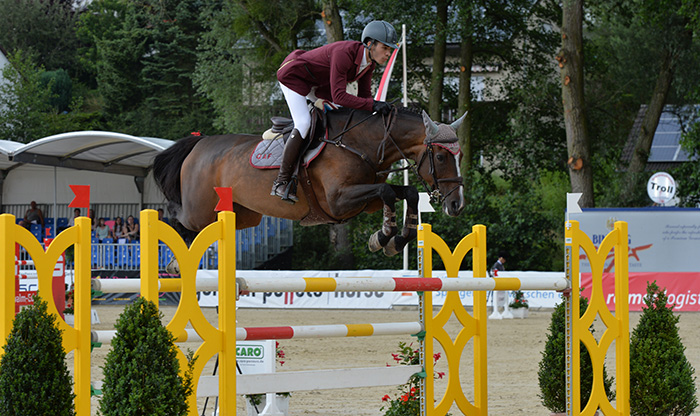 Utascha competing for Qatar in Germany
"In the same month we sold Utascha, Zenith was 4th in the World Cup competition in Mechlen, now Zenith is individual and team European champion, and individual and team World champion and now competing in Rio. The second reserve horse for the Dutch Team is also owned by us, Aquila SFN, who has done a very good job in several Nations Cups."
"From the very beginning, I said, this is not sponsoring, it is an investment and we should try to get a return on that investment and we would like to give our investors a return on their investment in cash. So we decided we should stop this fund in 2018 but with all the world wide financial troubles, the Dutch banking authority changed the rules and that means we have to finish up in 2016 – it's a pity because we would have loved to keep Aquila until the World Championships in 2018."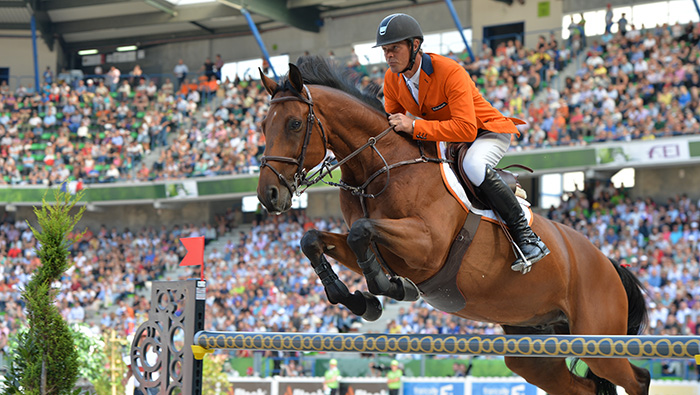 Zenith taking Jeroen and the Dutch team to a win at the WEG in Caen
"We announced after the WEG in Caen that Zenith would be sold after – not before – the Olympics, because that's our aim. He is only 12 now, so with a really good rider he can probably compete in the 2020 Olympics."
"In total we bought 18 horses – horses like Brighton with Tiffany Foster competing at Grand Prix – we sold that horse two years ago, because the rider felt, and it was also our impression, that he did not have the power to be an international champion – and now the horse is developing in a remarkably good way. On the other hand, it is really nice when we sell a horse, that it is successful."
It seems even when you have the smartest Dutch Dealers in your team, not every choice works out…
"We also bought horses that we never should have, some that would never get past 1.40, so we sold them. Now we have in total seven or eight Grand Prix horses out of eighteen we bought, there are also two or three that are absolutely shit."
'Now we are paying back the money, we started with €2.6 million in 2006, on January 1 of this year we had one million in the bank, we gave all our investors 25% of their investment back, and a lot of them have said, put that money into the next SFN fund. The new fund is in operation and we have bought the first horse. When we buy a horse, say a six-year-old for €400,000, then we pay €300,000, and the seller stays in the horse for 35%. If we sell the horse four years later for four million, you will receive 35% of €4,000,000."
So if you think you would like to own the current World and European champion, the Showjumping Fund of the Netherlands (SFN), has announced the starting bid for SFN Zenith is €500,000. Aquila SFN, Wout-Jan van der Schans Nations Cup ride, second reserve for the Olympics, will also have a starting price of €500,000 and bids for both horses will be accepted in increments of €50,000.
info: www.bva-auctions.com/SFN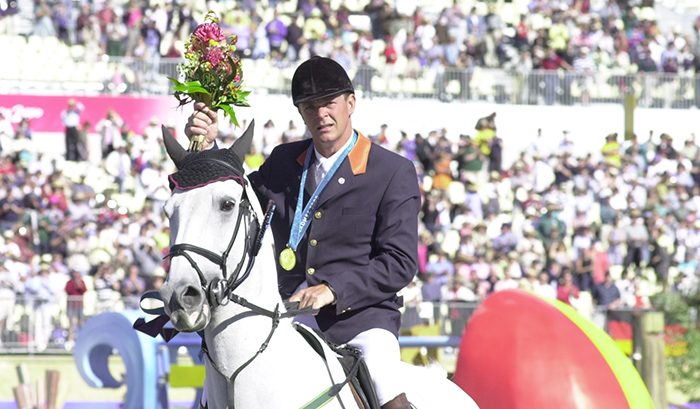 Jeroen and winning Gold in Sydney in 2000
It's a pity that Jeroen and Zenith couldn't finish their career on a high note, just one time kept them out of the final jump off, and after the event, the great man was in tears – he cried when he won gold in Sydney too, but this time, it was the end of the partnership that was causing him grief…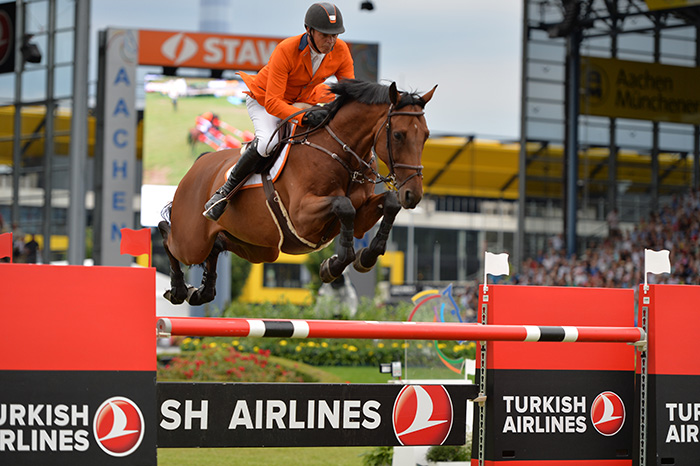 Jeroen and Zenith, to stay a partnership…