Christopher Hector talks to Dorothee Schneider about winning Olympic Medals with horses she has made herself…
Photos – Rebecca Ashton, Dirk Caremans and Roslyn Neave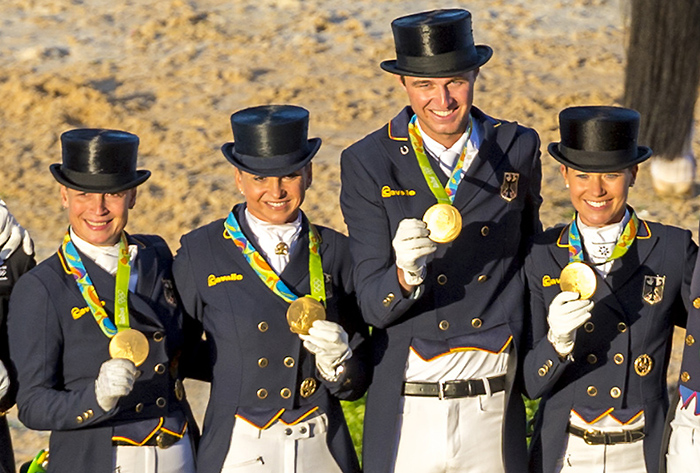 A member of the Gold Medal winning team at Rio, Isabell Werth, Dorothee, Sönke Rothenberger and Kristina Bröring-Sprehe
Dorothee Schneider is not one of those riders who were lucky enough to be born with mega-rich parents, or receive the backing of a billionaire owner, she had to do it the tough way, turning young horses into Grand Prix stars. But she has done it, not just once but over and over again. I was lucky enough to catch up with her at Frankfurt Show last December…
You seem to have an amazing ability to find horses, one horse, next horse, next horse – do you think you have a special eye? How do you find so many beautiful horses?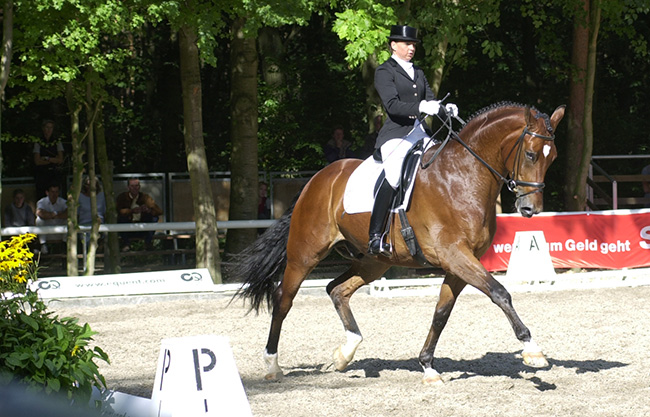 Ferryman and Dorothee at the Bundeschampionat in 2001
"I think it started in the beginning of my career, because I had all the time young horses. I did not have the possibility to buy older horses, I had to develop young ones, and try to find owners who would let me have them longer to develop them. And yes, I probably have the feeling and the eye to see horses that can manage this sport in their own body. They have to have the mental power and the power in their own body to go with me."
Dorothee talks more about the type of horse she chooses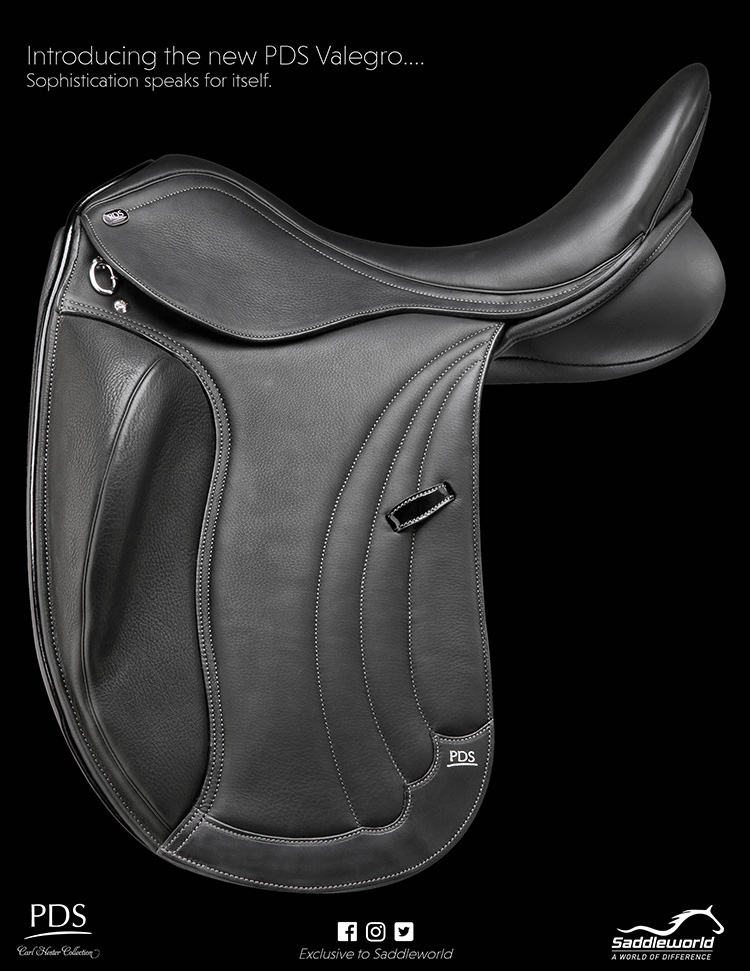 Is there a type the horses that you really get along with?
"Sure, it must be a motivated character, the motivation to develop themselves, with three good paces. We have to look at their body – have we enough balance and power? You have to think it's a young horse, okay good hind leg, good paces, can I manage the character and the body for this sport over a few years? I try to see that in a young horse. With Showtime, I got him when he was three years old, and when I first rode him, I thought the hind leg is amazing, but the way is long and over the next six or seven years, you maybe have to manage some problems. For me it is important that the horses are happy and with me, mentally."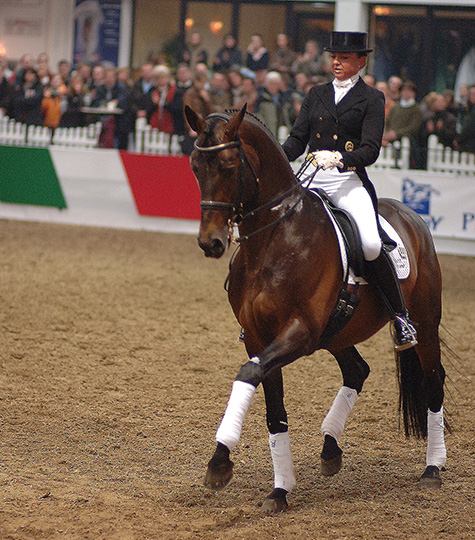 Dorothee presenting Kaiserkult at the Trakehner stallion parade
You seem to get along with the Sandro Hits, and you say of Showtime that he is good behind, but Sandro Hit has a bit of a reputation of siring horses that are slow and out behind…
"Yes, I have a few horses with the S blood, Sammy Davis Jr, St Emilion, Showtime FRH, all horses with S blood, and for me, they all have a big character and when you have that character on your side, and you can work together, they want to work. They have a very special character, they have very much energy, not only behind but also in the head. They can manage their body, and when they want to work with me, they do a good job."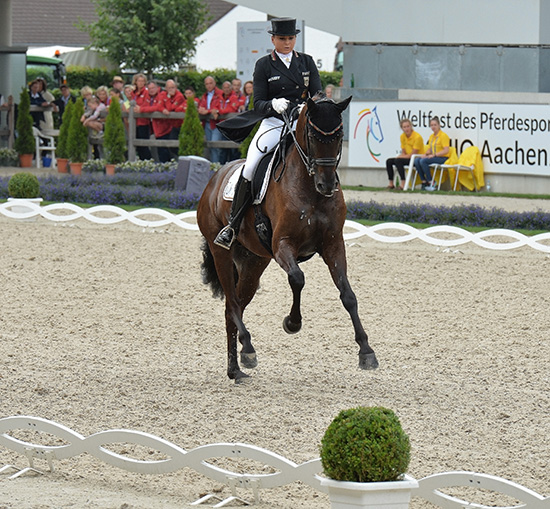 Dorothee and  Sammy Davis Junior, another from the 'S' line, at Aachen in 2017, with the German support team, including Monica Theodorescu and Jonny Hilberath watching on
more on Dorothee's Grand Prix stars follows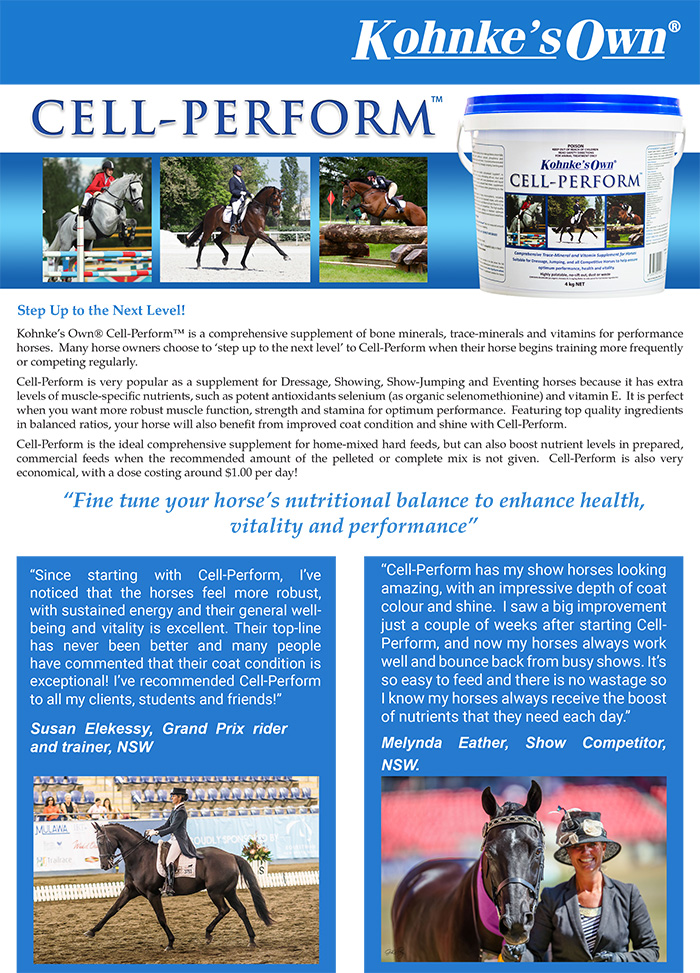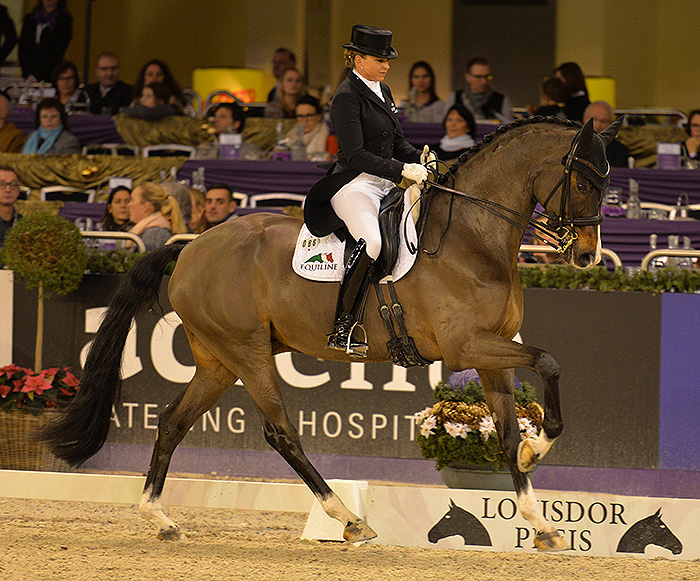 Another star in the making for Dorothee, Faustas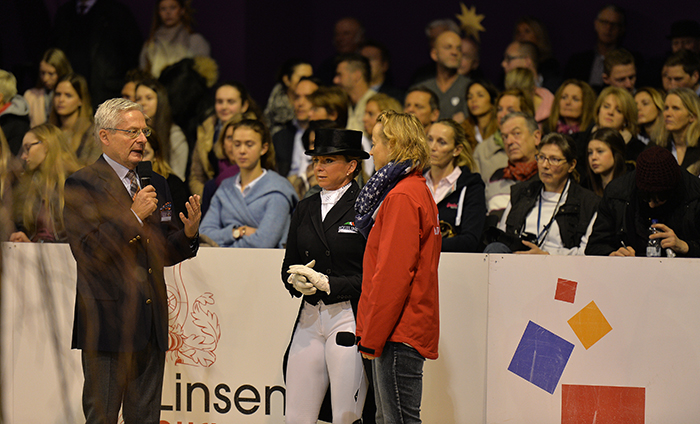 An interview for ClipMyHorse with Dr Dietrich Plewa
The good news is that Dorothee's Rio ride, Showtime is back:
"He was in Munich, the first time out after one year out with injury, and he scored over 80%, and now perhaps I will ride him in March at the indoor shows, or I might wait for the outdoor season, and try to qualify him for the WEG in Tryon."
Who have been the people who have taught you as a rider? And a trainer…
"I work with Jonny Hilberath and Monica Theodorescu."
As you were establishing yourself was there anyone special?
"I started very young with my own stable. My father did the first work with me, later I did clinics with people like Klaus Balkenhol. I tried to manage myself, to feel very much, to look very much, to stabilize my own way. I try to manage every horse, with the mental situation, with the body situation, to have a good feeling from the body of the horse. I try to manage each individual horse on his own way, I think that is very important – every horse is another character, and the rider has to look at every horse as something special and find their own way for this horse."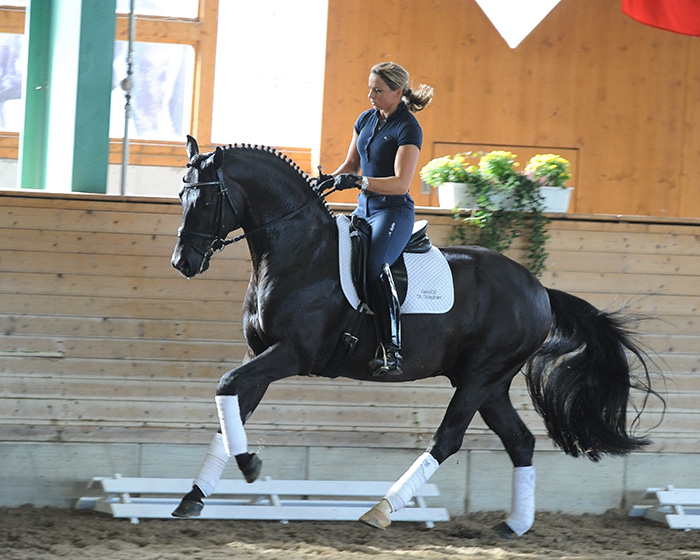 Dorothee and Horatio, by Hochadel, demonstrating young horse training at a Seminar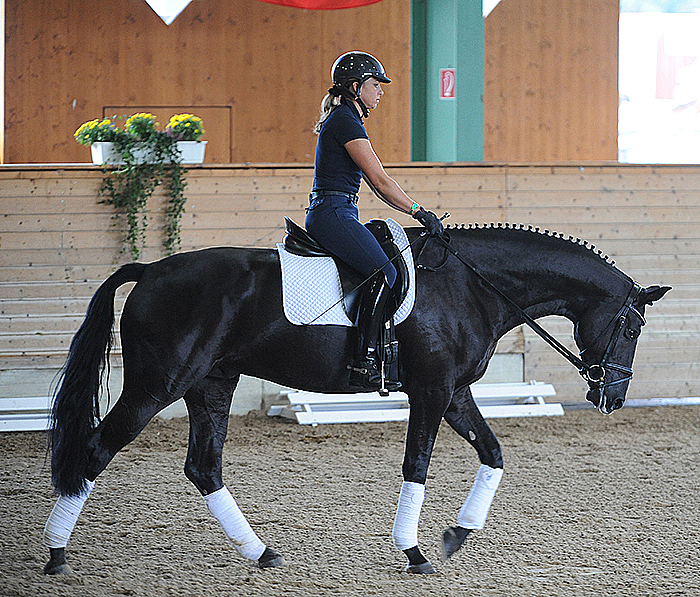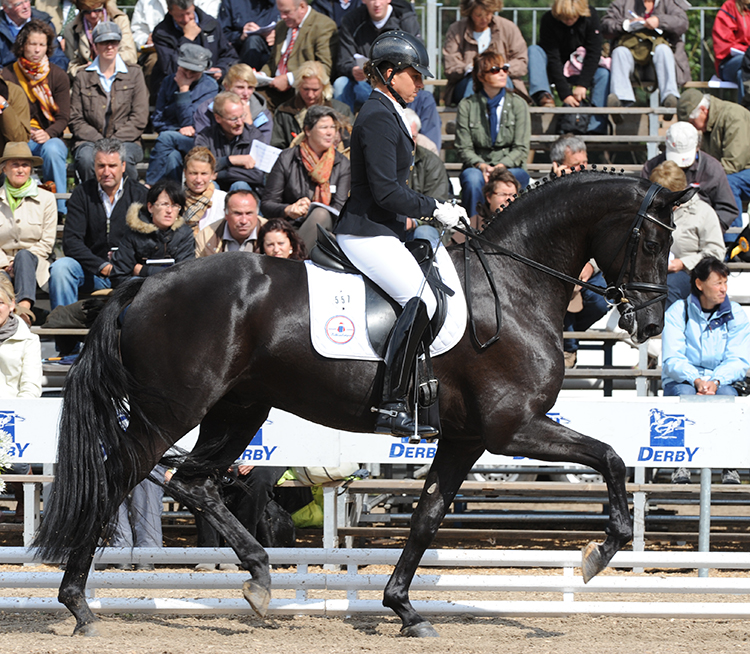 And winning at the Bundeschampionat…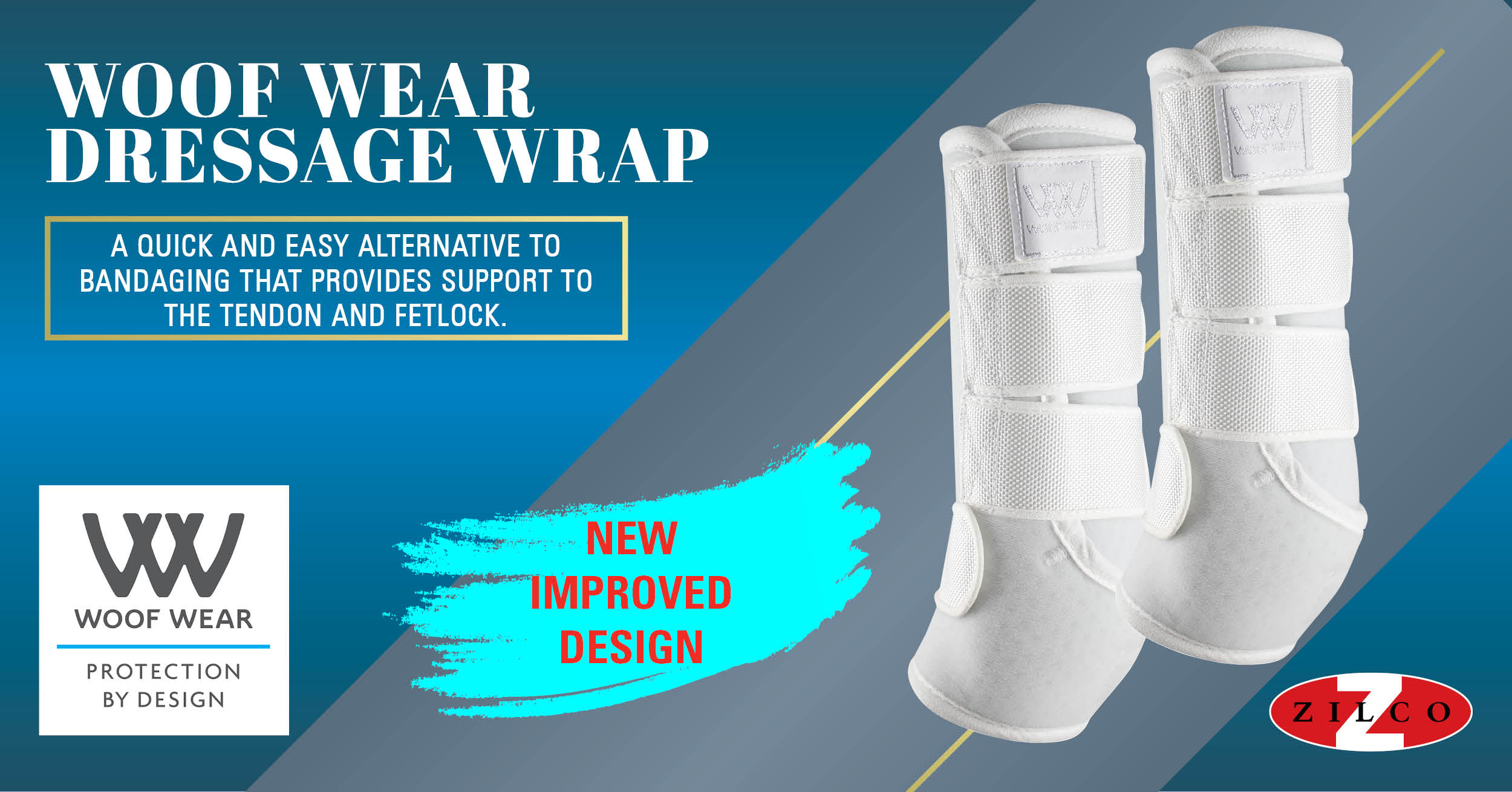 Is it hard for a rider who doesn't come from a super-rich family to make it to the top in Germany?
Dorothee laughs. "Yes, I think the way is long when you don't have the possibility to buy a horse. When you don't have parents to buy you horses, then you have to do it with the horses that come from other people. I did it for many years, also with young horses, at the Bundeschampionate and the World Championships for Young Horse, but the way is long and you have to manage your own horse. When the owner decides to sell the horse, then the horse is gone and you have to begin again."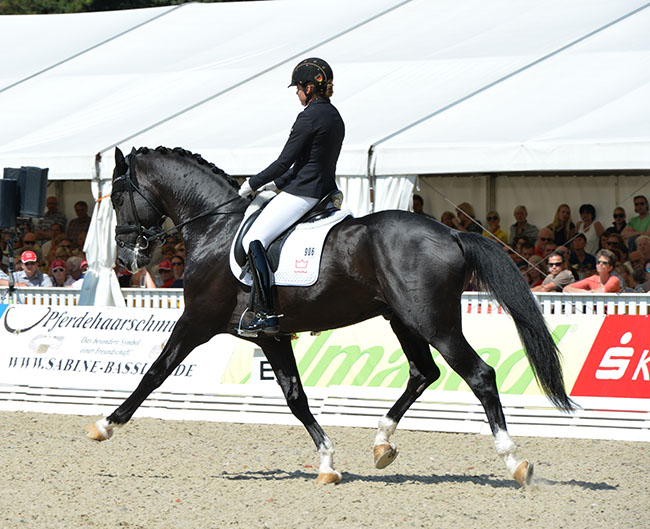 Dorothee and her multi-World Champion Young Horse, Sezuan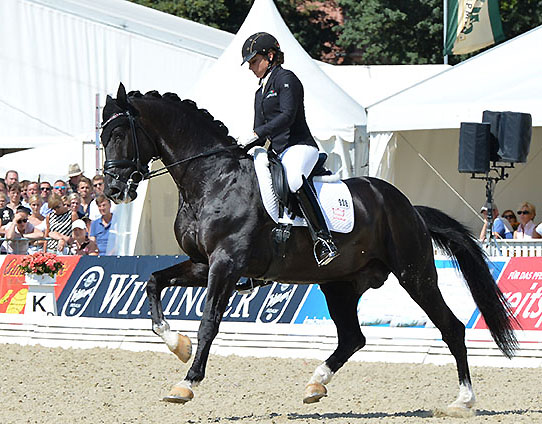 When Dorothee says she 'went to the World Champs' she is being modest. Over the last three years, she has dominated them, winning the 5 year old, the 6 year old and the 7 year old titles with the stallion, Sezuan (by Zack out of a Don Schufro mare). Dorothee is no longer riding for the stud, but on her last outing with Sezuan, at Darmstadt-Kranichstein, in September last year, she won the two small tour classes, 80.833 in the St Georges, and 79.342 in the Inter 1.
next we talk about the London Games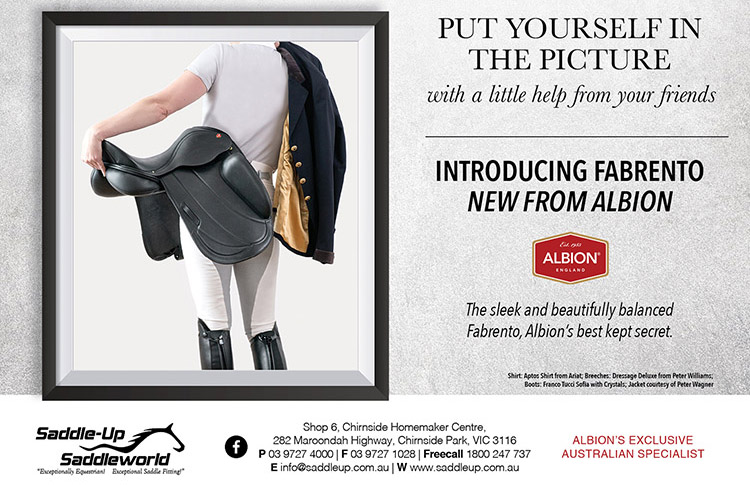 That must have been awful after the Olympic Games in London, where you went so well with Diva Royale, and then lost the ride…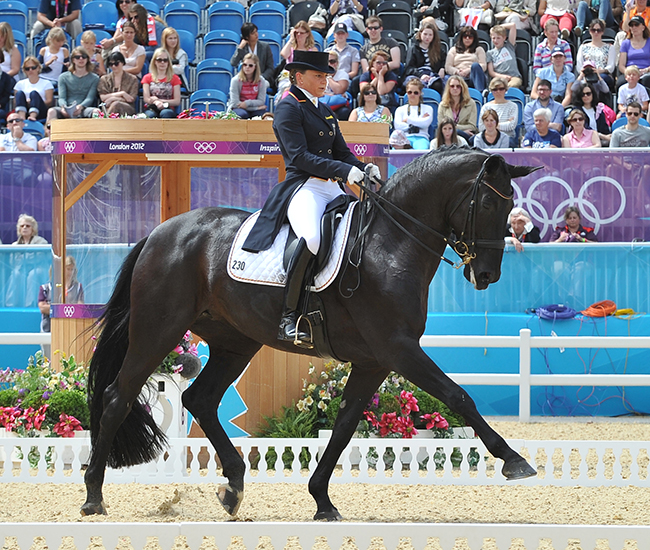 "Yes, but the horse was always for Stella (Charlotte Roth) to ride, we talked about it before, that after the Olympic Games, she would be riding the horse but it was still not easy for me. It was really a special combination. But that is the point, you have to look, which horse can make it? Which owner is motivated to give me the time with the horse to develop it from young horse to Grand Prix, that's a very long way. I started with Showtime when he was three, and seven years later, we were in Rio."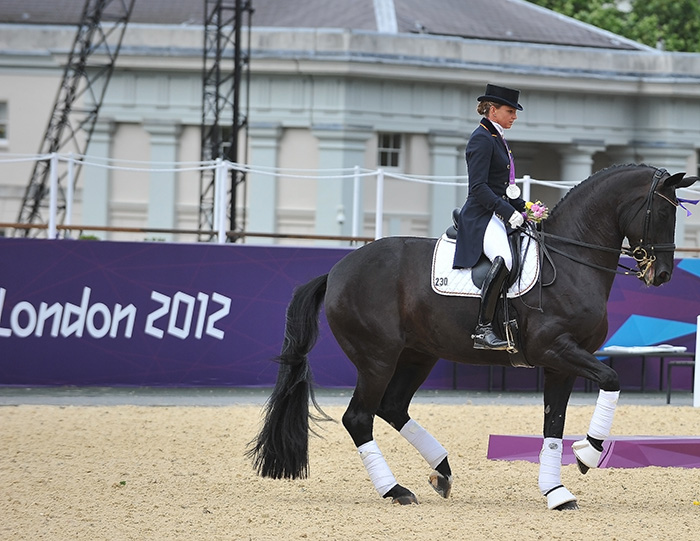 Do you own Showtime?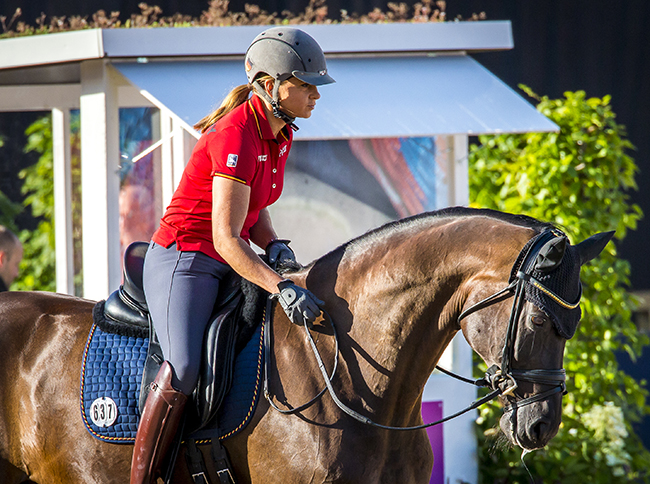 "No, it's Gabriel Kippert, she's a good friend of mine, and she bought the horse when he was three because she said, I want to do something for you. So we developed the horse over seven years, and it is amazing when you start with a young horse and you end up at an Olympic Games for Germany, it is amazing. Even though the way is long, you have to have every day the feeling for the horse, new ideas to manage him, and he is happy, and you go to the top. Amazing!!."
Showtime and Dorothee starting out at the Bundeschamps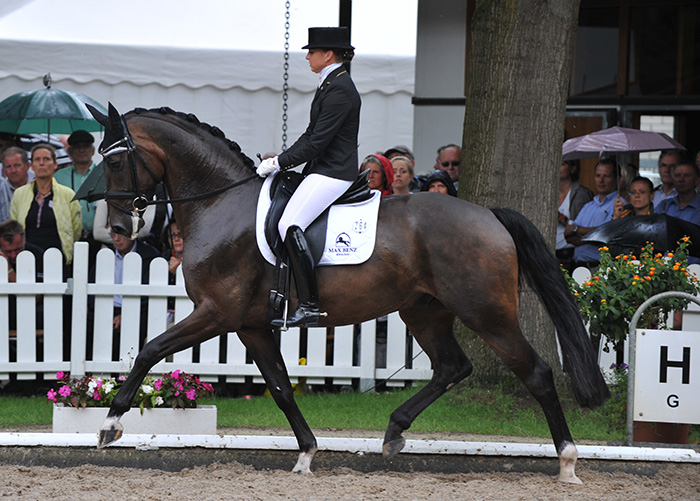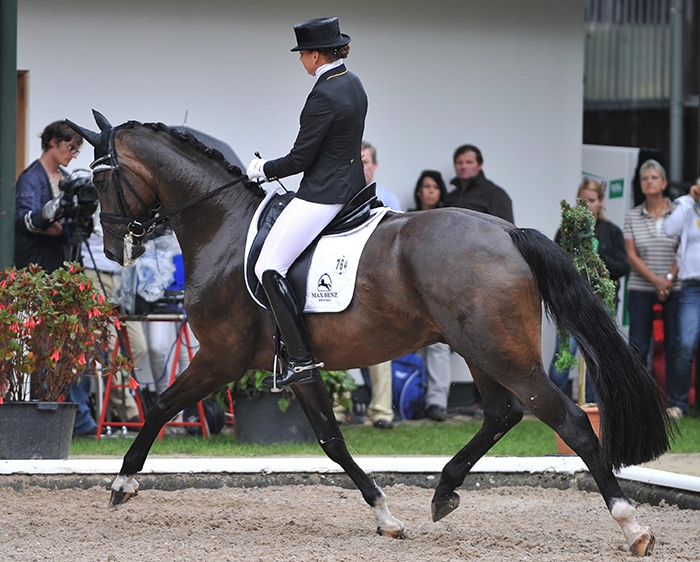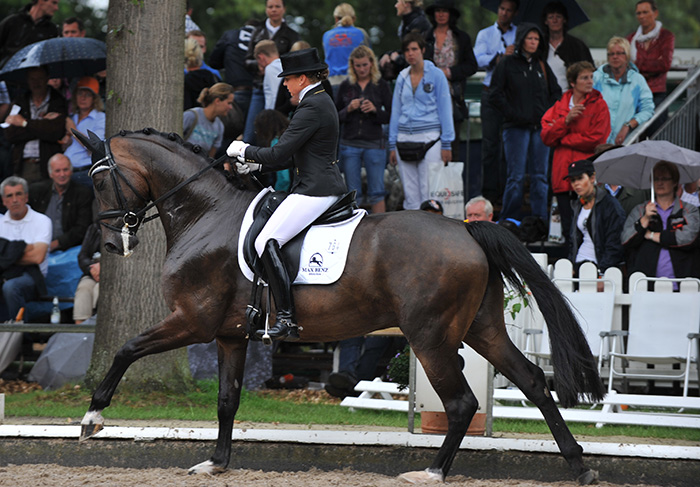 And members of the Gold Medal team at the Rio Olympics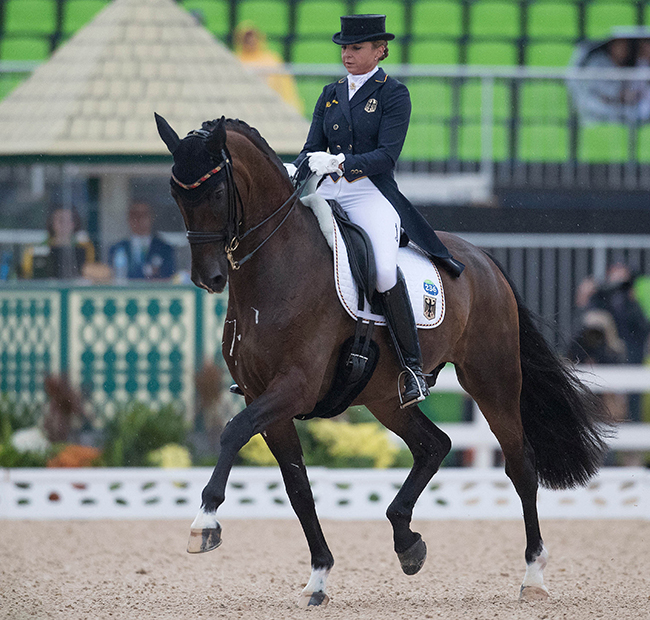 ---
Want to breed your own Sandro Hit? Or another 'S' Line stallion? Theres lots to choose from at International Horse Breeders, go to www.ihb.com.au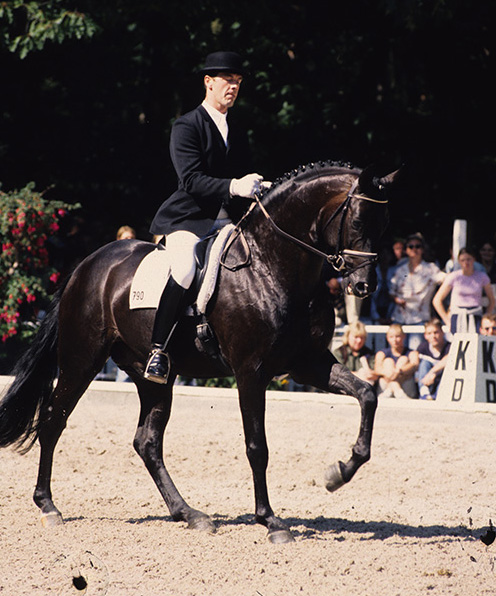 Sandro Hit winning at the Bundeschampionships with Ulf Möller