Who's Who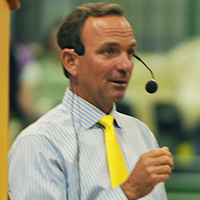 Best, Greg
Discipline : Showjumper and Coach
Born : 1964
Back in 2001, Stephen Lamb caught up with the showjumper soon after his move to New Zealand:
Sitting on the tailgate of his truck in a polo shirt, baggy shorts and boat shoes, a tanned and relaxed Greg Best looks like he would be equally at home sailing a yacht, as at a horse show.
He is the sort of bloke who has an aura about him – a charm and charisma that comes from a deep sense of self confidence. Not cocky, not smarmy, just silky smooth. And Best is just that, silky smooth.
At the New Zealand Equestrian Federation awards night held in conjunction with the Horse of the Year Show in Hastings, Greg accepted the award for Grand Prix Horse of the Year, which he won on Entrepreneur II. His acceptance speech was both eloquent and humble, and had the 600 strong crowd hanging on his every word. He spoke of his horse and its owners in glowing terms, he touched on the many friends who had helped him gain his recent New Zealand citizenship, and then he spoke about his riding jackets.
That's right, riding jackets.
He spoke of what it meant to him to hang up his red USET jacket for the final time. Of the memories that jacket held – Gem Twist, the Seoul Olympics and the 1990 WEG in Stockholm in particular. And then his excitement about wearing his new black jacket with the silver fern for the first time, and the new stage in his life that it represented. It was like Bill Clinton at a Democrat's rally, with the party faithful lapping it up.
Now 37, Besty says the move to New Zealand evolved simply from spending more and more time there, and less in the States. He is very philosophical about life in general, as well as the sport, and has always been so.
I queried him about an article I read shortly after the Stockholm World Championships, where he had been part of the final four along with John Whitaker, Eric Navet and Hubert Bourdy. According to the story, the night before the last day of competition, where the top four riders ride each others horses, Best was asked how he thought he would go.
To the best of my recollection, his response went something along the lines of: "Well, I could go out there tomorrow and jump a clear round on each and every horse, and thereby probably win the World Championships. Or, I could go out and have 3 or 4 down on each horse, and I probably won't win. Either way, there will still be starving children in Africa."
I asked him, true story?
His face sprang to life, as he slapped his leg.
"Damn right! And I still believe that today."
"You know, what happens out here," he says, nodding towards the competition arena, "it's not changing history. In the overall big picture, what we do out there today really is of very little consequence."
Of course, it is impossible to write an article about Greg Best, without making substantial reference to Gem Twist, the grey (white) jumping machine by Good Twist, bred by American showjumping stalwart, and current Chef d'Equipe, Frank Chapot in 1979. Chapot had actually competed on the sire, Good Twist at international level, but sold Gem Twist as a 2 year old, before buying him back just two years later. 
Greg was still a teenager (and relatively unknown) when he was given the ride on the horse in 1984, but quickly started to make a name for himself winning the North American Young Rider Championships within the first 12 months.
The next five years were a whirlwind of wins, and to quote Greg, he lived the lifestyle of a rockstar:
"Sex, drugs and rock n' roll – it was just crazy," he recalls.
Individual and team silver medals at the Seoul Olympics in 1988 and then the final four at WEG in Stockholm 1990 (the same year our own Vicki starred, finishing the highest placed lady rider at 10th, on board Mickey Mouse).
Despite Besty finishing fourth individually at WEG, Gem Twist was named "Best Horse" (no pun intended) incurring the least penalties on the final day.
Then, in 1992, things started to turn pear shaped for the glamour combination, and the fairytale ended.
The USET and changed to their totally objective selection criteria, where their Olympic team was chosen purely on a points system, with no Selectors necessary. The second selection trial was in Pennsylvania, in torrential rain. Gem Twist stopped three times, and was of course eliminated, at a double of liverpools.
"He had never done it before, and he has never done it since. I honestly believe in my heart that because of all the water lying around, he couldn't work out where the ground stopped and the water from the jump started."
Despite winning the Grand Prix the next day, under the cumulative faults system, the elimination in one class effectively ruled them out of contention for Barcelona.
Such was the controversy surrounding the circumstances on their non-selection, the criteria was then adjusted for future teams, with a drop score then being allowed. In fact, the new amended conditions, became universally known as "the GemTwist rule."
On top of the disappointment of missing Olympic selection, Greg also had to deal with the death of his mother in 1992, and then in September of that same year, he smashed his shoulder in a fall from Gem Twist.
"It was just time to re-evaluate things – and I decided to walk away," says Greg, who at that stage, moved to Florida.
Having visited Isola in 1987, he returned again in 1994, and then the visits to New Zealand just kept becoming more and more frequent.
"I just found myself spending more time here (New Zealand) than in the States, and that's how the move came about."
Now a fully-fledged Kiwi, Greg says it is the lifestyle, the people and the countryside that he loves so much about his new home.
"It's a simple life, and that's what I love about it."
Having said that, he still finds the winters a little to chilly for his liking, Greg takes the opportunity during the mid year hiatus in New Zealand showjumping to go back to the States and in his words, "earn some serious money."
Catching up with him in June, Greg was in New Jersey, heading off to a show with 23 horses (15 clients and 8 rides for himself). 
I asked him whether he considers his approach to the sport has changed much over the years, and if the sport itself has changed.
"I don't know that things change that much, but I know I have a better knowledge of horsemanship. I think I'm a more compassionate rider now, I try to understand things from the horse's point of view. When I was younger I was cocky, I used to be a more ram and slam type rider, rather than sometimes try and coax them into it."
"Now I understand there are a million different reasons why things can go wrong – just the mis-communication that can occur between horse and rider."
"Probably for the reasons I am more compassionate as a rider, I am now less compassionate as a coach. Now when I see people trying to force a square peg into a round hole, I can see it's wrong."
Ten years on from walking away from the intensity of competing on one of the greatest jumping horses of our time, Greg says he has no regrets.
"I got the best out of Gem Twist. Maybe we could have won a gold medal, instead of silver (at Seoul) – but I could have just as easily finished 42nd instead of 2nd."
"We just had an amazing chemistry; I was so naive, so gutsy, so not tainted – I just trusted him implicitly. I just thought that was how horses jumped."
"I was a really lucky guy in a really lucky situation. I was riding the best horse in the world."
I mention to Besty that it's a pretty big call – "the best in the world", especially considering the other big white horse that was competing at the same time with the Union Jack on his saddle cloth.
"Interesting isn't it? It's amazing how no other horse has captured peoples imagination since, like Milton and Gem Twist did," he says.
"They just had it all. They came into the ring with this movement, this carriage, this arrogance."
We chew the fat a little longer about whether their colour added to their public appeal, giving them an almost mystical "Pegasus" type look, and if Rodrigo's Baloubet for example, would have attracted a similar following to the two greys, if he hadn't been chestnut.
But enough of the chit chat, I revisit Besty's claim that Gem Twist was THE best, and if he was comfortable saying that, mentioning that he had the benefit of having ridden Milton in that WEG Final in Stockholm.
"Oh shit yeah!" he exclaims leaving no doubt as to what he really thinks.
"When John (Whitaker) got off Gem Twist that day, he just looked at me and said, Now I have ridden the best horse in the world."
So, it begs the questions, do you then spend your life trying to find another, and does everything you ride pale into insignificance against the great white steed? As usual, Greg offers an eloquent and thoughtful response:
"You don't try and find another one like that, he was a horse of a thousand lifetimes. Sure, I'll have other good ones, and probably have even more bad ones – but riding Gem Twist was a time in my life that exceeded comparison."