Who's Who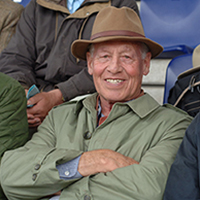 Boldt, Harry
Discipline : Dressage Rider and Coach
Born : 1930
Harry Boldt's father, Heinrich ran a competition stable in Essen and Harry became a successful showjumper, until with the help of Käthe Franke, he turned his attention to dressage.
At the 1964 Tokyo Games, he won team gold and individual silver on Remus. At the 1976 Montreal Games he did the same, this time on Woycek.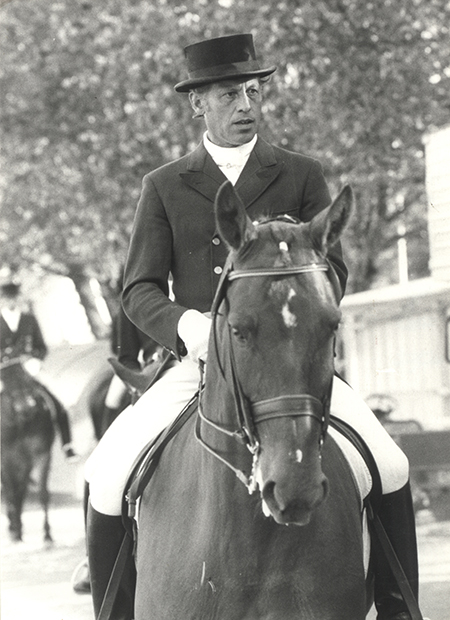 From 1981 to 1996, he was the coach of the German dressage team.
He married Australian dressage rider Margo Lippa in 1990 and since then divided his time between Western Australia and Europe.
Publications: Das Dressur Pferd
Harry Boldt comes to Australia
Back in 1988. Australia was visited by dressage 'royalty' – Harry Boldt, the coach of the German team, fresh from his Gold Medal triumph at the Seoul Olympic Games. Harry conducted a clinic for Mary Donvig (now Hanna) at her Statene Park. Christopher Hector sat attentively in the gallery to write this report, and interview the great man…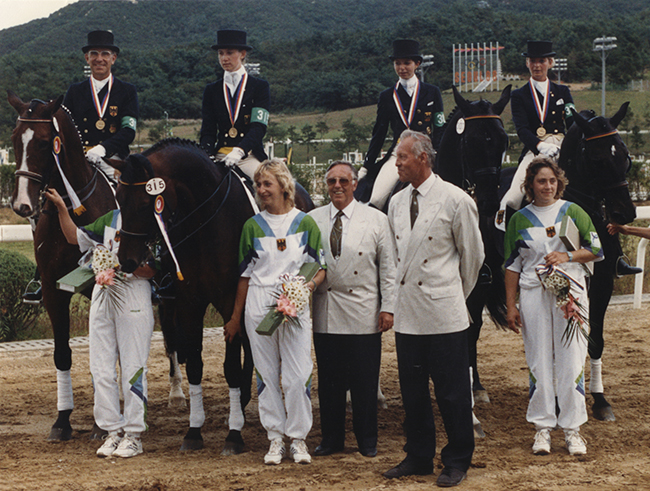 Gold in Seoul for Harry and the team…
The first rider to work was Mary herself, riding the very talented Hamburg Duell Silk, and I suspect it was something of a shock when Harry's first instructions were to bring the horse's head down more, to warm him up more in a rounder frame, and to forget about the fancy stuff (like flying changes) until he was using his back better.
"Bring him down in front, so he works with his back. It is too early to bring his head into a 'normal' position."
His other message, repeated time after time, was "less curb more snaffle." It was a refrain the riders heard, not just in the warm up, but as often as the work demanded at higher levels of collection.
It was lovely to see curb bits at right angles to the ground, instead of parallel to the ground like they were at the beginning.
But before you get the idea that this was a return to the good old days of working years in the long low outline and never attempting the higher movements, Harry's twenty minute warm up period was merely a prelude for a superb working session that included all the movements of the Grand Prix, and the school ended with some breath-taking passage.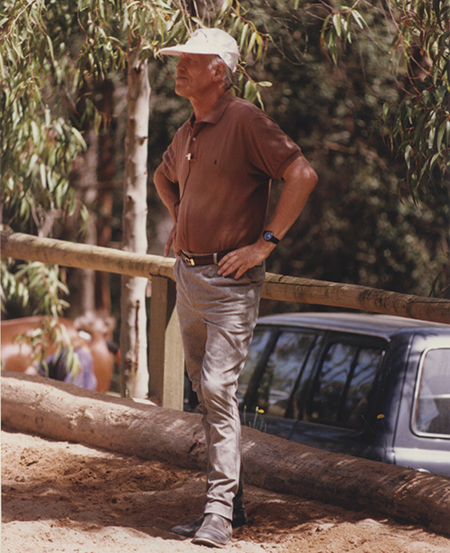 Next to work was 'M' Kelly and Mr Bunbury (alias MCW). Again Harry had 'M' riding more forward, on a longer rein, even into the lateral movements. Harry jumped on board MCW, riding him through a little four track circle in walk, before going straight into canter pirouette. MCW was using all his great athletic ability to leap out of the pirouette (and the canter rhythm), while Harry was using his unshakable seat and rhythm to make sure that the rhythm remained true and even, and before too long MCW was cooperating perfectly.
Out and into trot, and Harry was sitting so quietly yet effectively on the horse, we were watching one of the great riders of the world at work, and while the spur may have been used at judicious intervals, the great man's hands were ever so still and quiet. The time with MCW finished with a super canter pirouette, extravagant extended trot and stunning passage!
With all the riders, the teaching style was very similar. Harry has a deep, warm musical voice, and warm and positive style of teaching. Both on the ground and on a horse, he is the essence of calm. But while the message – first long and low, first truly round, then work work work on improving every tiny aspect of the work (at one stage Mary Donvig rode nine absolutely perfect one times changes then came to halt, only to be reminded 'the off hind, square the off hind')
It was also noticeable just how flexible Harry's approach to each and every horse was. With some he used a travers in the trot, with some he would flex the horse with the rein to get a lowering; always the exercises were moulded for each horse and rider combination – but always the result was the same.
People talk about seeing improvements in the course of a school, but more often than not the changes are harder to detect to the unbiased eye. In this instance the improvement to all was shining clear. Horses like Karen Bartlett's Abdullah McOhl just blossomed and movements that had been performed neatly and correctly were soon correct, exciting and expansive.
As Harry's calm basso profunda cajoled better, yet better work, it was hard not to think of just what a boon the German riders have with access to such a trainer all year round – with help like his on an ongoing basis our riders and horses would before too long be well and truly ready to take their place on the world stage. The riders were aglow with enthusiasm, as Helen Heagney said: "Everything he told me to do, worked!"
Mary Donvig summed it up more succinctly: "That was simply the best lesson I have ever had, from anyone, ever."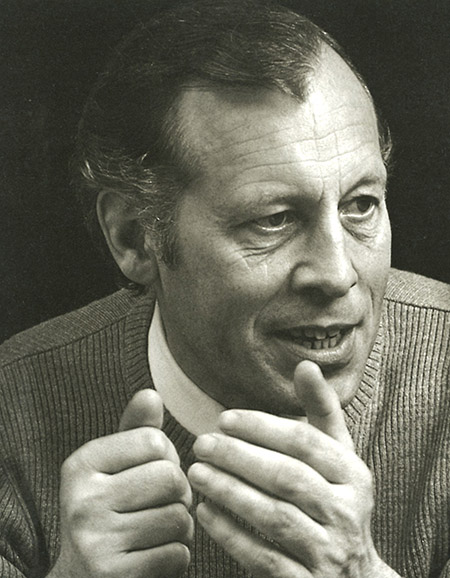 If it was a privilege to ride under such a trainer, it was equally an honor to interview such a man. For Harry Boldt his life has always been horses:
"It's a family thing. My father was a riding teacher. I grew up in riding schools, saw always horses. But I was born before the war, in wartime there were no horses, and it was late for me, I was eighteen years old when I started riding. After a year, I competed, first as a jumping rider. Two years later, I tried a little bit of dressage riding, and found I liked it more. My father was a very good dressage teacher, so that is why I am a dressage rider."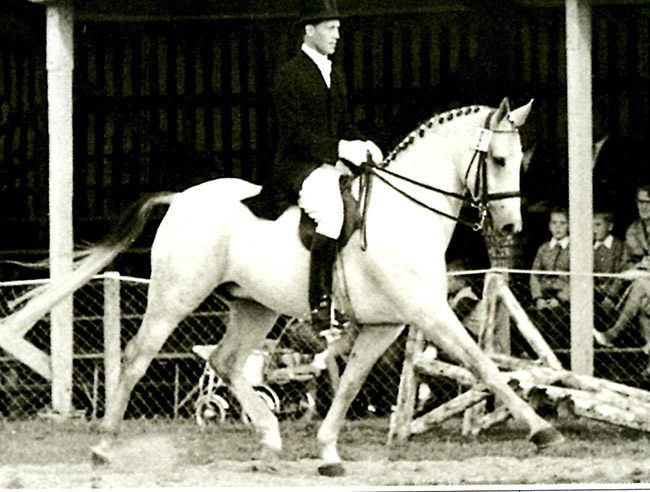 Remus – the first good one (photo – Werner Ernst)
Your first really good dressage horse?
"It was Remus. He was the horse that I took to Tokyo in '64. The year before the Olympics I was a member of the German Team in the European Championships with him. In '66 we went to the first World Championship, in '68 I was the reserve rider with Remus at the Mexico Games. Then the horse was too old to compete and there were a few years with not such good horses."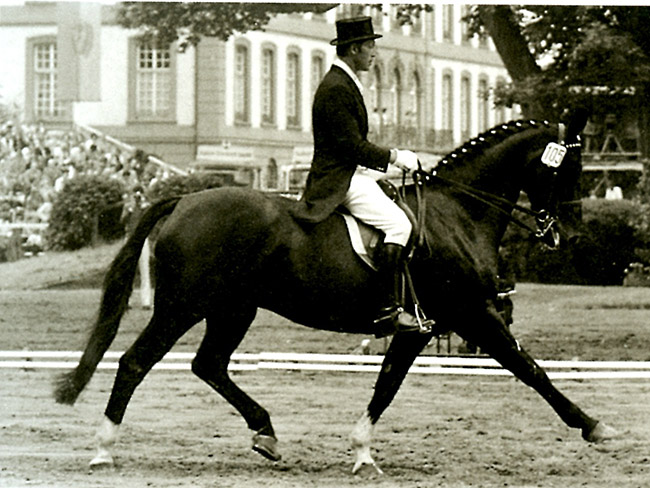 Golo – better than the team horses  (photo – Werner Ernst)
"Then I had the horse Golo – he was a Westphalien gelding. He was a very good horse, with him I was German Champion, winner of our Dressage Derby at Hamburg, his best performance was fourth in the World Championships in '74. He was not in the team, but he was better than the team horses."
"In 1975, I had great luck to get Woycek. He is my best horse. He was nine years old and started his first year in Grand Prix, but the owner needed money and had to sell, and that was my chance. I found a sponsor who bought the horse, and had five very successful seasons with him. The best was at the '76 · Olympics with a Silver medal in the individual and gold medal with the team."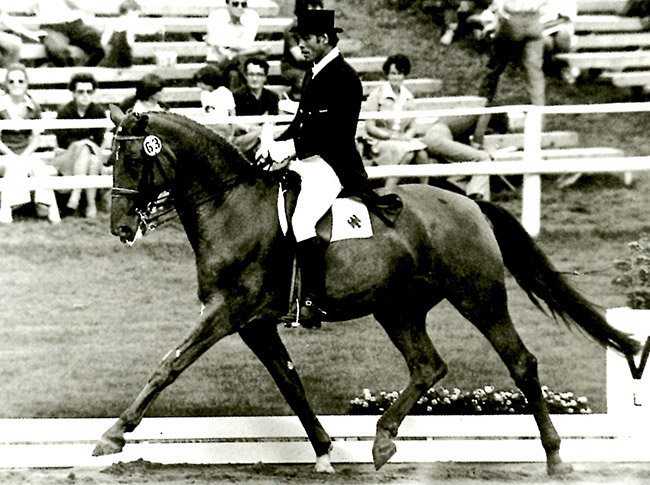 Woyceck – the best  (photo – Werner Ernst)
"The following years I was a member of the team in the World Championships and twice in the European Championships – and the European Championships were his last, he had an accident, and after that his right hind leg was not very good. Some weeks he would be very good, and then he would be a little bit lame, so that was the end of the career of Woycek – and that was the end of my riding career too."
What made Woycek such a good horse?
"First his temperament. He was for a dressage horse of the best temperament. When you asked him to work, he worked and gave his best. He was so relaxed when you walked with him through the fields in the days after a horse show, the next week at a horse show, or training, he works again. He was better in the arena at competition than he was at home. He had a very good walk, very good extended trot, good canter. He could do piaffe, passage, pirouettes. It was not a problem for this horse."
What riders have helped you?
"At first my father, he taught me until class S-Prix St George, Intermediarie 1. then I had a very successful three years with a great German lady, Kathe Franke. She was an excellent trainer, especially for Grand Prix and with young horses. That was for me the best three years for learning dressage riding. It was the time when I got good horses. Later when I was in the team I had the national trainers, Bubi Gunther, Willi Schultheis and Albert Stecken. You learn every time, when you think you are a very good rider, there are always little problems, and these instructors can be very helpful."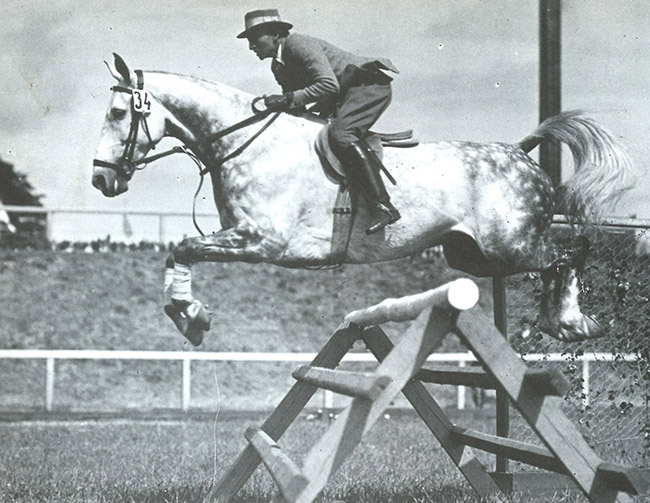 Kathe Franke riding the Hanoverian Arnfried at Verden in 1932
"Kathe Franke had long years of experience as a competition rider at the highest standard. She was a delicate, elegant rider, she was a professional but she was a very elegant rider. Later when she was older she was very successful with coach horses. Nothing was a problem with her. She was a jumping rider in her younger years … she was well known in every sphere."
And now you enjoy the challenge of teaching other riders?
"In 1980 when I finished my show riding career, the German FN asked me if I was interested in being a coach. From 1981 I was the trainer to the German team."
It must have been a wonderful moment at Seoul when your team went so well?
"Yes, it was a wonderful moment, also in Los Angeles when Reiner Klimke won the individual and we won also the team. We now had the same success in Korea. Last year we had a time when we thought all was over with the German team. We won a Gold Medal with the team for fourteen years, and last year at the European Championships we won with only three points more than the Swiss team. We thought oh, we must work and find better horses!"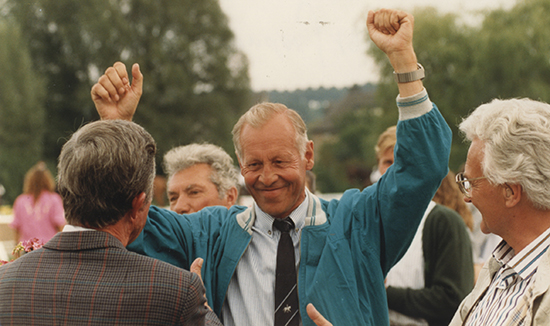 "Since January of 1988 we worked, and every week I visited riders with Grand Prix horses and the result was very good at Korea, to win with over 100 points from the next team. That was the result of our hard work."
As National Coach when did you start working with your squad?
"Every year there is a Championship in Europe – World or European, then the Olympics. We have to find every year a team. We have two selections, two months before the Championships. In the month before the selections I visit all the horse shows with Grand Prix level, I look for good riders and horses, and the good ones are invited to the selection, and the best four become the team."
How does the National coach work with the private trainers of the team members?
"It is not a problem. Most riders have their own trainer, and I have good contact with the trainers. When I visit the riders, the trainers are always there. Their own trainer gives a lesson and I look and watch. If everything is alright then I am happy. We are working to the FEI rules, they tell us what is correct – and we have all individual riders and they must form one team and ride at the same level."
But in the case of Nicole Uphoff you are also her personal trainer?
"Yes, since March '88, I am her personal trainer. She was living in Duisberg and then she had more and more horses and the stable in Duisberg was too small, so she changed to Warendorf, and from this time I was her personal trainer."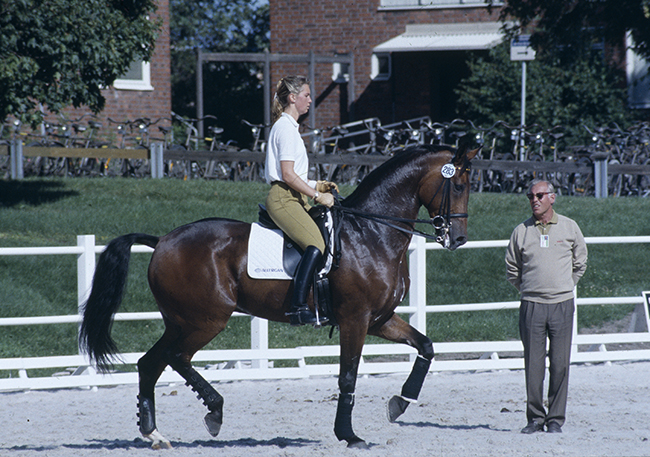 Was it difficult with a rider so young, with so much pressure on her at the Olympics?
"For a normal rider of twenty-one, maybe it is a problem. But she is very strong and cool. The year before the Olympics at the European Championships we saw that Rembrandt could be a difficult horse, but in the days before the competition in Korea, you could see the problems, but every day it is better and better. You see she is very strong and determined, there are no problems with nerves. She knows her horse very well."
There is a lot of talk recently of a new era of elegance in dressage, do you agree?
"Yes it began with the Marzog era. Marzog was very elegant, with very discrete aids from the rider. It was a new way – before that we had horses like Granat and Woycek who were heavy weight like hunters, and very dynamic. Now with Marzog, so elegant and like a Thoroughbred horse. Then in the next year follows Gaugin de Lully who is nearly the same…. Then last year Corlandus with Margit Otto-Crepin from France, this very excellent horse with a very elegant rider. This is the era and now follows Rembrandt."
"I think the next ten years will be this era of elegance."
Did the German FN sit down after Marzog started to win, and deliberately change the style?
"Yes, when you see the results from the judges and they give a horse like Marzog better points than a horse with the same quality, but not so elegant, then we have to seek more elegant horses."
Elegance in the horses or the training?
"It is the type of horse that must be elegant. With an elegant horse, more Thoroughbred, the training is different than you would do with a horse like Ahlerich who is very big and strong. The Thoroughbred type is softer."
"In our team we had three very good horses. Rembrandt, then Courage with Ann-Kathrin Linsenhoff, an elegant Swedish horse. Then we had Ganimedes – he is a medium between Thoroughbred and Warmblood, sometimes it is a little difficult for Monica Theodorescu, but she had a very good performance in Korea and the horse is very healthy, I think he will continue in the team with Rembrandt. Courage is fifteen years old, maybe yes, maybe no."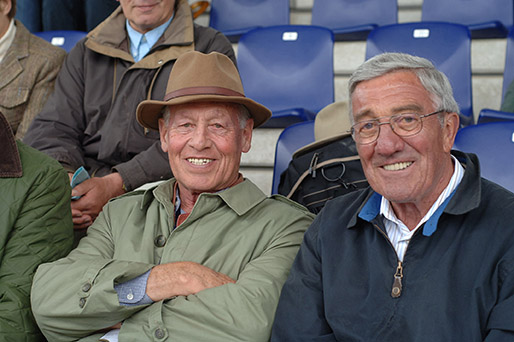 Harry and another great friend to Australian dressage – Bimbo Peilicke
In photos it seems that the reins on Rembrandt are sometimes almost loose. Is this deliberate?
"The horse carries himself very well, and that allows the rider to sit with very light reins. We do not want hanging reins, but a little bit of softness and lightness- that is what the judges like to see."
And yet Rembrandt is worked a great deal very long, and low?
"Rembrandt can be very strong with his back. If you saw Nicole Uphoff working Rembrandt in the days before the competition in Seoul, it was always down with his head to loosen his back, with his head down to the ground – trot, medium and collected canter. Rembrandt can canter so he only canters on the spot, even with his head down."
"That is why when he is in the competition arena, he is always light in the hand and the transitions from extended canter, and trot to collected, are not a problem for her because she works only with him long and low in the days before the competition. It is not a problem to bring this horse higher – it is only a problem to bring him down. He always likes to go a little bit high and that is why she always works him always with his head down and the neck round, so that he works his back better – so that the outline of the horse is more closed. This is not a way for every horse, but for this horse it is the right way."
You don't use running reins on Rembrandt?
"No, Nicole Uphoff is a rider with such experience, she is young, but she has had so much experience, she can ride him down without running reins or draw reins."
You would prefer not to use running reins?
"For riders with not much experience who have problems making their horses down and round, why not use running reins? It is better to use draw reins than the rider who rides for one or two hours and the horse and rider are covered with sweat, and fight all the time, and get frustrated For riders with not much experience they can be a help."
"In my life I have ridden many horses, some difficult horses, and you need a double bridle or running reins. The double bridle is not always the best way – it can cause problems with the tongue, then it is better to ride with running reins. But they are a little bit dangerous, you must feel with running reins when you need them, and when the horse is no longer against the hand, you must immediately give to him – otherwise it's dangerous because the neck of the horse will become shorter and shorter."
Some riders you helped were surprised when you asked them to make their horses longer and lower…
"It is only the right way. Before you start the lesson the horse must be loose in his muscles. He stands 23 hours in the stable and has only had a little bit of walking around, when you mount him and start to work him without warming him up for 20 minutes to half an hour, long and low, then this is not friendly to the horse."
Can he go too long, too low? '
"The horse must be a little bit closed. Not so his head is down and his hindlegs are trailing out behind him. It is important that the neck is round, not only long but round. You must always form the horse's neck. If you ride a horse always in a high position, then the neck will not be nice, it will be stiff like wood. First you must work your horse long and down, canter and trot, transitions. When you feel everything is alright, when you can bend him left and right and he follows your hand, this is the moment when I start to teach collection and higher collection, we can start the lesson."
You have seen some of our riders and horses… do we have a future?
"Yes you have a future, and I am happy to see that in this country, dressage riding is becoming more and more popular. I am visiting your country in my after-Olympic-holidays. I have been up in the Northern Territory, Western Australia and now in Victoria, I visited Mary Donvig who I know from Germany, and there I see many horses and riders, and I think there is a very good future. I see here very talented horses for dressage riding, horses with no problems. I see two or three horses here that I think in half a year, one year, they will be ready for Grand Prix level, and the future is very good."
"I have seen three horses that I think would make a team in the next year. The only problem is that you do not have enough horse shows with Grand Prix competition. The riders need more experience in Grand Prix competition, the best way is to have Grand Prix competition every month. This is a problem I know, you need sponsors, then you have such long distances – the same problem they have in the United States. However many people here are interested in dressage riding, and that is a good thing."
"If you want to compete in Stockholm at the World Equestrian Games, then there is a full horse show season from January on in Europe, and if you came in January or February and competed up to the World Championships that would be a good thing. When you see other riders working with horses, then you learn every time."
You are regarded as one of the master trainers of the pirouette, and you have been helping our riders a lot with that movement…
"It is one of the lessons with the most problems – the pirouette. A rider who has not ridden on a horse that can do very good pirouettes, cannot teach his horse. In all countries you see riders who have brought their horses to the highest level, yet most times you see not very good pirouettes. Mostly you see voltes, or the horse is stiff and goes around in three or four steps. I see it here, riders not riding the pirouette the right way – yes, they are pirouettes, but they are only a four or a five."
One of the riders you helped said she was amazed because she had always been told to take as much weight as possible into the back of the saddle, to get the weight to the rear of the horse…
"Many riders think when they sit very strong and heavy in the saddle and a little bit backward, then they think that is the best way for the pirouette, but they are wrong. You have to sit a little bit relaxed on your legs, not so heavy in the saddle. It is wrong when the hind legs of the horse come too much under his body, sometimes so the hind legs come nearly to the front legs – that will only block the canter."
One of the many brilliant photo sequences taken by Werner Ernst that are a feature of Harry's great book…
"It is better that the rider should bend the horse a little bit to the inside and bring him rounder in his neck and more to the forehand and sit not so heavy- in the pirouette the horse must canter in very little canter steps. That is only possible if you sit very relaxed and the horse is Dürchlassigkeit, half halts, half halts – he must still canter and he can't if the rider sits so heavy in the saddle."
Often you asked the riders for travers canter as preparation?
"Often it is a problem when you start to keep the hindquarter to the inside. A pirouette keeps the hindquarter to the inside. You see the riders who use too much inside rein and the hindquarters fall out, that's the biggest problem. The hindquarters must go a smaller circle than the front legs of the horse – so the hindquarter has to go smaller canter steps and the front legs, wider canter steps. To keep the hindquarter on the place, you teach with a little bit of travers canter. Travers canter to begin the pirouette is only a help to the rider with not much experience. Start with travers canter on the volte to teach the horse to do smaller canter with the hindlegs."
"Most horses are too stiff to do a good pirouette, they must be ridden to make them more elastic. Canter very small voltes can make the horse more elastic, and a better three beat canter, then from this short canter, always transitions to medium canter, extended canter, that is important, not to always work on small circles."
How can we improve in Australia?
"You need in this country more trainers who can give lessons in these higher levels. Two or three who are travelling around to visit your riders."
If only they could be trainers with the skill and the exeperience of Harry Boldt…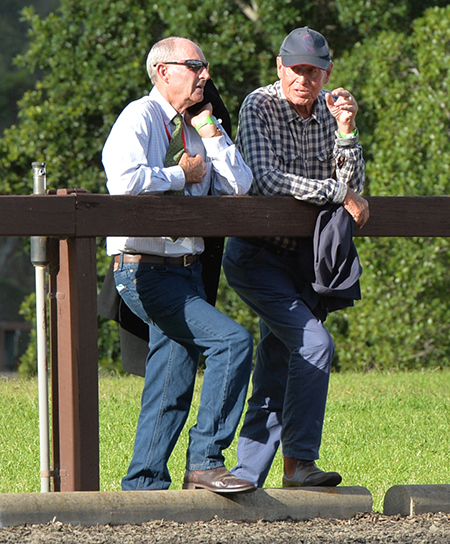 Wayne Roycroft and Harry working with eventers on their dressage
Footnote: In 2006, Harry was appointed coach of our Eventing team and remained in that position until after the 2008 Games….