Who's Who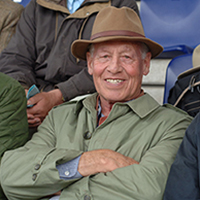 Boldt, Harry
Discipline : Dressage Rider and Coach
Born : 1930
Harry's father, Heinrich ran a competition stable in Essen and he became a successful showjumper, until with the help of Käthe Franke, he turned his attention to dressage.
At the 1964 Tokyo Games, he won team gold and individual silver on Remus. At the 1976 Montreal Games he did the same, this time on Woycek.
From 1981 to 1996, he was the coach of the German dressage team.
He married Australian dressage rider Margo Lippa in 1990 and since then divided his time between Western Australia and Europe.
Publications: Das Dressur Pferd