Who's Who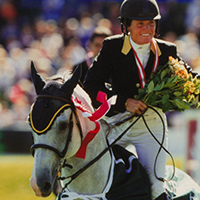 Burr-Lenehan, Leslie (Leslie Burr-Howard)
Discipline : Showjumping
Born : 1956
A member of the United States Equestrian Team (USET) squads that won the team Gold medal at the 1984 Olympic Games in Los Angeles and the team Silver medal at the 1996 Olympic Games in Atlanta, Leslie Burr-Lenehan entered her first show at age six. As a junior rider, she won the 1972 ASPCA Maclay Finals, the United States' top competition for riders up to age 18.
In 1983, riding her eventual Olympic mount, Albany, Leslie was the American Grand Prix Association Rider of the Year, and Albany was Horse of the Year, a feat he repeated in 1984. The pair went on to help the USET capture the team Gold medal in Los Angeles. In 1986, she won the FEI World Cup Final in Gothenburg, Sweden, on McLain and was voted the American Horse Shows Association's Equestrian of the Year.
One of Leslie's career highlights was being named to replace Greg Best as Gem Twist's rider. Best and Gem Twist ended their partnership after he sustained a broken shoulder in a fall while competing. Leslie successfully completed the 1992 season, helping to earn the AGA Horse of the Year honors for Gem Twist for a record third time.
In 1994 Leslie represented the U.S. at the World Equestrian Games in Holland. Also that year, she rode Charisma and Gem Twist to a 1st place tie in the USET Show Jumping Championship at the Bayer/USET Festival of Champions in Gladstone, NJ.
Howard was honored by the USET in January of 1997 with the Whitney Stone Cup for long and meritorious service.
Leslie Burr-Lenehan was one of 12 riders to contribute to the USET's win in the 1997 inaugural Samsung Nations' Cup Series, which culminated at Spruce Meadows in Canada, where she won the world's richest Grand Prix event-the $523,465 Du Maurier Ltd. International Grand Prix.
In April 2001, Leslie tied for sixth place in the FEI Show Jumping World Cup Final in Gothenburg, Sweden, riding Priobert de Kalvarie. At the end of the year, she won the Grand Prix and World Cup class at CSI-W Amsterdam and the Grand Prix at CSI-A Maastricht. In 2002, Howard won the Audi Grand Prix in 's-Hertogenbosch, Holland and tied for fourth place in the FEI Show Jumping World.
In her 60th year, Leslie won at the Toronto Royal, in November 2016, on Donna Speciale (Cavalier / Concorde) and followed that up with two wins at Calgary in June 2017. Currently she is campaigning four horses on the international circuit.