Who's Who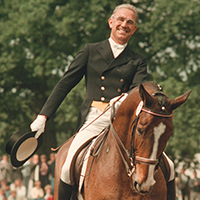 Klimke, Dr Reiner
Discipline : Eventer and Dressage rider
Born : 1936
Died : 1999
Reiner was born in Münster where he lived all his life. After the Second World War he took lessons at the Stecken's Westfalien Riding School, before being invited to train at the German FN headquarters at Warendorf, where his room-mate was Alwin Schockemöhle. Schockemöhle was an eventing rider then, but in 1956, he decided to concentrate on showjumping, and passed the ride on Lausbub to Reiner, who took out the silver medal at the 1957 European 3DE championships on the horse. In 1959, Reiner rode Fortunat to gold at the Europeans.
At this time, Reiner was also competing in dressage, and along with the demands of his professional life as a lawyer, decided that dressage was a better fit for his lifestyle. He partnered three great dressage horses, Dux, Mehmed and Ahlerich, winning Olympic gold on Ahlerich at the Los Angeles Games in 1984. He competed at two World Championships (1974 and 1982) and four European Championships, and was a member of the German teams that won gold medals at six Olympics, six World Championships and thirteen European Championships.
When Dr Klimke visited Australia in 1993 to judge at Gawler Three Day event, he held a seminar – 'The Development of the Young Horse' – it was a recurring theme throughout Reiner's life, the safe and harmonious development of the horse.
He also talked about the way he combined his professional life as a lawyer, and his equestrian life…
"My profession is not riding. Riding is my hobby. Therefore my profession comes first, and when I have free time, I ride. It's what I have done my whole life. Only now I am a politician. They say a man from sport should have influence in political decisions and bring to politics, a knowledge of sport. I am elected for five years and it is up to me whether I go on at the end of that term."
The theme of Dr Klimke's talk was: 'The horse is not our slave, he is our partner.'
He explained that his approached changed from the traditional 'cavalry' dressage thinking when he became an event rider. He was a member of the German team for five years. It was then he realised "you had to have a real partner and a friend underneath you and how dependent you are on your horse."
"When you feel this you have to give more back to your horse."
Reiner stressed that the real art of dressage is to show what nature gave the horse;
"The horse should be happy and going softly with invisible aids. To achieve this the trainer must be very patient and disciplined. The aim is to keep your horse proud so that he accepts you as master. Don't sit on him but influence him. The horse must carry us easily and only then will you achieve self-balance."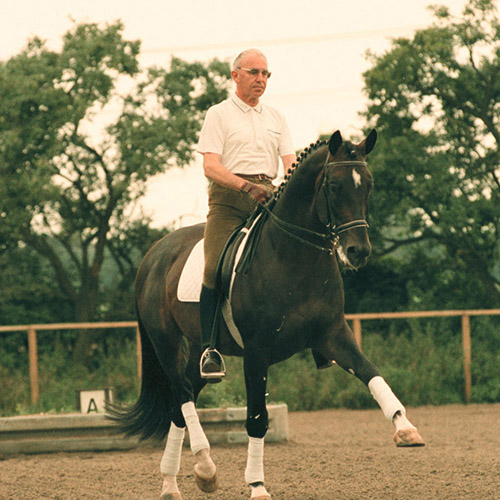 Reiner Klimke and Biotop working on the arena at his club in Münster…
Publications:
Ahlerich: The Making of a Dressage World Champion (1986)
Basic Training of the Young Horse (1989)
Klimke on Dressage (1992)
Cavaletti (1999)