Who's Who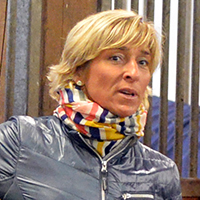 Klimke, Ingrid
Discipline : Eventer and dressage competitor
Born : 1968
Lives : Münster, Germany
Like her father, Reiner, Ingrid has shone in both dressage and eventing. She was a World Cup dressage finalist in 2002 on Nector vh Carlshof, and has recently been competing in Grand Prix competition on Dresden Mann.
As an eventer she has competed in five Olympic Games. Placing fourth at Sydney in 2000, on Sleep Late, fifth on FRH Butt's Abraxxis at Hong Kong, as part of the gold medal winning German team, and again, the pair took home team gold from London.In Rio, she had to settle for team silver.  She has competed at three WEGs, Lexington, Aachen and Caen. At the 2013 European Championships in Malmö, she was second on her new star, FRH Escada, and at the 2015 Euros, she was once again a member of the victorious German team on Horseware Hale Bob.
Ingrid, who is based in Munster, Germany, is married to Andreas and has two daughters, Greta and Phillippa. She is in great demand as a trainer and has written several books on riding.
Publications
Cavaletti – by Reiner Klimke, revised by Ingrid Klimke (2000)
The New Basic Training of the Young Horse (2006)