Who's Who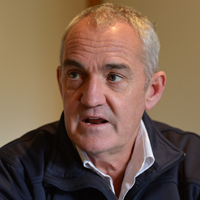 McLean, Andrew
Discipline : Horseman / Educator
Born : 1954
Lives : Clonbinane
Winner of the highest Australian Science award, the Eureka Prize for Science, Andrew McLean developed and manages the Australian Equine Behaviour Centre, specialising in horse training and behaviour modification. 

Andrew McLean holds a PhD in equine cognition and learning, has been an accredited horse riding coach for over 30 years and has written numerous books (including an International Best Seller) and authored 35 peer-reviewed journal articles.
Andrew has lectured at The University of Tasmania for 11 years in Animal Behaviour, Cell biology, Genetics, Anatomy, Ecology and Tasmanian fauna. In 1977 he wrote 5 distance-education books on Cell biology and Genetics.
A past winner of the Advanced section of the famous Gawler Three-Day-Event, he has also represented Australia in Horse Trials, been short-listed for World Championships and competed at State and National events in FEI level dressage and eventing, has show-jumped to Grand Prix level and held a Racehorse owner-trainer's licence and raced bareback in Australia and New Zealand in the 1970 and 80's. 

In great demand as a trainer, coach and speaker, Andrew currently conducts lecture demonstrations at Universities and conferences around the world. He teaches throughout Australia, Europe, South Africa, USA, Canada and New Zealand. Andrew continues to coach riders and National Federations on the optimal use of learning theory for improved welfare of the trained horse as well as improved performance.
Publications:
Horse Training The McLean Way 2002
Academic Horse Training 2008
Equitation Science 2010
The Truth About Horses 2003
Training ToolKit 2012