Who's Who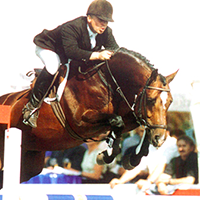 Mohr, Thomas
Discipline : Breeding
Born : 1962
After Maas J Hell's death in 1997, Thomas Mohr took over the direction of the Maas J Hell Stud.
Thomas Mohr got his first pony when he was six years old. His very successful riding career at horse shows started when he was 12 years old. After finishing school he began with his education to become a professional rider.
After having finished his apprenticeship he started work with the Holsteiner Verband, where he met Mass J. Hell, at that time manager at Elmshorn. They immediately got on very well and a very strong friendship based on confidence and respect started.
One year later Maas J Hell resigned as managing director at Elmshorn and Thomas Mohr followed him to his private stable at Klein Offenseth. Maas J. Hell started to build up a small but very exclusive showing and breeding yard.Thomas Mohr produced many sport horses such as Chin Chin (Jaime Azcarraga), Calais Joter and Cassiana (both successful under André Johannpeter), Athletico (Ludger Beerbaum & Ralf Schneider) and the unforgettable Calvaro with Willi Melliger. Thomas also had the honour of riding the great Accord II when he was the reserve champion at the Bundeschampionat.