Who's Who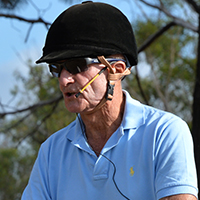 Morris, George H
Discipline : Showjumper and Coach
Born : 1938
Lives : Florida, USA
Despite his coach, the legendary, Gordon Wright, suggesting to his mother that perhaps it would be better if her son tried tennis, George learnt quickly and at the age of fourteen, became the youngest winner of the two top Equitation medals at Madison Square Garden. George Morris rode on eight winning Nations Cup teams between 1958 and 1960. He was a member of the silver medal winning team at the Rome Olympic Games in 1960.
Students trained by George won medals in the 1984, 1992, 1996, and 2004 Olympic Games.
As chef d'equipe of the American team, George was also hugely successful. His team wins include the 2005 champions of the Samsung Super League. He coached United States teams to individual and team Silver metals at the 2006 WEG. In 2008 he coached the team that won the Team Gold Medal at the Olympic Games in Hong Kong as well as the team member who won the Individual Bronze Medal. He stood down as chef in 2013 but continues to be in huge demand as an instructor around the world.
Publications:
Hunt Seat Education (1971)
The American Jumping Style (1993)
George H Morris – Because Every Round Counts (2006)