Who's Who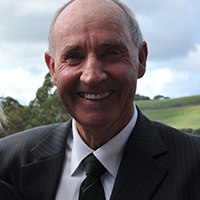 Roycroft, Wayne
Discipline : Showjumper and Coach
Born : 1946
Lives : Banksia Beach, Queensland, Australia
Wayne a three-time Olympian; 1968, 1976 and 1984 (also selected for Moscow in 1980, which was boycotted) winning two team bronze medals, Mexico (placing 8th individually) and Montreal (5th individually). Wayne was the flag bearer for Australia at the 1984 Los Angeles Games opening ceremony, making history after his father Bill had the same honour in 1968.
Wayne won the team bronze medals at the World Championships in Gawler and the alternate1980 Games in Fontainbleau.
Wayne was a reserve rider for the show jump team at the Mexico Olympic Games and represented Australia in Nations' Cups. Wayne won Australian Championships in three disciplines, Eventing, Show jumping and Polocrosse and he also rode in the Cheltenham Gold Cup Steeplechase.
Wayne is one of Australia's most accomplished and successful coaches. Under Wayne's guidance the Australian Eventing Team achieved outstanding Olympic results, Seoul 4th , Barcelona team Gold & individual Gold , Atlanta team Gold, Sydney team Gold & individual Silver, Athens team 5th, Hong Kong team Silver. Wayne also coached Australia to team bronze and individual silver medals at the Aachen World Equestrian Games. The Australian Eventing Team has achieved 11 Olympic medals in total. Wayne has been directly involved with 8 of them.
In addition to his coaching commitments, Roycroft has been a visionary for the sport of Eventing. In 2000 he was elected as Chairman of the FEI Eventing Committee, a position he was to hold for nine years. In 2002 the future of Eventing at the Olympic Games was under threat. Wayne, supported by an FEI delegation, was instrumental in revising the format to the satisfaction of the International Olympic Committee.
A tireless contributor to equestrian sport in Australia, Wayne Roycroft also served many years as the Chair of Equestrian NSW and Equestrian Australia.