Who's Who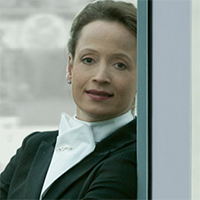 Werth, Isabell
Discipline : Dressage
Born : 1969
Simply the most successful German dressage rider of all time. Isabell has competed in the Olympics four times, in 1992, 1996, 2000 and 2008. In those four games she won eight medals, five of them gold. She has also won seven Dressage World Championship medals, six of them gold. She has competed eleven times at the European Dressage Championships, earning several gold and silver medals. At the 2008 Olympics she won the team championship together with her colleagues Heike Kemmer and Nadine Capellmann. At the 2014 WEG in Normandy, Isabell led Germany to victory on Bella Rose.
When Isabell Werth enters the dressage arena at Rio for her fifth Olympics, she could become the most decorated equestrian in the 104-year history of the Games.
One more medal to add to the eight she already holds, the same number as the late great Reiner Klimke, and that would put her on a par with Anky van Grunsven of the Netherlands. Two medals in Rio de Janeiro will make history for the rider who will be 46 years old by the opening ceremony and the mother of a son. Frederick, born in 2009.
Gigolo, the chestnut gelding  Isabell rode in Barcelona in 1992 for team gold and individual silver, taking both golds in Atlanta in 1996 and gold and silver in Sydney in 2000, holds the record for the most medals won by any horse.
Kenneth Braddick profiled the 'diva of dressage' on his website, http://www.dressage-news.com:
Back when Isabell Werth won the first of the four Olympic gold and two silver medals on Gigolo, the horse on which she was coached by riding master Dr Uwe Schulten-Baumer, she rode with no fear or uncertainty that comes with being just 23 years old.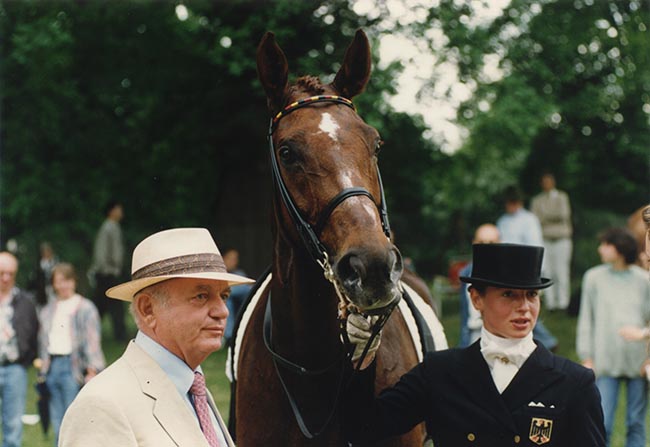 Isabell and her first great mentor, Dr Uwe Schulten-Baumer
and the horse that put her on the map –  Gigolo
"At that time, maybe I didn't realize how great it was to start my career with such a horse like Gigolo," Isabell recalled recently of her competing the Hanoverian gelding that was nine years old at the Barcelona Olympics in 1992. "He became the most successful horse in the world."
Since then Isabell has experienced her share of highs, and lows…
"Getting older and with more experience," Isabell, now 45 years old, told dressage-news.com, "something can happen to disturb your world. Step by step you get disappointments, have a lack of success–nothing really bad."
The two worst things for Isabell were the death after a months long battle with colic in 1999 of Amaretto, a Westfalen gelding she was training and competing as a successor to Gigolo, and a decade later the suspension for six months for the finding of a forbidden substance in a horse.
Isabell counts it as a 'lucky situation' that when she was a kid riding on a farm Dr Schulten-Baumer had lost his rider and asked her to help out.
"At that time, I did not expect to go into the sport. Then, his children stopped riding. Step by step I went into it."
"As a mentor, he was always behind me. He always held my hand in all situations."
He taught her that while it was important to ride it was also important to study. She learned the business in the 16 years of their partnership.
"Of course it was not always easy," she said. "The Doctor was not an easy teacher, not an easy person. Today, I have full respect for his work. He was always serious with the horses and gave me great basics."
Then, after moving on to set up her own business she had another "lucky situation" when Madeleine Winter-Schultze became an owner of her horses and a sponsor, as well as a friend in what Isabell describes as a "very, very close partnership."
The relationship with Madeleine, a long time sponsor also of Ludger Beerbaum,  was "so much more free," and they trusted her to let her do the job of training and competing. If she said she believed in a horse, Madeleine's response was "then we will buy it."
Satchmo, El Santo, Warum Nicht, Der Stern and Don Johnson were among the lineup of horses that kept her going in "some better, some worse moments."
Sadly one horse that looked like being the greatest Isabell had ever ridden Bella Rose, has been injured. After starring in the Grand Prix at the WEG in Normandy, the mare did not appear again, and is now seemingly out of action for good.
Isabell took gold with  Weihegold, a black 11 year old Oldenburg mare, at Rio – and then took gold again at the European Championships. Here they are at Aachen where they were named on the team…