Who's Who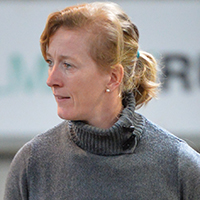 Zu Sayn Wittgenstein, Nathalie
Discipline : Dressage rider and trainer
Lives : Bad Berleburg, Germany
Born 1975
When her mother, Princess Benedikte of Denmark, took her to the European Dressage Championships in Copenhagen in 1985, Princess Nathalie was 'hooked', she knew what she wanted to do. In 1994, Nathalie trained at Flyinge with Kyra Kyrklund where she stayed for four years, after spending time with Klaus Balkenhol, returned to Kyra, and her husband, Richard White.
Nathalie was reserve for the Danish team for Sydney and Athens, before winning team bronze at Beijing, on Digby, the horse that her mother bred.
In 1994 Princess Nathalie began training on the Swedish stud Flyinge with her trainer Kyra Kyrklund, former world champion in dressage. After four years, during which she won the bronze medal at the European Championship with the Danish team, she had to change coaches as Kyrklund moved to England. She teamed up with Klaus Balkenhol, coach of the German dressage team.
In addition to riding she also breeds horses, as does her mother. In autumn 2005, the princess opened her own stud farm, which is based in Bad Berleburg.