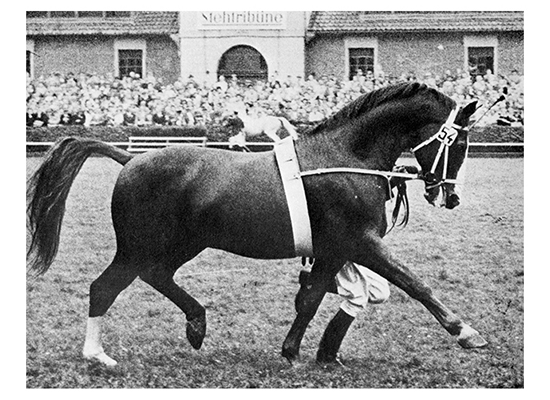 1943 – 1965 173 cm Chestnut
Breeder: Mrs Wedemeyer, Neuland
Duellant was known for his great expression and enormous, powerful trot. However, when he first arrived in his stable at the Landesbrück Stud at the age of three, the somewhat unfinished looking stallion was not received well. The harmony of his proportions and his great conformation that was to become his trademark, were not yet visible in the lanky young horse.
He later grew into a magnificent stallion, with good conformation and muscle tone. But his real strength could be found in his paces, especially the trot that displayed great rhythm and movement. He passed these characteristics on to his progeny who carried his name prominently onto the dressage scene.
He sired 33 licensed stallions and numerous DLG award-winning mares. Duellant produced such great dressage competitors as Dux with Dr Reiner Klimke, and Rosemarie Springer's Doublette and Don Juan with Willi Schultheis. Klimke admired Dux for his great paces, saying that 'even mud and heavy ground didn't affect his extended trot'.
Duellant also passed on good temperament and rideability and almost all of his progeny became dressage horses.
In Hanover, Duellant sired the stallions: Duft I & II and Duft III (who may be the founder of the modern R line of dressage horses credited to Romadour II), Duden I & II, Durban, Dunkel, Derby, Dezember and Davos. He has also been an important broodmare sire. Duellant is the sire of the State Premium mare Duellfest, Grande's dam.
Christina Freiherr von Stenglin, has this to say about the heritage of Duellant in her book, The Hanoverian:
"In the mid 1920s a new stallion appeared on the scene and founded a new sire line. He came from the Devil's Own line, which had been in existence since 1900. He was the chestnut Detektiv (born 1922) by Desmond out of a mare by Khedive. Devils Own xx appears twice in the fourth generation of his pedigree and Norfolk, as usual, features prominently in the earlier generations. He stood at stud at Drochtersen from 1926 to 1943, and through his sons Dolman and Dwinger, and his grandsons Dollart and especially Duellant, he passed on his powerful neck, shoulders and croup and contributed elastic, ground-covering paces to the Hanoverian breed. This contribution has not been matched before or since and this line has been producing outstanding breeding stock and sport horses since 1930."
More recently, the Duellant line has been given new life through the exceptional sire of Grand Prix horses, Breitling – whose sire is out of a Duellant mare.