Story Christopher Hector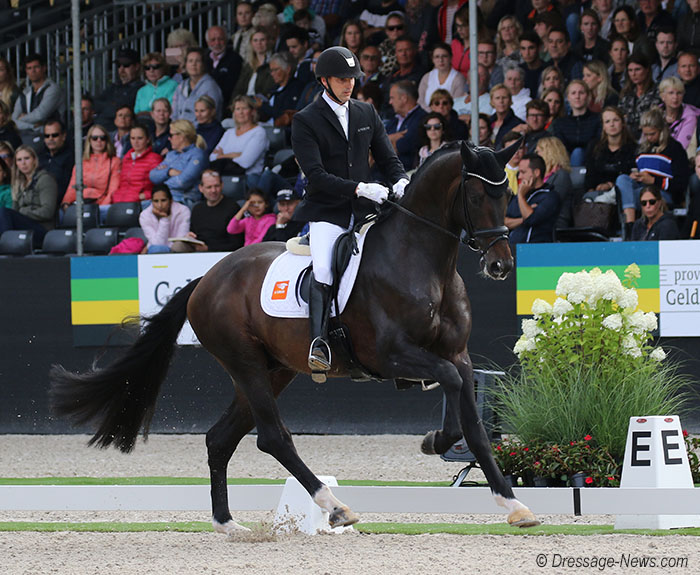 Jovian and Andreas Helgstrand – winners!
Andreas Helgstrand and Jovian (Apache / Tango) win the Five Year Old Championship at Ermelo. Aha, did I hear you say, just what I expected, a PR exercise for Helgstrand dressage… Well actually no, it was victory for an exceptional horse and some brilliant riding – and, yes, I never thought I'd be writing that!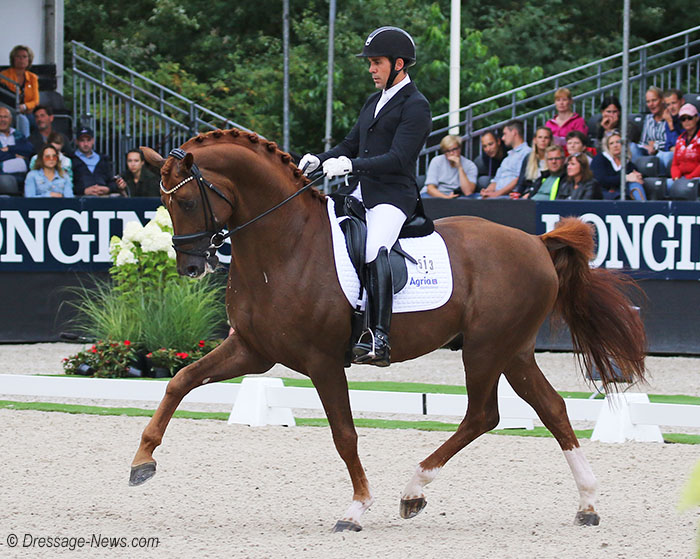 Springbank and Severo – soft?
The first horse to score 9+ was Severo Jurado Lopez's Springbank II VH (Skovens Rafael / De Niro). As in the first round, it was a five year old moving like a ten year old, it was a little less hectic today but still not nice. Australia's Maria Schwennesen was doing the commentary, and there are some judges who perhaps would be better off not making their reasoning known. She loved the horse because it was 'soft'!? And the 'medium trot' was her highlight, pity it wasn't a medium trot. Trot – 9.8, walk – 8.6, canter – 9.5, submission – 9, perspective – 9.5 = 9.18.
Joining Ms Schwennesen on the judging panel were Holland's Arie Hamoen, Britain's Isobel Wessels and Denmark's Susan Baarup.
story continues below the advertisement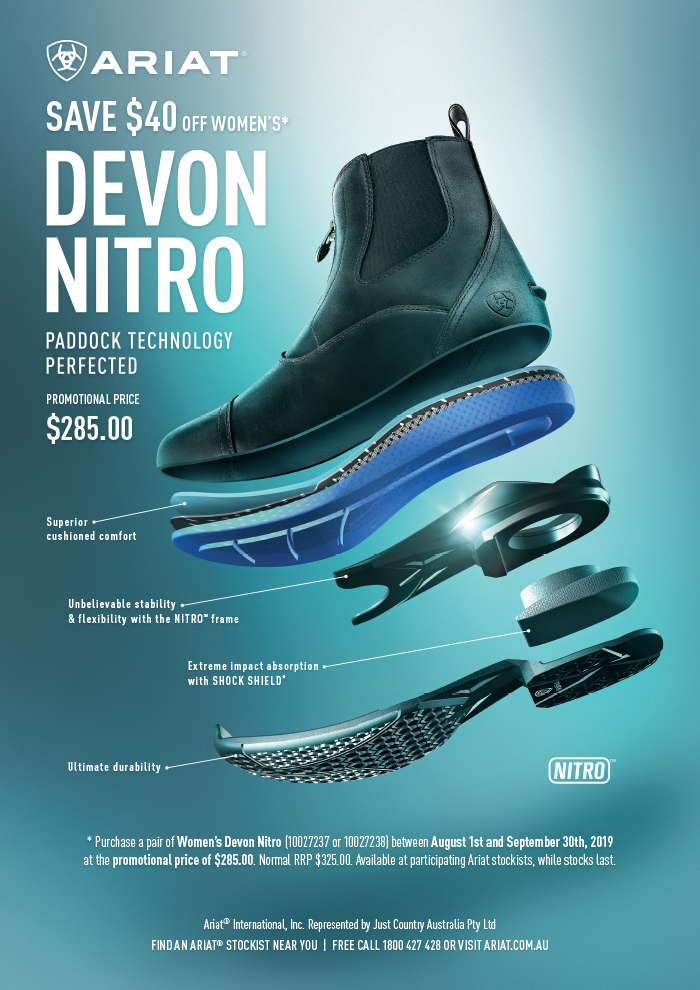 Dorothee Schneider's Dante's Hit OLD (Dante Weltino / Sandro Hit) slipped under the radar in the qualifier where the gelding was very beautiful. He doesn't quite capture the magic today but it is still very fine, and best of all, correctly ridden for a horse of his age. Trot – 8, walk – 9, canter – 8.9, submission – 8.5 and perspective – 8.8 = 8.64. Yes, I do realise that 'perspective' is not the right word (that's got something to do with how lines come together in the distance), but it is hard to come up with an alternative. Future prospect? The old 'general impression' worked well enough.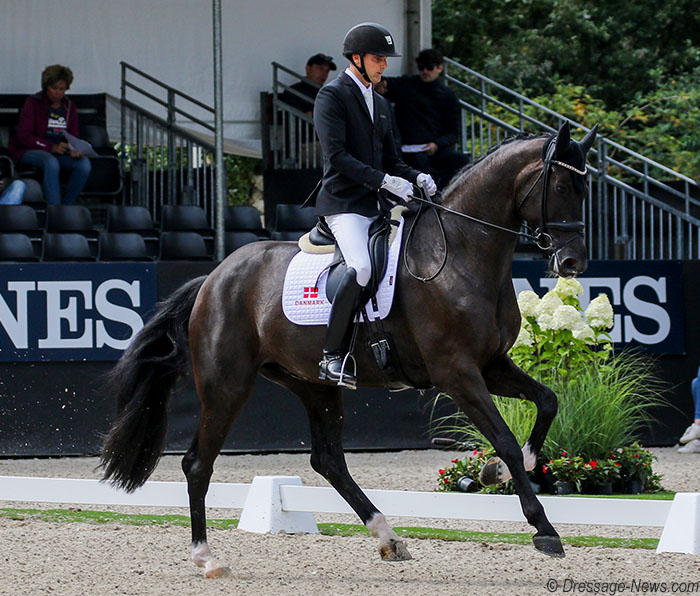 Wendy and Andreas – a canter for 10
Andreas Helgstrand is riding Queenparks Wendy a bit quieter today but the mare still has the tendency to look like two horses, the back end not entirely engaged with the front in trot, although the canter is fine. Once again, it is clearly an extended trot. Ms Schwennesen thought it 'fantastic'. Trot – 9, walk – 9, canter – 10, submission – 9.5, perspective – 9.6 = 9.42.
story continues below the advertisement

It was a bit disturbing to hear Ms Schwennesen suggest to the very correct French rider, Jessica Michel Bouton that she should take 'more risk in the medium trot' with Don Vito de Hus (Don Juan de Hus / De Niro) when she should have been awarding extra marks to Jessica for doing what the test asked her to do, and doing it very well indeed. Trot – 8, walk – 7.8, canter – 8.2, submission – 8, perspective – 8.3 = 8.06.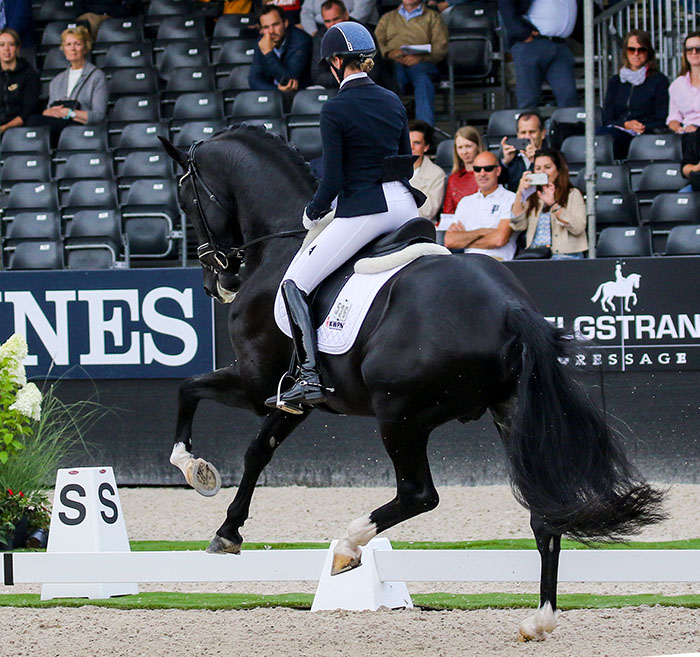 Marieke and Jameson – what a combination
If we are going to reward flash let's have some real flash! And they don't get much flashier than Jameson RS2, the glorious big black stallion (Blue Hors Zack / Negro) is so sweet with his tiny, and I mean tiny, rider Marieke van der Putten. The stallion has more natural cadence than Andreas' mare, and is more naturally uphill. Does it really look like a five year old? No, but seemingly that is not the criteria. Trot – 9.4, walk – 7.5, canter – 9.6, submission – 8.2, perspective – 9.5 = 8.84.
Today Jessica Lynn Thomas' Secret (Sezuan / St Moritz) is a bit more tired, and the tendency to show more in front in the trot is more in evidence. Super big walk, great canter. Trot – 9.4, walk – 9, canter – 10, submission – 9.8, perspective – 10 = 9.64 and into second.
Andreas is a clever rider, he has Jovian (Apache / Tango) primed for the big show in the final, and it comes off! It's a really dancing trot, unhesitatingly he takes the rein in the walk, sublime canter, so light to the ground, super simple, great extended canter, what a horse, what a test! Trot – 10, walk – 8.3, canter – 10, submission – 10, perspective – 10 = 9.66 and Jovian is the six year old champion!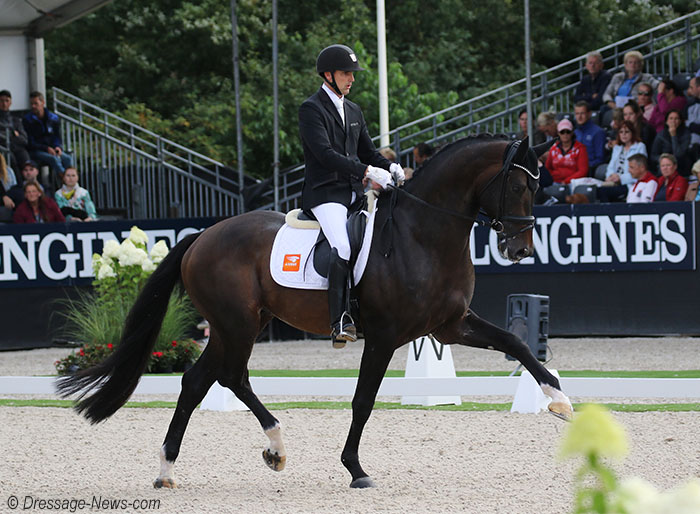 The champions