Story – Christopher Hector                          Photos – Roslyn Neave and archives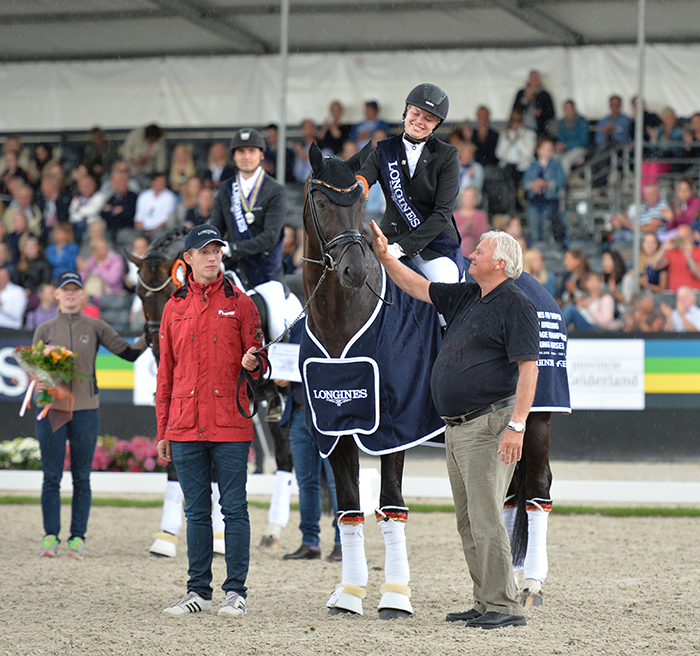 Champions of the world – Don Martillo ridden by  Ann-Christin Wienkamp,
with the proud breeder, Axel Windeler
It was one of those lucky accidents that I found myself sitting next to Hanoverian breeder, Axel Windeler at the World Young Dressage Horse championships in Ermelo, earlier this year. Axel is the breeder of the star of the show, Don Martillo, the five-year-old champion, and really the breeder. The handsome black stallion was the result of a breeding program that goes back to 1987, and one of those mares who can found a dynasty – Wennings.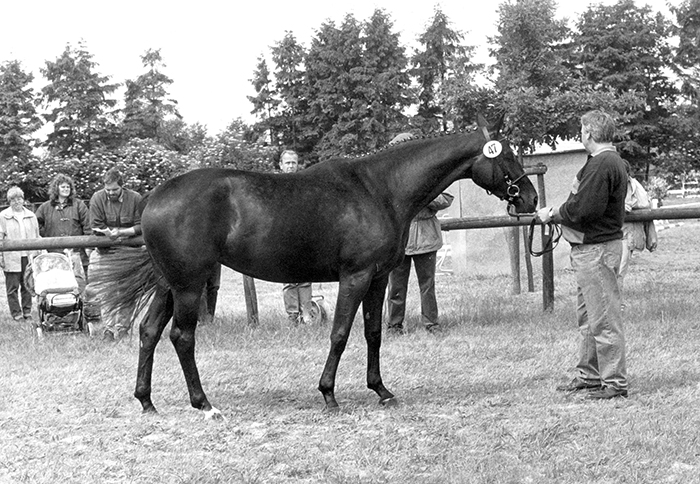 Wennings – one of those mares that found a dynasty

The truth is, Axel's first venture into horse breeding was not a raging success…
"I started breeding in 1977. I bought a riding horse, but she was not good, so I tried to breed…"
Always a great idea…
"Not a great idea… I tried with the mare, but it was not very good. I tried then with another mare, and I tried over ten years and I was not so successful. I thought it over, and in 1987, I bought the great great grandmother of Don Martillo, Wennings, she was Wenzel / Shogun xx. She was from Alfred Stahmann, from Doerverden. He had bred many show horses and auction horses, and they also had high prices. I liked his horses, they had very good movement, and they were beautiful, big and a dark colour, dark brown or black."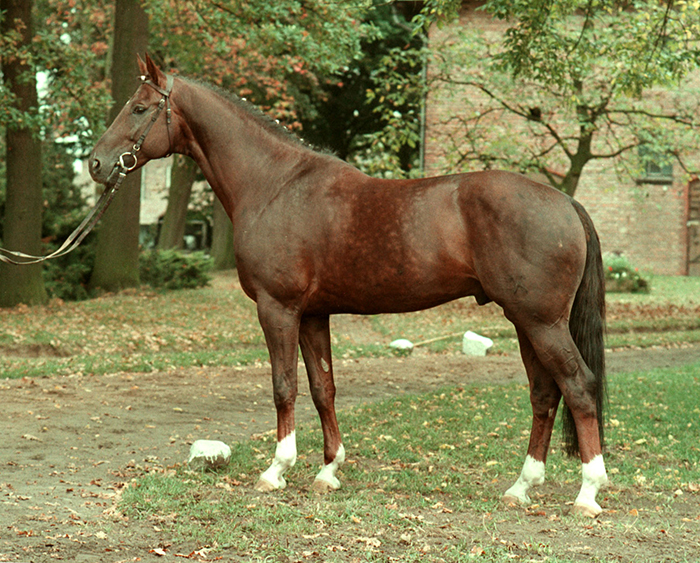 Wenzel, one of the first dressage stallions
"So I bought this mare, and in the beginning it was not so good. She had two Rubinsteins, normal trot, I was not satisfied – and then I started breeding with Matcho. The Matcho foal was very good, she was my first mare to go best of the show, three times. Matchos did not have the biggest movement, so I decided for Warkant, because Warkant gave very good movement. Then I brought the mare, Wendy For Ever, to my own stallion, Benetton Dream, and her foal, Black Pearl, to Don Juan de Hus."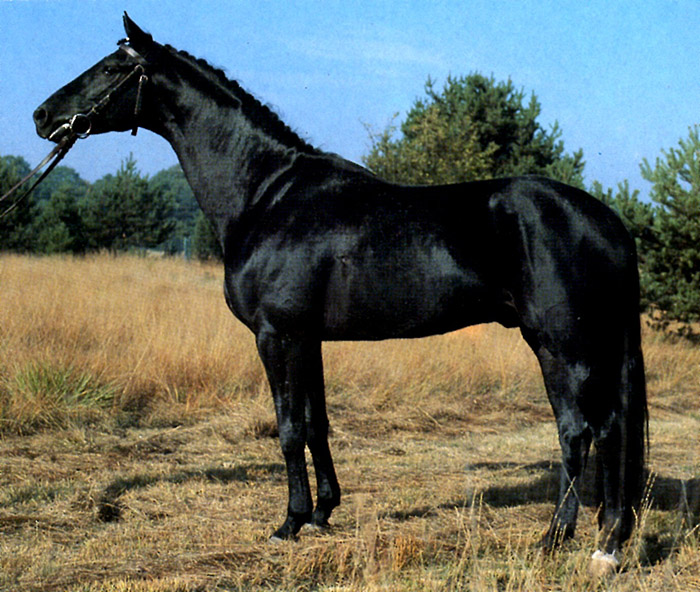 The French Anglo Arab – Matcho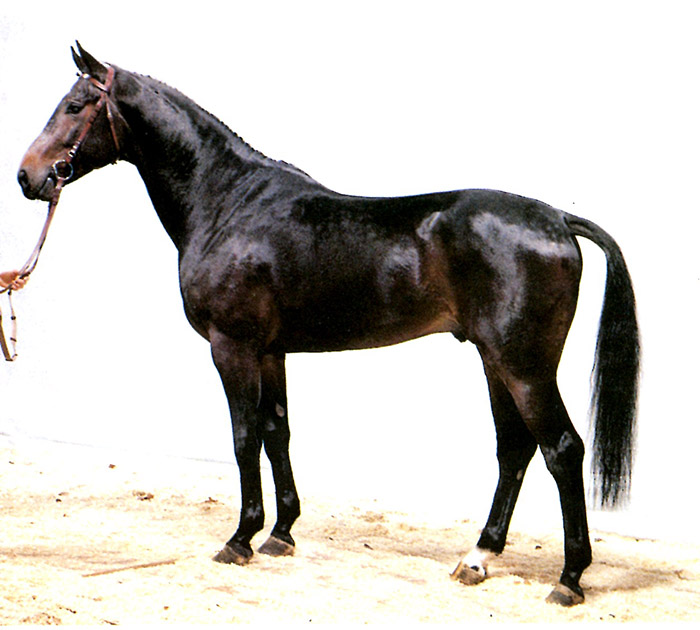 Pure power – Warkant
"In this period, 87 to 93, I bought another five mares, top mares. For example, Windrose, the vice European champion mare in Brussels. With her I had a good start, she brought my first licensed stallion, Winterprinz (by Warkant), who I sold to America for a very good price. With Windrose who was Weltmeyer / Sender, we made a new line. Windrose with Davignon, produced Dornroschen, who bred with Rotspon produced Rotkappchen, who bred to Brentano produced Benetton Dream."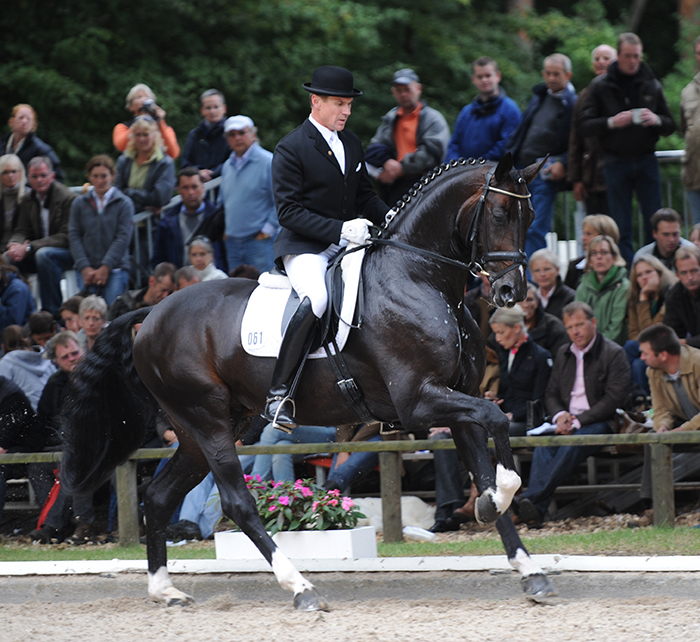 Benetton Dream at the Bundeschampionate with Holga Finken
And another piece of the jigsaw falls into place, since Benetton Dream is the dam sire of Don Martillo…
"I have another line – I bought Caprice – Calypso/Graphit/Gotthard – and bred to Landadel, she brought a wonderful mare, my favorite mare, Lady Larissa. From this line, we have many mares, I now have twenty mares. Caprice was the mother of four licensed stallions."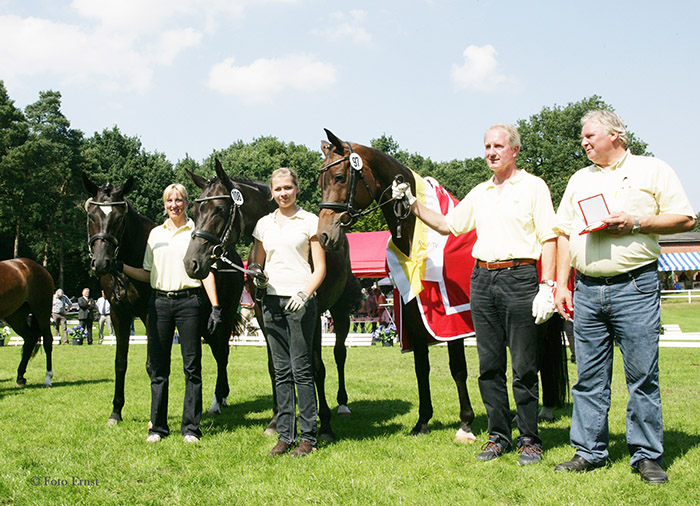 The winning mare family at the prestigious Louis Wiegels Show in 2008 – SPS Lady Larissa, her daughter, SPS First Lady, by Florestan, and her grand-daughter, SPS Royal Lady by Royal Highness – and the man on the right is the one that made it all happen.
Axel finds it difficult to add Thoroughbred blood to his mix, but likes to see it on the pedigrees.
"I tried but it was not so successful. I tried for two or three breedings and then I saw that it was not working for me. I am always looking for a Thoroughbred mare but it is not easy to find the right one. After the War, we had in Germany many good Thoroughbred stallions, like Der Löwe. He was a stallion where I lived when I was young and I rode offspring of Der Löwe. You find his blood in many good mares and stallions."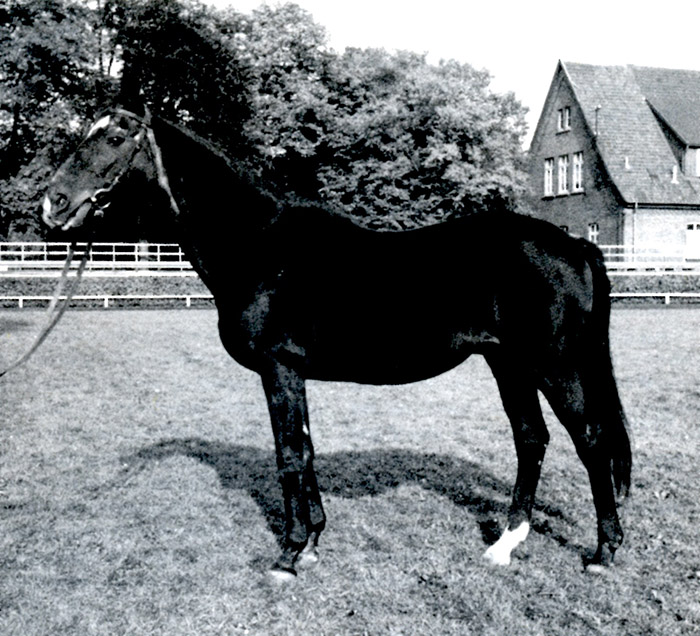 Der Löwe – one of the great Thoroughbreds to come to Hanover
"I have the line of Lady Larissa that crosses to Der Löwe. I bred Lady Larissa several times to Florestan, who carries the blood of Der Löwe on his sire's line – and the daughters of that cross were bred to stallions that also had Der Löwe blood, like Dimaggio, who has himself three crosses of Der Löwe."
"Of the six mares I bought, I sold three, and continued to breed with my own three lines."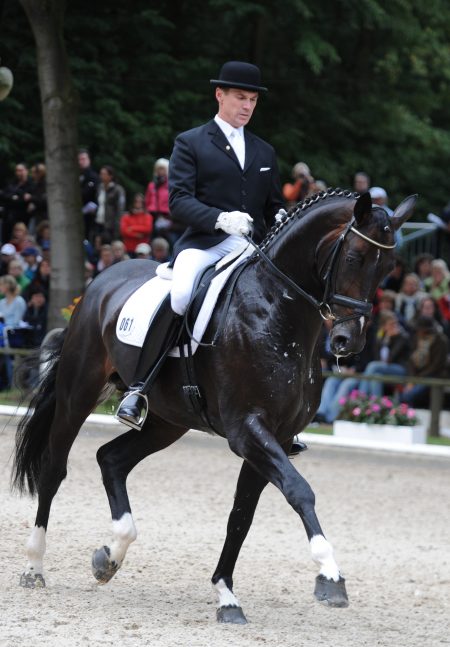 Benetton Dream was champion at the Bundeschampionate in 2007
and is now competing Grand Prix…
next Axel talks more about the Hanoverian 'B' line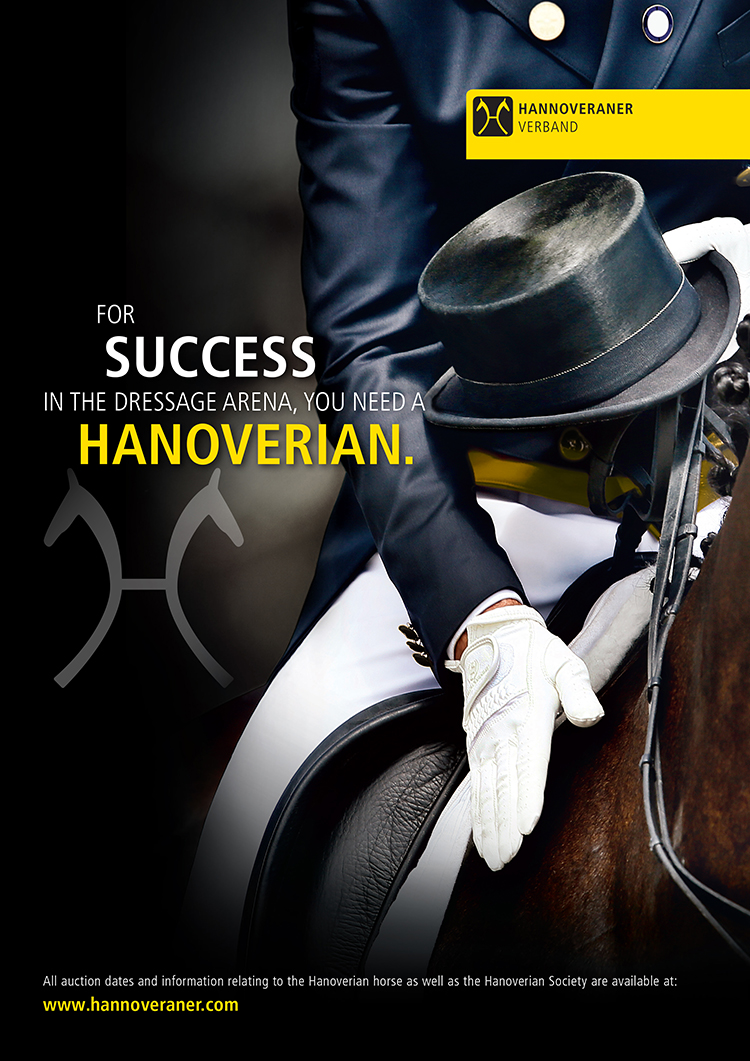 Why did you go to Brentano II?
"I liked Bolero, but I came too late for him, he died before I decided for him. I decided for Brentano because there was a magazine with the top ten breeding stallions. There was Donnerhall, Rubinstein, Weltmeyer and Brentano, so when I took my mare to Brentano, I had combined all five of the top – and the result was Benetton Dream. Many people smiled at me, but I wanted to have this combination of the Grand Prix blood. And it was a very special offer from the State Stud at Celle, €450, so it was easy to try."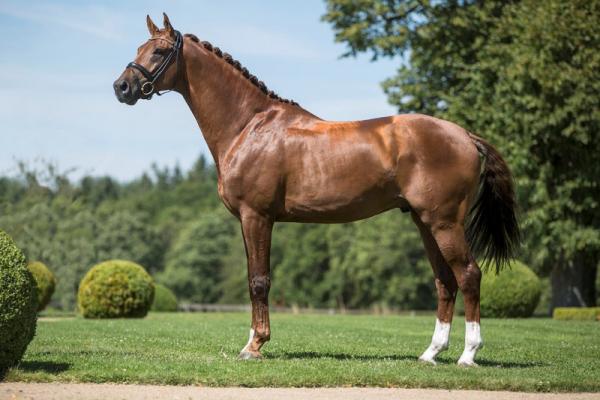 Don Juan de Hus, who died in the same month that Don Martillo won his championship
"It was the same with Don Juan de Hus, he was €700 and payment when the foal is there, that was also a good offer. I had sold to Haras de Hus, a five-year-old horse that they took to Grand Prix, and after that we were in contact, and swapped frozen semen from my stallion Royal Classic, for semen from Don Juan, so I have several by Don Juan at my home."
"I saw Don Juan at the licensing at Münster / Hahndorf, and he was great. Trot unbelievable, canter unbelievable, walk normal. He was a good type – he was Jazz / Krack. It was a little bit luck, this stallion was from Haras de Hus, and I was already in contact with them, so you need a little luck, but he is a great horse."
You didn't worry about the Jazz temperament?
"No. I thought at this time, we had a mare with a very good walk and super trot, and I needed to improve a little bit that canter, and he is unbelievable in canter. Don Juan and Benetton were at the same stallion station, and sometimes they were riding both at the same time and I saw this combination, and thought, this is a good idea. And now we are here…"
"As a foal Don Martillo looked very good. Then he grew up and I saw his good movement. When he was three years old, I had to give him a name, and I had read about a Thoroughbred called Martillo – that means 'hammer' – and I had this in my mind and said, when I have a good horse, I will call him The Hammer. Martillo in Spanish."
"We started when he was four years old and he was a winner, but we had to give up because my rider was not good enough for him. Then I decided on Ann-Christin Wienkamp and she rode him one week before the Hanoverian Championships, and four weeks before the Bundeschampionate, and he was the winner. That was very successful."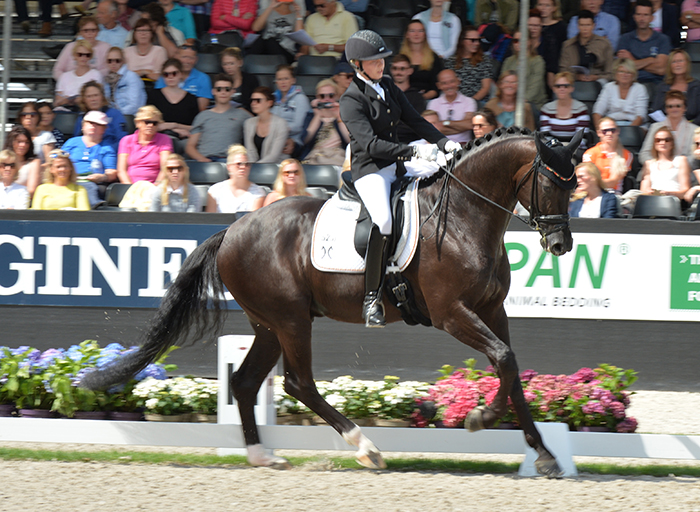 Don Martillo on the way to becoming World Champion
"In the mean time, I sold half of Don Martillo to a man who has bought a stud and he has some other stallions – and he wants to have more stallions and a covering station."
So will Don Martillo's future be as a breeding stallion or a competition stallion?
"The plan is that we will have a very good education for him and then we have to see what happens. It has a little bit to do with how many mares he will get. This year he has had many mares, next year, it could be more, and we have to see how it develops."
Another of Axel's stallion stars, Royal Classic comes from the line established by Caprice, bred to Landadel she produced Lady Larissa, who bred to Florestan, produced First Lady, the dam of Royal Classic.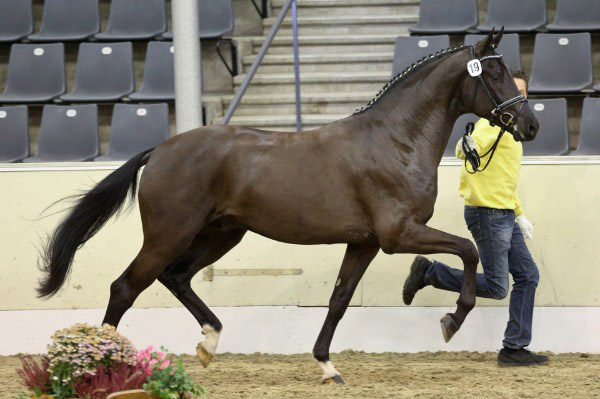 Royal Classic II
"Royal Classic is by my stallion, Royal Highness." This is a rare instance of a horse that Axel bought rather than bred, when he purchased the mare, Dorain DV (Dream of Glory / Weltmeyer) she was in foal to Regazzoni, and Royal Highness was the result.
"In 2005, Royal Highness went to the World Championships when Damon Hill was the winner, and Totilas was fourth, and we were sixth, close to the top horses. Isabell Werth was very interested in Royal Highness, but he injured a leg and his competition chances were finished. Royal Highness is a good stallion, and he brought Royal Classic one and two. Royal Classic I has many offspring and he is a good stallion."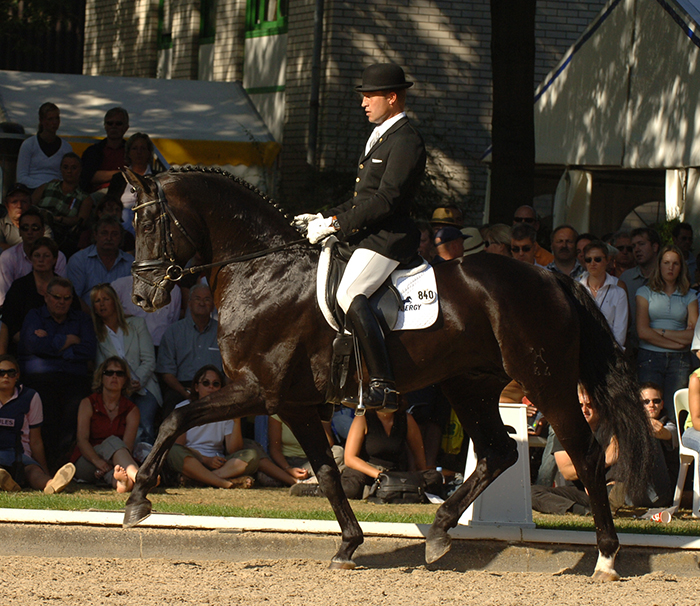 Royal Highness 
Have you changed the sort of horses you are trying to breed over the years?
"No, I but what has changed with the mares is the quality, now all are more or less top quality, very good movement. I do not take my mares to the stallions that everyone goes to – I never have Fürstenball, I have no His Highness. I look for the special stallion, not the stallion that covered five or six hundred mares. I am looking for a stallion that has Grand Prix blood, either they were Grand Prix competitors, or they have offspring that compete Grand Prix. This is very important for me, the best horses are the Grand Prix horses."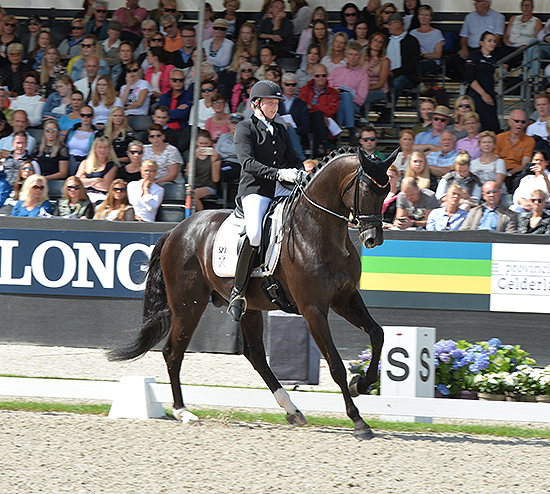 Don Martillo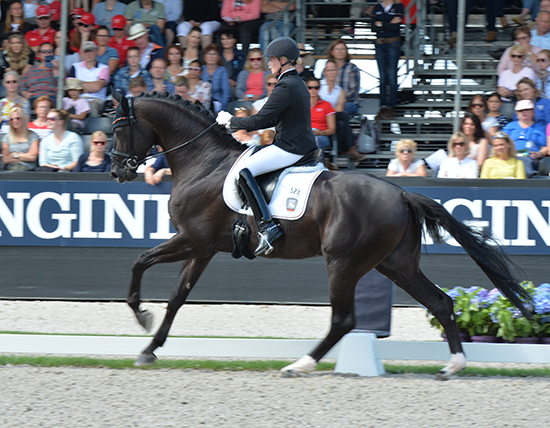 "I am also interested in Thoroughbreds, and when you want to breed a Derby winner, it's good to have some Derby winners in the pedigree, it's not a good idea to breed to 1000 metres quick horses. For dressage you have to breed to stallions with big movement quality."
"When I was young, sixteen years old, in my holidays I worked in a Thoroughbred stud, Gestüt Fährhof, and there I saw the difference between farmers breeding a few Warmbloods and the way they ran a Thoroughbred Stud, the way they organized everything. Then I became a businessman, but I remembered what I had seen at Fährhof."
"Mr Jacobs, he had Jacobs Coffee, he started Gestüt Fährhof, and my uncle was laughing – a coffee man cannot breed horses, but Mr Jacobs was very good, he came from business, he was organized, he had money to buy the good mares and he was breeding top German Thoroughbreds, better than all the established Thoroughbred studs. He brought the German Thoroughbred to an international style that we hadn't had before. He was clever, and his idea was good mares. He put his own stallion to the good mares, and that's the way he produced Tristan, his first home bred winner, then Surumu, the first from Fährhof to win the German Derby, and Lomitas – Lomitas is the father of the quickest horse to win the Arc de la Triumph – Danedream. I work together with Fährhof, I visit them very often. I found that I was a little bit similar to Mr Jacobs, I had three good mares – he also. The big difference is that he had a lot of money and I had no money!"
Some people are saying that for Grand Prix dressage horses, it is good to have some jumping blood…
"In a special way. I have Lady Larissa, and this is jumping blood, and when I took this mare to Weltmeyer, Florestan, and we had not top, but good results, and everyone was laughing at me, but this was not the normal jumping blood. There was Ladykiller xx, Cor de la Bryère, Calypso I, and he was a good stallion for dressage horses – Corlandus had Cor de la Bryère – so it was not completely new. But you have to look to blood when you do something like this, and take not the stallion that has only jumping blood or you will lose the good movement."
Everyone says that the market is terrible, everything is downhill the last couple of years…
"No, the market was terrible beginning in 2008, with the global financial crisis, and there were too many horses bred. It was not easy to sell horses. The competition was strong – when I said I want 20,000 euros there were some who would offer horses for 12,000 or 15,000, so it was not easy to sell. But the top horses we could always sell to a very good price, and we have, very often, top horses. Now the breed is reduced by 40%, and the business is much better. Now we have changed a little bit, the people have to decide and buy the horse. Four years ago they were running from breeder to breeder and looking at 20, 30 horses and the results for the breeders were not good. But now, I think we will have good business."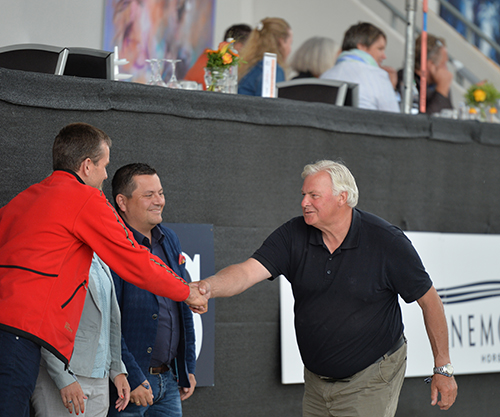 Axel is congratulated by Andreas Helgstrand and François Kasselmann
Does it still excite you breeding horses?
"For me yes, I am now 65, it was always my dream, but my father had no horses. I rode the horses for my uncle and my dream was to have one horse of my own. When I started with the breeding, it was not so planned. Between the age of 23 and 40, I was a businessman, I was in management, then the company changed, and I changed my life. I built up a new farm and gradually we developed, starting with 12 horses, now we have 70 horses."
"I remember my dream, to have horses, to ride horses, I was not such a good rider, but with breeding I am not so bad I think. We sold some very expensive horses, we were a little bit lucky at the beginning. We are not rich, we never will be rich because it costs also a lot of money, but we get better all the time, and as long as I can do it, I will."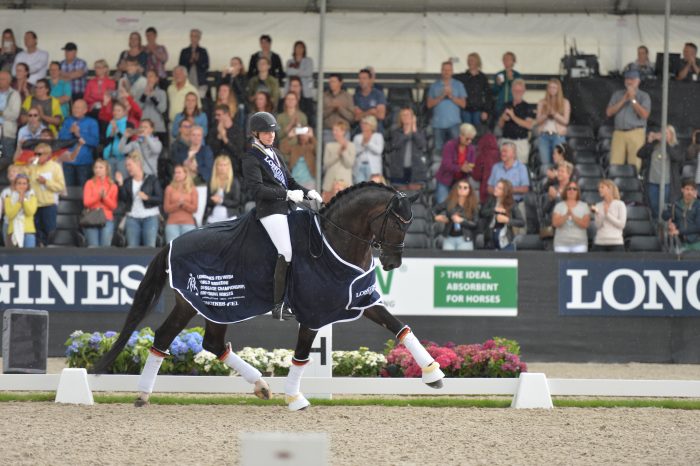 ---
Want to breed to a Hanoverian Stallion in Australia? International Horse Breeders has an extensive range available. Go to www.ihb.com.au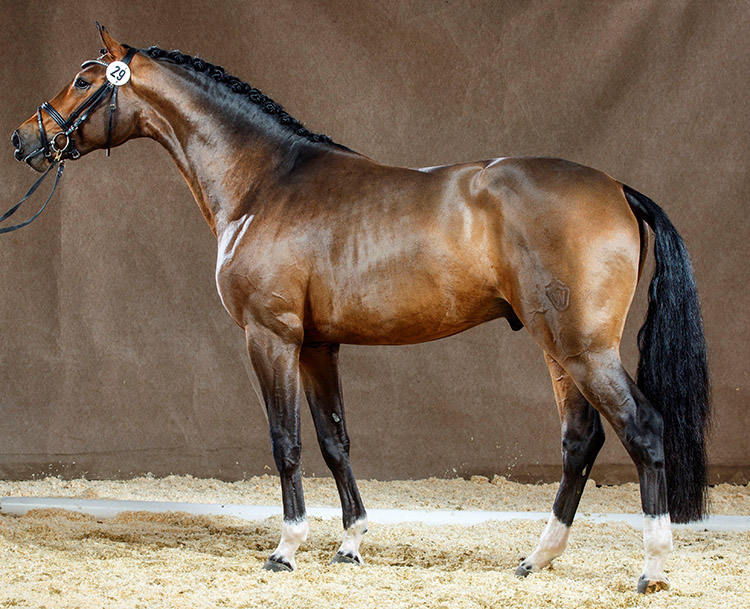 Rock Springs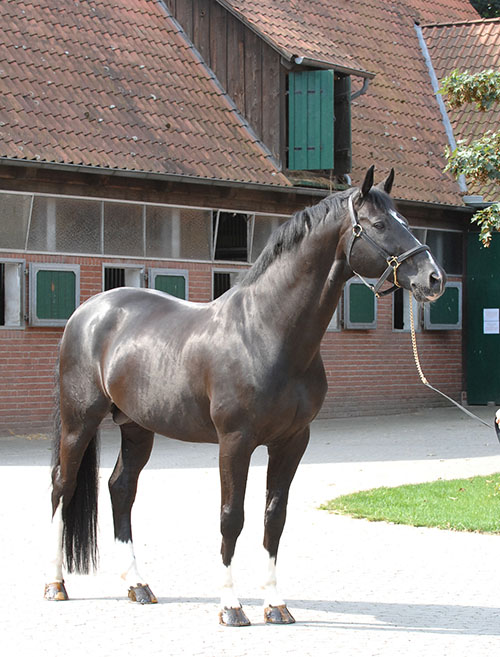 De Niro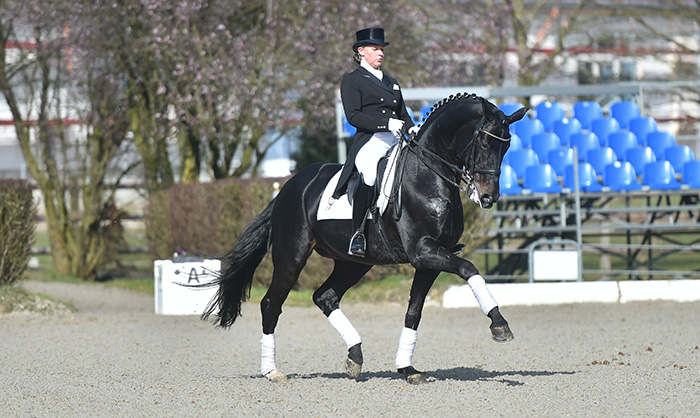 Delatio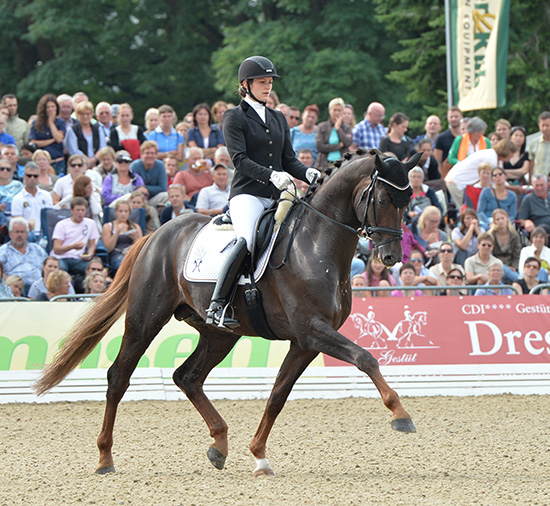 Quantensprung