Analysis – Christopher Hector    Photos – Roslyn Neave and archives
THE DRESSAGE SIRES
In the early days of the WBFSH there was some discussion as to whether the Thoroughbred Studbook should be included in the recognized Sport Horse books, and the Thoroughbreds were rejected on the grounds that the breeders were not aiming to produce a Sport Horse. Notwithstanding the (growing) number of Thoroughbred foals produced with an eventing career firmly in mind, it was always a pretty dumb argument, because what do you do with the dressage stars that were bred to jump? And history shows us plenty of them. So does the present.
Consider the latest 2017 WBFSH dressage rankings. The winning studbook is the Dutch KWPN, but if intent is a crucial part of the equation, then perhaps not… Number one in the KWPN team is Sönke Rothenberger's Cosmo, and while Sven Rothenberger is fond of pointing out that his sire, Van Gogh had a record high dressage performance test score, the son of Numero Uno is not where many would go looking for dressage ability. It's not just the line of the great Libero H on top that screams jump, Van Gogh's dam is similarly jumping intensive – she is by Bernstein, a son of Ramiro, out of an Almé / Gotthard mare, and out of Govera who was by another great jumping sire, Burggraaf, with some old fashioned Holsteiner bulk to round the recipe – Amor.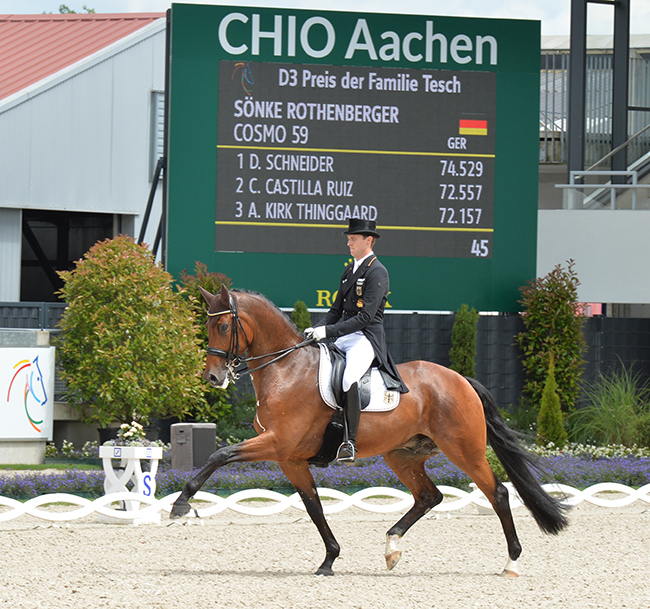 Cosmo – jumping bred dressage star…
Cosmo's dam, Lady is by Frühling, a son of Landadel – and yes, I know the gorgeous Leonardo da Vinci took Sönke's equally glamorous mum, Gonnelien to a World Cup Dressage Final, but Landadel also had a jumper in the jumping final that same year, and it has been as a showjumping sire that Landadel has made his mark. It's only on the very bottom line of Cosmo's pedigree that we find something like a dressage influence – his grand dam, Fanny is by Aktion, who competed Grand Prix dressage out of Adensie by Farn. Adensie was bred exclusively to jumping sires, while Fanny was overwhelmingly bred to dressage stallions, although none of the progeny set the dressage world on fire. Lady is credited with three foals, Dimare (a brood mare), Cosmo, and Van the Man (Broere Obelisk), a Grand Prix dressage horse with Rodrigo Encinas Fuentes and Cesar Parra.
Just behind Cosmo on the points score is Laura Graves' wonderful Verdades. Although there does seem to have been the intention to breed a dressage horse, I don't think it is a bloodline mix that the KWPN authorities would recommend.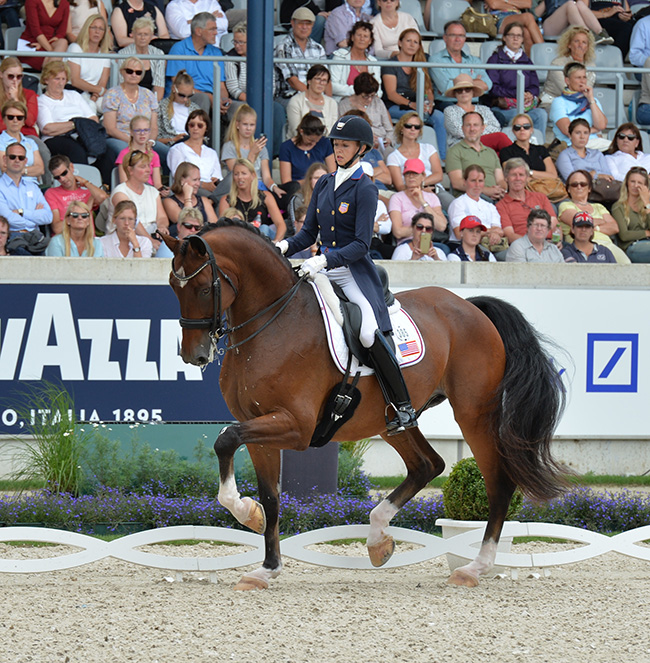 Verdades and Laura Graves at the 2017 Aachen CHIO 
Verdades' sire is perfectly conventional – Florett As was a Grand Prix competitor with Patrik Kittel – but the dam line is very unconventional, it is harness, harness, harness with two crosses of the influential Hackney, Cambridge Cole, and three of Oregon, who played a decisive rôle in the development of the modern Dutch harness horse.
Three crosses of harness great – Oregon
Dear Nip Tuck may not look like anyone's ideal dressage model, and that is perhaps because he is 50:50, dressage on top, jump on the bottom. His dad is Don Ruto, by the Donnerhall son, Don Gregory, out of a mare by Rubinstein, but his mum, Irena, is by the Almé son, Animo, out of Wendi, by L'Espoir who is by the Thoroughbred, Le Mioche, out of a mare that is pure jump: Ibrahim / Hedjaz.
Rounding out the KWPN are three conventionally bred dressage horses, Glock's Voice (De Niro / Rohdiamant), Zaire-E (by Son de Niro – and yes, he is – out of a Jazz mare) and Cenin (Vivaldi / Donnerhall).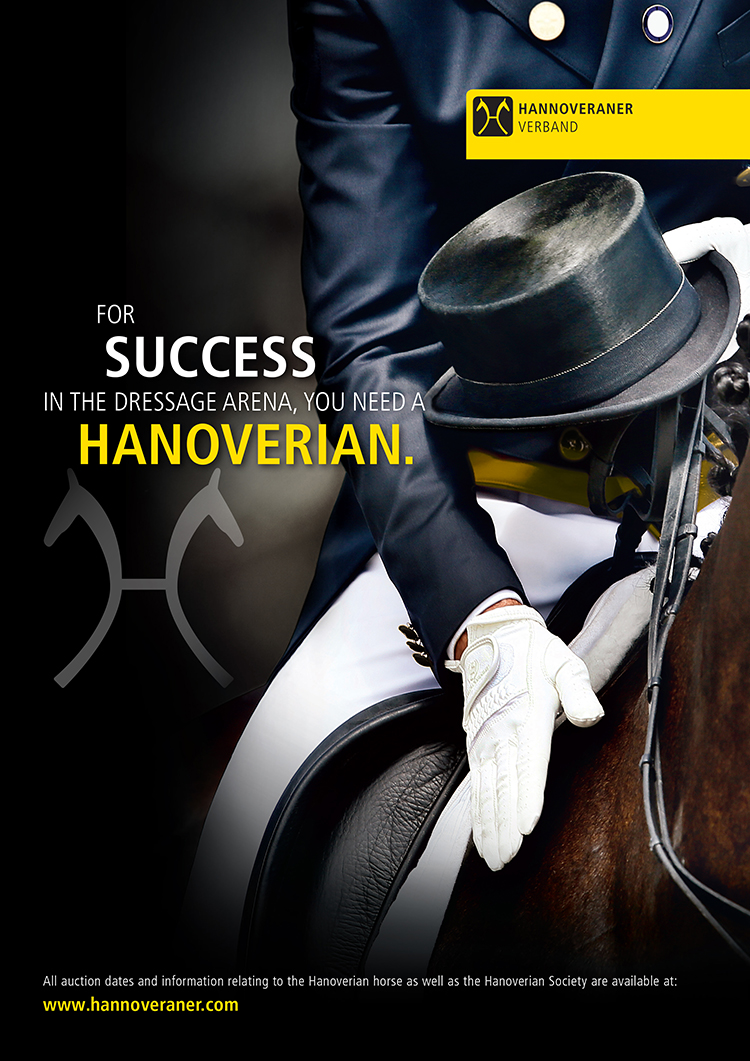 The Hanoverians are in second place, and while back in 2008, they headed the dressage standings with a team that was five out of six by jumping sires: Salinero (Salieri), Satchmo (Sao Paulo), Sunrise (Singular Joter) and Elvis (Espri), in 2016, their top six look to be bred with dressage firmly in mind. And, once again, the dominance of Donnerhall is apparent – in fact of the top three studbooks, eleven out of eighteen representatives descend on the top line from Donnerhall, with one out of a mare by Donnerhall, and another by De Niro. How sad it was to hear of De Niro's death while I was preparing this piece, but what a great stallion he has been…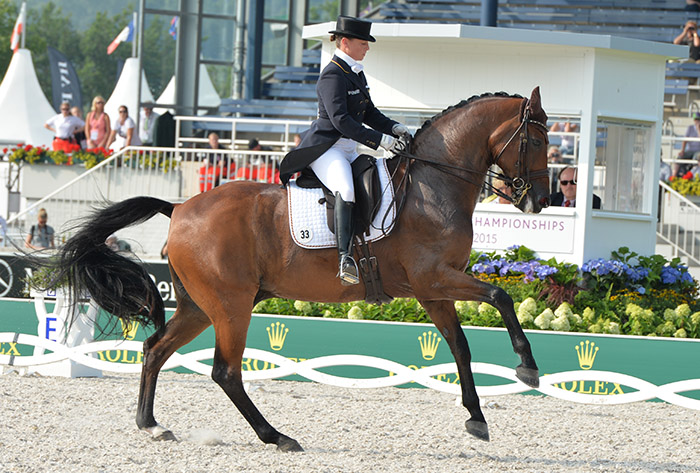 Don Johnson – the D line goes on and on and on
Heading the Hanoverian line-up is Isabell Werth's Don Johnson FRH (Don Frederico / Warkant), followed by Damsey FRH (by Dressage Royal – Donnerhall / Rubinstein – but out of a predominately jumping mare, by the Ramiro son, Ritual, out of a mare by Grande). D'Agostino is one of four in the top three teams by De Niro (out of a mare by Shogun xx), then another De Niro, Dablino FRH (Wanderbusch II), and yet another, Deep Impact (Rubinstein), and the team is rounded out by Real Dancer, by Rubin-Royal, out of a… De Niro mare, indeed the dam of another Grand Prix competitor, the stallion, Hotline!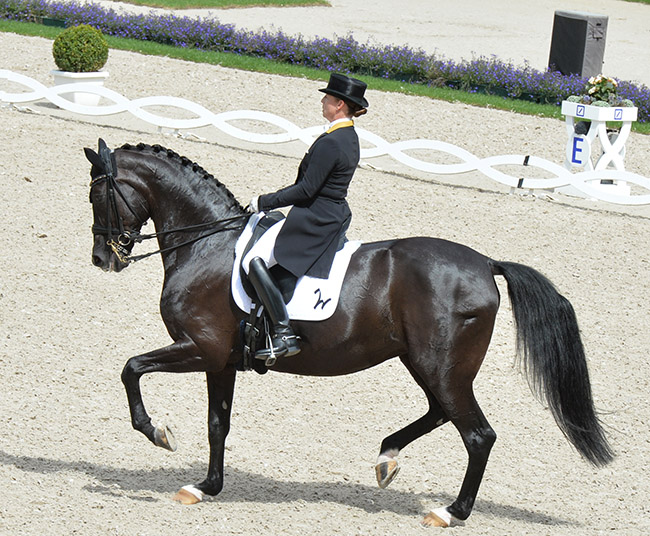 World number one – Weihegold OLD
Oldenburg takes third place with the top four all from the D line, headed by world number one, Weihegold OLD (Don Schufro / Sandro Hit), then Dante Weltino OLD (Danone / Welt Hit II), Delauney OLD (Dr Doolittle / Feinbrand), Doktor (Diamond Hit / Renoir), Spirit of the Age (Stedinger / Donnerhall) and Sir Donnerhall II (Sandro Hit / Donnerhall).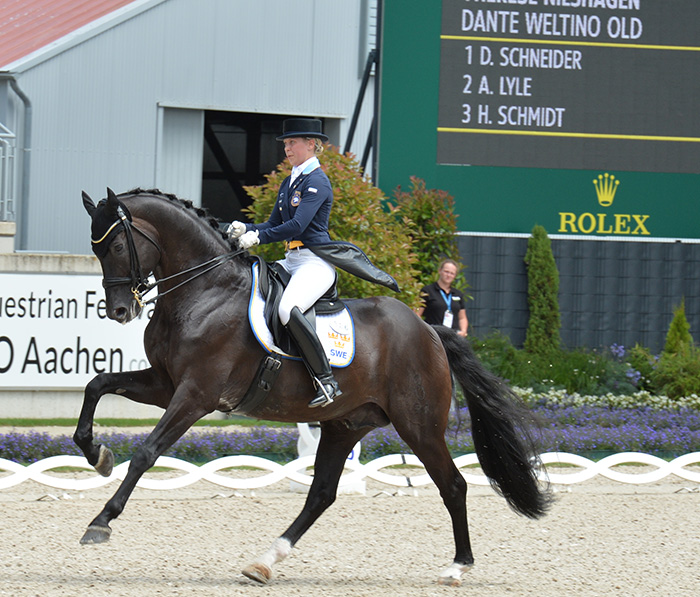 Dante Weltino and Therese Nilshagen for Sweden
Because Weihegold has amassed more points than any other dressage competitor, her breeder, Inge Bastian, becomes Dressage Breeder of the Year. Inge and her husband Günter, ran a dressage breeding operation, Gestüt Bastian, to the north of Hamburg, for over 30 years, although they retired in the summer of 2013 when they were in their eighties, and sold their brood mares to Blue Hors.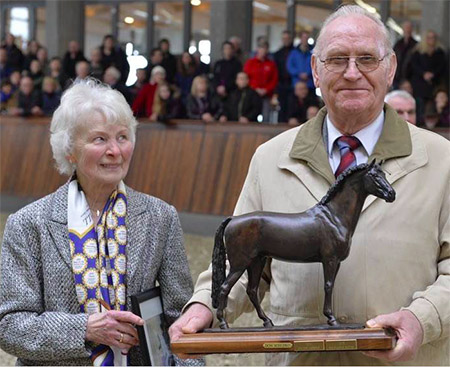 Inge and Günter Bastian
Their successful horses include the Premium stallion, Blue Hors Zatchmo (who is by Blue Hors Zack out of Fiesta's Girl – Donnerhall / Pik Bube I – who was also bred by the Bastians) and the three licensed stallions, Donatelli I – III and, of course, Weihegold.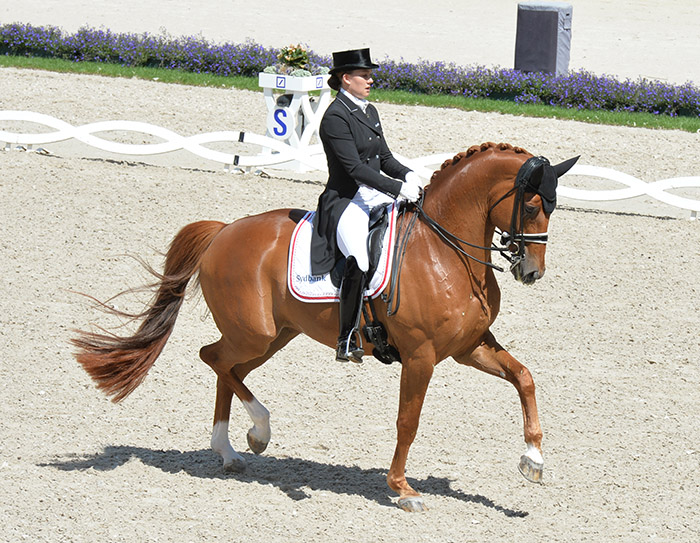 Cassidy and Catherine Dufor – Trakehner influence at the top
There is a distinct Trakehner flavor to the Danish team in fourth place. It is headed by one of the most delightful discoveries of the last couple of seasons, the 14-year-old Atterupgaards Cassidy who after carrying his rider, Cathrine Dufour, to Young Rider success, burst upon the world scene at the Rio Games, and has since then consolidated their place in the world top ten. Cassidy is by that wonderful Trakehner stallion, Caprimond, out of a Donnerhall mare. Then there is another exciting young rider, twenty nine year old, Kasey Perry-Glass and her delightful Goerklintgaards Dublet (Diamond Hit / Ferro), followed by Smeyers Molberg (Michelino / Rambo), Lonoir (by De Noir, a son of De Niro out of mare by a son of Lord, Loran) ridden by another elegant young American, Olivia LaGoy-Weltz. Rounding out the Danish Squad we have Rustique (Heslegård's Rubin / Midt-West Ibi-Light) and Mira (Michelino / Cavan).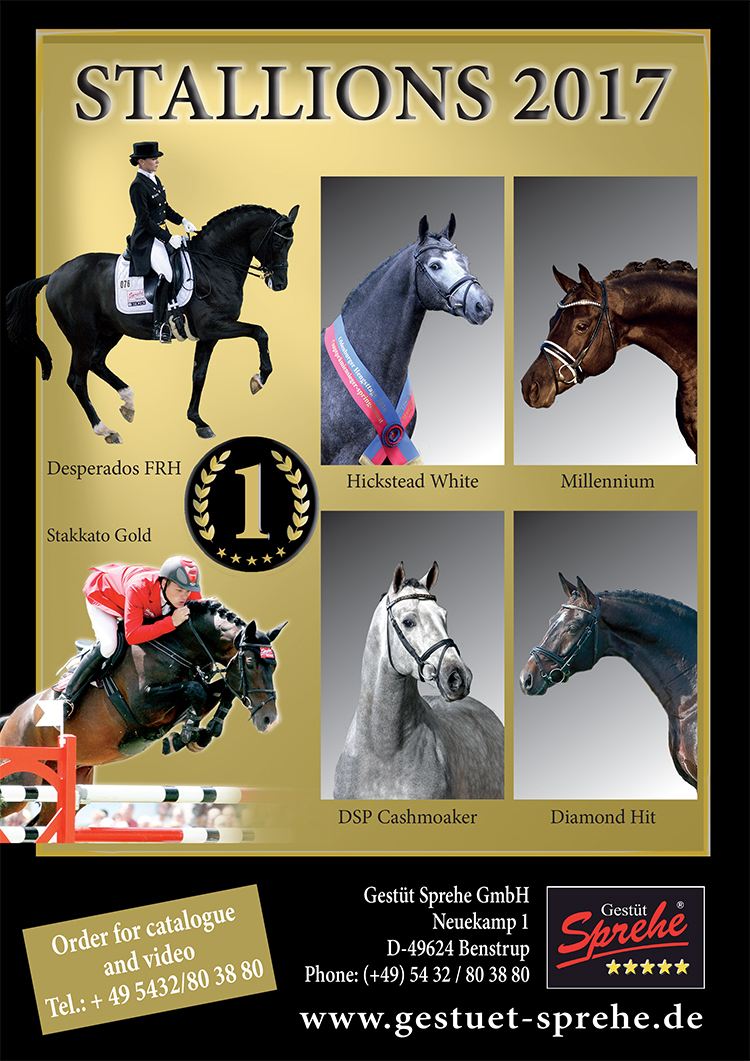 THE JUMPING SIRES
I suppose it is not surprising that a country that took 535 days to select a government, finds it hard to form just one stud book but the truth is, if the three Belgian studbooks, the BWP, the sBs, and Zangersheide, merged, they would dominate the world jumping breeding rankings. As it is, the BWP comes in number one, the sBs, third, and Zangersheide, fourth!
Part of the success of the Belgians must come from their open minded willingness to take good blood wherever they find it, and in whatever shape it comes. Master Dutch breeder, Henk Nijhof sent his colt, Heartbreaker (Nimmerdor / Silvano) to Belgium to be licensed rather than the KWPN, since he reasoned that there were already numerous sons of Nimmerdor licensed in Holland and "Heartbreaker was an average mover and not very big. Not a chance, I thought. Because he jumped so damn well, I sent him to Hubert Hamerlinck in Belgium to try the BWP studbook there. They aren't as fussy when it comes to the trot and it showed."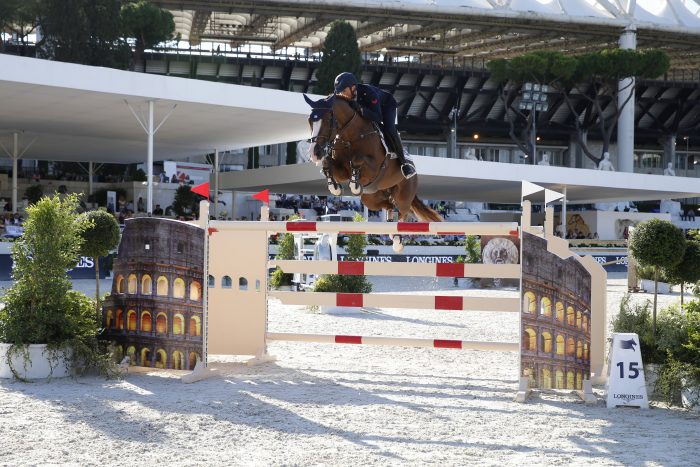 Halifax van het Kluizebos – world number one
Heartbreaker is the sire of the world's number one jumper, Halifax van het Kluizebos (out of a Fetiche du Pas / Darco mare – now we are really lining up all the ducks in a row). Halifax has been a solid performer with Italy's Lorenzo de Luca at most of the world's top jumping competitions, solid, but without a major 1.60m win yet. He is supported by Gancia de Muze by Malito de Reve (a product of the one season Cumano spent in France where he produced the most amazing single crop – ever!) out of a Nimmerdor mare. Then, Elborado van het Vijverhof, by that wonderful German / Dutch fusion, Thunder van de Zuuthoeve (Argentinus / Nimmerdor), out of a mare by the Darco son, Omar. Fourth place to Kent Farrington's Gazelle by Kashmir van Schuttershof out of an Indoctro / Voltaire mare.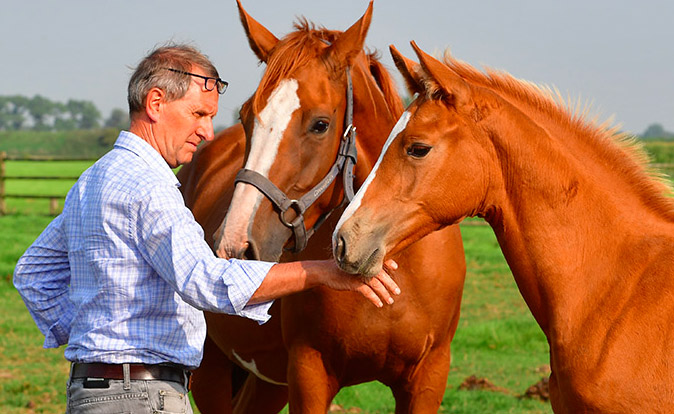 Stefaan Delabie – leading the breeders standings
Aside from being the top scoring jumper in the BWP team, Halifax has also won the individual standings, which means his breeder, Stefaan Delabie is crowned WBFSH Jumping Breeder of the Year. Mr Delabie is another of those small breeders who produce big…
"Only two or three foals a year," he told me. "I bought the mother of Halifax, but she was out of a family that I had already some mares, I already had the fourth mother, Winnette vd Heffinck."
Do you come from a horse breeding family – or did you start it?
"I started it, but quite a while ago, forty years ago. I was a rider, but I was interested in breeding and so I started to breed my own."
What did you like about the cross of Heartbreaker and Fetiche du Pas, that produced Halifax?
"I chose Heartbreaker because I had had a few good Heartbreakers before, and I thought the combination might work – but in breeding you never know. I know Heartbreaker from when he was two years old, he was a very good jumper and he was a fighter. You need power and energy and reflexes and you need quality, that's the combination we are making."
And the grand mother is by Darco, you like that?
"Darco is good, and behind that Furioso – we are mixing all the time, French and Dutch with German."
Is Halifax the best horse you have bred?
"So far, maybe I've had some other good ones but they didn't catch a good rider. Halifax met up with a very good rider, and that is the most important thing. You can breed a good horse but if you don't have a good rider, you have nothing."
In fact Halifax has had two good riders, Daniel Deusser rode him in Young Horse classes before Lorenzo de Luca took the ride and competed him at most of the world's top events…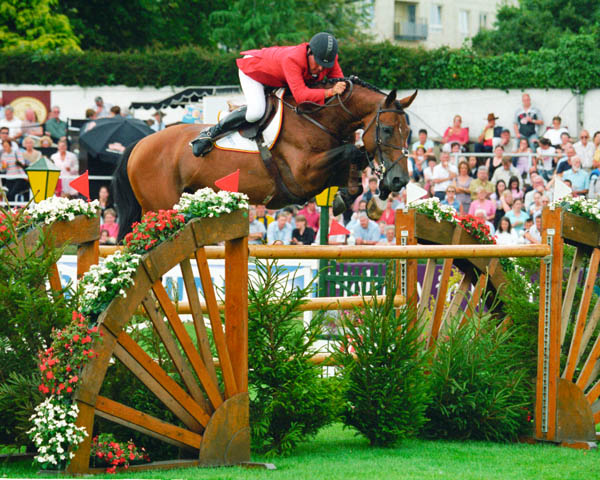 Kashmir van Schuttershof – what a sire!
One of the secrets of Belgian breeding has been the way great success has been crafted from modest beginnings. Consider Kashmir van Schuttershof, not only is he the sire of the recently crowned European Champion, All In, but he is also the sire of three horses in the top three teams on these WBFSH rankings, and Kashmir is a tribute to his canny breeder, Willy van Impe, although, as usual, luck also played its part.
Mr van Impe's son, Kim told me how it all began:
"The horses started as a hobby of my parents in the 70's. In the beginning my father had two horses for amateur riding in the local amateur circuit (dressage and jumping)."
"In 1984 my father bought in Germany from the Böckmann family, a filly called Gotha (Furioso II x Gotthard) which became the grand mother of Kashmir. Before she came to Belgium, at the famous mare show at Rastede, she won and became Staatsprämiestutte."
"In 1985 he bought in France a stallion foal named Tenor Manciais (Grand Veneur x Nankin x Ibrahim) out of one of the best ranked mares in France called Golden Comet. Tenor was later a very successful show jumper with Philippe Lejeune and was vice champion of Belgium at the age of 8 behind Jean Claude Vangeenberghe with Carrera who went on to win the Grand Prix of Aachen that year."
"Breeding these two, Gotha and Tenor Manciais gave birth to Fines van Kameren. It's a bit funny, my father forgot to put the suffix van Schuttershof on the declaration of the birth of the foal and at the sBs they put the suffix "van Kameren" because the road we were living was named Kamerstraat."
"When she was four years old Fines was brought to Joris De Brabander to be bred with Chin Chin but she did not get pregnant with Chin Chin. So my father decided to cover her with Nabab, a stallion whom he believed in. (at the time my father presented Nabab together with Joris De Brabander to be approved at the SBS selection Show). It proved to be a good combination."
"Kashmir can be used an a variety of mares. Kashmir brings technique, force, reflexes, size, but most off all he brings super mentality. Always willing to work, a big heart, enough blood but not crazy, super horses to work with…"
Rounding out the BWP team of six is Bull Run's Faustino de Tiji (Berlin / Darco / Laudanum xx) and Garfield de Tiji des Templiers (Quazimodo Z out of a mare by the Gotthhard son, Goldspring de Lauzelle out of a mare by one of the solid foundation rocks of Belgian breeding, Lugano van la Roche). Both these horses were bred by Tim van Tricht, and once again, I have to take issue with the 'breeder of the year' title that was awarded to Stefaan Delabie, the breeder of the top ranked horse, Halifax, who has earned 1900 points in the season. Tim van Tricht with Faustino in 17th and Garfield in 20th amassed a combined total of 2518 would be enough to make him my nomination for jumping breeder of the year…
Tim tells me: "My father, Armand started the breeding. We had one mare. Then when I went to school for blacksmiths, I started breeding myself. I bought my own place, and Garfield is one of the first that I bred for myself. When I started breeding for myself I started to use 'de Tiji' which is a combination of my name, and my wife, Jill. My wife has always been a rider, at an international level, and now we have started having kids, we do more breeding and only compete young horses."
Like many successful Belgian breeders, Tim does not have many mares: "It all comes out of two or three mares, and I am doing a lot of embryo transplants. The mother of Bull's Run Faustino, Bijou van de Vijfheide (Darco / Laudanum xx) I bought her as a foal. I knew Bijou's mother, Frivole d'Elle, very well. She hurt herself and stopped competing, and I bought her foal, Bijou, by Darco. My wife rode Bijou until she was five or six. I've bred three foals out of her. The first one was Faustino, who competes in the United States at 1.60m, the second one was Herby de Tiji, by Massimo, who when he was a seven-year-old jumped two star Grand Prix – but soon after he had an accident and he has been out for two years. He was good as Faustino, maybe better – as a seven-year-old he jumped better classes than Faustino."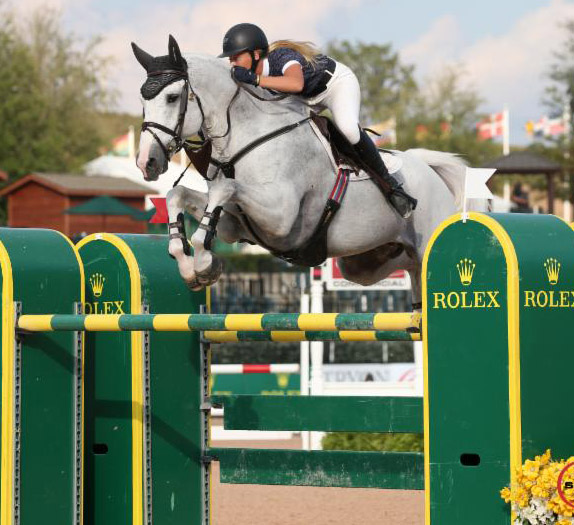 In October 2017, American showjumping rider, Kristen Vanderveen and Bull Run's Faustino De Tiji topped 82 horse and rider combinations in the Tryon Welcome Stakes CSI 3*, in front of Kent Farrington and Dublin and Beezie Madden and Coach.
Bijou was a good cross, Darco then the Thoroughbred, Laudanum?
"The thing with Darco is that you don't always need that much blood, and the mother of Bijou she had a lot of blood, so with Bijou all you had to do was get her calm, she was really bloody. That's why she went to Berlin because he is a really cool stallion, and I thought I'd try with the Cassini blood, it should be cool. Faustino is a little bit the opposite of the mother, he has blood enough, but it is normal."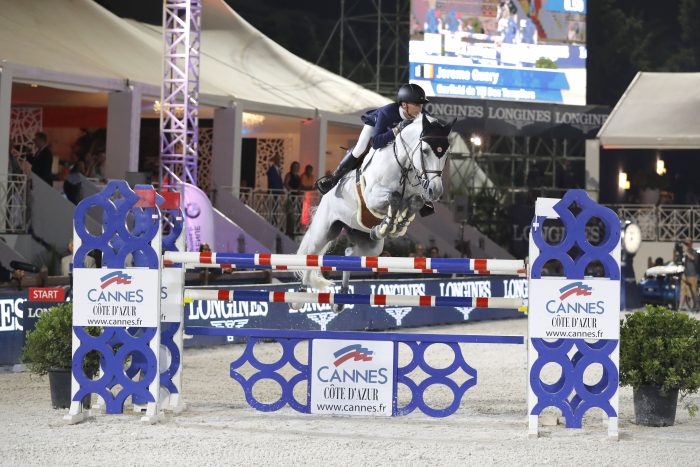 Garfield de Tiji des Templiers – another star for Tim van Tricht
With Garfield, why did you go to Quasimodo (Quidam de Revel / Carthago)?
"I had the mother, the Goldspring mare, and she came out of a really good family but she was a little bit old fashioned. I wanted to breed her with Quidam, but it was not possible to get her pregnant, and Quasimodo is by Quidam, also out of a really good mother line. The mother of Garfield, Paloma, I bought her at the start of my breeding just after I bought Bijou. She had never been under saddle, she had two or three foals before I bought her with a foal at foot by Skippy. That foal was Arsouille de la Genestre, who jumped 1.60m at Aachen."
"Then I have a third mare that I bought, Helady de Baugy, by Papillon Rouge, and she gave me, with Diamant de Sémilly, Hello Guv'Nor with Scott Brash. He has won big five-star classes…"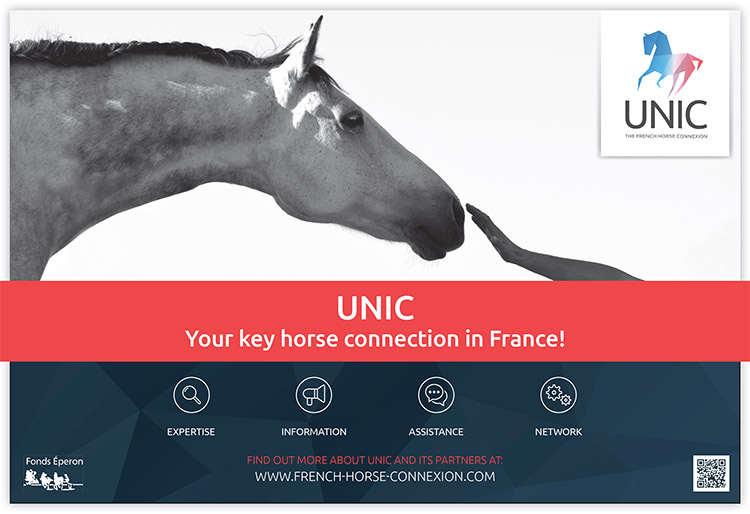 What do you enjoy about breeding horses?
"I enjoy to make the right cross and to see after that, that the horses are coming up in the big sport, that's what I love the most.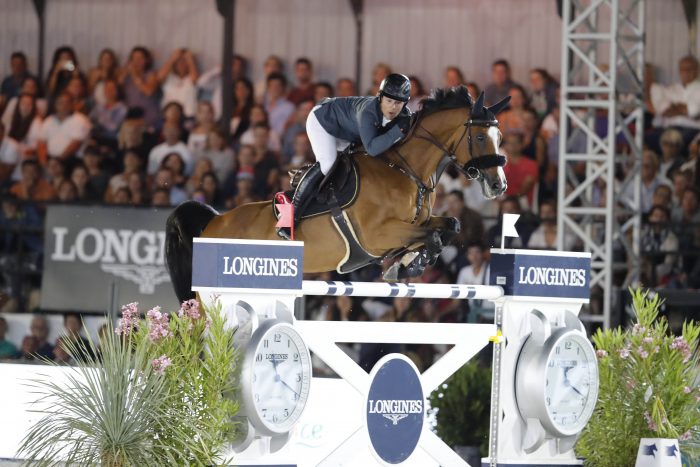 G & C Arrayan with  Sergio Alvarez Moya
The KWPN is in second place, with their team headed by G & C Arrayan (Baloubet du Rouet / Grannus / Pilot) ridden with great success by Spain's Sergio Alvarez Moya . Their next highest points scorer is Creedance (Lord Z / Notaris), a solid performer with Kent Farrington. Then, Babylotte (Dollar du Maurier / Concorde / Pilot) with Brazil's Yuri Mansur, Cuplandra (by the Heartbreaker son, Upgrade out of a mare by a stallion better known as a dressage producer, Metall), with Columbia's Carlos Enrique Lopez Lizgrazo. The Dutch squad is rounded out with Brighton (Contendro II / Quick Star) and Aquila HDC (Ovidius / Lauriston).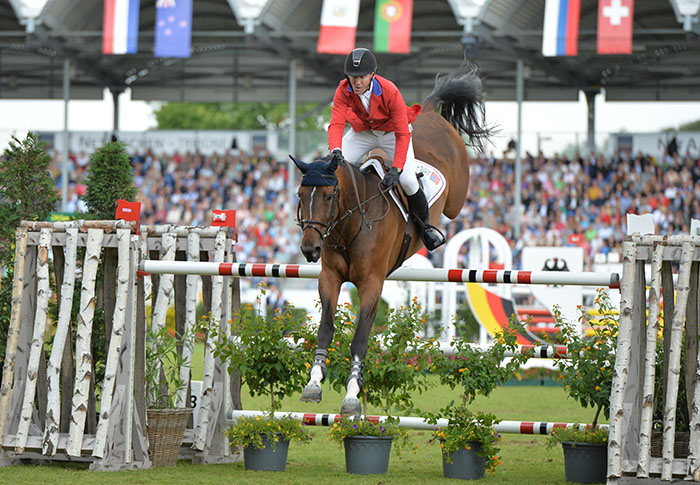 Number one for the sBs – HH Azur
The other stallion to star in the Studbook rankings is Thunder vd Zuuthoeve, represented in the Belgian squad by Eldorado, and in the sBs third placed contingent, by H H Azur (out of an Oldenburg mare by the Silvio son, Sir Lui), a super star with McLain Ward. Then two more for the sBs by Kashmir – Reveur de Hurtebise HDC (Capricieux des Six Censes) and H&M All In (Andiamo), then Ayade de Septon Et HDC (Wandor van de Mispelaere / Albion du Chene Brule) and Bacara d'Archonfosse (Asca Z / Kannan).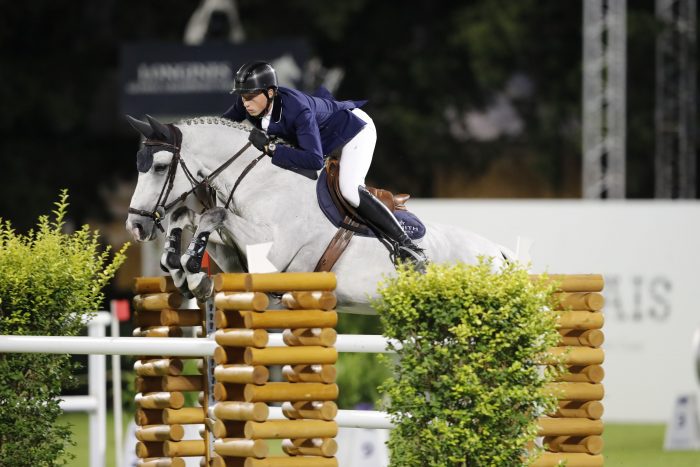 Clooney and Martin Fuchs – another to blow the cornet!
The Westfalien Studbook received an enormous boost to its jumping breeding stocks in the shape of yet another Belgian, Windows van't Costerveld, re-christened, Cornet Obolensky, who supplies a third of their representatives.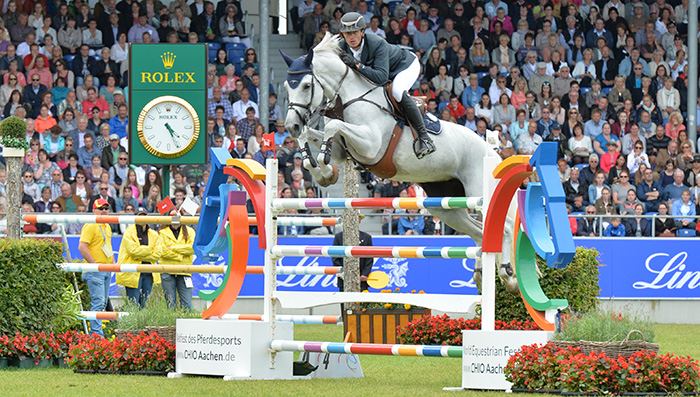 Coree winning the Grand Prix of Aachen in 2017
Up the top is young Martin Fuchs' frontliner, Clooney (Cornet Obolensky / Ferragamo / Pilot). Then Mary Lou (by Montendro out of a mare by Portland, by Pilot – what a gold mine of mares he provided!) followed by another Cornet, Coree (out of a Böckman's Life / Furioso II mare).

Rounding out the top five jumping books we have Zangersheide with Don VHP Z (Diamant de Sémilly / Voltaire), Chaqui Z (Chacco-Blue / Quinar), Ladriano Z (Lawito / Baloubet de Rouet), Atlantis (Andiamo / Royal Bravour) Cas de Liberte (Cracky Z /Challano Z) and Caribus Z (Caritano / Canabis Z).
EVENTING
A month or so ago, as I kept marveling at the number of successful eventers with the prefix, Cooley, I decided I needed to talk to the people who were running this amazing breeding program. Turns out that they are not breeders at all, but use the whole of Ireland as their studfarm and combine that with an uncanny ability to spot talent to produce their Cooley horses. The team, Richard Sheane and Georgina Phillips started their operation back in 2004 and they now have a client base that reads like a who's who of international eventing.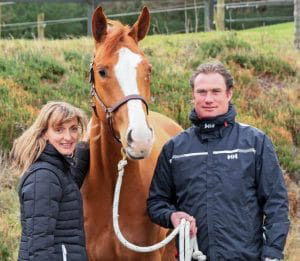 Georgina Phillips Richard Sheane – the Cooley Team
Two of the Irish contingent that heads the Eventing rankings carry the Cooley label – Cooley Cross Border (by Diamond Roller who is by a son of Cavalier Royale out of a daughter of Flagmount Diamond, and out of a mare by the Dutch stallion, Osilvis (by Silvio II) out of a half blood Irish mare by Colourfield xx) and Cooley SRS (by the influential Belgian import to Ireland, Ramiro B, out of Ballynattin Pride, by Kitealy Spring xx, out of a King of Diamonds mare). Cross Border carried US star, Kim Severson to victory at Blenheim 3* earlier this year while SRS was in the British team with Oliver Townend at the last European Champs.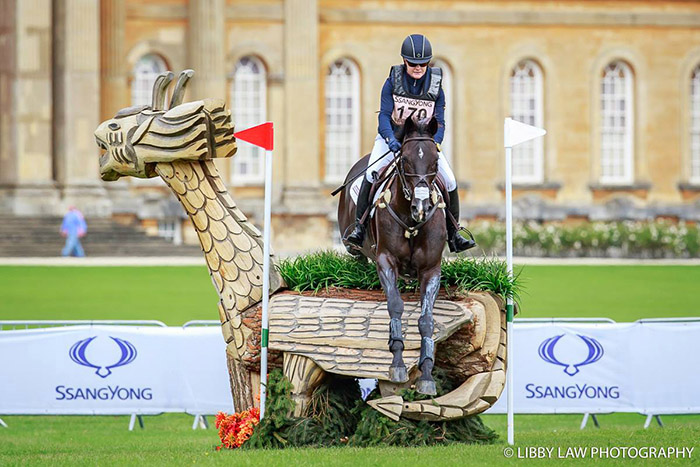 Cooley Cross Border and Kim Severson – Photo Libby Law
I asked Georgina if she thought it was possible to spot an eventer on the basis of its breeding…
"No, is the short answer. We buy horses for eventing mainly from showjumping producers. They are horses that jump reasonably well and move well, but are not going to make the top grade. The long answer is a bit more complicated because, yes, you need blood, you need jump but you need the attitude to be right. So there's no fixed formula for breeding an event horse. You need to breed something that jumps, and from there, work out if it is brave enough and has the right brain to go and do the eventing job."
"The Cooley horses that you see that are successful, there's no fixed pattern in their breeding, they all carry a bit of blood, they have to be right in their brain and good to ride, and that for us, is what we look for."
A number of the successful Cooley horses have European Warmblood in their pedigrees – do you look for that blood?
"Not really, the Warmblood crosses well with the Irish mares, there's no doubt about that, but we don't have any fixed impression of what we want. We like them to have the Irish in them because that makes them brave and sensible, which is not to say that we wouldn't buy a horse that is all foreign that has been produced in Ireland. A lot of the reason the Irish horses are so good is because we have a good way of producing them here in Ireland. It's a non-sterile environment and that's very important. If you go to the continent they don't have the same set-up we have, the bogs they walk through, the muddy conditions. When they are just foals in Ireland, they get used to the natural terrain, they get to experience all types of conditions under foot, and that for us, is important."
I was looking at your website, and even before your horses are backed, you lunge them over jumps…
"Yes. My partner, Richard is the ultimate horseman and in Ireland with the hunters, they teach them to jump over big ditches and drains that way, because it is easier to teach them than with a person on them. It seemed like a natural progression for us, that we would school all our event horses, from the four-star horses to the four-year-olds, all go cross country on the lunge regularly, because it is so much easier to give them confidence and teach them when there is not anybody on their back. They don't have to worry about balancing the rider, all they have to worry about it what is in front of them. It teaches them to think, so it is done in a very slow manner, they really thrive on it. Lots of people say lots of things about Cooley horses, you might have a horse that doesn't do the best dressage test but they all go cross country and that's the reason, because they are started that way."
"Cooley Cross Border is a good example – we broke him and we taught him on the lunge, and then this summer when he stayed in Ireland, he was on the lunge all the time with Richard, just getting his confidence and he is the highest ranked Irish eventer in the world."
Are there any names on pedigrees that when you see them, you say, wow, I'm interested…
"We've been very lucky with Ramiro B, lots of good ones by him, so he'd be a favourite, but we are not fussy. If we see a horse we like, we like it regardless of who its mother and father are. Judge the horse, and not the breeding."
There is however a thread that runs through the top six horses that won the championship for Ireland, and that is the mix of European – mostly Holstein – blood with a good proportion of Thoroughbred. Cooley Cross Border is a good example – if we look at the fourth line of the pedigree, one Holsteiner, two Thoroughbreds, three Irish, and an Oldenburg / KWPN cross, which ends up with 56.64% 'blood'.
The second highest ranked Irish horse, Vanir Kamira, is more of the same – by the Zangersheide bred showjumper, Camiro de Haar Z (Chellano / Ramiro) out of a straight Thoroughbred mare, that's 74.02% blood. Third is Cooley SRS (51.17%), fourth, Ardagh Highlight, Irish Irish breeding, by Puissance by Imperius xx out of a grand-daughter of King of Diamonds. Seventh, Ballaghmore Class another successful eventer by Courage II, the Holsteiner stallion imported to Ireland (by Capitol and out of the full sister to Cavalier Royale) and out of an Irish mare. Rounding out the six, Kiltubrid Rhapsody, by Cascaletto St Ghyvan Z (Cassini I / Caletto I) out of a grand-daughter of Quidam de Revel.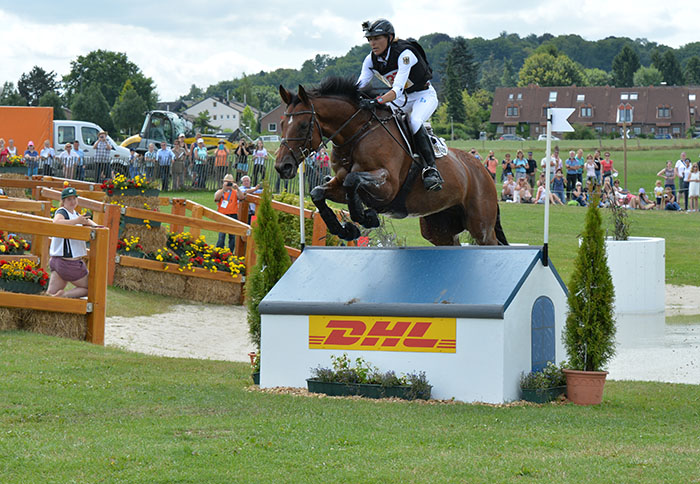 Horsware Hale Bob, leading the Oldenburg eventing team
Oldenburg takes second place on the standings, led by Ingrid Klimke's Horseware Hale Bob (Helikon xx / Noble Champion) who finished second on the individual standings behind fischerrocana FST. The Holsteiners finish in third with their best Mr Bass, seven-year-old World Young Eventing Champion 2015 with Laura Collett, (by Carrico, a 1.60 jumper with Henrik von Eckermann, out of an Exhorbitant xx mare).
The KWPN is in fourth spot, with their best, Bulana, a mare with links to some of Holland's most famous jumping sires, her sire, Tygo, is by Numero Uno, and she is out of a grand daughter of Ahorn out of a Burggraaf mare. Bulana was Nicola Wilson's ride in the gold medal winning British team at the 2017 Europeans.
Coming in at number five we have the Selle Français, led – as is increasingly the case – by a German riding a French horse, this time, Samourai du Thot, ridden by the new face on the German team, Julia Krajewski. The gelding is in keeping with the modern trend, 60.56% blood, being by Milor Landais, a 1.60m showjumper, and out of Melitos du Thot, from a mare line that has been extraordinarily successful in producing international showjumpers. Samouri's sire, Milor Landais is a grandson of Double Espoir, while his dam is by Flipper d'Elle, a son of Double Espoir.
The Hanoverians round out the top six with their best Chipmunk FRH, by Contendro out of an Heraldik mare, then Reality (Rabino / Prince Thatch), followed by the only Heraldik foal to feature in the top rankings this time round (perhaps the last forever?) Hamilton – out of a Furioso's Sohn mare.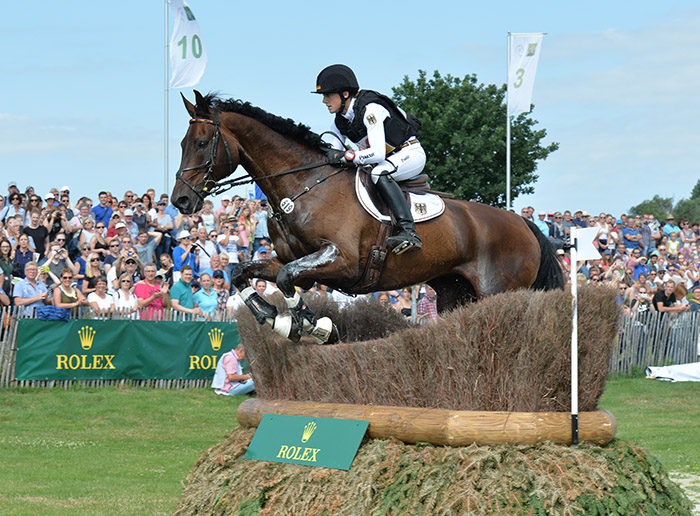 Hamilton, the last of the Heraldiks?
The breeders' award goes this time around to Mirko Glotz, the breeder of fischerrocana FST (Ituango xx / Carismo). Mr Glotz is a horse trainer with a yard in Thuringia. He seems to have been quite a versatile breeder.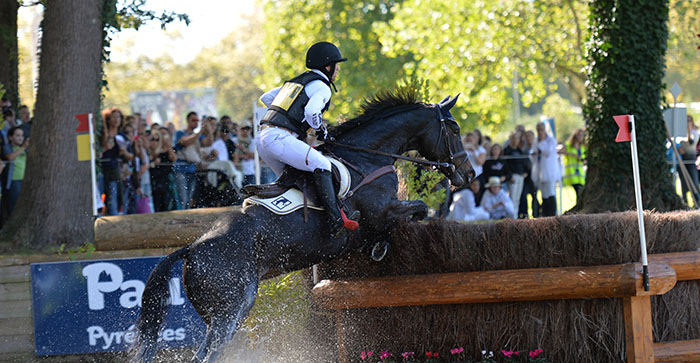 World number one – fischerrocana FST
There are three full sisters, the two with Michael Jung, fischerrocana and Ricona FST, as well as Rocana II who Mr Glotz uses as a broodmare, and who has already produced a foal by Quadrofino, Quadrofina, who was 4th in the German Regional Eventing Championships. He also bred Acierant (Acordelli / Fierant xx) a two star eventer with Julia Lieske, and Anton (Antaeus / Melit xx), a Grand Prix dressage competitor with Canada's Belinda Trussell.
Like so many of the more successful breeders, Mirko Glotz bases his program – that he began in 1995 – on a very small number of mares. Right now he has only two broodmares, he also had at some point four but never more than that.
He leased the mother of fischerRocana for three years from a breeder from his area. He says 'she was actually not really special but I wanted to try something.' So he used three times the Thoroughbred Ituango xx, who was not so big  (the mare was big) and was really correct in everything. All the three sisters had quite some character as a foal, not in a bad way. "But we have a saying in German: they could read and write, they were very smart." Mr. Glotz really likes blood because they bring hard and healthy horses.
FischerRocana stayed with the breeder until she was four, and she started her career as a showjumper. She then went to Julia Schmid who also started her in the Eventing and that was where Micheal Jung discovered the mare.
I am indebted to my colleague, Thomas Hartwig, who analysed the numbers to find that while the German studbooks were somewhat lower on the standings over the past ten years, the number of German breeders in the top 100 had increased, and in particular, the breeders producing eventers. There were only twelve German breeders in the top 100 eventing standings back in 2008, by 2017, there are 29. Dressage has remained much the same, 42 in 2008, 41 in 2017, as has showjumping, 30 in 2008, 33 in 2017.
Interesting isn't it, the number of very small breeders whose products outshine the mass crops born at of those big commercial studs, that's a nice thought to finish on…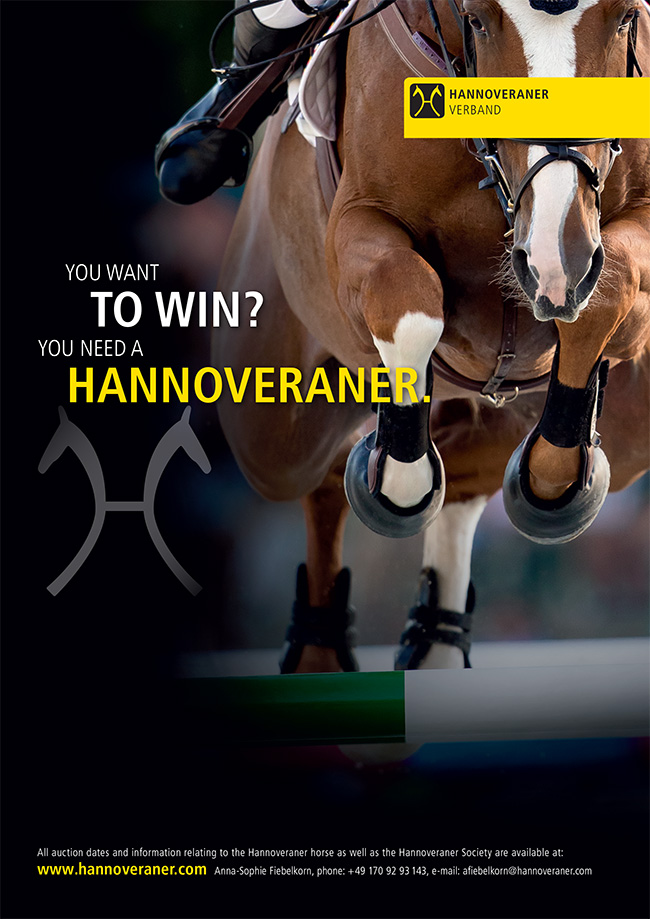 http://www.hannoveraner.com