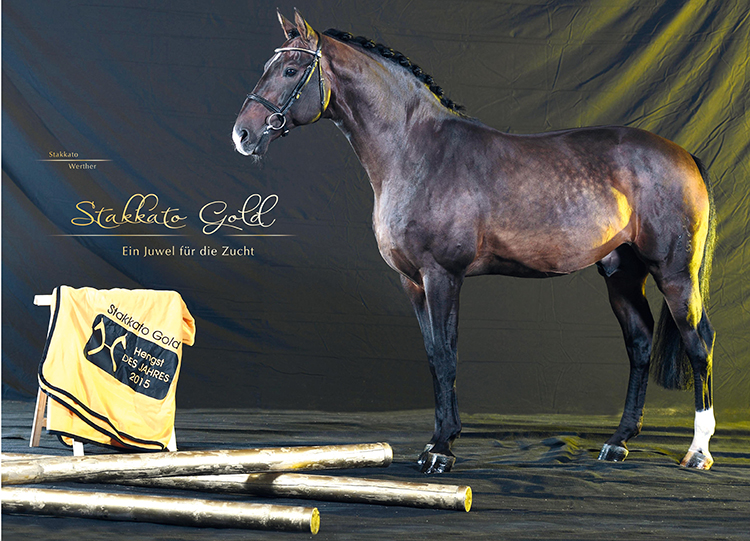 Image: Kiki Beelitz, from her 2017 calendar
Christopher Hector tries to make sense of the new breeding values…
About this time each year, the breeding world is awash with rankings and breed values, trouble is, they tend to be very similar to the previous year's editions. Not this time, this time the German FN comes up with a radical revision of their breeding values: there are now two sets of breeding values. One – the Jungferdeprüfungen list – is based on the results of young horse classes, which includes the stallion's own performances and the performances of his offspring in mare performance tests, stallion performance tests, and young horse classes, which is much like the previous values, although previously, they also included competition results.
Then there is a whole new set of rankings – the Turniersport Rankings – which are based solely on open competition results.
Wowie zowie,  I have been pointing out for over a decade that the breeding values were so influenced by young horses classes, and by the stallion's own performance test, that all sorts of young horse 'stars' shot to the top of the lists (only to disappear just as rapidly) while real stallions who were producing top level performers, didn't even make the rankings.
Last year, for the second year in a row, Stakkato Gold (Stakkato / Werther) headed the FN jumping breeding values, while Lissaro (Lissabon / Matcho aa) was the dressage stallion with the highest breeding value – that is before he was sent off to be an honest competition horse with a young rider.
This year, the stallion at the top of the young horse breeding values is still Stakkato Gold, but on the open competition rankings, he comes in, in 8th place with a value of 159 – behind Heartbreaker (182, Nimmerdor / Silvano), Diamant de Sémilly (180, Le Tot de Sémilly / Elf III), Kannan (173, Voltaire / Nimmerdor), Galoubet A (169, Almé / Nystag), Cardento (165, Capitol / Lord), Quick Star (162, Galoubet A / Nithard) and Toulon (162, Heartbreaker / Jokinal de Bornival).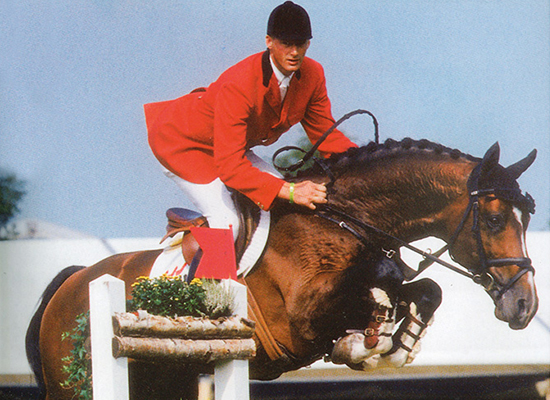 A number one who really is a number one – Heartbreaker
This is a list of genuine super sires with the exception of Carvallo BB (Carthago / Lavall II) who seems to have won his jumping performance test and jumped nationally in Germany and the USA – how he made =9th with a value of 158, equal with Darco (Lugano van la Roche / Codex), Lupicor (Lux Z / Pilot) and Nabab de Rêve (Quidam de Revel / Artichaut) is a mystery. Obviously the new system is not perfect.
Rounding out the top 20 is another fine group of stallions: Orlando (157, Heartbreaker / Darco), Mr Blue (155, Couperous / Oldenburg), Jalisco B (154, Almé / Furioso), then five on 153: Baloubet du Rouet (Galoubet / Starter), Chellano (Contender / Cor de la Bryère), Concorde (Voltaire / Marco Polo) Corland (Cor de la Bryère / Landgraf) and Equest Carnute (Oberon du Moulin / Dynamique).
It will no doubt cause some heartburn in Germany, that only five of the twenty are German bred – four Holsteiners. one Hanoverian. There's six Dutch, six Selle Français and two Belgian bred.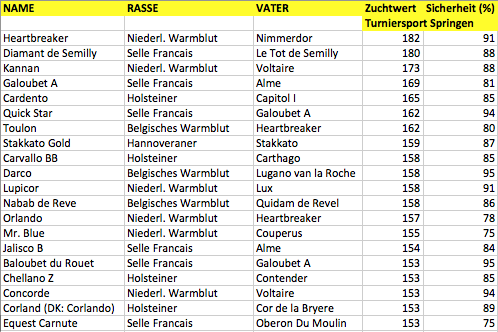 This new German FN Turniersport Springen ranking is not dissimilar from the WBFSH list:
Rolex WBFSH Top 10 Show Jumping Sire Ranking
1 (1) DIAMANT DE SEMILLY – 16943
2 (4) FOR PLEASURE – 15676
3 (3) CORNET OBOLENSKY – 15133
4 (9) CASALL – 12901
5 (2) KANNAN – 12721
6 (7) KASHMIR VAN'T SCHUTTERSHOF – 11992
7 (8) BALOU DU ROUET – 11658
8 (10) CHACCO-BLUE – 11637
9 (5) BALOUBET DU ROUET – 10985
10 (13) CARDENTO – 9711
(The brackets indicate the sire's ranking position in 2015)
I do think the WBFSH lineup is greatly strengthened by the addition of For Pleasure, Cornet Obolensky and Casall, and I wonder how they missed places in the German FN Hall of Fame?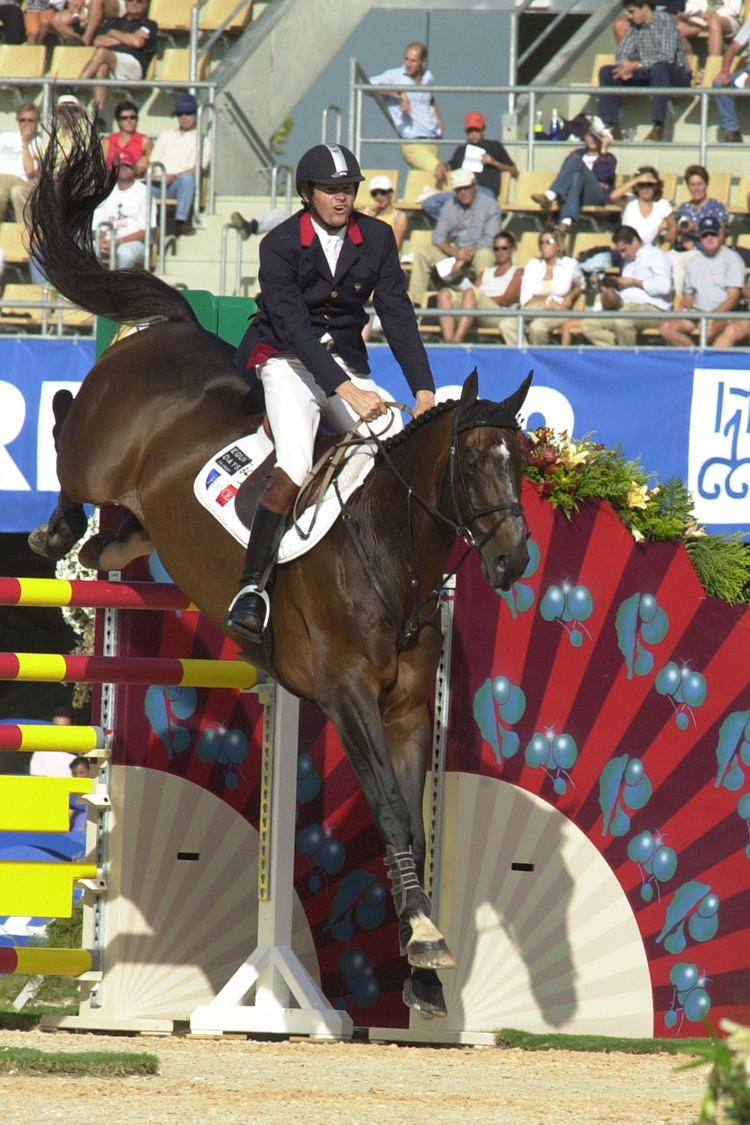 The world's number one WBFSH stallion – Diamant de Sémilly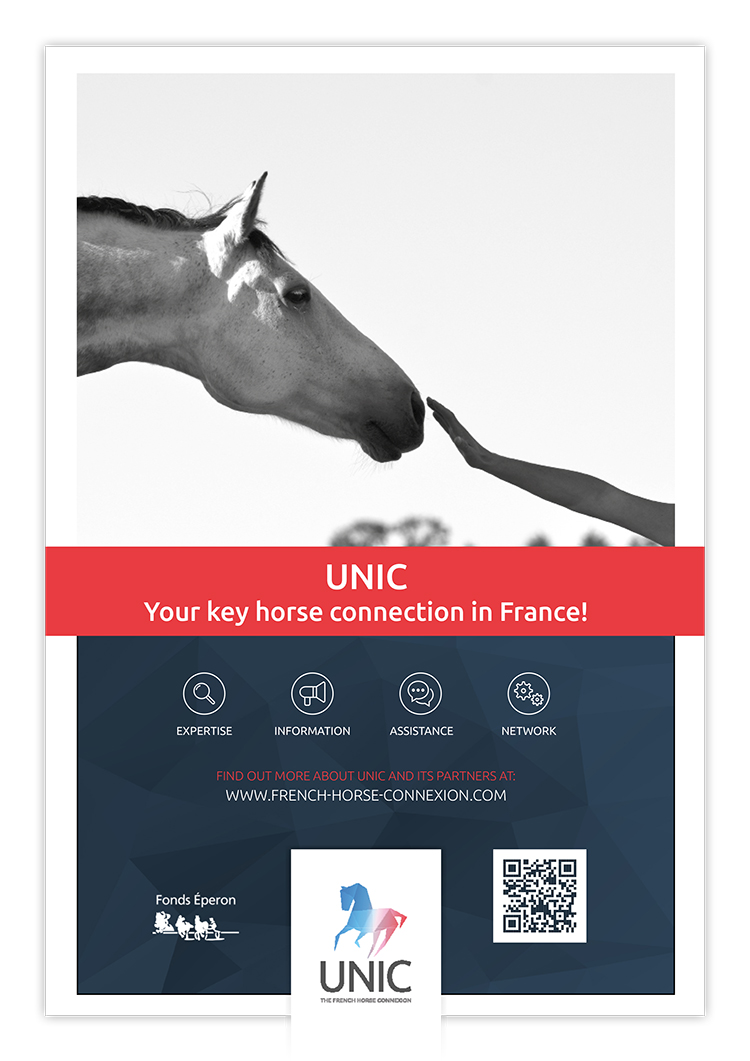 The German FN breeding values based on young horse classes are not only headed by Stakkato Gold (163) but his dad, Stakkato is in second place (161, Spartan / Pygmalion), and Perigeuex who is third with a value of 159, is by Perpignon, but out of a Stakkato mare. The list is a weird and wonderful mix of hopefuls and shooting stars enjoying their 15 minutes of fame, with a few established sires a long way down (Heartbreaker is = 21st, while Diamant de Sémilly is 36th!) For what it is worth (and that is not very much in my estimation) here it is:
Chacco Chacco (158, Chacco-Blue / Stakkato), Comte (157, Contendro / Granulit), Cornet's Balou (157, Cornet Obolensky / Continue), Cornet Obolensky (156, Clinton / Heartbreaker), Grey Top (155, Graf Top / Singular Joter), Stanley (155, Stakkato /Loredo), Catoki (154, Cambridge / Silvester), Valentino (154, Now or Never M / Belisar), Cloney (153, Contender / Lascadell), Balous Bellini (152, Balou du Rouet / Lord Incipit), Chacco Blue (152, Chambertin / Contender), Cascadello (151, Casall / Clearway), Cellestial (151, Cantus / Windesi), Comme il Faut (151, Cornet Obolensky / Ramiro), Douglas (aka Rousseau, 151, Darco / Capitol), Salito (151, Stakkato / Calido I), Stakko (151, Stakkato / Embassy I), Canstakko (150, Canturo / Stakkato), Chin Win (150, Chin Chin / Contendro I), Heartbreaker (150), Quadam (150, Quite Easy / Stakkato), Contendro (149, Contender / Reichsgraf ), Diarado (149, Diamant de Sémilly / Corrado), Granturo (149, Graf Top / Stakkato), Montender (149, Contender / Burggraaf), Now or Never M (149, Voltaire / Nimmerdor), Spartacus (149, Stakkato / Grannus), Capistrano (148, Cornet Obolensky / Pilot), Cartano (148, Carthago / Alasca ), Chalan (148, Chambertin / Carolus I), Cornado I (148, Cornet Obolensky / Acobat I), Darco (148), Diamant de Sémilly (148), Levisto (148, Leandro / Carolus I), Stolzenberg (148, Stakkato / Sandro).
There is yet another set of stallion rankings, this time published by the international breeding magazine, Breeding News, and this is solely based on the competition results of the stallion himself. They are extracted from the competition standings that provide the winners of the 'WBFSH-Rolex Best Breeders' award, of this, more later.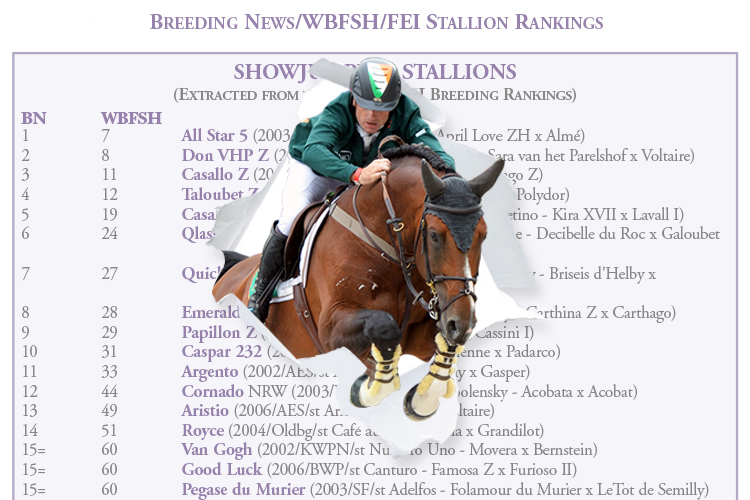 The first thing you notice in the Breeding News Showjumping Stallions is the absolute dominance of the French superstar, and current number one WBFSH jumping sire (as in the sire with the most winning progeny) Diamant de Sémilly (Le Tot de Sémilly out of Venise des Cresles, a grand-daughter of the foundation sire, Ibrahim). Diamant de Sémilly may have the reputation of producing either stars or duds, but with three of the top 20 competition stallions by him, breeders will no doubt continue to take the risk. For the 2016 season, Haras de Couvains was offering fresh semen by the 26-year-old for a fee of €2800. Since the stud was also still offering semen from his sire, Le Tot, who died in 2008 (at a fee of €4000, live foal guaranteed) we can rest assured that Diamant de Sémilly will continue to star in the jumping rankings for some years yet.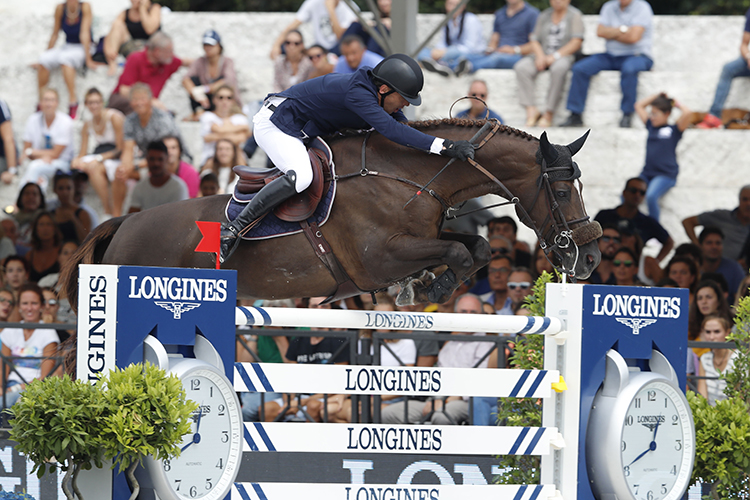 Another star by Diamant de Sémilly – Don VHP Z
Diamant de Sémilly is the sire of the stallion in second place on the Breeding News list, Don VHP Z, who is out of Sara van het Parelshof by Voltaire. Once again this year, I beg to differ with the official WBFSH-Rolex breeders' award. The showjumping breeders' trophy went to the German, Günther Schüder who bred the top horse, Chesall Zimequest (Casall / Concetto), yet there was one breeder, Belgium's Guy de Schuymer, who put two horses into the top 20, Don VHP Z, and the 10th placed, HH Carlos Z (by Chellano, and again out of Sara van het Parelshof). Breeding is about numbers, not one lucky cross…
Mr de Schuymer, who did not live to see his two in the top twenty, bred Sara who is now owned by Bjorn Van Bunder. She produced eight foals between 1994 and 2013. Zora-VHP Z jumped to 1.45m level in Italy, while HH Carlos Z, ridden by McLain Ward and Nicholas Dello Joio, has had six wins in major Grand Prix and represented the US in numerous Nations Cups. Don VHP Z, ridden by Harrie Smolders and Markus Beerbaum, won the Global Tour five-star in Rome and was second in Hamburg and Vienna.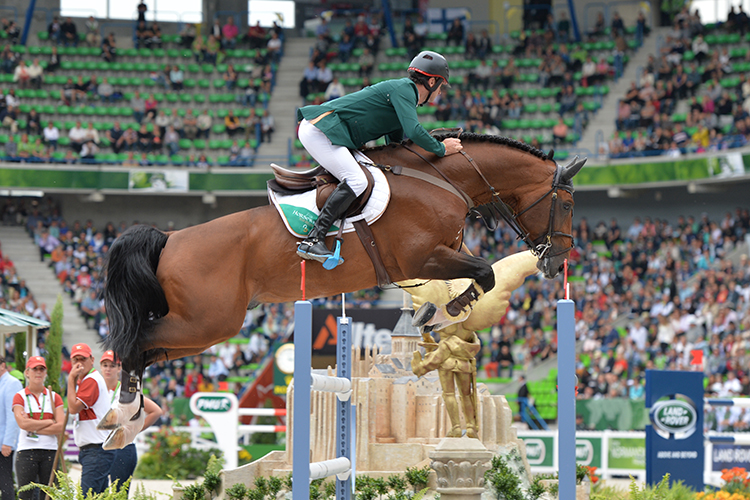 He really is a star with Denis Lynch – All Star
While Diamant de Sémilly is Selle Français 'blue-blood', the highest ranked competing stallion, All Star is a right bastard. He is by the distinguished Hanoverian sire, Argentinus (Argentan I / Duden II) and out of April Love ZH, a product of Léon Melchoir's first experiment with cross breeding – by Almé out of a mare by the Holsteiner, Ramiro, with another of the early stars for Hanover, Ferdinand on the bottom line. The influence of Argentinus is seen again with two of the top twenty by his son Arko III – Agento (Gasper) and Aristio (Voltaire). Arko is a good example of a super star competitor who is shaping as a super star sire.  Arko, ridden by Nick Skelton, was the Number 1 Showjumper in Europe in 2004, 2005 and 2006 and his earnings were over a million pounds.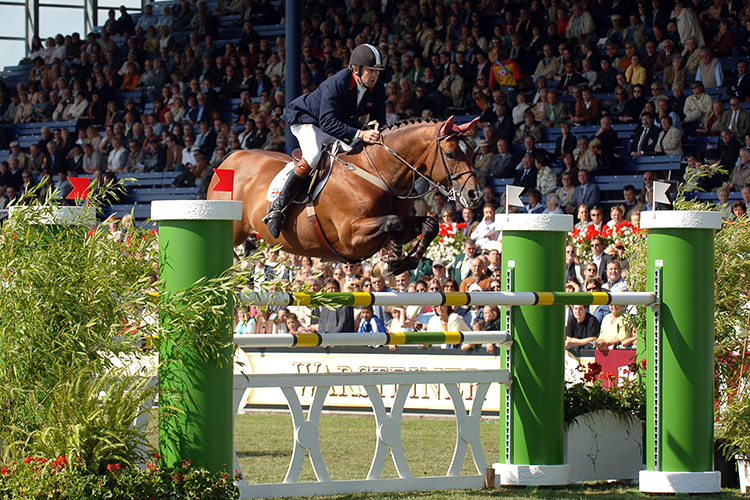 Arko and Nick Skelton at Aachen, competitor and sire
All Star started his international career with Lynch in 2011, coming 3rd in his first 1.50m. Since then, All Star has been an international jumping star. In 2016, All Star won at La Coruna, Barcelona, Cannes and St Gallen, with winnings so far of €438,388. And will he be a great sire? Time will tell.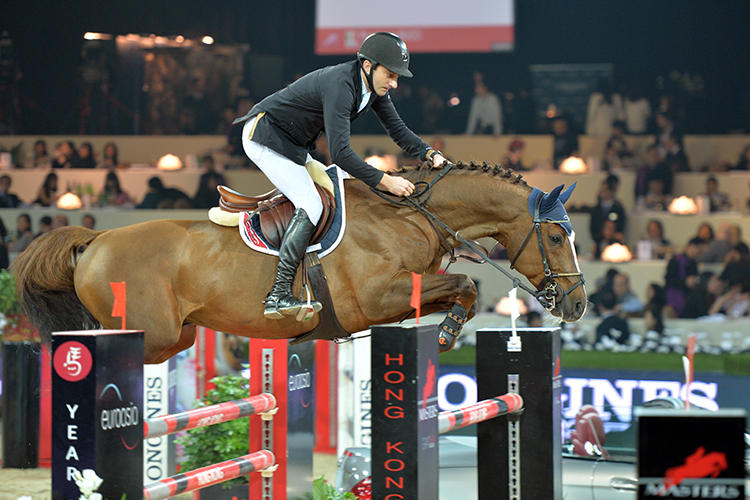 Just in front of his famous dad – Cassallo Z
In third and fifth we have a somewhat unique father and son act. The great Casall (Caretino / Lavall I) is fifth, while his son, Cassallo Z (Carthago) is third. In between them is Taloubet  by Galoubet out of a mare by that good sire of jumpers, the Westfalien, Polydor.
Then to demonstrate Diamant's versatility we have two more by him: the very French bred, Quickly de Kreisker (out of a mare by the Thoroughbred, Laudanam) in seventh, followed in eighth by a real crossbred, Emerald NOP, out of a mare by the Holsteiner, Carthago, out of a Belgian mare that combines French Anglo Arab and Selle Français blood, with the heritage of the two Hanoverian founding fathers of Belgian breeding, Lugano van la Roche and Flügel van la Roche.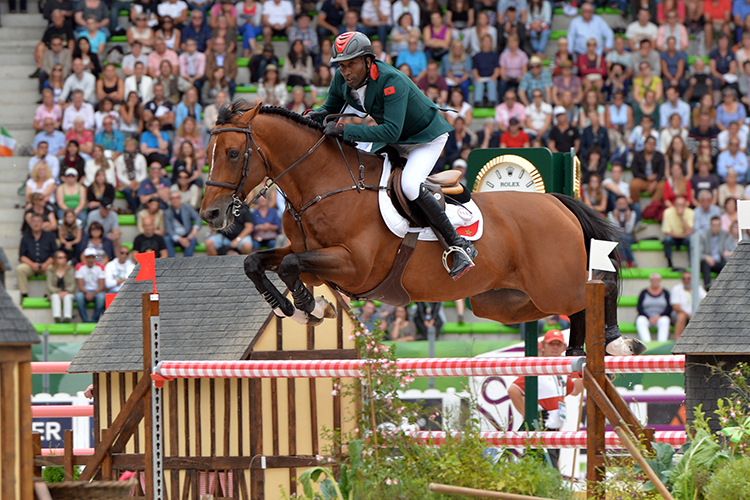 Quickly de Kreiser out of a mare by the great Thoroughbred, Laudanam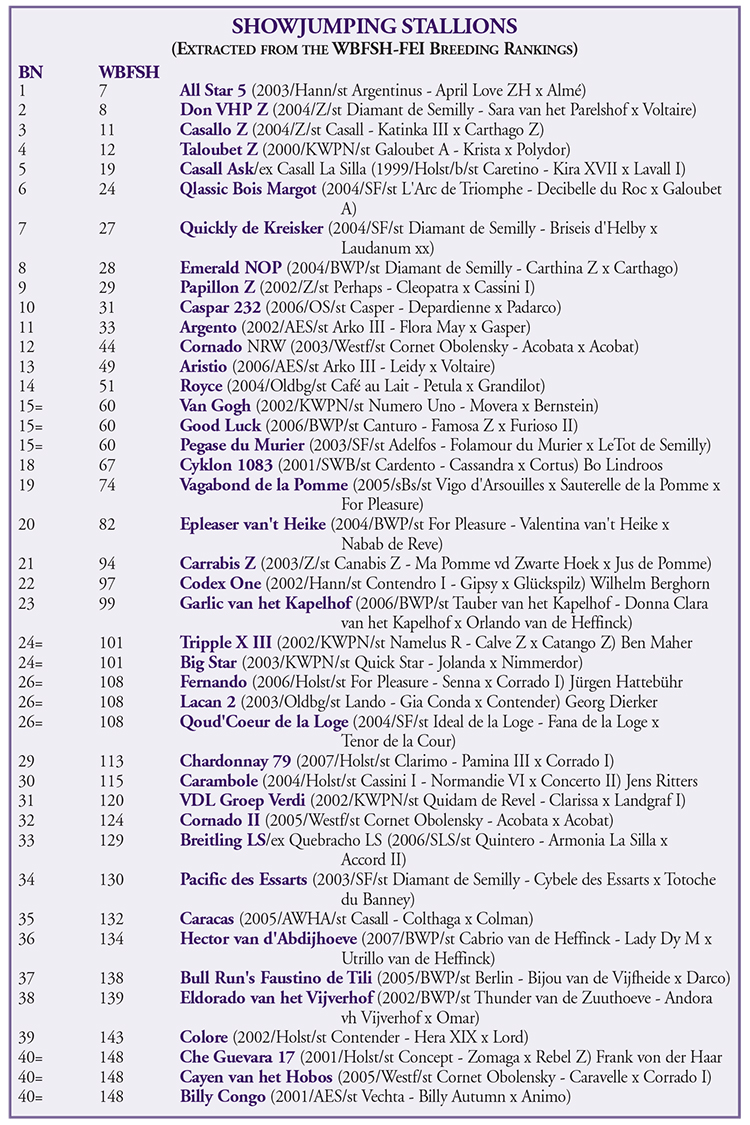 The top twenty suggests that the traditional studbooks, with a directive breeding policy, are not so effective as more open books or registries. Zangersheide is credited with three stallions. The only thing about Don VHP Z's bloodlines, that suggests Zangersheide, is the Z suffix, there is not a horse that was born or bred at Lanaken on the papers. Similarly Cassallo 'Z' is straight Holsteiner while the third 'representative' Papillon Z is by Perhaps van het Molenvondel, BWP brand, but 7/8th Selle Français blood, out of a Holsteiner mare by Cassini I.
The BWP trio is similarly heterodox. We've already discussed Emerald, but it is more of the same with Good Luck (= 15th), by the Holsteiner, Canturo (albeit with two crosses of the Selle Français, Cor de la Bryère) out of a mare by the Selle Français, Furioso II, combined with the blood of Holstein and Hanover. The third BWP rep, Epleaser van't Heike (20th) is by the Hanoverian, For Pleasure (by the Selle Français, Furioso II) out of a Hanoverian mare by Grannus.
---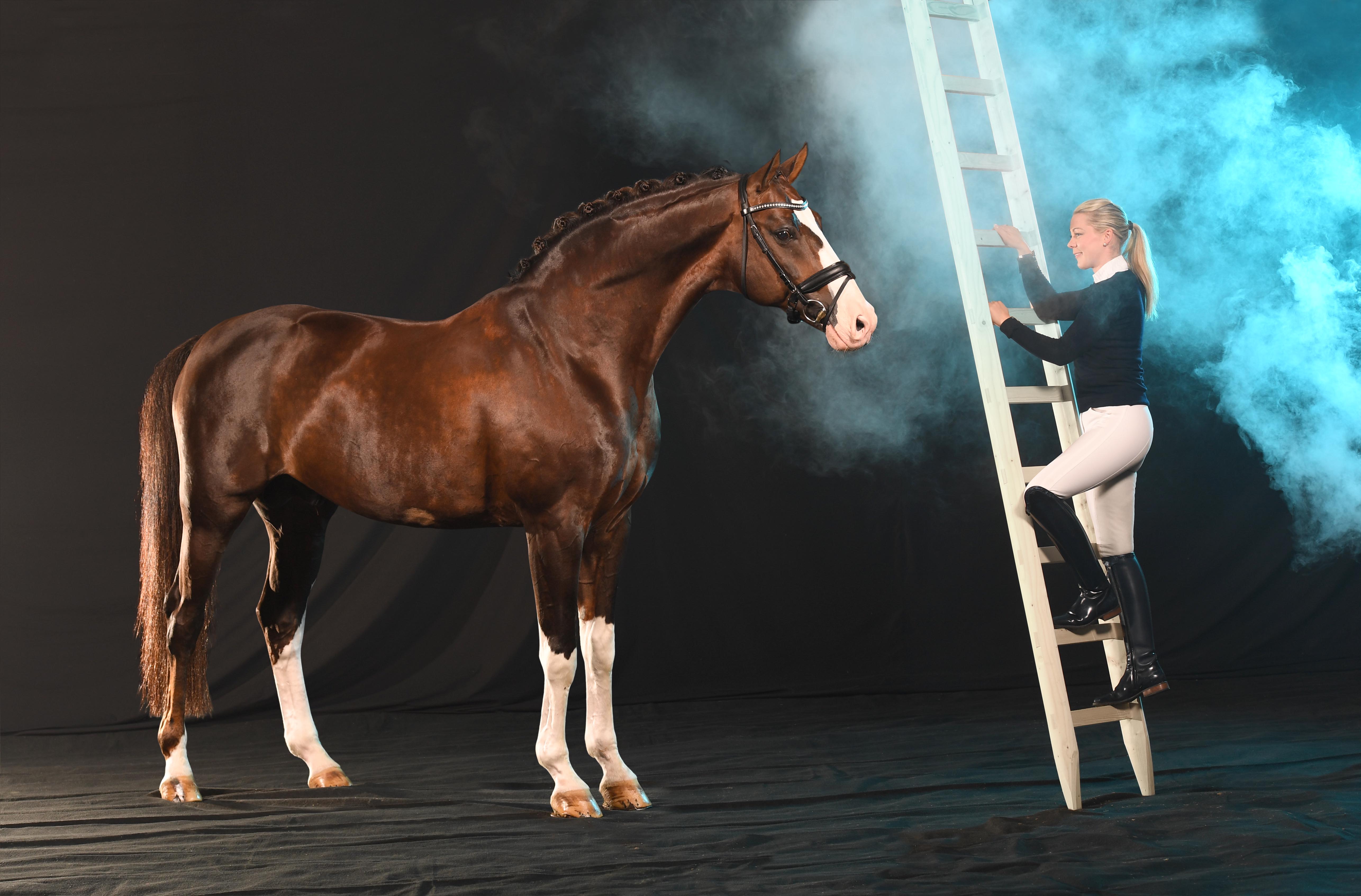 Benicio – Image from Kiki Beelitz' 2017 calendar
DRESSAGE BREEDING VALUES….
If your aim is to breed fashionable foals, go straight to the FN young horse stallion list. Heading it up is the very pretty Benicio (Belissimo M / Velten Third) with a breeding value of 171 (reliability 80%) followed by Fürstenball (Fürst Heinrich / Donnerhall) 170 (97%), Vivaldi (Krack C / Jazz) 169 (88%), Foundation (Fidertanz / De Vito) 168 (90%), Don Darius (Don Frederico / Markus Deak xx) 167 (82%), Lissaro (Lissabon / Matcho aa) 165 (93%), Don Juan de Hus (Jazz / Krack C) 164 (88%), Damon Hill (Donnerhall / Rubinstein) 162 (95%), Decurio (Desperados / Rotspon) 160 (80%), Real Diamond (Rohdiamant / Weltmeyer) 159 (91%), Belantis (Bennetton Dream / Expo'se) 158 (76%), For Romance I (Fürst Romancier / Sir Donnerhall I) 158 (81%), Don Schufro (Donnerhall / Pik Bube I) 156 (97%), Londontime (Londonderry / Walt Disney J) 156 (96%), Quasar de Charry (Quaterback / Wolkentanz I) 156 (87%), Quaterhall (Quaterback / Donnerhall) 155 (91%), Bordeaux (United / Gribaldi) 154 (92%), Den Haag (Diamond Hit / Florestan) 154 (75%), Lord Carnaby (Lord Loxley I / Rocket Star) 154 (77%), Spörcken (Sir Donnerhall I / Lauries Crusador) 154 (91%), Krack C (Flemmingh / Beaujolais) 153 (88%), Rock Forever I (Rockwell / Landstreicher) 153 (968%), San Francisco (Sandro Hit / Donnerhall) 153 (74%), Sir Heinrich (Sir Donnerhall I / Fürst Heinrich) 153 (85%), L'Espoir (Lord Loxley I / Warkant) 152 (87%), Welt Hit VI (Weltmeyer / Hill Hawk xx) 152 (76%), Bailasmos Biolley (Sir Donnerhall I / Florestan) 151 (78%), Rosandro (Rosario / Sandro Hit) 151 (82%), Vitalis (Vivaldi / D-Day) 151 (95%), Basic (Bellisimo M / Ehrentusch) 150 (89%), Dancing Dynamite (Don Bedo I / Fidermark) 150 (93%), Fürst Fugger (Fürst Heinrich / Weltmeyer) 150 (87%), Lemony's Nicket (Londonderry / Weltmeyer) 150 (76%), Lord Loxley (Lord Sinclair I / Weltmeyer) 150 (97%), Sir Donnerhall I (Sandro Hit / Donnerhall) 150 (99%), Schumacher (Stedinger / Weltmeyer) 149 (87%), Silbermond (Sir Donnerhall I / Ramiro's Son I) 149 (87%), Sir Fidergold (Sarkozy / Fidermark) 149 (75%), Der Designer (De Niro / Weltmeyer) 148 (77%), Don Frederic (Don Frederico / Wolkentanz I) 148 (77%), For Romadour (Fürst Heinrich / Pik Bube I) 148 (77%), Fürst Romancier (Fürst Heinrich / Romancier) 148 (97%), Royal Classic (Royal Highness / Florestan) 148 (93%).
(Article continues below)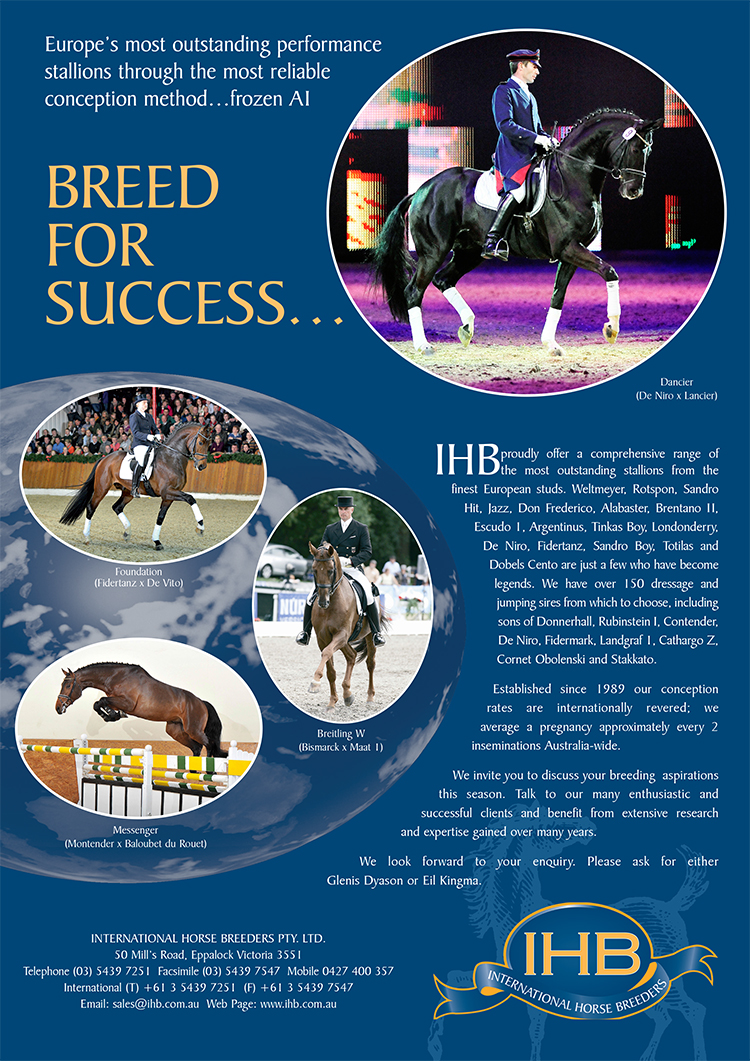 Now to the stallions who actually sire competition horses for the 'big' sport. These standings are headed by the truly remarkable Breitling W (Bismark / Maat I). The stallion was largely ignored because he was not fashionable, and he wasn't going to produce cute young horse class winners – what he did produce was Grand Prix horses, over and over again. Out of 91 sons and daughters who competed, 36 competed at an Advanced level. He is the sire of ten horses that have won more than €10,000, Sadly he died in December of last year. Breitling W has a competition breeding value of 173 (83%).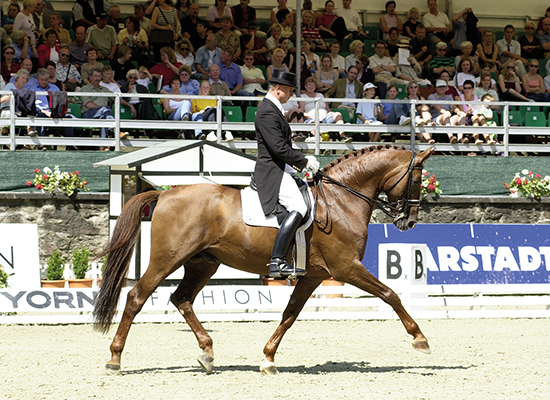 Breitling – the Grand Prix Maker
Don Schufro (like Breitling, a Grand Prix competitor himself – Donnerhall / Pik Bube I) is 2nd, 166 (93%) while yet another GP star, Jazz (Cocktail / Ulster) is 3rd, 165 (85%), we'll quietly skip over Lissaro in 4th – 164 (77%), and find another Grand Prix star, Damon Hill (Donnerhall / Rubinstein) in 5th – 162 (87%).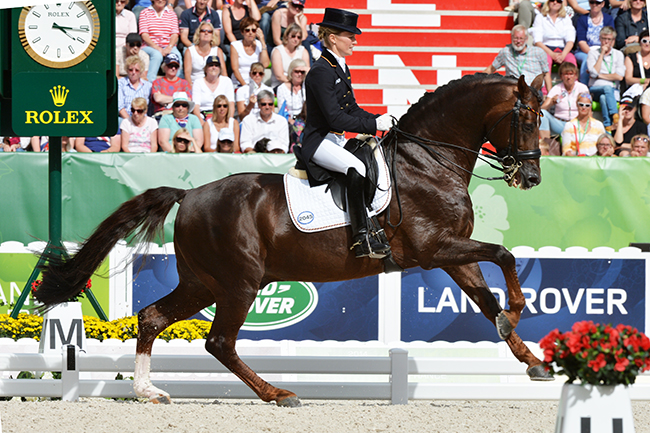 Grand Prix competitor, now a sire, Damon Hill
Then follows: Fürstenball – 154 (77%), Lord Loxley I (Lord Sinclair / Weltmeyer) – 151 (93%), Donnerhall (Donnerwetter / Markus) – 150 (99%), Florencio I (Florestan I / Weltmeyer) – 150 (96%), Rock Forever I – 150 (90%), Welt Hit II (Weltmeyer / Hill Hawk xx) – 149 (92%), Basic (Belissimo / Ehrentusch)- 148 (71%), Dancing Dynamite – 148 (86%), Dressage Royal (Donnerhall / Rubinstein) – 148 (85%), Welt Hit I O (Weltmeyer / Hill Hawk xx) – 148 (79%), Freudenprinz (Florestan I / Francisco I) – 146 (81%), Gribaldi (Kostolany / Ibilus) – 145 (91%) and Real Diamond (Rhodiamant / Weltmeyer) – 145 (73%).
Florencio, successful as a  young horse star, and at Prix St George level  with Hans Peter Minderhoud
That's really quite a nice line up of proven stallions, far better than the ones hailed in previous years, but I suppose by now you are jumping up and down in your seat, amazed at the glaring omission – yeah, the WBFSH number one stallion for the second year running – De Niro (Donnerhall / Akzent II). Where in the hell is De Niro?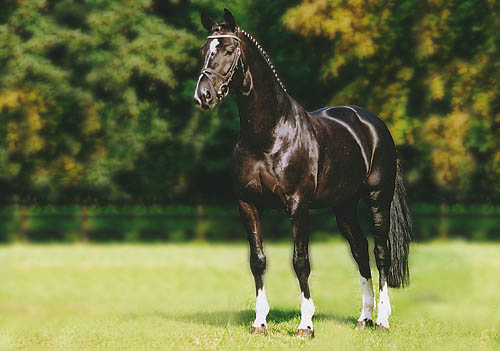 Sire of half the German team and he can't make the dressage stallion rankings – De Niro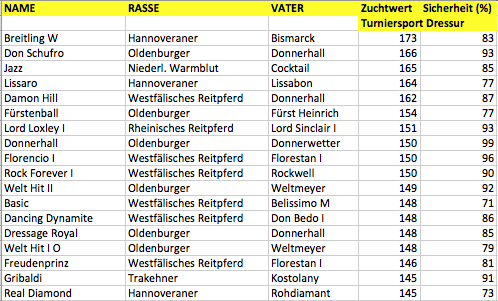 So the German FN has improved their rankings but they are still a bit loopy.
The WBFSH rankings are consistently the easiest to follow, based as they are on the competition points earned by progeny. Here is the 2016 top ten:
Rolex WBFSH Top 10 Dressage Sire Ranking
1 (1) DE NIRO – 34866
2 (2) GRIBALDI – 22639
3 (4) SANDRO HIT – 21708
4 (8) RUBIN-ROYAL – 19757
5 (3) JAZZ – 16722
6 (5) MICHELLINO – 12161
7 (6) FLORESTAN I – 11742
8 (9) NEGRO – 10512
9 (11) DON SCHUFRO – 10356
10 (10) DIAMOND HIT – 9128
(Article continues below)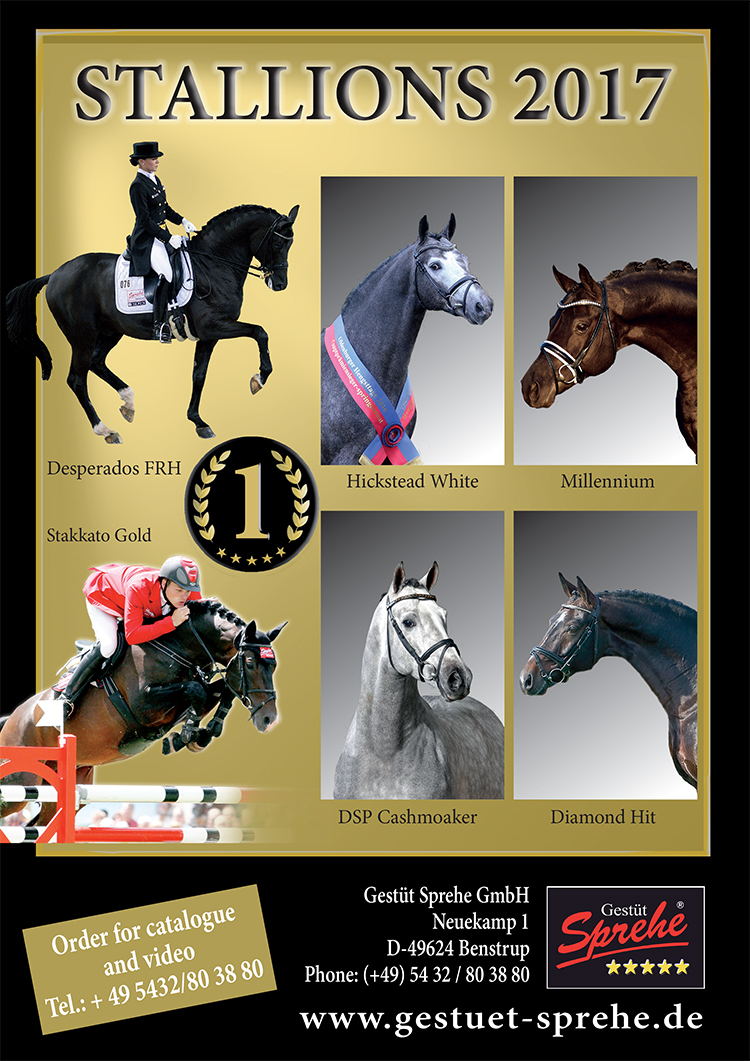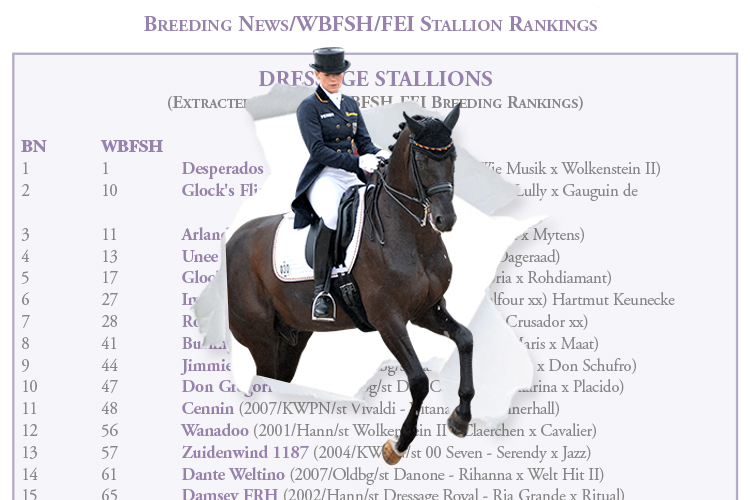 We must always keep in mind that these standings record the competition success of horses that just happen to be uncastrated males, it is no measure of their likely success in the breeding shed. Having said that, the number one horse, Desperados FRH, the Hanoverian stallion of the year for 2016, does look like he will make a good sire. He certainly has one of the requirements of breeding success, like so many super sire stallions, he was rejected by his breed society at the stallion licensing. The stallion went on to star as a young horse, and then as an even better Grand Prix partner to young Kristina Bröring-Sprehe.
Although they are still youngsters, Desperados' progeny are receiving favorable reviews, winning young horse classes and mare shows, including the 2016 Bundeschampion, Destacado. Desperados has the breeding to do the job – by the great De Niro, out of a mare by one of the more useful of the hundreds of sons of Weltmeyer, Wolkenstein II.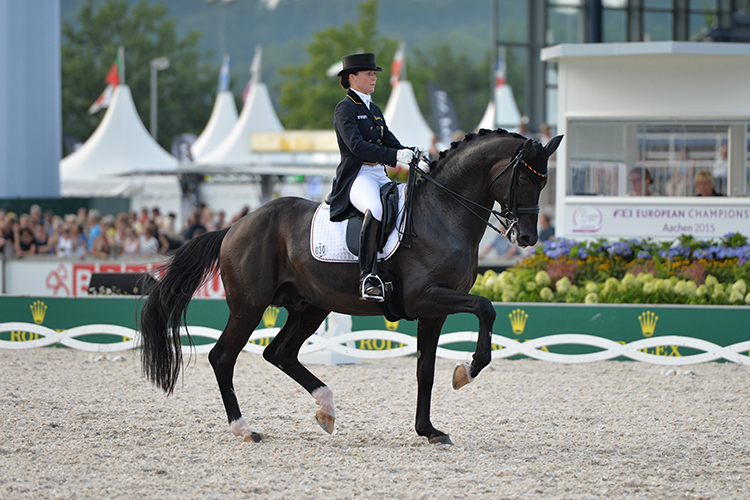 Gold at Rio, young horse star, and looking like he will be a sire for Sprehe, Desperados
Desperados features on the cover on the 2017 edition of the Hanoverian Stallion book, as the Hanoverian Stallion of the Year 2016. His personal earnings have risen to over half a million euros, while his 280 competitors have amassed €75,358. He has nine licensed sons.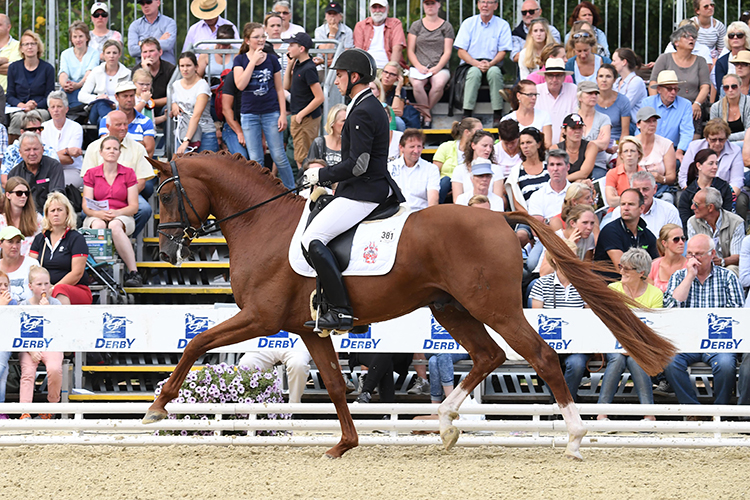 Starring at the Bundeschampionate – Destacado / Photo: Kiki Beelitz
There are a couple of others in the list that I'd consider. For the Trakehner fans, Imperio, the 2016 Trakehner of the Year is an attractive prospect. The stallion, by Connery out of a Balfour xx mare, was the German Olympic team reserve horse at the 2016 Olympics in Rio de Janeiro, Brazil, and he looks every inch a stallion.
Imperio was the reserve licensing champion as a two-and-a-half year old. He was the 2008 Bundeschampion and won silver at the World Young Horse Championships with Anna Sophie Fiebelkorn. Hubertus Schmidt took him to Grand Prix. Imperio is owned by the syndicate of the Schwaiganger state stud, the German Olympic Equestrian Committee (DOKR) and Hubertus and as of January 2017, was the third highest ranked German horse on the World Cup standings.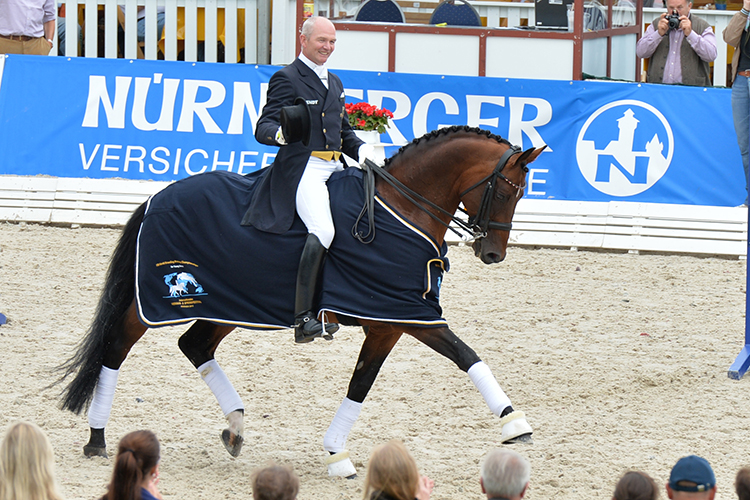 One for the Trakehner fans, Imperio
As a breeding stallion Imperio has already produced the licensed stallion and rising Grand Prix horse Heuberger with Anabel Balkenhol.
Burlington FRH (Breitling / Rohdiamant) combines Breitling's extraordinary talent for Grand Prix with the attractiveness of Rohdiamant. He is a young stallion who has been mainly focused on his competition career but would be an interesting proposition for the mare owner. He is already the sire of Bodyguard (Pik L), the premium stallion in Hanover for 2011.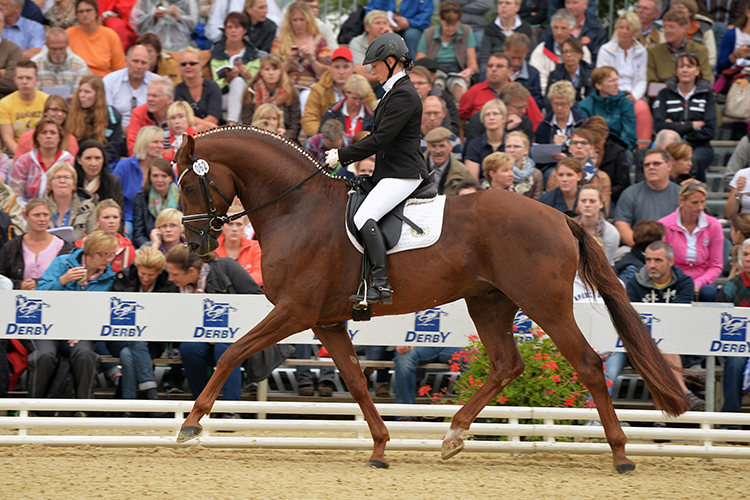 Bodyguard – looking good in the young horse classes
It is interesting to find Cennin (Vivaldi / Donnerhall) in 11th place, especially following the surprising about-face of the KWPN early in 2017, when they approved his half brother, Vitalis (Vivaldi / D-Day) – who they had rejected in 2012 because of his weak hind end – and also welcomed Cennin into the KWPN fold.
The Breeding News top twenty shows that the battle for dressage supremacy between the KWPN and the Hanoverians, continues to rage – the KWPN is just in front with six to the Hanoverian total of five, with Oldenburg notching up four, and three Trakehners.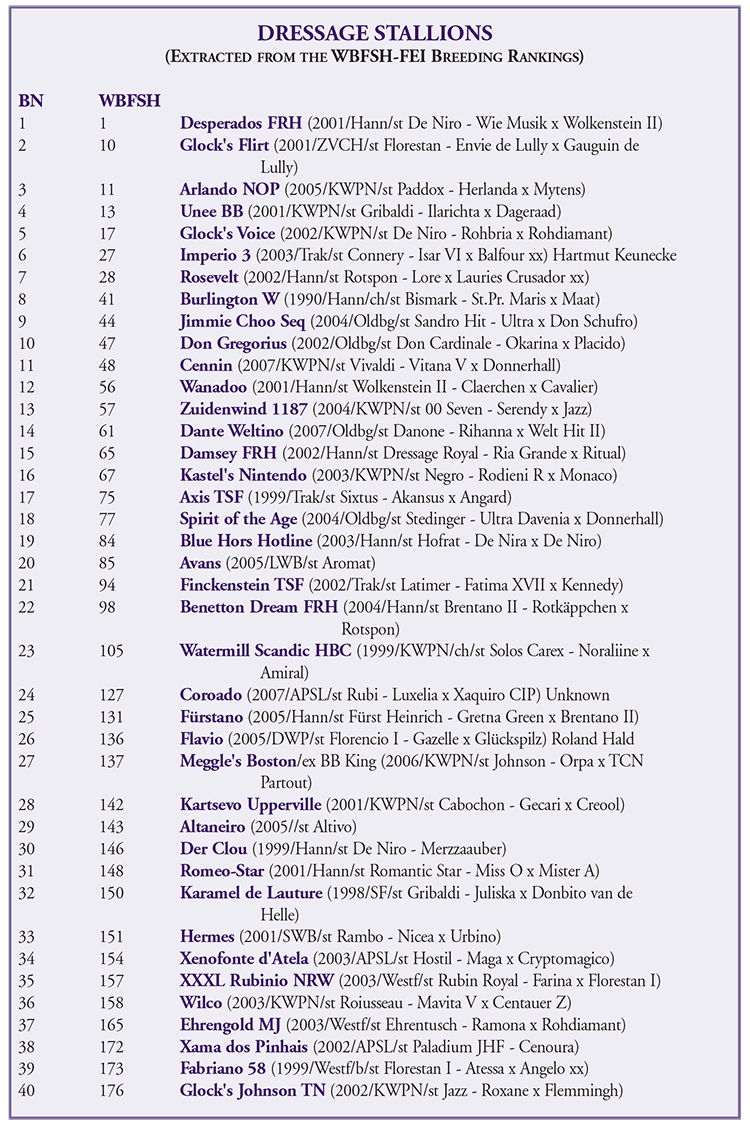 ---
EVENTING
The German FN does not have breeding values for eventing stallions but we should look at the latest WBFSH ranking:
Rolex WBFSH Top 10 Eventing Sire Ranking
1 (1) CONTENDRO I – 1189
2 (3) HERALDIK XX – 904
3 (10) COURAGE II – 809
4 (5) JAGUAR MAIL – 754
5 (23) JUMBO – 664
6 (4) MASTER IMP XX – 644
7 (9) GHAREEB XX – 637
8 (7) LIMMERICK – 609
9 (6) RICARDO Z – 582
10 (55) KANNAN – 540
That's a pretty mixed bag. Sadly two of the greatest eventing stallions of them all, the Thoroughbreds, Heraldik and Master Imp, are long dead, and neither lived to produce a stallion son to take his place.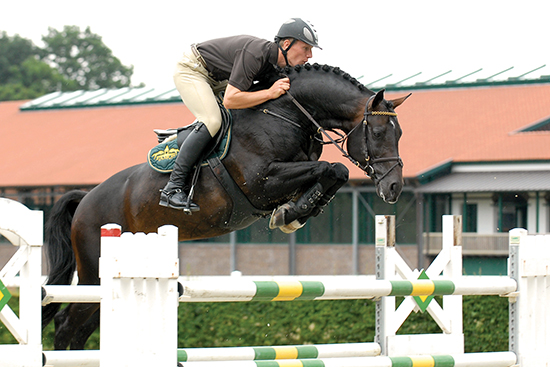 Number one eventing stallion, Contendro
The stallion in number one is Contendro I, who is by Contender out of a Reichsgraf mare – that's three crosses of Ramiro, which given the tendency of the Ramiros to be a bit heavy, might just be two crosses too many. Nonetheless he has produced 28 progeny who have won points in eventing competition, with easily the most successful being Mark Todd's Hanoverian, NZB Campino (out of a Pinkus mare). He has moved from Germany to France where he is one of the GFE group of stallions, and will receive the usual excellent PR campaign to kick start his career. Given that eventing is on something of a high right now in France, he should be given every chance to shine, assuming he clicks with the French mares.
(Article continues below)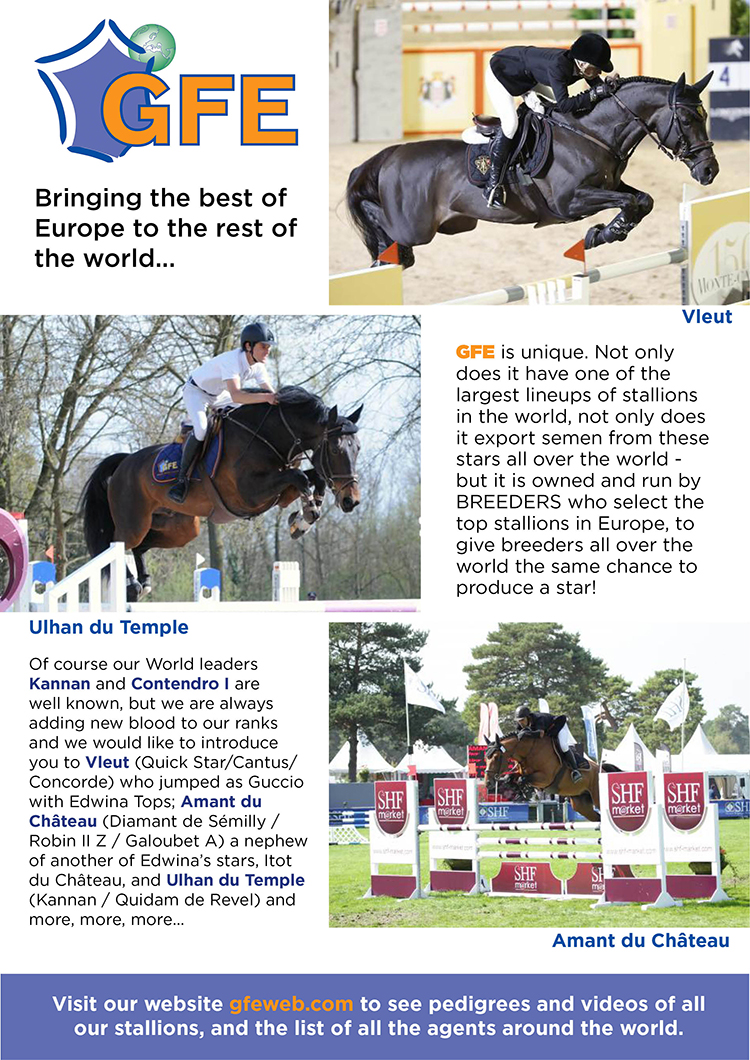 I suppose this just indicates the eventing breeding is still in the process of consolidating, that only one of the top ten – Jumbo (Skippy / Seven Bells xx) – was an eventing competitor, but not perhaps an international superstar.
It seems that only now, stallions that have competed at the top, are emerging as potential sires. Chilli Morning (Phantomic xx / Kolibri) has left William Fox-Pitt's training stables for the breeding barn, and if his daughter, Chilli's Gem, ridden by Gemma Tattersall, at the 2016 World Young Eventing Horse champs, is any guide, he may well be a sire as well as a competitor. Thomas Carlile's Upsilon (Canturo / Fusain du Defey) has been successful to three-star and he is an interesting sire, as is Leprince des Bois (Yarlands Summer Song / Quandy du Mayne) who has conquered most of the world's four-star tracks.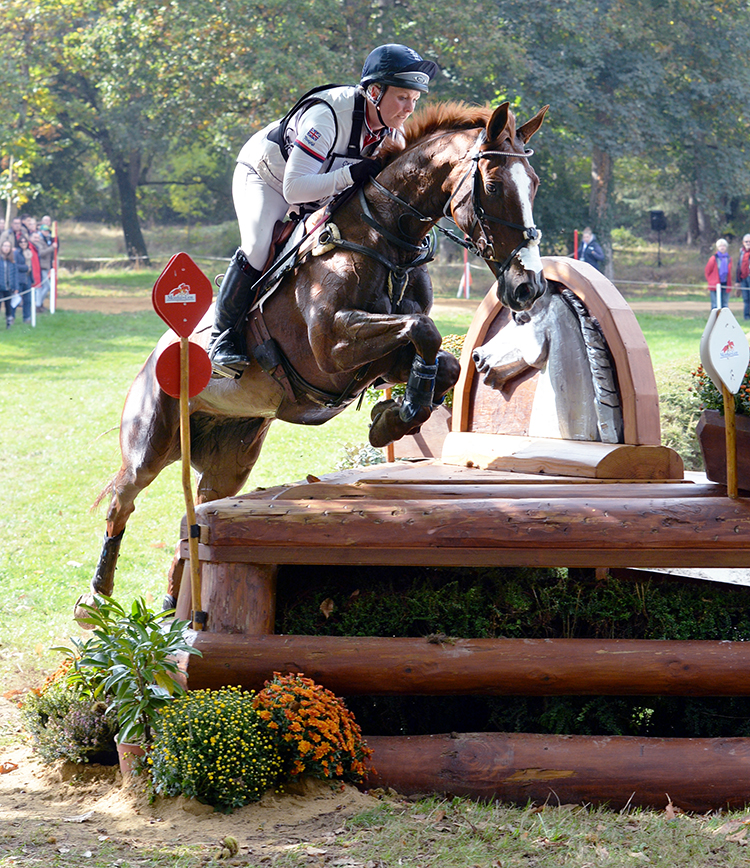 Chilli's Gem and Gemma Tattersall, at the 2016 World Young Eventing Horse Champs
The Trakehner, Grafenstolz (Polarion / Camelot) was World Champion in 2004 and went three-star with Michael Jung, has some interesting progeny on the ground. Mighty Magic (Mytens xx / Heraldik xx) who was Reserve World Champion as a six-year-old, and Champion at a seven-year-old, before going two star with Andreas Dibowski, and then being sold to French young rider, Eugenie Burban – and a star in young eventing rider classes, is another that seems to be producing competitors.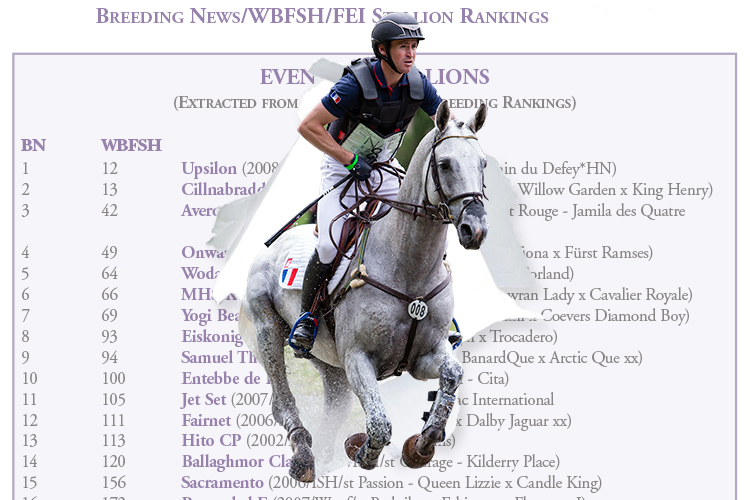 It's no surprise to find that the number one on the Breeding News list of eventing competition stallions is Upsilon, one of the stars in the stable of mega-talented French born, but British bred, Thomas Carlile. Upsilon is the great white hope of an Anglo Arab revival – even if he is by the Holsteiner, Canturo (Cantus / Calando I) who stands at the Haras Bois Margot in the heartland of French breeding – Normandy. He is out of an Anglo Arab mare, and is accepted into the French Anglo Arab studbook, and is rightly very popular with the breeders.
Upsilon is the product of the breeding program by the Sisquelle family, who also bred Tenareze who was World Champion in the 6 and 7 years old championship in Le Lion d'Angers in 2013 and 2014. Another of their eventers is Trouble-Fête*ENE/HN who is showing good results in CCI3* with Matthieu Van Landeghem.
(Article continues below)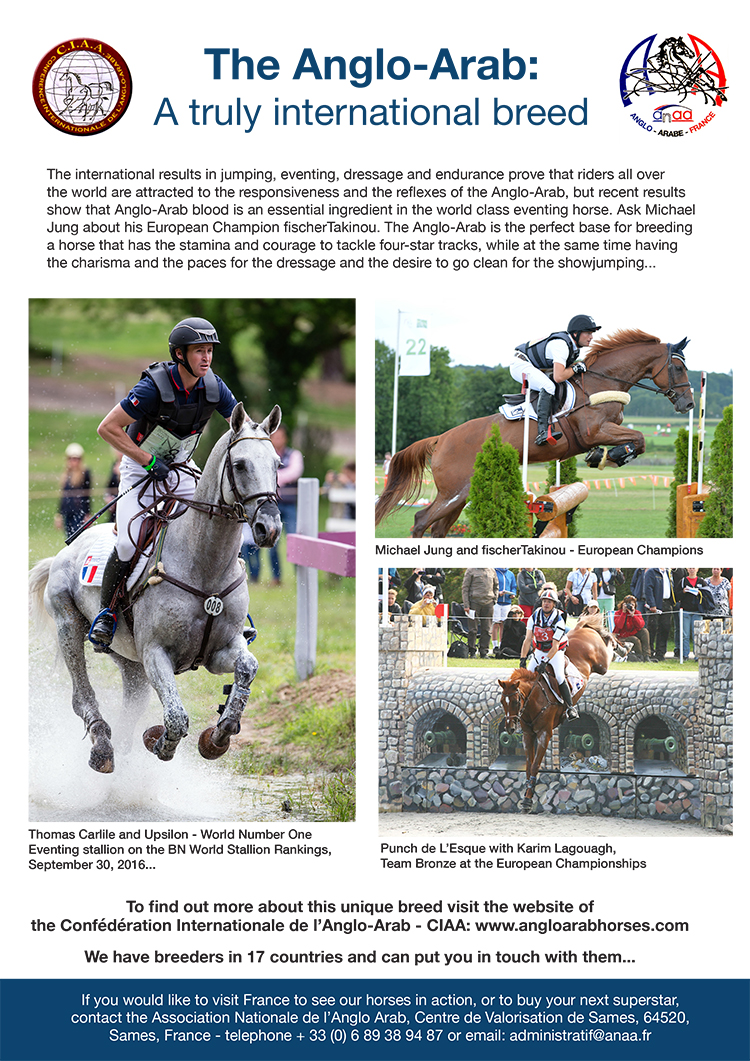 The Sisquelles were show jumpers breeders and never wanted to breed especially for eventing. When they met Tom Carlile they realized they had nice bloodlines for eventing. They never changed their breeding choices because they think the horses they breed are good for both disciplines as they jump really well but have a lot of blood.
Upsilon was French young eventing stallion at 4, 5 and 6, and last year, Thomas rode him to victory at Blenheim***. Again, time will tell if the performer is also a sire…
Since this is a list of stallions who event, and eventing is not really a stallion thing, the rest of the line-up is pretty lack lustre and certainly not where a mare owner would go looking. The only other horse in the twenty that I would consider is the Hanoverian, Entebbe de Hus, a member of the French gold medal team at Rio. Entebbe is by Embassy I who is by Escudo I – and the Escudo line has shown talent for producing eventers. Embassy I is also the sire of Ingrid Klimke's wonderful Escada FRH. Entebbe is out of a mare by the Calypso II son, Carbid – a huge hulk of a thing, with a refining touch on the bottom line thanks to Maurice, a son of the French Anglo that Dr Bade brought to Hanover, Matcho aa.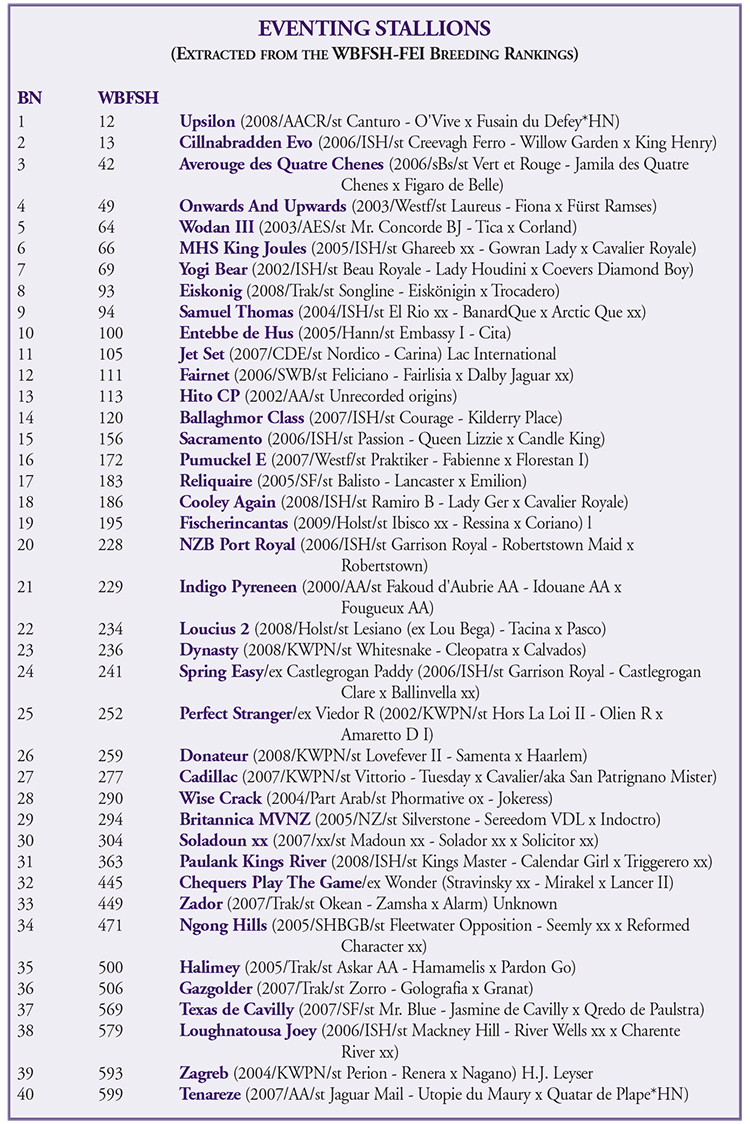 Number one eventing competitor on the WBFSH standings, Balmoral Sensation
The stallions rankings are extracted from the overall eventing breeders' standings which were headed by the New Zealand bred Balmoral Sensation (Senator VDL / Aberlou), although his breeder, David Goodin missed out on his Rolex because the grey gelding is not registered with a studbook member of the WBFSH. It is a pity since Mr Goodin is the sort of breeder we should be recognizing and honouring. Still competing at the age of 80, he was one of the early showjumping and eventing competitors in New Zealand, and was long listed in both disciplines for the Seoul Games. Amongst the many young riders he has mentored was one M. Todd:
"Mark Todd came to help me as a dairy cadet and he brought Top Hunter with him. He was meant to go to the neighbour's dairy farm but they didn't like the idea of the horse, so that is how I got him. He was a cowboy show jumper in those days, but I think I helped him get more control. He would jump around the farm (which is very steep) and would jump in places that I never would dream of!"
(the quote is from David Goodin: Old School by Claire Wilson, New Zealand Horse & Pony, September 2016)
And Goodin certainly knew what he was doing when he bred Sensation (his dam sire Aberlou xx is a famed sire of eventers in New Zealand), and he was first ridden by Donna Smith, a top eventing rider, before he went to Kiwi team rider, Clarke Johnstone:
"Yes, I always rated Richie (Balmoral Sensation) highly. When I rode him as a young horse, I knew he could jump a big fence. Donna Smith took him on as a six-year-old, because I knew he would have a better chance in New Zealand as an eventer than as a show jumper. I was disappointed when he left Donna, but Clarke Johnstone rides him very well and I wish him the best of luck!"
I know that rules is rules, but still it is a pity that a real breeder is not fully acknowledged…
While we are at it, this patriotic Aussie would like to fill in a couple of blanks on the Eventing standings. The Australian Thoroughbred, Clifford (Passing Shot/Double Income), racing name, Sidespin, was bred by Sue Devereaux, while another Australian horse, Virgil (by the great showjumping stallion, Vivant) was not bred by 'unknown' but by a very keen eventer, and student of eventing bloodlines, Michelle Hasibar, out of the Thoroughbred mare, North Pole by Distinctly North, and yes, bred to event.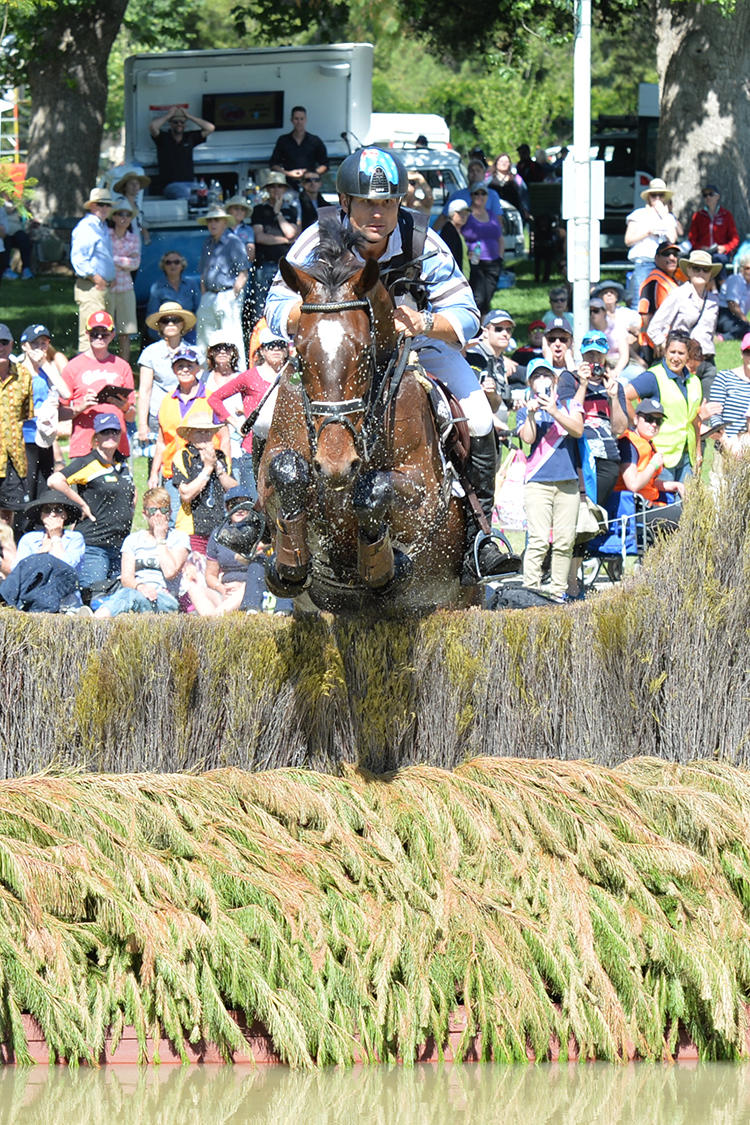 Not a fluke – Virgil and Shane Rose
Breeders like David Goodin and Michelle Hasibar are not ignorant hillbillies who can't fill out registration forms, they are careful and discerning breeders who happen to live in countries where none of the largely dysfunctional little breed associations meet their needs.
IN CONCLUSION
Thank you to the German FN for taking such a bold step, and giving us more to think about, even if it does really confirm what a few people had been saying for quite a long time…
---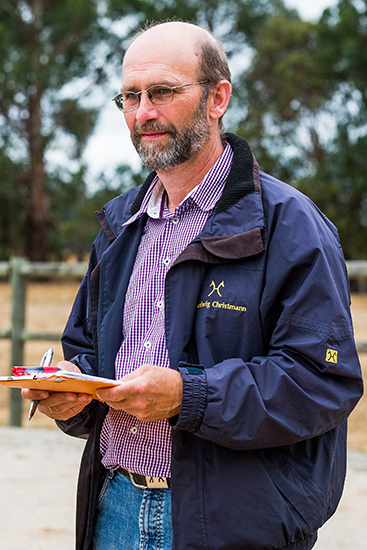 The view from Hanover
Once again, Ludwig Christman of the Hanoverian Verband, casts his expert eye over the breed values – and welcomes the FN's decision to create the two catagories: young horse classes, and competition:
"Until now, all sources of information were specified in one breed value; hence the name integrated breed value estimation. The experience from past years showed that the scores from so-called young horse classes substantially influenced the total breed value. The results from competitions become increasingly important, once a stallion's descendants get older. We want to find out, if the talented horses, which we identified in the young horse classes, grow into being able to handle the challenges of higher classes on horse shows. This development is better portrayed in separately specifying the breed value / competition, which is not influenced by the results from the young horse classes."
Not surprisingly, Ludwig points out that six of the ten highest value stallions on the young horse table are Hanoverians. The problem as I see it, is that the basis of these values is so thin. For example, the top ranked young horse stallion, Benicio, missed a season when he was in South Africa, which meant that his largest group of offspring were three-year-olds in 2016 – so his breed value is based on Benicio's own stunning young horse class career, his six licensed sons and the performance tests of 12 mares, which doesn't add up to a great statistical base…
Ludwig celebrates the threesome at the top of the competition dressage breeding values: Breitling W, Don Schufro and Jazz, as well as Donnerhall who is ranked eighth. "They are all top dressage horse producers with an international reputation. One can unconditionally accept their high estimation."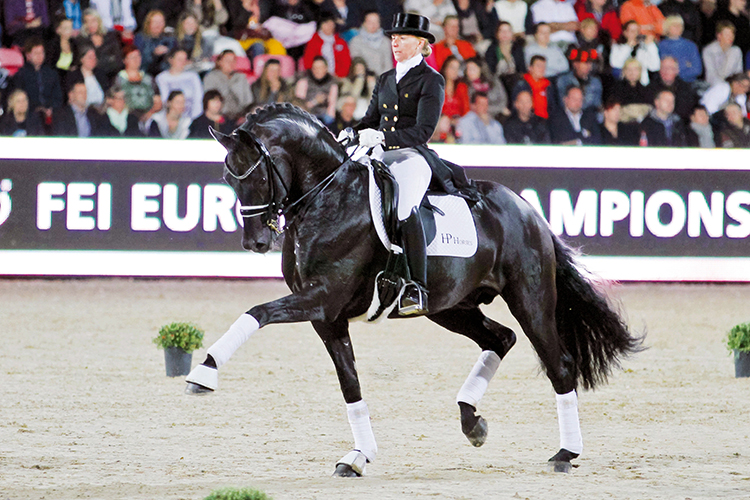 Fürstenball – number one on the Hanoverian top liste
The Hanoverian top liste is similar to the FN young horse ranking. It is topped by Fürstenball with a value of 157. Ludwig has already noted that on the FN competition rankings, only two of the stallions in the young horse ranking make the cut: Fürstenball and Lissaro. There are a few stallions on the Hanoverian top liste that have in fact produced top FEI competitors – Don Frederico, Sandro Hit, Rotspon – but once again, where is De Niro?
(Article continues below)
One of the saving graces of all this breeding with numbers is that the mare owners seem to cheerfully ignore that breeding values. Lissaro, despite his stellar breeding value, only increased his number of registered Hanoverian progeny by 42 foals between 2016 and 2017 (137 to 179) while De Niro added 123 foals in the time to swell his total from 1959 to 2082.
Seven out of the top ten jumping stallions on the young horse estimation are Hanoverians, headed by Stakkato Gold, with his sire, Stakkato in second place. I'll wait to be convinced by Stakkato Gold – he needs to produce open stars, and I suspect that Stakkato's place on this list, rather than the competition list, says that he might be producing nice rideable horses, he is not a 1.60m sire.
And once again, we might note that the breeding values don't always relate to coverings, Stakkato Gold increased his registered Hanoverian progeny by 19 from 2016 to 2017 – 166 to 185.
The top four stallions on the jumping competition rankings are, as Ludwig notes, from France or The Netherlands, and as he points out, this gives them something of an advantage in that only top progeny are brought to Germany to compete. So the very good jumpers with their international riders compete in Germany – while the mediocre or normal ones, stay home in Holland or France and are not considered in the calculation of the breeding values. The German based stallions however are disadvantaged because they have their total progeny assessed, the normal ones as well as the top ones, and this produces a lower breeding value. The stallions from foreign countries have gone through a pre-selection process and that will enhance their breeding value.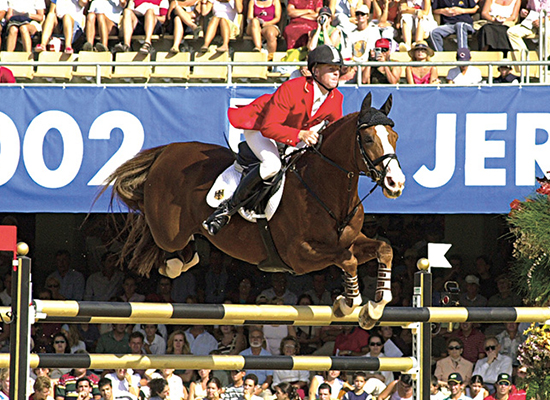 For Pleasure – somehow misses out!
Ludwig does draw attention to one apparent anomaly – For Pleasure, who features on the Hanoverian breeding values in =3rd, behind Contendro (152) and Stakkato (149), and equal with Stolzenberg with a breeding value of 148 – has an FN competition value of just 142, "his assessment does not match the international assessment he enjoys". For Pleasure does not make the FN top 20, and is ranked below such relative minnows on the jumping breeding scene as Cloney, Couleur-Rubin, Colestus, Edward and Graf Gallen. It seems For Pleasure is the De Niro of the jumping values…
Still Ludwig is positive:
"The bottom line is that publishing the breed value for young horse classes and the breed value for competition is progress, since we can better retrace the breeding career and development of a stallion. While assessing the breed values from young horse classes is relatively unproblematic, it is more difficult with respect to competitions. The heredity values are lower, which means that environmental effects have a considerable impact on the placements. Furthermore, the share of results from S-classes, which are most interesting, is rather low. It is advisable to continue researching this issue and optimizing it."